San Francisco 49ers:

John Harbaugh
August, 15, 2014
Aug 15
8:45
PM ET
SANTA CLARA, Calif. --
San Francisco 49ers
coach Jim Harbaugh completed the Ice Bucket Challenge to fight ALS prior to Friday's practice, as did some local media members.
Harbaugh also challenged President Barack Obama and his predecesor, George W. Bush.
Seattle coach Pete Carroll challenged the three other head coaches in the NFC West -- Arizona's Bruce Arians and St. Louis' Jeff Fisher accepted. Harbaugh, though, said he was answering the challenge of his brother,
Baltimore Ravens
coach John Harbaugh.
As for Carroll's challenge, Harbaugh said this: "I've got another challenge with him. I think you know what one that is: The big one."
April, 30, 2014
Apr 30
2:30
PM ET
There has been speculation throughout the NFL draft season that the
San Francisco 49ers
could be a prime candidate to move up in the first round next Thursday.
A potential trade partner could be the
Baltimore Ravens
. The Ravens hold the No. 17 pick. Ravens general manager Ozzie Newsome told reporters Wednesday that they have already received calls for the pick.

Let's look at some reasons how the 49ers (who have the 30th overall pick in the first round) and the Ravens could be trade partners.
49ers have done it before:
This move up would be 13 spots. The 49ers did exactly that last year when they went from No. 31 to No. 18 in a trade with Dallas to take safety
Eric Reid
, who became a Pro Bowl player as a rookie. In addition to No. 31, the 49ers gave Dallas No. 74, in the third round.
Teams work well together:
We know these two teams communicate. Of course, Jim and John Harbaugh are the respective coaches of the 49ers and the Ravens. Plus, the two teams have been in contact this spring putting together a joint workout in August. Newsome and 49ers general manager Trent Baalke have had dealings in the past. And the Ravens sent receiver
Anquan Boldin
to the 49ers last year.
Potential targets:
The 49ers' top needs are at cornerback and receiver. The cornerbacks expected to go in the top 20 are Oklahoma State's
Justin Gilbert
, Michigan State's
Darqueze Dennard
and perhaps Virginia Tech's
Kyle Fuller
. The receivers who could be taken in that range include LSU's
Odell Beckham Jr.
and Oregon State's
Brandin Cooks
. The 49ers have been studying both players intensively.
What would it cost?
The 49ers have a few packages to offer. They could offer No. 30 and No. 77, in a similar deal to the Dallas swap. Or they could offer No. 56 and No. 61, and perhaps even those two picks with No. 84 or No. 129.
Have they already talked?
Newsome said they've had preliminary talks with teams, and Baalke said last week it is routine for him to have initial talks prior to the draft with potential trade partners to discuss potential scenarios.
It's already been suggested:
Former Tampa Bay general manager and current ESPN analyst Mark Dominik
suggested a 49ers-Ravens trade for No. 17

in an Insider piece last week.
April, 19, 2014
Apr 19
11:20
AM ET
Nothing breaks up the monotony of training camp like a Harbaugh hoedown.
As expected, the
Baltimore Ravens
announced they will host the
San Francisco 49ers
for some scrimmages during training camp. The workouts between the former Super Bowl opponents appeared likely once the NFL announced earlier this month that the 49ers would open the preseason at Baltimore Aug. 7.
It is the first time the 49ers are playing on the East Coast in the preseason in nearly 20 years. The Harbaugh brothers -- John coaches the Ravens and Jim coaches the 49ers -- are going to take advantage of the long trip for the 49ers to get some extra competition time in.
NFL teams often do this in the offseason. This scenario is a bit different because the practices will be held after the game. John Harbaugh told reporters the two teams will practice at Baltimore's M&T Stadium on Aug. 8. They will work at the Ravens' practice facility for the next three days. The 49ers then host Denver the following weekend in their first game at Levi's Stadium.
"We felt like the first two weeks, we needed to do our install process and all that kind of stuff and it would be better after the game," John Harbaugh said. "It's just going to be fantastic. I can't wait to do it."
In Harbaugh style, expect it to be a full family affair, including an appearance by the coaches' 74-year-old father, Jack.
"Dad is going to be out there," John Harbaugh said. "He's going to be the unofficial official. He's going to be in charge of breaking up all fights. If we start rolling around on the field, Dad is going to have to jump in, I guess."
Just like old times.
April, 9, 2014
Apr 9
5:35
PM ET
Some thoughts on the
San Francisco 49ers
' preseason schedule:
The schedule:
Week 1 Aug. 7 at Ravens; Week 2 (Aug. 14-18) vs. Denver; Week 3 (Aug. 24) vs. Chargers; Week 4 (Aug. 28) at Houston.
Harbaugh Bowl:
Jim Harbaugh and John Harbaugh will meet on the field for the first time since the Ravens edged the 49ers in the Super Bowl in February, 2013. The idea of the 49ers going out to Maryland for some practices before the game makes sense. It's a long way to go just for one preseason game. The brothers would likely be intrigued by the idea of some controlled scrimmages. Expect the 49ers to start training camp July 23 because it is 15 days before the start of the preseason.
Breaking in Levi's:
The first preseason game at the 49ers' new stadium, Levi's Stadium in Santa Clara, will be in Week 2 of the preseason against Denver.
The game that matters:
The 49ers will have some motivation to look good in the most important preseason game. Their third preseason game (it's the game starters play the longest) will be at home against the Chargers. It will be a nationally televised game on Fox.
Raiders' embargo lives:
For the third straight year the 49ers and Bay Area rival Raiders will not play in the preseason. The annual series was put on hold after major violence broke out at the 2011 game. The 49ers visit Oakland in the regular season.
March, 25, 2014
Mar 25
12:10
PM ET
As news of the
Cleveland Browns
' interest in trading for Jim Harbaugh has sunk in over the past month, it has become clear talks with the 49ers did not extend much past the Browns expressing interest.
Harbaugh and the 49ers have stated as much. That story was backed up by Harbaugh's brother John, the coach of the
Baltimore Ravens
and an AFC North foe of the Browns. Thanks to Ravens' NFL nation reporter Jamison Hensley, we get to hear Harbaugh's thoughts on the matter. He talked about the situation at the NFL owners meetings Tuesday morning.
"I laughed," the Ravens coach said, recalling his first reaction to the story. "First, I was ticked off because he hadn't told me about this. I'm his brother. I'm supposed to know. I called him, and he just laughed about it."
John Harbaugh said his brother was "incredulous" about the report. Did Harbaugh consider what it would mean to play against his brother twice a season?
"Only briefly, until I found out there was nothing to it," John Harbaugh said.
March, 7, 2014
Mar 7
8:00
AM ET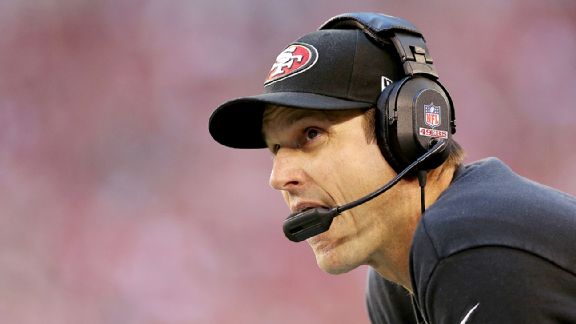 Christian Petersen/Getty ImagesJim Harbaugh has reached the NFC title game in each of his three seasons, so why would the 49ers look elsewhere?
Coach Jim Harbaugh's situation in San Francisco has been one of the most talked-about stories in the league in recent weeks.
If a resolution on his contract isn't reached, it will likely hover over the franchise all season and would be a major story next January, when Harbaugh could leave the team,
although Harbaugh told Sports Illustrated this week he is happy with all aspects of his job and doesn't see any way he will leave the team before the end of his contract.
Still, getting the contract done would ease a lot of issues.
We all know the backdrop: Harbaugh has led the 49ers to the NFC title game in all three of his seasons as coach. He got them to the Super Bowl after the 2012 season. He is entering the fourth year of a five-year contract that pays him $5 million per year. Harbaugh and the 49ers have been in discussion about a new deal for about a year, but are not close to an extension. Team owner Jed York recently told the Sacramento Bee he thinks contract talks will resume after the NFL draft in early May.
Things got interesting when the
Cleveland Browns
pursued a trade for Harbaugh. The 49ers were not interested, but that could change next year.
There have been rampant reports that Harbaugh has had trouble with some in the 49ers' front office, including general manager Trent Baalke. York, Harbaugh and Baalke have long downplayed the friction, indicating that they can coexist.
However, there is enough smoke here to think this situation go could south if a contract isn't agreed upon this year. Let's look at some issues that may be part of this story as it further develops:
The history:
While it would be stunning to see the 49ers-Harbaugh marriage disintegrate after such a stellar start, similar breakups have happened before.
[+] Enlarge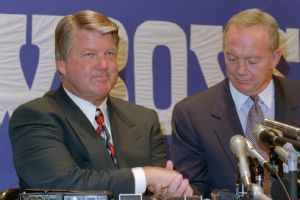 AP Photo/Ron HeflinJim Harbaugh would not be the first successful coach to leave during a team's prime. Jimmy Johnson left the Cowboys after winning two Super Bowls because of fighting with owner Jerry Jones.
After winning two straight Super Bowls, Jimmy Johnson famously left the Cowboys in 1994 after fighting with owner Jerry Jones. Following the 1998 season, Mike Holmgren shocked the NFL when he left quarterback
Brett Favre
and a
Green Bay Packers
team in its prime after a seven-year run that included a Super Bowl win. Holmgren left for more power and much more money in Seattle. In 2002, the Raiders traded coach Jon Gruden to Tampa Bay for a massive amount of draft picks. The Raiders were burned as Gruden led the Buccaneers to a Super Bowl win against Oakland in his first season. In 2007, the Chargers sided with general manager A.J. Smith in his feud with coach Marty Schottenheimer even though the Chargers went 14-2 the season before.
If Harbaugh leaves the 49ers, it wouldn't be the first time a coach and team split despite success.
The highest-paid coaches:
Harbaugh told Sports Illustrated he is not unhappy with his pay, but the man is underpaid considering his massive NFL success. Nine of the 32 NFL coaches in 2013 made at least $7 million. Only five of them had won a Super Bowl.
I'd think it has to bother Harbaugh that Chip Kelly earned $6.5 million in his first NFL season and NFC West rival Jeff Fisher made $7 million in St. Louis. Coaches' salaries are at a premium and, by NFL standards, Harbaugh is underpaid.
The best coaches without power:
He is hypercompetitive and likes to be in control. So, Harbaugh probably isn't always thrilled to defer personnel decisions to Baalke. But I don't sense Harbaugh wanting to be the general manager and making every decision as he said. He is a coach.
I don't see this as a deal-breaker.
There are plenty of great NFL coaches who don't have total power, including Harbaugh's brother, John, in Baltimore. There's also Mike McCarthy in Green Bay, Mike Tomlin in Pittsburgh and Pete Carroll in Seattle. So, a lack of total power in the NFL really isn't a big deal anymore for coaches.
[+] Enlarge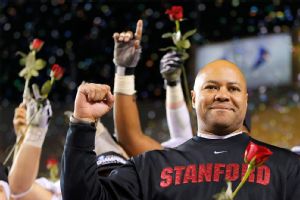 AP Photo/Matt YorkWould Stanford coach David Shaw be a candidate to follow Jim Harbaugh again?
Where could Harbaugh land?
Harbaugh's situation could cause teams to adjust their plans late in the season. I could see many owners prematurely firing a coach to get a shot at Harbaugh if he goes into January unsigned.
But right now, the list of teams that may be making a change next year and may make sense for Harbaugh isn't very long.
Miami and Dallas would be among the biggest suitors. Miami tried to hire Harbaugh before he went to San Francisco. The team has deep pockets, a need for good public relations, and the Dolphins have a good young quarterback in
Ryan Tannehill
. Dallas has big bucks and
Tony Romo
. Harbaugh could like both places.
Other possibilities could include both New York teams and Atlanta (coaching
Matt Ryan
would surely be intriguing). A potential long shot could be Oakland. Harbaugh was an assistant in Oakland and he could stay in the Bay Area. But the Raiders have to find a quarterback and ownership would have to be willing to shell out financially to make it work. Plus, the 49ers would need to get a haul from the Raiders to trade him to their Bay Area rival.
If I had to give odds on the early favorite, I'd look toward Miami.
Who could replace Harbaugh?
It's only logical to think that San Francisco ownership, in the back of its mind, is thinking post-Harbaugh just in case.
The chance of getting draft picks for a coach the 49ers can't come to an agreement with could interest the team next offseason. Also, the idea of front-office peace could be at the forefront as well, especially if things go haywire the rest of this year.
The first place the 49ers would likely look to replace Harbaugh is on the current staff. Because the team has been so successful, I could see the 49ers having interest in staying close to home. Offensive and defensive coordinators Greg Roman and Vic Fangio, respectively, would likely be on the 49ers' list. Defensive line coach Jim Tomsula is a favorite of the front office. He was a candidate when Harbaugh was hired and his players love him.
Here's another name the 49ers could look at -- David Shaw. He replaced Harbaugh at Stanford. I'm sure he wouldn't be afraid to do it again.
Shaw has been steadfast in his desire to stay at Stanford. But if he were ever to leave for the NFL, this would likely be an appealing situation. He and his family could stay in their house and he'd go to a near perfect NFL situation with a franchise quarterback in
Colin Kaepernick
.
There is plenty to unfold in this situation in the next several months. Harbaugh and the 49ers could end it all by coming to a contract extension. But as we have realized early this offseason, it's not that simple.
December, 30, 2013
12/30/13
11:25
PM ET
The
San Francisco 49ers
potentially could see multiple coaches emerge as NFL head-coaching candidates this month.
A league source said some teams (there are currently six teams without a head coach) are beginning to do background work on defensive line coach Jim Tomsula. He could emerge as a candidate in the next week. As per league rule, coaches in the wild-card round (the 49ers play at Green Bay on Sunday) can't interview this week.
Tomsula could be considered a long-shot because he's never been a NFL coordinator. However, coaches such as Andy Reid and John Harbaugh have become successful head coaches after making the jump from an NFL positional coach.
He does have experience as a head coach in NFL Europe. Tomsula, known for an energetic personality and positive attitude, is one of the more respect defensive line coaches in the NFL.
If continued interest in Tomsula develops, he'd join offensive coordinator Greg Roman as a possible head-coach candidate. Roman's name is floating around as a possible candidate in several spots as it did last year.
Meanwhile, USC has announced 49ers' offensive line coach Tim Drevno will become offensive line coach at the school after the 49ers' season ends. He has been with 49ers coach Jim Harbaugh for 10 years. The team still has offensive line coach Mike Solari. The 49ers will likely fill the role in the offseason.