San Francisco 49ers:

Kenny Britt
October, 25, 2013
10/25/13
9:25
AM ET
LONDON -- The
San Francisco 49ers
have been connected to most of the top receivers that could be available through trade.
Gordon
San Francisco has been linked to Cleveland's
Josh Gordon
, the
New York Giants
'
Hakeem Nicks
, and Tennessee's
Kenny Britt
. The 49ers have a need at receiver and have a surplus of draft picks, so the connection is easy.
Predictably, 49ers general manager Trent Baalke had little to say on the matter Friday. He would not confirm interest in any receiver, but he did say they would acquire a player if it thinks it will help the team win.
If I had to guess, I'd think Gordon, considered a No.1 receiver by many teams, would be the 49ers' top choice of the available group. However, it is unlikely a deal gets done by the deadline, which is 4 p.m. ET on Tuesday. It will be difficult logistically. The 49ers will fly back from London Monday. That will give Baalke less than 24 hours to complete deal.
Also complicating matters -- the 49ers have
Mario Manningham
and
Michael Crabtree
coming back from injuries in the second half of the season. So, the need for a receiver will soon not be as dire.
Baalke also said the team isn't planning to trade running back
LaMichael James
. The 2012 second-round pick has been a healthy scratch in recent weeks. Baalke said James will have a role on the team.
"We're not interested in trading LaMichael," Baalke said. "LaMichael's a key player."
October, 22, 2013
10/22/13
4:35
PM ET
LONDON -- The NFL trade deadline looms in seven days. However, realistically, it's just a couple of days away for the
San Francisco 49ers
.
The 49ers are in London preparing for Sunday's game against the
Jacksonville Jaguars
(1 p.m. ET, FOX). Thus, if the they plan to acquire someone to play in Week 8, they'd likely have to do it pretty quickly in order to get the player overseas, acclimated to the team, and not to mention, deal with all the logistical obstacles.
But is a trade likely to still happen, despite the logistics?
Well, the 49ers are going to be connected to available receivers until the deadline passes. There have already been rumblings about interest in Cleveland's
Josh Gordon
, the Giants'
Hakeem Nicks
and Tennessee's
Kenny Britt
.
One reason the 49ers are reluctant to move forward on a trade is because
Mario Manningham
will likely soon be activated from the physically unable to perform list and
Michael Crabtree
is expected back by the end of next month. Though, it still may take Crabtree some time to shake off the rust after tearing his Achilles in May.
This is the second practice week for Manningham, rookie defensive end Tank Carradine and cornerback
Eric Wright
as they try to transition off of the PUP list. They all must be put on the 53-man roster or be placed on injured reserve by Nov. 5. All three are on pace to be activated by the deadline.
In other 49ers' notes:
" Coach Jim Harbaugh told San Francisco radio station KNBR that injuries to starting safeties
Donte Whitner
(knee) and
Eric Reid
(ankle) don't
currently appear overly serious.
That was the indication Sunday night after the win in Nashville.
" Harbaugh told the Sacramento Bee about how he is getting
in the spirit of playing in London this week.
October, 14, 2013
10/14/13
12:18
AM ET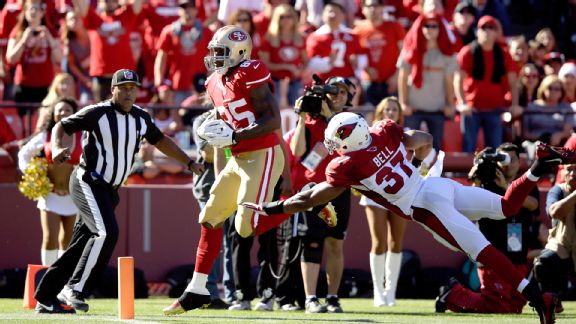 Ezra Shaw/Getty ImagesVernon Davis caught eight passes for 180 yards and two TDs, but the 49ers need more receiving options.
SAN FRANCISCO -- One of the best games by a tight end in NFL history is proof the
San Francisco 49ers
may need to go get themselves another receiving option.
Just think how good quarterback
Colin Kaepernick
could look with a full complement of weapons.
Vernon Davis
' 180 receiving yards in San Francisco's
32-20 win
over the
Arizona Cardinals
on Sunday was tied for the third-most yards by a tight end in the NFL in the past 20 years. It was another indication that there is nothing wrong with Kaepernick, who had thrown for fewer than 180 yards in each of the previous four weeks after passing for a career-high 412 yards in Week 1 against Green Bay.
"Vernon, when he plays like this, he doesn't have to say anything," Kaepernick said. "Everybody on the team feels it. I know it, the coaches know it, and we've got to put the ball in his hands."
The problem for the 49ers is that Kaepernick has only Davis and receiver
Anquan Boldin
. That why the team has been linked to receivers such as
Hakeem Nicks
,
Josh Gordon
and
Kenny Britt
. With
Michael Crabtree
and
Mario Manningham
injured, the 49ers don't have another legitimate, reliable receiving option. While Davis went bonkers, doing 171 yards of his damage in the first half Sunday, Boldin was held in check.
Boldin finished with three catches for 28 yards. Just 72 of Kaepernick's 252 passing yards went to targets other than Davis. While Davis had eight catches, six players combined for Kaepernick's other eight completions. Davis was the target on just three of Kaepernick's 14 incomplete passes. Kaepernick, who saw his offense fail to get a first down on its first four drives of the game, didn't connect with a wide receiver until 1:20 remained in the first half.
While the 49ers and Davis should celebrate this magnificent performance, it is another reminder that this team needs more receiving help. Because if they get that help, the 49ers can win the Super Bowl. It's that simple.
This offense -- which grinded out 149 yards on the ground and which has scored 101 points during a three-game winning streak -- can be wicked if it is truly multidimensional. If not, all it can do is try to move the ball on the ground and hope either Boldin or Davis goes off.
It has worked so far, but one of these weeks both Davis and Boldin will be taken away. Then what?
Manningham (knee) might come off the physically unable to perform list and be able to start practicing this week. Once he starts practicing, the 49ers will have a three-week window to activate him. Last week, San Francisco coach Jim Harbaugh said Crabtree, who suffered a torn Achilles in May, might be ready to play in mid-November. He could come back for the Nov. 17 game at New Orleans that could have huge NFC playoff ramifications.
But there are no guarantees either player will be back anytime soon. There is also no telling how quickly either player would knock off the rust. It's reasonable to assume the 49ers will be at full strength in December. Crabtree would instantly be a top target and make Boldin more valuable because he would see fewer double-teams. (He said last week this is the most double coverage he's seen in his career.) Boldin can be a major weapon as a No. 2 receiver. Manningham also would give the 49ers much-needed depth. The team's current No. 2 and No. 3 receivers,
Kyle Williams
and
Jon Baldwin
, each had one catch Sunday. That is not going to cut it.
That brings us to the trade dilemma: Do the 49ers sit and wait for their injured players to come back, or do they get aggressive and make a deal?
You could make an argument for both sides. But seeing Sunday's display might tempt the 49ers to load up now and worry later about having too much depth or losing a draft pick. If San Francisco adds the right receiver, Kaepernick would have more options in the immediate future, and the team could be nearly unstoppable come playoff time.
CBS Sports reported Sunday that the 49ers are considering trading for Nicks. The Giants are 0-6, and Nicks probably will leave as a free agent. He'd likely be a rental for the 49ers. They have several contracts to address in the near future with free agents. But he could be a special rental.
ESPN NFL Insider Adam Schefter has reported the 49ers have considered acquiring Gordon from Cleveland, but that likely won't happen because of the soon-to-return statuses of Manningham and Crabtree. Britt, whom the 49ers will face in Tennessee next week, is also on the block. Gordon and Britt both have had off-field problems, and with the 49ers already dealing with the
Aldon Smith
situation, they may not want to add another player with issues.
Nicks might make the most sense. There are financial and draft-pick questions to be answered, but there is no question he'd make the 49ers better for the rest of the season and take pressure off of Kaepernick.
Led by Davis Sunday, the 49ers showed they can be dangerous. But Super Bowl winners need to be more than dangerous. They need to be multilayered. That's why adding offensive weapons has to be tempting for San Francisco.
October, 13, 2013
10/13/13
3:40
PM ET
SAN FRANCISCO --
Patrick Willis
is an active San Francisco 49er again.
Willis
The star inside linebacker is expected to start. He hasn't played since Week 3 against the Colts when he suffered a groin injury.
Defensive lineman
Ray McDonald
is also active as expected. He suffered a biceps injury last week and did not practice Wednesday and Thursday. But the team doesn't think he is at risk of suffering further damage to the bicep if he continues to play.
McDonald
Cornerback
Nnamdi Asomugha
and running back
LaMichael James
are healthy but still not active. Asomugha lost his No. 3 cornerback job when
Tramaine Brock
played well the past two weeks while Asomugha was out with a knee injury.
James missed the first three games with a knee injury. But the 2012 second-round pick did play the past two weeks. There have been signs that the team is not confident in James in pass protection. Thus, he may have a difficult time getting back on the field.
Asomugha and James potentially could be in danger when the 49ers starting bringing back several players from injured lists in the coming weeks.
Meanwhile, CBS Sports is reporting that the 49ers have interest in Giants' receiver
Hakeem Nicks
. It makes sense the 49ers are in need of a receiver and they have been also linked to the Browns'
Josh Gordon
and the Titans'
Kenny Britt
. The trade deadline is Oct. 29.
Tampa Bay signed guard
Patrick Omameh
off the 49ers' practice squad. They now have an opening on the eight-player squad.
October, 1, 2013
10/01/13
2:30
PM ET
SANTA CLARA, Calif. -- There are two interesting players available via trade at the moment -- Tampa Bay quarterback
Josh Freeman
and Tennessee receiver
Kenny Britt
.
Could the
San Francisco 49ers
be a fit for either? The 49ers need a receiver and have looked at veteran backup quarterbacks in the past month, so it's not out of the question for San Francisco to have interest. Plus, the 49ers' brass has been aggressive in the trade market and the team has a big surplus of draft picks next year. So there are reasons to believe the 49ers would be open to dealing.
Britt
Freeman
But do Freeman or Britt make sense for the 49ers? Let's take a look:
Freeman:
The 49ers have recently considered quarterbacks
Brady Quinn
and
John Skelton
. Freeman is more skilled than either of those players, and he'd arguably be an upgrade over current backup
Colt McCoy
. But I'm not sure adding him would be worth it. There is no great need and the 49ers don't have a lot of salary-cap room, so adding Freeman could be tricky. There are things to like about this pairing, but I'm just not sure making it happen would be a priority.
Britt:
The 49ers could use a receiver. They aren't getting much help beyond No. 1 receiver
Anquan Boldin
. However,
Mario Manningham
may be back within the month, and
Michael Crabtree
could return for the stretch run. So the 49ers may not feel the need to add a receiver. Along with Britt, Cleveland's
Josh Gordon
is reportedly also available. Sure, the 49ers could use one of those players now. But in the long run, I'm not sure it would be worth the money, investment and potential hassle considering both Britt and Gordon have had off-field issues. The 49ers are busy enough dealing with pass rusher
Aldon Smith
's troubles.