San Francisco 49ers:

Louis Riddick
June, 9, 2014
Jun 9
11:00
AM ET
One of the things
Keith Reaser
misses most about his older cousin, Sean Taylor, is how he united the extended family.
Every Sunday, if the family wasn't watching its fabulously talented prodigy dominate as a star safety for the
Washington Redskins
live, it would gather at a family home to watch Taylor on television.
Seven years later, Reaser hopes to give his family the chance to revisit those wonderful memories. When the
San Francisco 49ers
took Reaser, a talented but injured cornerback from Florida Atlantic, in the fifth round of last month's draft, they brought back the NFL to a family.
When Reaser was 16, Taylor, a Pro Bowl safety for the Redskins, was shot and killed by intruders at his home in November 2007. Taylor was 24. His death shocked the NFL. It devastated his family.
[+] Enlarge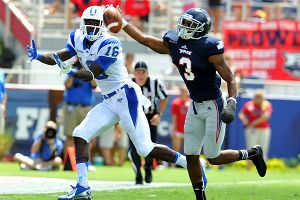 Steve Mitchell/USA TODAY SportsCornerback Keith Reaser (3) was drafted in the fifth round by the 49ers.
"It was such a tough time for us," said Reaser, whose mother is the sister of Taylor's mother. "He was our focal point. So much was about Sean. For it to happen like that and being in the spotlight, it was very difficult to handle."
Like his older cousin, Reaser is represented by agent Drew Rosenhaus. He was close with Taylor and recalls his death as one of the most difficult memories of his life. Rosenhaus relishes the chance to work Taylor's family member.
"It's special," Rosenhaus said. "It's really nice to be around these great people with something nice going on. Sean's passing was so difficult on me and, of course, the family. To be around them for something that is going on is really a blessing."
Reaser is proud to follow his cousin to the NFL. While Taylor was eight years his senior, he was definitely a role model for Reaser. The two would work out together, and Reaser tried to glean everything he could from Taylor, the No. 5 overall pick in the 2004 draft.
"I watched every game he ever played," Reaser said, "from him being at Miami in college to the NFL. We used to run and train together. What I learned most from him was his passion and work ethic. He taught me that, and I will never forget it."
Reaser learned from the best. ESPN analyst Louis Riddick was a pro scout when the Redskins drafted Taylor and was the team's director of pro personnel during Taylor's final three seasons. Taylor remains special to Riddick.
"[Taylor was] the best athlete that I ever scouted from a size, speed, instincts and competitiveness perspective for any position coming out of college," Riddick said. "He was a
Kam Chancellor
-style hitter with fluidity, grace and ball skills that could not be matched as far as safeties go. Developed a commitment to being the greatest he could be, which would have been one of the greatest of all time. Very football smart, very likeable, very coachable; he was everything I wish I could have been when I was a player, and I used to tell him that. [He was] taken from his family and friends way, way, way too soon."
Rosenhaus said he thinks Reaser used some of the strength developed from from the loss of his older cousin when he suffered a setback that could have devastated other players. Reaser, who Rosenhaus said could have gone as high as the second round if healthy, tore his left ACL in October playing for FAU. It was discovered at the NFL combine in February that the grafting in his surgery did not work. He had to undergo a second surgery.
"Keith handled that devastating news so well," Rosenhaus said. "I think he was able to bounce back partially because he learned how to deal with devastation early. He has the perseverance many young men don't have."
There is a chance Reaser could be ready to play later this year. But the 49ers, who have a loaded roster, drafted Reaser for the future. They believe Reaser, who has good size for a cornerback, is a fluid athlete who can develop into a strong contributor.
Reaser, who has long studied film of his cousin, can't wait until he gets his turn in the NFL.
"He would have been the best safety ever to play," Reaser said of Taylor. "I want to make his memory proud."
April, 7, 2014
Apr 7
3:05
PM ET
In our weekend mailbag,
we looked at whether the
San Francisco 49ers
could continue their trend of drafting injured players in an attempt to stash value for the future.
It appears there is another interesting candidate available.
ESPN insider Adam Caplan reported Monday
that Clemson guard
Brandon Thomas
tore his ACL last week. He is one of the highest rated guards in the draft. Caplan noted that Thomas shined during the Senior Bowl week and ESPN's
Louis Riddick
tweeted that Thomas was one of the few players last season to do well against South Carolina star
Jadeveon Clowney
. Steve Muench of Scouts Inc. said Monday the group had a late-second round grade on Thomas before his injury.
It should also be noted that 49ers general manager Trent Baalke attended Clemson's pro day. The 49ers could use some young interior lineman. Guard
Mike Iupati
is entering the final year of his contract and there is some belief, because of several other looming contracts, the 49ers may have a difficult time keeping Iupati.
Thomas, who will likely not be avalable for the 2014 season, will very likely fall in the draft. The 49ers have 11 picks and not a lot of immediate needs. They have to be considered a candidate to take a falling star like Thomas.
They showed they are not afraid to make such a move. The 49ers took defensive lineman Tank Carradine in the second round and running back
Marcus Lattimore
in the fourth round last year. Both players missed the 2013 season because of torn ACLs.
They both would have been taken much higher if they were healthy. Both players are expected to make contributions this season. So, it only makes sense the 49ers could consider doing the same with Thomas.
March, 26, 2014
Mar 26
3:00
PM ET
In an Insider piece, ESPN analyst Louis Riddick looks at
whether the San Francisco will and should extend the deal
of quarterback
Colin Kaepernick
this offseason or wait until after his contract expires after 2014 season.
Kaepernick
Riddick makes some interesting points. But by hearing the words of the 49ers' brass this week at the NFL owners meetings, the decision has been made.
The 49ers want to secure Kaepernick as soon a possible. In fact, on Tuesday, San Francisco general manager Trent Baalke said the team hopes to get a deal done for Kaepernick by the time training camp starts in late July.
It was significant because it was the first time the team put a timeline on the negotiations and it signified the team has seen enough -- they want him for the long term. Coach Jim Harbaugh and CEO Jed York echoed Baalke's thoughts this week.
This is what Harbaugh said Wednesday morning, via ESPN
Jacksonville Jaguars
reporter Mike DiRocco: "I think we all know what Colin's earning potential is. We all pretty much know what the numbers are … We all look at it that way. He deserves that. That's what he deserves. That's what the market pays for that job. Nobody attacks it more than he does. Nobody wants to be great like he does."
That means the 49ers are preparing to pay Kaepernick a long-term deal that will likely average, at least, $18 million a year. It is a load of money, but Kaepernick is going into this season set to make just above $1 million. The kid is 21-8 as a starter and he has been to two NFC Championship games and a Super Bowl in less than two seasons as a starter.
Quarterbacks get paid. Kaepernick is an upper level quarterback and he deserves to be paid like it. It looks like it's going to happen sooner rather than later.
March, 25, 2014
Mar 25
7:30
PM ET
The
San Francisco 49ers
have been speculated as one of the teams that are most likely to pursue Philadelphia receiver
DeSean Jackson
in a trade.
49ers general manager Trent Baalke
denied reports
that the 49ers have called the Eagles about Jackson for the second time at the NFL owners meetings on Tuesday. Jackson's huge contract is one of the reasons the 49ers are likely reluctant to pursue him.
However if there were no restraints, the 49ers would be a terrific fit for Jackson. He is a field-stretching receiver, which is one of the 49ers' few needs.
I reached out to ESPN analyst Louis Riddick. He was previously in the Eagles' front office and he is well equipped to give an accurate scouting report on Jackson. He sees the football fit with the 49ers.
"From a pure X/O standpoint, he is a good fit for them if they are willing to utilize less 22 and 23 personnel (2 RBs/2 TEs/1 WR and 2 RBs/3 TEs) and use more personnel groupings that keep two or more WRs on the field," said Riddick of the 49ers who used the fewest three-receiver sets in the NFL last season partly because they didn't have a pure speed receiver.
"Furthermore, there has to be an understanding that he is not a physical presence in the running game as it pertains to blocking in the perimeter. If that understanding is good for them, there is no doubt he gives them what they don't have, and it is not just a 'deep' threat. The kid is a moveable chess piece that can play all three primary WR positions, can run routes and excel at all three levels of the defense, and is very dangerous on screens and reverses as a runner. Their locker room appears strong enough to be able to allow him to be him, but not tolerate anything less than an all-in/all-the-time attitude."
While the fit is there on the field, it is highly unlikely it would be on the salary cap.
November, 6, 2013
11/06/13
8:00
AM ET
SANTA CLARA, Calif. -- The
San Francisco 49ers
' practice field is an amazingly talented place these days.
In what has a chance to be one of the more compelling stories in the NFL in the second half, the 49ers are getting several reinforcements.
The 49ers (6-2) had their bye in Week 9 following a five-game winning streak, and the off week was not a quiet one.
[+] Enlarge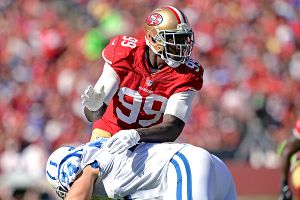 AP Photo/Greg TrottAldon Smith, who has 38 sacks since entering the NFL in 2011, has been activated by the 49ers.
They activated four players who could have an impact: pass-rusher
Aldon Smith
, receiver
Mario Manningham
, cornerback
Eric Wright
and rookie defensive lineman
Tank Carradine
. Also, standout receiver
Michael Crabtree
was cleared to practice this week, and barring a setback from a torn Achilles, he will be ready to play by the end of the month.
Has a contender ever had this type of firepower come back to a team for the stretch run? Barring setbacks, they will all have major roles. The additions will deepen every aspect of a team that was already hot, one that outscored its opponents by a combined score of 174-61 during its win streak.
Linebacker
Ahmad Brooks
said Tuesday it's special to get all the players back and that it will allow the team to hit its stride when it counts most.
"I think San Francisco has weathered the storm, and right now, they would be my pick to come out of the NFC," ESPN analyst Matt Williamson said.
Williamson and fellow ESPN analyst Louis Riddick said the key additions will be the receivers and Smith. Getting more out of the receiving crew beyond
Anquan Boldin
is paramount.
"Most importantly, the big-play weapons on the outside," Riddick said. "[It's] going to make them more multiple in what they can do, which they will need ultimately to deal with the divisional nemesis Seattle."
Smith brings serious pass-rush presence. His 38 sacks since entering the league in 2011 is second in the NFL.
ESPN analyst Gary Horton said the additions will have an effect on the entire team.
"It makes them so deep," Horton said. "Their 45th-53rd players are strong. You won't see that around the league, but that's what you have in San Francisco."
October, 9, 2013
10/09/13
8:00
AM ET
SANTA CLARA, Calif. --
Alex Smith
's
Kansas City Chiefs
are 5-0.
Colin Kaepernick
's
San Francisco 49ers
are 3-2.
Smith is a good fit in Andy Reid's offense. He is playing game manager and helping the Chiefs stay perfect.
Smith
Kaepernick
Kaepernick's numbers are down this season after his spectacular 2012 run that culminated in a Super Bowl appearance. He is clearly suffering from injuries to receivers
Michael Crabtree
and
Mario Manningham
, but he has been far from horrible.
Some have questioned whether the 49ers would be better off with Smith, who was traded to the Chiefs in the offseason, as their quarterback. San Francisco got hot last season when Kaepernick took over after Smith was sidelined by a concussion.
The 49ers were good with Smith but believed they could be great with Kaepernick. I wanted to know what the experts thought: Is Kaepernick or Smith the better fit for the 49ers? I selected a panel of ESPN analysts who have professional scouting experience to discuss the topic. Here is what they had to say:
Gary Horton:
"I find that argument absolutely ridiculous and frankly, embarrassing. Yes, we are not seeing the explosiveness from the 49ers and Kaepernick we saw last year but that's because of the injuries and plus, they can turn it on when they need to. The comparison is not even close. There are no limitations to where Kaepernick can go in his career. Alex Smith is good, but this is it. I can't see anyone making the argument in favor of Smith."
Louis Riddick:
"Really, it is a matter of your personal taste when choosing a QB, as with any other position. Andy has always coveted Alex due to his intelligence, his conservative approach to playing the position in terms of valuing taking care of the football over taking chances, and his ability to make plays with his feet when needed. With Colin, I think you get the intelligence and ability to handle volume as far as the amount you can put on him mentally that gives you a lot of options week to week game-plan wise as well, with the difference being that he is willing to take more chances at pushing the ball vertically down the field, and not being so quick to simply take sacks or take off every time the read isn't clean initially. There is no question the upside lies with Colin in terms of who has the higher ceiling, and with both given equal weapons/protection, Colin would be the more explosive player, and the player I would choose.
Matt Williamson:
I would way, way rather have Kaepernick. He is capable of extreme greatness. Smith is not. I am not worried about Kaepernick long-term. His weapons are really lacking.
My thoughts:
Any talk that the 49ers would be better with Smith than Kaepernick if off base and a bit silly. The fact that the Chiefs are 5-0 has nothing to do with the 49ers. There is little doubt Kaepernick is the right quarterback for the 49ers now and beyond.