December, 15, 2014
12/15/14
5:42
PM ET
The NFL's vice president of officiating admitting Monday morning that referee Ed Hochuli was wrong on a personal foul call against the
San Francisco 49ers
in their 17-7 loss to the
Seattle Seahawks
did nothing to soothe sore feelings in Santa Clara.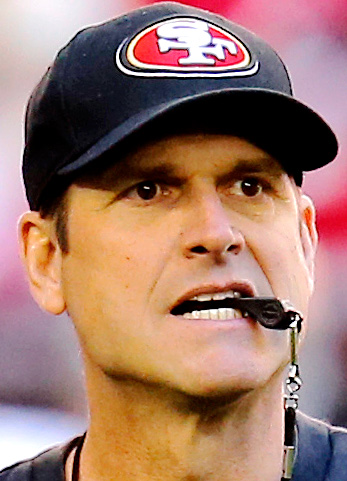 Harbaugh
In fact, Niners coach Jim Harbaugh intimated it may have had the opposite effect.
"Is it worse to hear (the acknowledgement) after the fact?" Harbaugh said, repeating the question Monday in his weekly media conference. "It's worse to get the penalty at the time."
To recap: the Seahawks were facing third-and-5 at the 49ers' 15-yard line early in the fourth quarter when
Russell Wilson
threw an incompletion into the end zone. The incompletion would have forced the Seahawks to attempt a field goal to go up 13-7,
but Hochuli flagged
linebacker
Nick Moody
for roughing the passer because, in Hochuli's opinion, Moody hit Wilson in the chest with the "hairline" of his helmet. Two plays later, Wilson found
Paul Richardson
for a 10-yard touchdown pass that put Seattle up 17-7.
On the NFL Network's "NFL AM" show, the league's vice president of officiating said the call was wrong.
"In looking at it, it was not (the correct call)," said Dean Blandino. "The rule protects a passer from two types of hits: Hits to the head or neck, or hits with the crown or forehead, which is just below the crown part of the helmet, and that's what the referee called.
"It's close, but when you look at it on tape, Moody's head is up, he hits with more of the side and the facemask to the body of the quarterback, and in our review, with the ability to look at it in slow motion, it's not a foul."
Blandino also said if Hochuli did not see the play clearly -- replays show him behind and to the right of Wilson -- he should not have thrown a flag.
"Ed was getting into position and he saw him, or what he thought he saw ducking the head and making the contact," Blandino said. "So he wouldn't throw the flag if he didn't see it. But it obviously happens quick -- it's full-speed -- and (Hochuli) doesn't have the benefit of the slow motion replays that we all do after the fact."
Had the foul not been called and assuming the Seahawks make the short field goal, the Niners would have had the ball needing only a touchdown and extra-point to take the lead. But keep this in mind: the 49ers' first-string offense has only one fourth-quarter TD drive this season, and
Colin Kaepernick
is the only qualified QB in the NFL without a TD pass in the fourth quarter this season.
So pulling off a late score against the Seahawks' top-ranked defense would have been a chore in itself. Still, the Niners would have loved to at least have had the opportunity.
"I mean, I thought it was a clean hit," Moody said after the game. "Gotta check the film, but it felt clean to me."