San Francisco 49ers:

Odell Beckham
May, 9, 2014
May 9
2:10
AM ET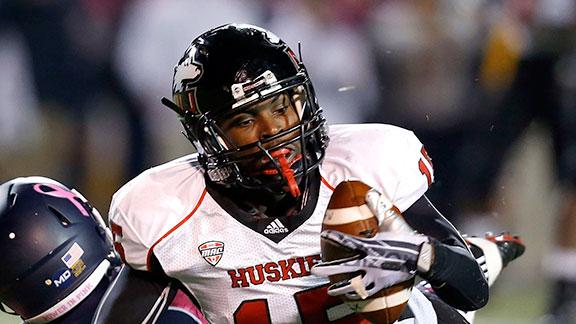 SANTA CLARA, Calif. -- The
San Francisco 49ers
were supposed to be powerbrokers of the first round.
Everyone was expecting them to go make the big move for a top-end receiver in an effort to compete with Super Bowl champion -- and heated NFC West rival -- Seattle.
Instead, the 49ers ended up addressing their one true need -- albeit in an unexpected way.
Instead of trading up for stud LSU receiver
Odell Beckham
or taking one of the glamour cornerbacks, the 49ers grabbed Northern Illinois safety
Jimmie Ward
with the 30th pick.
At first glance, it smacked of a curious reach. Yes, Ward was a scout's favorite, but he was considered more of a second-round pick. And he played a position the 49ers made their biggest offseason investment at -- by signing veteran
Antoine Bethea
to a four-year, $23 million deal.
With receivers
Cody Latimer
and
Marqise Lee
still on the board, picking Ward did not initially appear to make much sense. But after digesting the pick, I could see why the 49ers made this pick.
The 49ers' benchmark is defense. With star inside linebacker
NaVorro Bowman
out until about midseason with a torn ACL and star linebacker
Aldon Smith
's future clouded by a potential NFL suspension, the 49ers need to keep their edge in the early season.
This move should ensure they stay stout in the secondary. In addition to safety
Donte Whitner
(who Bethea replaces), the 49ers parted ways with their second and third cornerbacks --
Tarell Brown
and
Carlos Rogers
-- this offseason.
Tramaine Brock
and
Chris Culliver
are expected to start.
The 49ers want to see Ward become the nickel. He played there often at Northern Illinois. Some teams are using safeties as a nickel and it seems the 49ers are going that route.
There were rumblings the 49ers didn't like any of the four cornerbacks that went in the first round --
Justin Gilbert
,
Kyle Fuller
,
Darqueze Dennard
and
Jason Verrett
. They had the means to trade up and pick any of them and didn't.
Instead, they eyed the hard-hitting, competitive and smart Ward.
This may be out of the box, but it seems like a 49ers move. Having Reid, who made the Pro Bowl as a rookie last season, the steady Bethea and Ward on the field together makes this a strong secondary.
49ers general manager Trent Baalke raved about Ward's competitive nature. Coach Jim Harbaugh simply said: "He loves football."
Baalke, who saw Ward play live once, said it was telling that when he asked scouts which games of Ward's he should watch, multiple scouts said, "Pick one." It was Ward's consistency that stood out to the 49ers.
Ward, who had the second most interceptions in the country last season with seven, led his team in tackles and interceptions the past two seasons. Baalke doesn't think coming from a smaller conference will be too much for Ward.
"The stage isn't too big for him," Baalke said.
Ward showed he had the mental toughness for the NFL when he ran for scouts with a broken foot, which is expected to be completely healed by training camp. Ward posted a 4.48 40-time on a bad wheel. That made Baalke smile.
The 49ers may not have stolen headlines with this pick, but they did add a key component to what makes them the 49ers -- an ornery defense.
May, 8, 2014
May 8
1:00
PM ET
ESPN draft experts Mel Kiper Jr. and Todd McShay have released their final mock drafts of the year in Insider pieces. Both men have the
San Francisco 49ers
getting a receiver.
In Kiper's mock

, he has Indiana's
Cody Latimer
going to the 49ers at No. 30. If the 49ers -- who reportedly are trying to trade up for a receiver -- stay at No. 30, Latimer would be a tremendous value. I'd be surprised if he is there, as I think he'll go in the 22-26 range.
A lot of people,
including me,
think the 49ers will attempt to trade up for a top receiver such as LSU's
Odell Beckham Jr
.
McShay agrees.

But the rule of this mock is there are no trades. So, McShay admitted he fudged some and had Beckham slide to the 49ers at No. 30. He knows it's unlikely, but because the 49ers' pursuit of Beckham appears real, he made this pairing.
May, 8, 2014
May 8
10:00
AM ET
Here is my seven-round prediction for the
San Francisco 49ers
' draft.
No, I do not have any confidence I'm getting this correct. But I am going to project a trade since I don't believe they're going to keep all 11 picks. I think I will at least be in the right range of the total number of picks they're going to make. Here we go:
Trade:
I project the 49ers sending three of their picks (No. 30, No. 56 and No. 61) to the
Tennessee Titans
for the 11th overall pick in the first round.
Summary:
The 49ers have a lot of options as far as moving up. But there have been strong indications they want to go big for a top receiver. LSU's Odell Beckham would qualify as a big hit. The cost is expensive, but it could be worth it for the 49ers, who want an instant impact player. Pierre Desir and Marcus Roberson would give a much-needed boost at cornerback. They both could potentially contribute early. Stork could be a nice prospect to snare in the third round. Thomas has the look of a quarterback Jim Harbaugh would like to develop. The last four players on the board are all players the 49ers have shown interest in during the draft process.
May, 6, 2014
May 6
6:05
PM ET
With the NFL draft just days away, speculation remains heavy that the
San Francisco 49ers
are considered a prime candidate to move up in the draft.
Much of the speculation is that the 49ers are considering a move up from No. 30 overall for a receiver. I heard the talk Tuesday and ESPN Insider Adam Caplan reported on it as well.
Let's take a look at what such a move would mean:
Targets:
Speculation revolves around LSU's
Odell Beckham Jr
. and Oregon State's
Brandin Cooks
. It would likely mean getting in the Nos. 12-20 range to get these players. Beckham will likely go higher than Cooks.
How much it would cost:
Last year, the 49ers gave up No. 31 and No. 74 to go to No. 18 to take LSU safety
Eric Reid
. It would likely cost more this year, especially if it meant going from No. 30 to No. 14. But the 49ers have No. 56 and No. 61 in the second round and No. 77 and No. 94 in the third round to trade. So, they have the means to make a big deal up.
The message:
If the 49ers trade up for a player like Beckham, it would mean the 49ers think they can win the Super Bowl with another dynamic piece of offense. A receiving group that includes Beckham,
Anquan Boldin
,
Michael Crabtree
and
Vernon Davis
would be pretty impressive. It would put pressure on Seattle, the 49ers' biggest obstacle in winning the NFC West and the Super Bowl. Another weapon would only expedite the maturation of quarterback
Colin Kaepernick
. I see the appeal in making this pick.
What it says about cornerbacks:
If the 49ers make a big move up and it's for a receiver and not a cornerback, it means they don't like the cornerbacks expected to go in the first round. In that case, they would likely use their next picks (whatever ones are not part of the trade up) at cornerback. The 49ers need some help at cornerback. Right now their top cornerbacks appear to be
Tramaine Brock
,
Chris Culliver
and
Chris Cook
. They like second-year player
Darryl Morris
. But there is definitely a need for some rookies as well. But if this trade is made, it will not only mean the 49ers are ready to win on offense, but they think they can get some help at cornerback after the first round.
Scout's view:
ESPN's Matt Williamson likes the idea: "I am a huge Beckham fan and think that is exactly the type of WR the 49ers need to target."
April, 30, 2014
Apr 30
2:30
PM ET
There has been speculation throughout the NFL draft season that the
San Francisco 49ers
could be a prime candidate to move up in the first round next Thursday.
A potential trade partner could be the
Baltimore Ravens
. The Ravens hold the No. 17 pick. Ravens general manager Ozzie Newsome told reporters Wednesday that they have already received calls for the pick.

Let's look at some reasons how the 49ers (who have the 30th overall pick in the first round) and the Ravens could be trade partners.
49ers have done it before:
This move up would be 13 spots. The 49ers did exactly that last year when they went from No. 31 to No. 18 in a trade with Dallas to take safety
Eric Reid
, who became a Pro Bowl player as a rookie. In addition to No. 31, the 49ers gave Dallas No. 74, in the third round.
Teams work well together:
We know these two teams communicate. Of course, Jim and John Harbaugh are the respective coaches of the 49ers and the Ravens. Plus, the two teams have been in contact this spring putting together a joint workout in August. Newsome and 49ers general manager Trent Baalke have had dealings in the past. And the Ravens sent receiver
Anquan Boldin
to the 49ers last year.
Potential targets:
The 49ers' top needs are at cornerback and receiver. The cornerbacks expected to go in the top 20 are Oklahoma State's
Justin Gilbert
, Michigan State's
Darqueze Dennard
and perhaps Virginia Tech's
Kyle Fuller
. The receivers who could be taken in that range include LSU's
Odell Beckham Jr.
and Oregon State's
Brandin Cooks
. The 49ers have been studying both players intensively.
What would it cost?
The 49ers have a few packages to offer. They could offer No. 30 and No. 77, in a similar deal to the Dallas swap. Or they could offer No. 56 and No. 61, and perhaps even those two picks with No. 84 or No. 129.
Have they already talked?
Newsome said they've had preliminary talks with teams, and Baalke said last week it is routine for him to have initial talks prior to the draft with potential trade partners to discuss potential scenarios.
It's already been suggested:
Former Tampa Bay general manager and current ESPN analyst Mark Dominik
suggested a 49ers-Ravens trade for No. 17

in an Insider piece last week.
April, 29, 2014
Apr 29
8:00
AM ET
Todd McShay has been studying the
San Francisco 49ers
spot at No. 30 in the first round of the May 8-10 draft.
McShay thinks they may be in a rough spot.
While their top needs, receiver and cornerback, are the two deepest positions in this draft, McShay thinks seven receivers and five cornerbacks could go in the first round.
Here are the receivers he thinks can go in the first 32 picks: Clemson's
Sammy Watkins
, Texas A&M's
Mike Evans
, LSU's
Odell Beckham Jr.
, Oregon State's
Brandin Cooks
, USC's
Marqise Lee
, Indiana's
Cody Latimer
and Florida State's
Kelvin Benjamin
. Here are the cornerbacks McShay thinks will go in the first round: Michigan State's
Darqueze Dennard
, Oklahoma State's
Justin Gilbert
, Virginia Tech's
Kyle Fuller
, Ohio State's
Bradley Roby
and TCU's
Jason Verrett
. Roby, however, is coming off an OVI incident in Ohio, which he disputes. That could take him off team's boards and lessen the first-round market.
UPDATE
: Roby pled guilty to a lesser charge Tuesday.
McShay says that several teams that pick right in front of the 49ers need a receiver or a cornerback. He thinks the teams drafting from No. 22-28 could easily take a player at one of those two spots.
That would create two problems for the 49ers.
All the players in this group could be off the board when the 49ers pick at No. 30. Plus, because so many teams are in the market for cornerbacks and receivers, the 49ers may have a difficult time trading up in the 22-28 range because few teams want to avoid the dilemma that may be facing San Francisco.
The 49ers may have to trade in the 15-20 range to get a player they covet. They have six picks in the first 100 picks, so they do have picks to trade. Plus, they have shown they aren't afraid to move up. The 49ers traded up from No. 31 to No. 18 to grab safety
Eric Reid
last year.
McShay said the receiver class is much deeper, so it may behoove the 49ers to try to take a cornerback in the first round and then grab a receiver later. McShay believes there are 21 receivers who could be taken in the first four rounds.