San Francisco 49ers:

Richard Sherman
June, 2, 2014
Jun 2
2:30
PM ET
Earlier Monday
, we looked at the contract situations of tight end
Vernon Davis
and guard
Alex Boone
. Now, we take a look at some of the other storylines that developed while I was on vacation:
•
Aldon Smith
pleads no contest to
three felony weapons charges
and two misdemeanor counts of driving under the influence.
My thoughts:
Smith is set to be sentenced July 25. He could face jail time. He could also face an NFL suspension. Smith's future is very much up in the air.
•
Colin Kaepernick
investigation goes to state attorney's office in Florida
My thoughts:
The case in Miami, in which Kaepernick and receiver
Quinton Patton
have been investigated in a "suspicious incident" has been ongoing for two months. It is said to be winding down.
• 49ers' entire draft class is signed
My thoughts:
This is one of the best aspects of the new CBA. One of the silliest moments of every summer was signing a fourth-round pick holdout for a week and he would fall behind. Thankfully, that doesn't happen anymore.
•
LaMichael James
joins workouts
My thoughts:
James was open to a trade, and was staying away from the team. However, when he wasn't traded during the draft, James rejoined the team's voluntary workouts. It was a smart move. The team currently has no plans of trading James, and thus, he needs to make the roster. Being with the team helps his cause.
• Jerry Rice Jr. not signed after tryout
My thoughts:
It's no surprise. He didn't make much of an impact at UCLA and UNLV in his college career.
• Kaepernick loses to
Richard Sherman
in "Madden NFL 15" cover semifinal vote
My thoughts:
That's a good thing for Kaepernick and the 49ers, right? You now, the curse and all.
Salary cap update
: Now, that June 1 has passed, the 49ers have gained $6.6 million in cap space per the release of cornerback
Carlos Rogers
. The 49ers have about $8 million in cap space. Some of that money could be used to sign Kaepernick, and perhaps another player, to an extension.
May, 29, 2014
May 29
10:00
AM ET
By
ESPN.com staff
| ESPN.com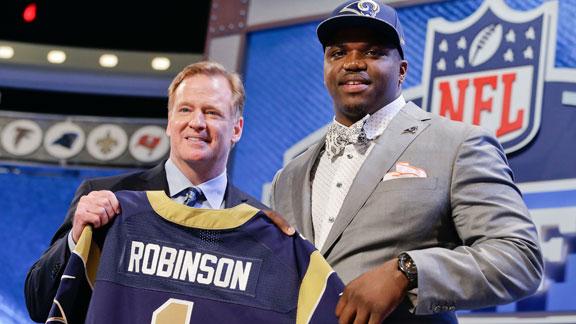 By almost everyone's estimation, the rough and rugged NFC West was the best division in the NFL in 2013. It had the Super Bowl champion
Seattle Seahawks
, two teams in the NFC Championship Game (Seattle and the
San Francisco 49ers
) and another 10-game winner in the
Arizona Cardinals
. The
St. Louis Rams
were 7-9 but likely would have had a winning season in any other division.
And now? Other than adding Godzilla and three superheroes to the four teams, they could not get much better. It looks like the big boys on the NFC block will remain out west.
Most experts believe the Rams had one of the best drafts in the NFL, adding Auburn offensive tackle
Greg Robinson
and Pittsburgh defensive tackle
Aaron Donald
, giving St. Louis four first-round picks on what is arguably the best defensive line in football.
The 49ers had 12 draft picks, including seven in the first four rounds, and made a trade during the draft for talented Buffalo receiver
Stevie Johnson
.
The Cardinals signed gigantic left tackle
Jared Veldheer
and blazing kick returner
Ted Ginn
in free agency. They also added a vicious hitter, Washington State safety
Deone Bucannon
, with their first draft pick.
As always happens with Super Bowl champs, the Seahawks lost a few key players to free agency, but they kept the man they really wanted to keep in defensive end
Michael Bennett
and locked up "Legion of Boom" stars
Earl Thomas
and
Richard Sherman
to long-term deals.
Believe it or not, the best division in the NFL just got better.

As usual, the Seahawks drafted some players other teams would have taken later, if at all. Should people question their choices, or have they earned the benefit of the doubt?
Terry Blount: Have we learned nothing from the past? Questioning Seattle's draft strategy, along with undrafted signees, now seems a little foolish. Shall I name a few who stand out that other teams passed up or the experts questioned? Sherman, Russell Wilson, Doug Baldwin and Malcolm Smith, for starters. The Seahawks bring in players with specific traits -- unusual athleticism, driving competitiveness and obvious intelligence. Where those players rank on another team's draft board means nothing to them. And at first glance from rookie camp, they found some winners in receivers Paul Richardson and Kevin Norwood, along with defensive end Cassius Marsh.
Nick Wagoner:
At this point, it's hard to argue with the results the Seahawks are getting from the players they draft. It is interesting that it seems like the first-round picks (such as
James Carpenter
and
Bruce Irvin
) are the ones who seem to struggle most relative to draft position. But the thing Seattle does so well is find players who fit the confines of who they want to be on both sides of the ball. Then they develop them and have them ready to go. It is why they never seem to miss a beat when injuries hit or a player is suspended. The results speak for themselves.
Josh Weinfuss: A little leeway should be given to the Seahawks because, first, they are the reigning NFL champions, and second, their personnel department has been able to piece together a pretty good roster with players who were not highly rated. With that being said, good will should only go so far. Sometimes a general manager and coach think they have the secret recipe and get cocky about their ability to find talent. When that happens, bad decisions are made. Obviously, the Seahawks have a reputation for picking good players, but they won't be right every time. Every team has an off draft and picks who don't pan out. It is also too early for us to know if some of their "rogue" picks will do anything. Their picks should definitely be questioned until they have a chance to show us their stuff.
Bill Williamson: The glue to the Seahawks is general manager John Schneider. Yes, coach Pete Carroll is a tremendous fit for the franchise and is a big part of the team's success. But Schneider is the architect of this franchise. He built this roster. There is little doubting the way he has drafted. Look at the core of the team -- they were all great value choices by Schneider. The tie goes to Schneider. You can doubt him if you choose, but it would be a lousy idea. Expect these Seattle rookies to develop into players. Schneider always wins.
@TerryBlountESPN No. People questioned Russell Wilson immediately after 2012 draft. We all know how that turned out! Takes time.

- Tina Metcalf (@girlinseattle) May 27, 2014
---

Do the additions of Johnson and Carlos Hyde give the 49ers the most dangerous offense in the division?
Blount: Both players will help, but the real key for the 49ers is quarterback Colin Kaepernick. Having enough weapons wasn't really the problem. Using them effectively on a consistent basis and cutting down on mistakes is the issue. Kaepernick's extraordinary talent is unquestioned. But can he be the same type of team leader that Wilson is and make the big play in the most difficult moments? He couldn't do it last year in the fourth quarter of the NFC Championship Game. If he shows he can do that consistently when the big game is on the line, watch out.
Wagoner:
Well, the competition for that crown isn't exactly daunting in a division known mostly for grinding it out offensively and dominating defensively. But the 49ers probably do have the most dangerous offense in the division. I don't personally think Johnson or Hyde will be a major difference-maker right away, but they don't have to be. Putting Johnson with a healthy
Michael Crabtree
at receiver and tight end
Vernon Davis
should allow Johnson to operate free of the pressure of being a No. 1 wideout. Hyde can learn from
Frank Gore
before taking over the reins. In terms of top-to-bottom talent across the roster, yes, the 49ers look to have the most dangerous offense in the NFC West.
Weinfuss: It is certainly looking like the 49ers have one of the most dangerous offenses in the division, if not the most dangerous. San Francisco has the right pieces at every position, from quarterback to running back to wide receiver to tight end. But the first question that came to mind when going through San Francisco's offensive depth chart is this: Will one football be enough to go around? This might turn into a case of the 49ers being better on paper than they are on the field, which has happened many times throughout the NFL. The Cardinals bolstered their skill positions during the offseason, giving themselves a lot of talent at wide receiver and tight end to complement two young running backs and a veteran quarterback who finds ways to win. A team can have all the ammunition in the world, but if the coach doesn't know how to use it, it will be stockpiled for naught.
Williamson: I think so. There is nothing missing from this offense. We saw how dynamic it can be when Crabtree returned from a torn Achilles last December. Put Crabtree, the clutch Anquan Boldin and Johnson together and that is a great veteran group of receivers. Someone is always going to be open. Rookie Bruce Ellington was added to give the 49ers the ability to take the top off of defenses, an aspect they didn't possess last season. We didn't even mention Davis at tight end. Really, how is this offense going to be stopped? Kaepernick looked like a completely different quarterback when Crabtree played last season. Kaepernick with all of these weapons? Oh, and we didn't even mention the bread and butter of the 49ers' offense -- the running game. Hyde, Gore and a healthy Marcus Lattimore? How do you defend this group?
@BWilliamsonESPN sure does...how can you spy Kap now with 3 legit wrs + VD...Hyde taking on a 7 man front with our bulldozing line. #1

- CDM (@CDM49er) May 14, 2014
---

After a narrow miss last season, have the Cardinals made enough of the right moves to get into the playoffs?
Blount: I don't think they needed to make many moves to reach the playoffs. Record-wise, they were a playoff team last season, but a victim of circumstances in the playoff structure. So the real question is can the Cardinals catch Seattle and/or San Francisco? And my answer is yes, especially the 49ers. Quarterback Carson Palmer will be better after having a full season in the Arizona offense. Bruce Arians might be the most underrated coach in the NFL. The team clearly is on the rise, while San Francisco's offseason turmoil could come back to bite it.
Wagoner:
I like what Arizona did this offseason. The offensive line should be much better with the addition of Veldheer and the return of
Jonathan Cooper
. Cornerback
Antonio Cromartie
was a nice pickup, and first-round safety Bucannon should be a good complement to the Honey Badger,
Tyrann Mathieu
. But it is still going to be difficult for them to make the playoffs. The Seahawks and 49ers remain at the top of the heap, and until we see otherwise, it's hard to see how they fall from that perch unless injuries strike. That would still leave one playoff spot for the Cardinals. Three teams from the same division can make the playoffs, and it just happened last season, but I expect Arizona to take a small step back and just miss the cut again.
Weinfuss: The Cardinals have made enough moves to make the playoffs this season. They missed the postseason a year ago by a game, which might have been different if Arizona had been stocked with a better kick returner, left tackle, second cornerback and safety. The Cards addressed those issues in the offseason, which should make them better in 2014. Adding left tackle Veldheer to anchor the offensive line should ease Arians' concerns about Palmer's blind side. One thing Ginn has shown throughout his career is that he can return kicks with the best. But the biggest difference for the Cards will be their improved secondary. Signing talented veteran Cromartie gives the Cardinals two lockdown cornerbacks (along with Patrick Peterson) and drafting Bucannon gave Arizona an instant upgrade against tight ends and big receivers -- which there are plenty of in NFC West.
Williamson: I really like how well the Cardinals are coached. I think Arians is on to something. His players seem to respond to him. So the program will continue to rise under Arians. Also, I love the defense; it is nasty, aggressive and ball-hawking. Add great defense and a well-respected coaching staff and a team is going to win a lot of games. I think the bottom line with the Cardinals is quarterback play. Palmer had his moments last season, but I'm not a big believer in him. I think he will cost the Cardinals at some point. Maybe this is a playoff team, but I think the Cardinals are a couple of steps behind the Seahawks and the 49ers. The deficit starts at quarterback.
@joshweinfuss no. if o-line depth isn't addressed, look out for consistent pressure off the right side and more INTs from cardiac carson

- Sean Kirchheimer (@stkirch) May 21, 2014
---

The Rams decided not to draft help at wide receiver and waited until the sixth round to add a young quarterback. Will their offense score enough to make up ground in the NFC West?
Blount: Sure, it would have helped to add a top receiver, but is there a bigger unknown in the entire division than Sam Bradford? What the Rams, and everyone else, have to find out is whether Bradford is an elite quarterback. Frankly, I have my doubts, but he did play well last season before his injury. Bradford's situation is much different than that of Kaepernick, who is as gifted a player physically as you will ever see. In Bradford's case, it's hard to know how good he really is or can be, because he hasn't had top talent around him. And it doesn't help that he has to play six games against three of the of the best defenses in the NFL. It's time for Bradford to step up, no matter whom he is throwing the ball to each week.
Wagoner:
The Rams are clearly hoping they will be able to win games in classic heavyweight slugfests by playing good defense and running the ball. The Rams did put up points against playoff teams like New Orleans and Indianapolis without Bradford, and most of the same cast of characters returns this season. The question is if they can score enough to overcome teams following a similar blueprint within the division? Adding Robinson and running back
Tre Mason
and having a full season of
Rodger Saffold
at guard should certainly help the run game. But until one or more of the young receivers proves himself and Bradford can consistently take advantage of play-action opportunities down the field, I don't see the offense being able to do enough to win games without the help of a special-teams or defensive score from week to week. The Rams should be better against division foes than they were a year ago and might be able to push Arizona, but it still seems unlikely it will be enough to overtake Seattle or San Francisco.
Weinfuss: The depth of the NFC West makes this the toughest question of the four. The Rams' additions weren't significant improvements to their offense, but will help. Bradford will come back with a vengeance and try to light up the scoreboard. He will have a talented group of receivers, but can they score enough to close the gap from the bottom of the West? Not sure that can happen. Rookie Robinson will take his lumps and bruises and might not come into his own until the second half of the season, so the Rams have to be hoping it's not too late by then. Points will be at a premium in the West, especially considering how good the three other defenses are, so the Rams will have to be even better than expected to make up ground, and I'm not sure they are ready for that just yet.
Williamson: Points scored? Who needs points with that defense. Man, the Rams' defense is getting silly good. Adding Donald to that defensive front should have been banned. It's simply unfair. The Rams are not going to allow many points this season. So the offense won't have to be overly dynamic. With that said, I am not a big Bradford fan. I don't think he is the answer. Until the Rams upgrade at quarterback, I don't think they will reach their full potential or be able to hang in the division race. But they will dangerous every week because of the defense.
@nwagoner NFC West teams have proven big O isn't necessary. Healthy SB and improved Oline could be enough paired w/GW defense. #FourDowns

- Troy Vandenbark (@troilus22) May 15, 2014
May, 15, 2014
May 15
6:00
PM ET
May, 7, 2014
May 7
3:05
PM ET
The
Seattle Seahawks
have followed their first Super Bowl-winning season with a brilliant offseason.
The Seahawks secured key cogs -- cornerback
Richard Sherman
and safety
Earl Thomas
-- with
contract extension
, as well as adding to coach Pete Carroll's deal. That's what elite teams do. They keep their own. They don't let the players most responsible for success get away.
The
San Francisco 49ers
-- arguably the NFL's second-best team behind the NFC West rival Seahawks -- realize this. San Francisco general manager Trent Baalke preaches the virtue of "keeping your own" nearly every time he speaks publicly.
Now that the Seahawks have done so much fine work securing their own, it should serve as motivation to the 49ers to get their own work done -- and there's plenty to do.
The two biggest deals facing the 49ers are quarterback
Colin Kaepernick
and coach Jim Harbaugh. The two are major reasons the 49ers are an elite team and why there is so much hope for the future. Kaepernick is entering the final year of his deal and Harbaugh has two seasons remaining.
The 49ers, who also soon have to address deals for receiver
Michael Crabtree
, guard
Mike Iupati
and pass-rusher
Aldon Smith
, have talked to both men about new deals. No extensions appear imminent, but they are certainly on the horizon. The 49ers have no choice. They must get these deals done at some point to maintain their level of excellence.
If they ever lose that vision, all they have to do is look up at the Seahawks and see what they are doing with an eye on the future.
January, 30, 2014
Jan 30
2:25
PM ET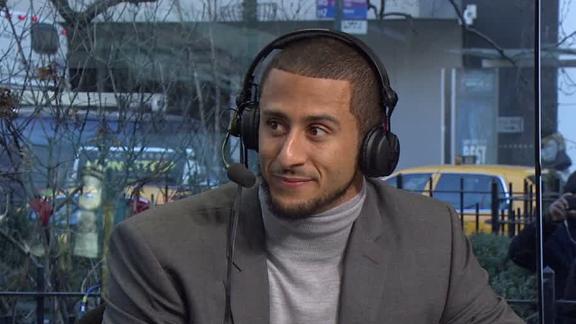 In a rare move,
Colin Kaepernick
made news with his words Thursday.
The usually reserved
San Francisco 49ers
quarterback made headlines by taking on Seattle cornerback
Richard Sherman
. Kaepernick said Sherman's comments about the 49ers after the NFC title game were "ridiculous" and that he looks forward to facing Sherman next season.
[+] Enlarge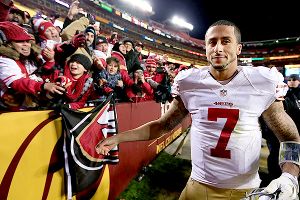 Rob Carr/Getty ImagesColin Kaepernick pulled back the curtain on himself a bit Thursday and added fuel to the 49ers-Seahawks fire.
Good for Kaepernick. He's right. Sherman's actions were ridiculous.
Kaepernick needed to comment. He's the face of the 49ers. Sherman attacked his receiver
Michael Crabtree
and attacked Kaepernick by giving him the "choke" sign after the game-sealing interception. Kaepernick should stick up for himself; he also stoked this rivalry. Is there any doubt it's now the best in the NFL?
The rivalry was already through the roof. But after the incredible title game, the injuries the 49ers suffered in the game, Sherman's comments and Kaepernick rebuttal, this thing is a five-alarm fire. Expect these two teams to play early next season in prime time. I could even see this being the season-opening game if the Seahawks win the Super Bowl.
Kaepernick also handled talk about his new contract well. He is eligible for a new deal and has one year remaining on his rookie contract. Kaepernick told San Francisco radio station KNBR on Thursday: "I think it's a balance. You want to be paid fairly for what you feel like you're doing in comparison to your peers. But at the same time, you have to realize, if we want to get
Anquan Boldin
back, if we want
Donte Whitner
to come back, we're going to have to make moves to get them back. And there has to be room for everyone. And that's something I'm going to let my agent and the organization try to figure out. But hopefully, it's a position where we can assemble the best team we need."
Kaepernick is weighing his needs and the team's -- an important distinction for a leader. Kaepernick doesn't always allow a deep look in interviews, but Thursday he did. It was a good look.
January, 21, 2014
Jan 21
10:30
PM ET
SANTA CLARA, Calif. – Jim Harbaugh took the high road on the subject
Richard Sherman
on Tuesday.
On Sunday, Sherman took attention off the
Seattle Seahawks
' thrilling 23-17 victory over Harbaugh's
San Francisco 49ers
in the NFC Championship Game when Sherman verbally attacked 49ers standout receiver
Michael Crabtree
, calling him
"sorry" and "mediocre"
right after the game.
Sherman saved the win for the Seahawks when he deflected an 18-yard pass from
Colin Kaepernick
that was intended for Crabtree in the end zone with 22 seconds left. It was intercepted by Seattle linebacker
Malcolm Smith
, sealing the game.
Harbaugh -- who coached Sherman at Stanford -- was asked about the situation Tuesday in his season-ending news conference. He didn't have much to say.
"I did not see the interviews," Harbaugh said. "I did not sit down and watch the interviews from the game. And whatever did take place, let those be judged how they're judged."
In other 49ers news:
The 49ers signed six of their eight practice squad players to contracts for the 2014 season. They are tackles Carter Bykowski and Al Netter, receivers Devon Wylie and Chuck Jacobs, defensive tackle Mike Purcell and defensive back Dax Swanson. The unsigned practice squad players are quarterback McLeod Bethel-Thompson and running back Jewel Hampton.
Harbaugh said he expects defensive lineman Tank Carradine, a second-round pick last year, and fourth-round pick Marcus Lattimore to contribute to the team in 2014. Both players were recovering from torn ACLs in 2013.
January, 20, 2014
Jan 20
9:00
AM ET
SEATTLE -- Now that the
San Francisco 49ers
' season is over, after a 23-17 loss to Seattle in the NFC title game, here are some topics at the top of my mind:
Kaepernick is going to get paid:
49ers quarterback
Colin Kaepernick
has done enough to get paid among the league's highest-paid quarterbacks. There was question about that early in the season. But there shouldn't be. Kaepernick has led the 49ers to one Super Bowl appearance and two NFC title games in less than two full seasons as a starter. He is a dynamic player who is not in his prime. He will get paid accordingly.
Feel terrible for Bowman:
The 49ers' best player this season was inside linebacker
NaVorro Bowman
. He is a candidate for the NFL Defensive Player of the Year award. He had another brilliant game Sunday before he suffered a horrific knee injury. Coach Jim Harbaugh said early indications are Bowman tore his ACL. Bowman is just 25 and players routinely come back from ACL injuries. He will be fine, but it's such a shame that his wonderful season had to end this way.
Rivalry has reached next level:
Is there any doubt the Seahawks-49ers rivalry is the best in the NFL? I'm already looking forward to the next edition. If the Seahawks win the Super Bowl, I could easily see the 49ers visiting Seattle in Week 1. There will be plenty of storylines in the rivalry next season,
beginning, of course
, with the
Richard Sherman
-
Michael Crabtree
saga.
Cleveland calling?
There is one NFL head-coaching job available -- the Cleveland Browns job. I wouldn't be surprised if 49ers offensive coordinator Greg Roman emerges as a candidate. Washington and Minnesota were interested in Roman earlier this season. If Roman doesn't get involved in Cleveland, expect him to be one of the hottest assistant coaches next January.
January, 20, 2014
Jan 20
1:45
AM ET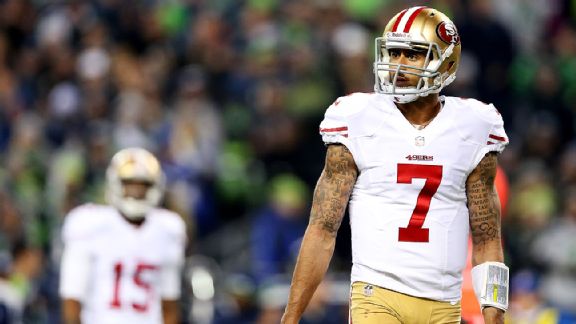 Christian Petersen/Getty ImagesColin Kaepernick committed three turnovers in the 49ers' NFC title game loss at Seattle.
SEATTLE -- Can anything surpass the pain of a Super Bowl loss?
For the
San Francisco 49ers
, the answer might be yes. It's difficult to imagine a more despondent scene than the 49ers' locker room after a
23-17 loss
at rival Seattle on Sunday evening in the NFC Championship Game.
Quarterback
Colin Kaepernick
, who threw an interception in the end zone with 22 seconds to go, sat at his locker, staring straight ahead. He appeared shell-shocked. Around him, teammates quietly dressed. There were long stretches when not a word was uttered.
The pain San Francisco was experiencing was not simply emotional, either. In the midst of the despair, were two of the team's best players -- inside linebacker
NaVorro Bowman
and
Mike Iupati
-- both using crutches to maneuver through the locker room.
San Francisco coach Jim Harbaugh said a preliminary exam points to a torn ACL for Bowman -- a candidate for the NFL Defensive Player of the Year award -- and a fractured ankle for Iupati.
"It's tough," San Francisco running back
Frank Gore
said. "It's just really tough."
For the third straight postseason under Harbaugh, the 49ers are headed toward the offseason on a bitter note. Two years ago, the 49ers lost in the title game at home to the
New York Giants
in overtime.
Last year, in the Super Bowl, the 49ers couldn't punch in a touchdown from the Baltimore Ravens' 5-yard line in the final moments. Like Sunday, that game ended on a failed pass attempt from Kaepernick to
Michael Crabtree
.
More heartache came Sunday night on the field of their most bitter rival. The 49ers, who took a 10-0 lead early in the second quarter, saw Seattle outscore them 20-7 in the second half. Still, San Francisco had its chance.
The 49ers took over on their own 22-yard line with 3:37 remaining. Fueled by 17-yard pass from Kaepernick to Gore on fourth-and-2 from their own 28, the 49ers looked primed to go in for the score.
San Francisco got down to the Seattle 18 and thought it had a winning play. Kaepernick snapped the ball with 30 seconds to go. He had Crabtree one-on-one with Seattle cornerback
Richard Sherman
, who the 49ers stayed away from for much of the game.
The ball may have been underthrown as Sherman deflected it to linebacker
Malcolm Smith
for the game-sealing interception.
Kaepernick said he felt good about the play.
"When I saw the matchup I thought we were going to score on that play," Kaepernick said. He said he'd take that matchup "against anyone."
Sherman, who insulted Crabtree after the game by calling him "sorry" and "mediocre," said the choice to throw at him was "insane."
Harbaugh and Kaepernick will surely stew over the final play for months. This was a winnable game for the 49ers, who saw an eight-game winning streak end Sunday. For the most part, the 49ers played winning football and handled the intense crowd noise well.
However, San Francisco made too many mistakes. All week, the 49ers said they had to play nearly perfect. They didn't.
In addition to his final throw, Kaepernick fumbled and threw an interception on the 49ers' two previous series. As he has done after losses in his young career, Kaepernick, who made several big throws and who ran for 130 yards on 11 carries, did not deflect blame.
"I didn't play good enough to win," Kaepernick said. "I turned the ball over three times. I cost [us] this game."
The 49ers' defense was stout for much of the game, but it allowed Seattle to make too many big plays. Seattle running back
Marshawn Lynch
broke a 40-yard touchdown run and quarterback
Russell Wilson
hit receiver
Jermaine Kearse
for a 35-yard touchdown passes on fourth-and-7 in the fourth quarter to give the Seahawks the lead for good.
Harbaugh kept a positive approach after seeing another season end short of the Lombardi Trophy.
"I thought our guys had tremendous fight," Harbaugh said. "I think our guys are great football players."
In the grand scheme, Harbaugh knows the future is bright. The 49ers are a young team that is run well. The past three years have not been an accident. They are an elite NFL team. Barring injuries, they will continue to have to championship opportunities. The next step is finishing.
January, 19, 2014
Jan 19
9:58
PM ET
SEATTLE -- A few observations from the
49ers' 23-17 loss
to the
Seattle Seahawks
in the NFC title game:

What it means
: The season is over. The 49ers saw their eight-game win streak end in an incredible game against their NFC West rival. The Seahawks will now try to do what the 49ers couldn't last year -- win the Super Bowl.
The dagger:
With the 49ers driving with a half-minute remaining, 49ers quarterback
Colin Kaepernick
tried to hit
Michael Crabtree
in the corner of the end zone. The pass was short and cornerback
Richard Sherman
deflected it. Linebacker
Malcolm Smith
intercepted it. It was Kaepernick's second interception of the quarter.
Costly game:
The 49ers lost inside linebacker
NaVorro Bowman
, perhaps their best player, to a gruesome knee injury in the fourth quarter. There were no updates from the team. Left guard
Mike Iupati
went out in the first half with an ankle injury. It is not known how serious either injury is, but the worst-case scenario is that Bowman's could affect him into training camp.
Stock watch
: Kaepernick had another great game on the ground. He finished with 130 yards on 11 carries. He has two of the four 100-yard rushing performances by a quarterback in the playoffs.
Big plays given up:
The San Francisco defense played strong for much of the game. But the difference was two big touchdowns. One was a 40-yard touchdown run by
Marshawn Lynch
. The other, which gave the Seahawks the lead in the fourth quarter, was a 35-yard pass from
Russell Wilson
to
Jermaine Kearse
on fourth-and-7.
What's next:
The offseason. The 49ers are one of the NFL's best teams (perhaps the best), but their season ends in Seattle.
January, 17, 2014
Jan 17
11:00
AM ET
SEATTLE -- Two bitter rivals in one division, two teams with vitriol among players, coaches and fans. It comes down to a rubber-match showdown to decide which NFC West team will reach the Super Bowl.
It doesn't get any better in the NFC Championship Game: the
San Francisco 49ers
and the
Seattle Seahawks
on Sunday at CenturyLink Field.
ESPN.com Seahawks reporter Terry Blount and 49ers reporter Bill Williamson take a detailed look at some of the key issues entering a game in which emotions are bound to be sky-high.
Blount:
Bill, clearly there is no love lost between these two teams, although I do think they respect each other. How much of a factor do you think players' emotions will play in the outcome, if any?
Williamson:
The 49ers are coming off a highly emotional game against the
Carolina Panthers
, and San Francisco handled it way better than the Carolina players did. The Panthers were called for several silly penalties spurred by their emotion. Some 49ers players said they thought their playoff experience was a factor and the Panthers might have been too emotional. The Seahawks have playoff experience, so it will be interesting. I think the key will be Seattle defensive back
Richard Sherman
and San Francisco receiver
Anquan Boldin
. Both of these guys can get chippy and can get on the nerves of opponents. So I'd start there.
Terry, do you think Sherman can control himself this week? We all know how he can get and how facing Jim Harbaugh and the 49ers amps him up.
Blount:
We'll see, Bill, but I think Sherman understands the significance of this game. He can be brash, obviously, but he's also an extremely intelligent guy who knows when and where to pick his fights and his comments. Now, if the game ends in a Seattle victory, you'll want to have a microphone in his face because he's likely to let it fly.
Bill, how much of a difference has
Michael Crabtree
made in the 49ers offense since his return?
Williamson:
It's been incredible. We knew Crabtree would give this offense life when he returned Dec. 1 from a torn Achilles he suffered in May, but I don't think we knew the effect would be this dramatic. It is simply a different offense with Crabtree.
Quarterback
Colin Kaepernick
is much more confident because he has more weapons. It has also made Boldin much more dangerous. Before, he was being double- and triple-teamed. That is no longer the case with Crabtree on the field. Now, it seems every game Crabtree, Boldin or tight end
Vernon Davis
makes a huge impact.
Terry, we all know the Seahawks' secondary is elite, but do you think it can account for all three weapons?
Blount:
This is the best secondary I've ever seen, but no secondary can completely shut down the trio of Davis, Boldin and Crabtree. I've been amazed at some of the catches Crabtree has made in the playoffs the past two weeks. It's clearly pick your poison with these three. Sherman did a phenomenal job on Boldin in the game here in September, but Crabtree didn't play. That's a big difference. What it could come down to is whether the Seattle defensive backs can come up with a key interception or if they take too many chances and one of these guys beats them for a big play. Actually, both things could happen, but the point when they happen could decide the outcome.
Bill, after losing back-to-back games in November, the 49ers have won eight in a row. Besides Crabtree, what are some of the things that contributed to their impressive run?
Williamson:
Well, it's related to Crabtree, but Kaepernick has been outstanding. He has thrown one interception in his last 146 passes. The team has one turnover in the past five games. Defensively, the 49ers have been dominant. This is just a clutch, timely, well-coached team that is playing at a high level.
Terry, do you think the Seahawks might have peaked earlier this season?
Blount:
That's the prevailing logic nationally -- especially with the issues Seattle has had throwing the football in recent weeks -- but I'm not buying it. The Seahawks lost by two points on a late field goal at San Francisco and lost by a touchdown to an
Arizona Cardinals
team that is much better than people realized earlier in the season. They have faced four top-10 defenses over that five-week span, and the Seattle defense has continued to play lights out. All season long, this has been a team that finds a way to win without putting up big offensive stats. It's who they are. Now, we'll find out if that's good enough in a game of this magnitude against a tough opponent.
Bill, the 49ers seemed to start a trend in the game at Candlestick Park last month by stopping
Russell Wilson
on runs around the end. He had only one rushing attempt for two yards. Since that game, other teams have copied that formula to keep Wilson in the pocket. How were they able to make it work, and can they do it again?
Williamson:
The 49ers defense is supremely athletic. The four linebackers are tone-setters, and they can keep up with Wilson athletically. I think the 49ers will certainly keep the same game plan. They know their best chance to win this game is with big plays on defense.
Terry, is the Seattle offense ready for what the 49ers bring defensively?
Blount:
I think
Marshawn Lynch
and the Seattle running game showed last week against the
New Orleans Saints
they can get the job done against a quality defensive front that loaded the box to stop them. And Lynch has played well against the 49ers over the past three seasons. The passing game, however, is another story. The Seahawks need to step it up and hit a few big plays through the air if they hope to win this game. Tight end
Zach Miller
could be a key guy here. If Lynch is running well, they should use play-action to find Miller over the middle or in the flat.
Bill, the 49ers haven't played well in their past two games at CenturyLink Field, losing by a combined score of 71-16. The noise level Sunday may be at an all-time high. Can the San Francisco offense perform effectively in that environment against the best defense in the league?
Williamson:
That is the story of this game. I keep going back to Week 2 and remembering the trouble the 49ers had on offense. They had no chance. Now, Kaepernick is a much more seasoned player than he was then. That was just his 12th NFL start. He's more poised. But you bring up a great point: This place is going to be extra noisy. The 49ers simply can't afford to make any mistakes because of it, and I don't know if that is possible.
Terry, don't you sense the entire state of Washington is counting the minutes until the 49ers offense steps onto the field?
Blount:
I've never seen anything quite like it, Bill. The entire Pacific Northwest is in a Seahawks frenzy that's amped up even more because of the fans' deep-seeded hatred for everything 49ers. CenturyLink will go seismic again, and that could be the difference in the game.
December, 5, 2013
12/05/13
10:00
AM ET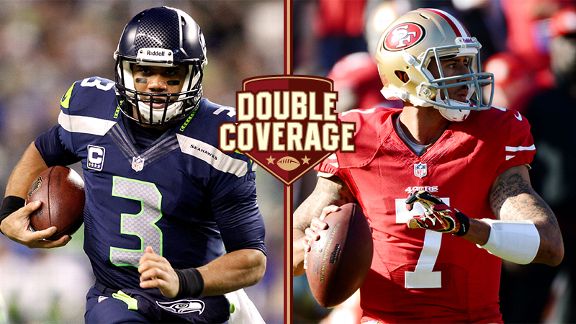 USA TODAY SportsQBs Russell Wilson and Colin Kaepernick meet for the second time this season on Sunday night.
SAN FRANCISCO -- It is not going to be the most important game of the season, as many thought when the schedule was released in April.
The
Seattle Seahawks
, coming off an absolute beat down of New Orleans on Monday night, are 11-1 and the
San Francisco 49ers
are 8-4 heading into their meeting on Sunday, which will be the second-to-last game at Candlestick Park. The Seahawks will clinch the NFC West with a win. The 49ers need a win more because they're holding onto the sixth and final NFC playoff spot by a game.
There is plenty at stake and there is plenty of animosity. Seahawks reporter Terry Blount and 49ers reporter Bill Williamson hash it all out.
Blount:
Bill, almost everyone expected this to be the game that would possibly decide the NFC West title. It still can, but not the way people imagined. The Seahawks can clinch the division crown at San Francisco on Sunday with a victory. Why aren't the 49ers the team everyone thought they would be, and can they still be the team they were a year ago at this time?
Williamson:
Terry, I think the 49ers are fine. They are 8-4 and they have won seven games by double digits, which is tied with Denver for the league high. This is an elite team. Still, there are two issues at play. The 49ers are 2-4 against teams with winning records. They were blown out by the Seahawks and the Colts early in the season and then they lost back-to-back games to Carolina and New Orleans by a total of four points last month. If the 49ers have anything to prove, it's that they can beat a quality team. Another reason why this race hasn't been close is the Seahawks are playing out of their minds. They simply ran away from a good team. Terry, do you think the Seahawks can stay up for this game after the huge win? Or could this be a letdown game?
Blount:
I really thought this was going to be a big letdown game for the Seahawks and a chance for them to come in flat, but now they have the opportunity to clinch the title in the most unlikely of places for them. The Seahawks would love to walk away from this one and be able to tell the 49ers that they clinched the division crown "in your house." So I think they'll be pretty focused, but the short week of preparation and coming off an emotional Monday night game could take a toll.
Bill, the Seahawks had a convincing
29-3 victory
over the 49ers at CenturyLink Field in the second game of the season, but Seattle has lost four consecutive games at Candlestick Park by a combined score of 109-54. Is this a game where the 49ers feel they have something to prove?
Williamson:
Oh, certainly. Players were talking about this game in the locker room Sunday after beating the Rams. I think that was a first for this season. The 49ers want to win this game because I think they want to prove to themselves as much as anyone else that they can end the Seahawks' mini-dominance over the 49ers. The 49ers want to protect their territory in this game. What struck me is players talked about not overthinking this game and not getting caught up in the moment. It's a sign they learned from some previous mistakes. I'm looking forward to seeing it play out. Terry, do you get the sense the Seahawks respect the 49ers as much as they did going into Week 2?
Blount:
Honestly, my sense is most of the Seahawks just really don't like the 49ers, and it's no secret that
Richard Sherman
can't stand
Jim Harbaugh
, along with the fact that Harbaugh and Pete Carroll won't be sending each other Christmas cards. Certainly, the Seahawks realize San Francisco has a lot of very talented players who can beat you in many ways. Publicly, they will say they respect the 49ers. Privately, they can't stand them and respect just doesn't enter the picture.
Bill,
Colin Kaepernick
was the toast of the NFL a year ago as a young quarterback with limitless talent. He's had some rough moments this year, but also has had flashes of brilliance. What's different for him this season and is he as good as he was a year ago?
Williamson:
I think it is a combination of things, including the fact that he is still learning and the offense is still evolving. I think the key was that he lacked all his weapons. It was startling how much better the passing game was Sunday in
Michael Crabtree
's debut. He had just two catches, but it opened up the entire game against St. Louis. Terry, do you think the 49ers can have success against this top-notch Seattle secondary that they didn't have in the past two meetings?
Blount:
Certainly, having Crabtree back makes the 49ers a more formidable receiving corps than the game in September. And the Seahawks are down a man from that game with
Walter Thurmond
's suspension. Some people probably have forgotten that
Brandon Browner
didn't play that night because he had a hamstring injury. But the job backups
Byron Maxwell
and
Jeremy Lane
did against the Saints, as good a passing team as you'll find, showed how much depth Seattle has in the secondary. I think
Vernon Davis
is the key for San Francisco, and I can't see
Anquan Boldin
being shut down this time the way he was in Seattle.
October, 15, 2013
10/15/13
7:50
PM ET
SANTA CLARA, Calif. -- Once again, the
San Francisco 49ers
will be facing a dynamic young cornerback.
Verner
Tennessee Titans
cornerback
Alterraun Verner
is quickly turning into one of the best cornerbacks in the league. He has strong coverage abilities and already has four interceptions this season. Verner, 24, is a top reason why the Titans' defense has been strong this season.
That will be a challenge for the 49ers who don't have much in the passing game behind
Anquan Boldin
and tight end
Vernon Davis
. Last week, Boldin had to deal with Arizona cornerback
Patrick Peterson
. Boldin had three catches for 28 yards. However, the 49ers were able to get Davis loose. He had eight catches for 180 yards, which is tied for the third most receiving yards by a tight end in the NFL in the past 20 years.
The 49ers may have a problem if Verner locks down Boldin and the Titans are able to contain Davis. That will put pressure on receivers
Kyle Williams
and
Jon Baldwin
. Neither has demonstrated this season they can be a reliable, big factor in a game.
While facing a standout like Patterson didn't hurt the 49ers, it did in Week 2 at Seattle when
Richard Sherman
shut down Boldin and the 49ers couldn't find an answer in the passing game. It will be interesting which way this battle against Verner goes.
August, 31, 2013
8/31/13
1:40
PM ET
San Francisco 49ers
and 13
Seattle Seahawks
helped the NFC West account for a disproportionate number of players listed in the #NFLRank project from ESPN.
Sixty-three voters helped rank 100 top players on each side of the ball. NFC West teams accounted for 20 players on defense and 16 on offense. The 36-player total works out to 18 percent representation for the NFC West, above the 12.5 percent expectation for any division.
The chart shows where NFC West players ranked on each list. I shaded offensive players in gray to better distinguish the rankings.
The 49ers' Patrick Willis and the
Arizona Cardinals
' Larry Fitzgerald have long been perceived as the best players in the division. They've got additional competition, but those two ranked higher than anyone else in the NFC West.
There were sure to be oversights in a project of this scope. Defensive end
Calais Campbell
of the Cardinals stands out to me as the most glaring one. I might have placed him between Patrick Peterson and Chris Long in defensive rankings as they stood for this project.
Three Seahawks cornerbacks earned spots on the list even though one of them, Antoine Winfield,
reportedly could be released by the team
Saturday in the reduction to 53 players Saturday.
A quick look at ranked players by team:
San Francisco 49ers:
Patrick Willis (3), Aldon Smith (10), Justin Smith (11), Vernon Davis (18), NaVorro Bowman (18), Joe Staley (25), Mike Iupati (32), Frank Gore (37), Colin Kaepernick (42), Ahmad Brooks (56), Anthony Davis (60), Donte Whitner (64), Michael Crabtree (78), Anquan Boldin (83) and Jonathan Goodwin (92).
Seattle Seahawks:
Richard Sherman (8), Earl Thomas (17), Percy Harvin (26), Marshawn Lynch (27), Brandon Browner (46), Russell Wilson (47), Russell Okung (49), Kam Chancellor (49), Max Unger (57), Bobby Wagner (67), Winfield (70), Cliff Avril (74) and Chris Clemons (85).
St. Louis Rams:
Long (40), James Laurinaitis (57), Jake Long (61), Cortland Finnegan (63).
Arizona Cardinals:
Larry Fitzgerald (7), Patrick Peterson (19), Daryl Washington (59) and Darnell Dockett (79).
Fifteen