San Francisco 49ers:

Roddy White
June, 13, 2014
Jun 13
2:50
PM ET
Friday,
we looked at
where
Michael Crabtree
ranks on a list of the top 10 potential free-agent wide receivers in 2015.
Crabtree
It's a strong class. In
ESPN Insider Mike Sando's ranking

, based on the opinions of NFL general managers and coaches, the
San Francisco 49ers
standout is No. 3 on the list.
If Crabtree isn't re-signed or given the franchise tag, he would be very popular on the open market. So, it begs the question: What would the 49ers do if Crabtree leaves?
With the free-agent class being strong, the 49ers would likely consider using any money earmarked for Crabtree on a replacement in free agency. To help bring along the what-if game, I enlisted the help of ESPN analyst Matt Williamson.
Williamson reasons the top two receivers on Sando's list -- Dallas'
Dez Bryant
and Denver's
Demaryius Thomas
-- would be too expensive for the 49ers. If they can't get a deal done with Crabtree, they probably won't be able to accommodate Bryant or Thomas, either.
Williamson also eliminated Denver's
Wes Welker
(No. 7) and Atlanta's
Roddy White
(No. 9) because of wear-and-tear. So, that is half the class off the table.
The others are Green Bay's
Jordy Nelson
(No. 4), and
Randall Cobb
(No. 5), Baltimore's
Torrey Smith
(No. 6), Jacksonville's
Cecil Shorts
(No.8) and Indianapolis'
Hakeem Nicks
(No. 10).
Williamson thinks Nelson could be the best fit for the 49ers because of his overall skills. He also likes Smith as a fit because he can stretch the field.
Williamson thinks Cobb is too much of a slot receiver to replace Crabtree, and Shorts couldn't fill the bill. He thinks Nicks, who the 49ers looked at this offseason, has too many injury concerns to be a reliable No. 1.
In the end, it appears the 49ers' best approach is to extend Crabtree. They probably couldn't do better, all things considered, by replacing him with a free agent.
June, 13, 2014
Jun 13
11:25
AM ET
One of the most interesting side stories in the NFL between now and the start of free agency next March will be how what will happen with a potentially powerful receiver class.
Michael Crabtree
and the
San Francisco 49ers
will surely be watching closely.
There are 10 receivers who are poised to be free agents after the year that have to be considered top-flight wideouts. Crabtree is one of them.
ESPN Insider Mike Sando polled general managers

and coaches to put together a ranking of the top 10 potential receiver free agents. Crabtree ranked third on the list behind Dallas'
Dez Bryant
and Denver's
Demaryius Thomas
. Among the others on the list were Green Bay's
Jordy Nelson
at No. 4, Denver's
Wes Welker
at No. 7 and Atlanta's
Roddy White
at No. 9.
This what Sando wrote about Crabtree:
The 49ers had a hard time signing Crabtree as a rookie in part because Crabtree thought he was worth more than what players in his draft slot generally received. That difficult negotiation remains in my mind as Crabtree approaches free agency. He missed some of last season with a torn Achilles' tendon, placing greater importance on the 2014 season for setting his value. Will this be another tough negotiation? "Crabtree and Bryant are probably the two most talented guys on the list," one of the GMs said. "Demaryius Thomas would be up there. Some people will worry about Crabtree's personality a little bit."
This is how I would rank the top three: Thomas, Bryant, Crabtree.
Regardless, Crabtree would be highly sought after in free agency if it gets to that point. The 49ers have enough current salary cap room to potentially get a deal done with Crabtree done this year. Also, if it gets to that point, the 49ers could give Crabtree the franchise tag.
Whether Crabtree is signed this year or not, I'm sure others on this list will be signed. It will both lessen and set the market. Receivers will be in the spotlight in the NFL and Crabtree's future is a big part of the intrigue.
December, 20, 2013
12/20/13
10:00
AM ET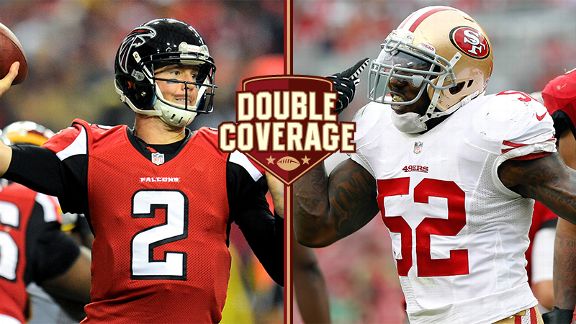 USA TODAY SportsPatrick Willis and the 49ers' pass rush could make Monday night miserable for Atlanta's Matt Ryan.
The NFL schedule-makers tried to get this right.
They planned for the final game played at Candlestick Park to be special. They set a 2012 NFC Championship Game rematch between the 49ers and the Falcons. However, the Falcons have not held up their end of the bargain. They are 4-10 as they try getting revenge against the 49ers for their road win in the title game in January.
The 49ers have done their part, as they are 10-4 and can clinch a playoff berth with either an Arizona loss at Seattle or by beating the Falcons. The 49ers are focused on sending out Candlestick the right way.
Coach Jim Harbaugh said this week the 49ers are the group that "doesn't want to screw up" the Candlestick finale.
ESPN.com Falcons reporter Vaughn McClure and 49ers reporter Bill Williamson discuss the game:
McClure:
Bill, the 49ers and
Vernon Davis
had their way in the passing game against the Falcons in the NFC Championship Game. And the Falcons have had trouble covering tight ends again this season. Do you think Davis will expose their poor coverage once again?
Williamson:
The 49ers' passing game is really coming together. The return of
Michael Crabtree
has sparked it. Crabtree has played the past three games and he is getting better each week. It opens up possibilities for Davis and
Anquan Boldin
. Quarterback
Colin Kaepernick
and Davis have a nice chemistry. Davis is a mismatch for nearly every defense and he's particularly good against defenses that struggle against the tight end. He had eight catches for 180 yards against Arizona in October. Vaughn, do you see any way the Falcons can slow down the 49ers' receiving weapons?
McClure:
Not really. The Falcons started three rookies in the secondary last Sunday against the Redskins and gave up pass plays of 62 and 53 yards, the latter for a touchdown. All three rookies -– cornerbacks
Desmond Trufant
and
Robert Alford
and free safety
Zeke Motta
–- made some mistakes in coverage. But Trufant has held his own most of the season after coming in as the team's first-round draft pick, so he's going to compete, but Alford still has some ground to make up. Motta might not even play with regular starter
Thomas DeCoud
possibly returning from a concussion. However the Falcons line up, they have to play with better eye discipline and technique. Not to mention the pass rush has to make an effort to put pressure on the elusive Kaepernick or else he'll carve up the Falcons and let loose to Davis, Boldin, and Crabtree.
The Falcons were supposed to be challenged heavily by the read-option this season with matchups against
Russell Wilson
,
Robert Griffin
III and Kaepernick. Wilson didn't use it much and RGIII didn't play. So, will Kaepernick and the 49ers utilize the strategy on Monday night, or has it just not been as effective this season?
Williamson:
They haven't used it much this season. It's been used occasionally. But I will tell you this: Kaepernick has been running with a lot of confidence in the past few games. I think it is because the passing game has opened up and it has affected the entire offense positively. Vaughn, do you get the sense the Falcons have a lack of confidence facing Kaepernick and this offense because of the loss in the NFC title game?
McClure:
The Falcons can't be too confident about much of anything, at 4-10. From a defensive standpoint, six starters who faced Kaepernick last season either are no longer with the team or have been benched. And if DeCoud doesn't return this week from a concussion, there's a possibility that five rookies will start against the 49ers offense come Monday night. It will be quite a lesson for those players, to face a true dual-threat quarterback. The Falcons haven't looked too confident the past two weeks defending against a pair of backup quarterbacks,
Matt Flynn
and
Kirk Cousins
.
A lot has been made of
Aldon Smith
's off-field issues this season. In fact, Falcons receiver
Roddy White
actually stepped out and said Smith was a "good dude" who just made a mistake. How has Smith responded after his time away from the team, and is he back to his normal self on the field yet?
Williamson:
Yes, Smith is back to his dominating self. He has been back for six games and he was eased into the defense after missing five games while seeking treatment for substance abuse. Smith has been particularly good for the past four games, and he's been dominant the past two games. He is his normal self as a pass-rusher and he is continuing to grow as a complete player. He is a major cog in a defense that is playing at a high level. Vaughn, do you see any way the Falcons can slow Smith and crew Monday night?
McClure:
No. Not at all. This offensive line has been like a sieve all season long. Don't be fooled by the Falcons being ranked eighth in sacks given up per pass attempt. They've allowed
Matt Ryan
to be sacked or hit way too many times despite Ryan making a conscious effort to get the ball out quicker this season. Right now, the Falcons are relying on second-year left tackle
Lamar Holmes
to protect Ryan's blind side, and Holmes is coming off being abused by
Brian Orakpo
of the Redskins. Plus, the Falcons have to be aware of
Ahmad Brooks
along with Smith. I covered a game last season during which the 49ers totally dominated the
Chicago Bears
with a swarming pass rush, led by Smith. I can envision the same thing happening to the Falcons.