San Francisco 49ers:

Scott Tolzien
September, 6, 2013
9/06/13
12:00
PM ET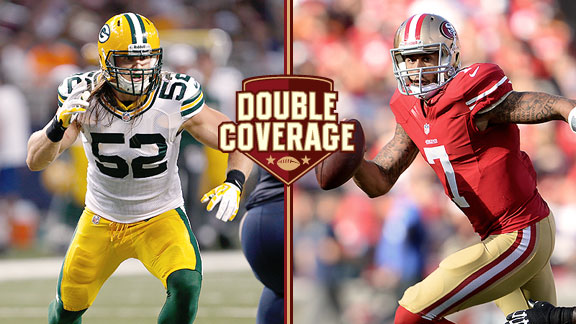 AP PhotoClay Matthews and Green Bay had all offseason to digest what Colin Kaepernick did to them in January.
The final season at venerable Candlestick Park begins in style as the
San Francisco 49ers
host the
Green Bay Packers
on Sunday.
It is a rematch of an NFC divisional playoff game in the same building. The 49ers completely outclassed the Packers on Jan. 12, as first-year starting quarterback
Colin Kaepernick
and crew had their way with a defense that looked slow and lost in a 45-31 San Francisco victory.
Packers team reporter Rob Demovsky and 49ers team reporter Bill Williamson have plenty to discuss. To the questions:
Williamson:
Rob, I think we have to start this off with this simple query: Can the Packers stop the read-option of a Kaepernick-led offense?
Demovsky:
Bill, that's what everyone has wanted to know since Kaepernick rushed for 181 yards against them in the playoff game. The number 579 -- the total yards of offense the 49ers piled up that day -- has been burned into the brains of the Packers' defensive players. Almost every day in practice during training camp, the defense went off to one end of the field by itself and worked against the read-option. But the Packers haven't seen any of it in live action since that playoff game, so at this point, there's no way to know whether they're any better equipped to handle it now.
Williamson:
That's the thing. Green Bay will be coming into this game nervous. The read-option has been on the minds of this coaching staff and its players all offseason, yet the Packers don't know for sure if they can handle it any better than they did the last time they saw Kaepernick. Kaepernick and his coach, the always-confident Jim Harbaugh, believe in their system and their personnel. They are going to challenge the Packers right away. I fully expect Kaepernick to come out gunning to make a statement -- a full-tilt San Francisco offense. If Kaepernick has early success, it could open the offensive floodgates. Now, if the Green Bay defense holds Kaepernick early, the Packers will get a confidence boost and should hang around all day.
Rob, just how confident do you think the Packers will be if they get a ton of read-option right away?
Demovsky:
Clay Matthews
said this week that the Packers know they have to take their shots at the quarterback when he tries to get outside the pocket, and if they do, perhaps they can get Kaepernick to sit in the pocket more, which ultimately is their goal. They want to make him a pocket passer if at all possible. That's their best chance for success.
There are other issues to this game, of course. Bill, considering the fact that the Packers will start a rookie,
David Bakhtiari
, at left tackle and a former undrafted free agent,
Don Barclay
, at right tackle, how big of an advantage does a pass-rusher like
Aldon Smith
have against Green Bay?
Williamson:
Other than Kaepernick and
Aaron Rodgers
, Smith might be the most important player on the field Sunday. He can change the game by himself, as his 33.5 sacks in two NFL seasons attests. Bakhtiari and Barclay have an incredible challenge ahead of them. It is also bad news for Green Bay that 49ers defensive tackle
Justin Smith
is healed from a triceps surgery. Aldon Smith had all 19.5 of his sacks in the regular season with Justin Smith playing with him, and none in 2012 without him. Having the Smith & Smith show together could mean a long day for Rodgers.
Demovsky:
But won't the 49ers have to respect the Packers' running game a little bit more with the addition of rookie
Eddie Lacy
? He looks like their first legitimate running back since Ryan Grant in 2009. If the Packers can establish Lacy on first down, they might be able to keep themselves out of obvious passing situations, and then Aldon Smith wouldn't be able to tee off and jet-rush up the field on every second and third down.
Williamson:
That is certainly the Packers' hope. It is clear that getting their ground game back on track was a focal point of the offseason. This is a passer's league, but getting yardage on the ground and keeping Kaepernick off the field will surely help Green Bay's cause as much the relief that it would give Rodgers. But here's the rub -- San Francisco is a monster against the run. The 49ers allowed just 3.7 yards per rush last season, third-best in the NFL. The Packers will be hard-pressed to break their streak of 43 regular-season games without a 100-yard rusher.
Demovsky:
Bill, we've spent a lot of time talking about how the Packers are going to defend Kaepernick & Co., but don't forget that January's playoff game was tied 24-24 midway through the third quarter, and the Packers' offense was having a decent day -- Rodgers throwing for 257 yards, two touchdowns and an interception. Can the 49ers secondary hold up against Rodgers and the likes of
Randall Cobb
,
James Jones
and
Jordy Nelson
?
Williamson:
A fine point. Look, the Packers are legitimate. They will not be embarrassed in this game. Rodgers is the best player on the planet. He and his receivers must be accounted for. If the 49ers are vulnerable on defense, it might be in the secondary, where they have the oldest defensive backs in the league. Can older players like
Carlos Rogers
and
Nnamdi Asomugha
(who may be slowed by a collarbone injury) keep the Green Bay passing game honest? If Green Bay is going to win this game, it's going to be because Rodgers is unstoppable. That's possible.
Rob, as we have discussed the major talking points of this anticipated matchup, an intriguing side story has developed. The Packers have brought in a pair of former 49ers backup quarterbacks in
Seneca Wallace
and
Scott Tolzien
. Do you think they can help Green Bay pull out a victory from the meeting room?
Demovsky:
I doubt Wallace can. He wasn't even with the 49ers for a full week. But you'd better believe they've grilled Tolzien about the 49ers. In fact, I wouldn't be surprised if that's the biggest reason they brought him in, and if they end up cutting him from the practice squad in a week or two. Now, Tolzien probably won't know much about the 49ers' game plan for this week, but considering he was with them for both meetings against the Packers last season, he likely has a good working knowledge of how Harbaugh wants to go after Green Bay.
Williamson:
I'm with you. These moves add some strategy elements, but this is going to be a big-boy game pitting two of the NFL's finest teams against one another. Once the game starts, this thing is going to all about
Patrick Willis
,
Vernon Davis
, Kaepernick, Rodgers and Matthews.
September, 5, 2013
9/05/13
8:00
AM ET
Welcome to the NFL, where players who have never played a down or who are not even currently on an active roster are part of the storylines of the week.
They also may have a hand in the game plan.
Tolzien
The
Green Bay Packers
added some intrigue to a match-up that didn't need much more when they signed quarterback
Scott Tolzien
to their practice squad. Tolzien was was cut last week by Packers' Week 1 opponent, the
San Francisco 49ers
.
Tolzien was with the 49ers the past two years and was fully versed in their game plan and their read-option offense. Indeed, it's been said that Tolzien's greatest asset is his football knowledge.
The Packers surely are picking Tolzien's brain, perhaps even as you read this. Green Bay coach Mike McCarthy danced around what kind of role Tolzien will have this week, but I could see Tolzien spending more time with the defensive coaches than his offensive coaches this week.
San Francisco coach Jim Harbaugh acknowledged that Tolzien could let the Packers in on some 49ers knowledge.
"There's things he knows," Harbaugh said, "so we'll see how that plays out."
Does that mean Tolzien's presence on Lombardi Avenue is causing Harbaugh to lose sleep?
"Our plan remains the same," the coach said.
49ers left tackle
Joe Staley
downplayed the significance of Tolzien being in Green Bay. He said that terminology and plans are always evolving, and he offered this Midwestern spin on it: "The hay is never all in the barn until the door is closed."
Do I think the Tolzien Factor will be an issue come game day? No, not really. He might help with some preparation, but once the game starts, Tolzien will just be another out-of-uniform practice-squader.
September, 4, 2013
9/04/13
3:10
PM ET
The experts have spoken and the
San Francisco 49ers
are getting some respect.
Two of 12 panelists
believe the 49ers will take it a step further and win the Super Bowl. Only four of the panelists think the 49ers will win the NFC West over Seattle, but 12 say think the 49ers will make the postseason.
Kevin Seifert is a particular favorite of 49ers' fans. Seifert (no relation to George) picked the team ti win the Super Bowl and for quarterback
Colin Kaepernick
to win the MVP award.
Meanwhile, in a conference call with Bay Area media, Green Bay linebacker
Clay Matthews
said he has not spent any time with practice squad quarterback
Scott Tolzien
. The Packers just picked him up after he was with the 49ers for the past two years.
September, 3, 2013
9/03/13
6:40
PM ET
For a team that has one of the best young quarterbacks in the NFL in
Colin Kaepernick
, the
San Francisco 49ers
have sure been in the news a lot lately when it comes to the movement at the position.
Skelton
It continued Tuesday when SportsXchange's Howard Balzer reported the team worked out former Arizona starter
John Skelton
. I confirmed the news. There is no clarity whether it was simply a run-of-the-mill workout or if the 49ers want to sign Skelton.
The team has
Colt McCoy
and rookie
B.J. Daniels
backing up Kaepernick. McCoy took a pay cut to keep his job. The team had a short fling with
Seneca Wallace
, who is now in Green Bay. The team also cut
Scott Tolzien
, who is now on Green Bay's practice squad. And yes, the 49ers play the Packers on Sunday.
Meanwhile, the 49ers added tight end
Derek Carrier
to their practice squad. Carrier, an athletic player who has a chance to develop, spent time with Oakland and Philadelphia last year.
Any discussion of the game's top players is going to include its share of 49ers. In an Insider piece,
Herm Edwards mentions plenty of 49ers

as he looks at the game's best players.
August, 29, 2013
8/29/13
10:20
AM ET
Three things to watch for Thursday night in the San Francisco 49ers' final exhibition of the 2013 season, set for 10 p.m. ET against the San Diego Chargers at Qualcomm Stadium:


1. Final QB impressions.
The 49ers already named
Colt McCoy
as their No. 2 quarterback behind starter
Colin Kaepernick
. The team also released
Scott Tolzien
, further paring down any competition at the position. This game should provide rookie seventh-round choice
B.J. Daniels
another opportunity to show he belongs in the team's plans as a developmental player. The 49ers haven't drafted and developed a late-round quarterback successfully since ... when? Daniels, Nate Davis,
Cody Pickett
and
Ken Dorsey
were the only ones San Francisco selected in the final three rounds over the past decade. Meanwhile, veteran
Seneca Wallace
should get a chance to leave a positive impression. The team could keep him in mind as a veteran fallback should a need arise in the future.
2. Injury list.
The 49ers will surely limit or eliminate reps for some key players as the preseason wraps up. Some key depth players will be logging considerable playing time. Can the 49ers get out of this game without losing one of them to a significant injury? By my count, the 49ers lead the NFL with seven players on the reserve/physically unable to perform (PUP) and reserve/non-football injury (NFI) lists:
Marcus Lattimore
,
Mario Manningham
,
Michael Crabtree
, Luke Marquardt, Quinton Dial, Tank Carradine and
Eric Wright
. No more injuries, please.
3. The spectacular.
This is the catch-all category for players who appear to significantly help or hurt their chances through big plays or big gaffes. We'll be watching for them.
August, 25, 2013
8/25/13
12:00
PM ET
Three things to watch for Sunday in the San Francisco 49ers' third exhibition of the 2013 season, set for 8 p.m. ET at home against the Minnesota Vikings:


1. Seneca's debut.
Recently signed veteran quarterback
Seneca Wallace
is scheduled to make his 49ers debut as a candidate for the No. 2 job. Will he provide an attractive alternative to
Colt McCoy
,
Scott Tolzien
and rookie
B.J. Daniels
? Wallace has little time to learn the 49ers' offense. However, the system does overlap with the one Wallace, 33, ran for years while playing for Mike Holmgren and the
Seattle Seahawks
. "Zebra" is 11 personnel, "Tiger" is 12 personnel, "Eagle" means four wide receivers and so on. Perhaps that will help Wallace make the transition.
2. Kaepernick's reps.
Starting quarterback
Colin Kaepernick
has attempted six passes in the 49ers' first two exhibition games. The other NFC West starters have attempted between 35 and 44 passes through three games. Coach
Jim Harbaugh
has indicated Kaepernick doesn't really need the reps. He has also said he limits reps based on feel and has limited Kaepernick to guard against something "freakish" happening, an apparent allusion to injury. Those fears appear justified now that the 49ers do not have an appealing backup quarterback, a big change from last season. The 49ers' starter at this point last season,
Alex Smith
, attempted 19 passes in four 2012 exhibition games, also a low number. Kaepernick attempted 39 as the backup.
3. Baldwin's impact.
Recently acquired wide receiver
Jon Baldwin
is scheduled to make his 49ers debut. The team will be watching to see how Baldwin and the other unestablished wide receivers perform. Baldwin, acquired from Kansas City in the
A.J. Jenkins
trade, had no receptions in the Chiefs' first two exhibition games. He dropped one pass against San Francisco on Aug. 16.