San Francisco 49ers:

Steve Young
November, 21, 2014
11/21/14
8:10
PM ET
Jim Harbaugh, who spent 14 years as an NFL quarterback with the
Chicago Bears
,
Indianapolis Colts
,
Baltimore Ravens
and
San Diego Chargers
, was known as Captain Comeback for his late-game heroics.
Kaepernick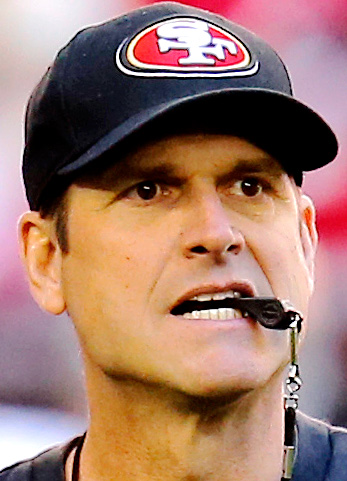 Harbaugh
He was not particularly admired for his scrambling ability, though. And yet, with 2,787 career rushing yards, he ranks 10th in NFL history among quarterbacks.
So surely he'd have a take on Hall of Fame QB and ESPN analyst Steve Young's recent take that his own skill set as a running quarterback stunted his growth as a pocket passer, the inference being that
Colin Kaepernick
's running ability could be slowing his arm's development.
Harbaugh did not hesitate.
"He's growing and growing and growing as a pocket passer," Harbaugh said of Kaepernick. "I think he's one of the most dynamic pocket passers in the game of football today. And he's one of the most dynamic runners."
Kaepernick's 322 rushing yards this season rank second to Seattle's
Russell Wilson
and his 571 yards, but Kaepernick's Total QB Rating of 54.9 is his lowest since he became the Niners' starting quarterback in 2012.
Young, meanwhile, is No. 3 all-time for a QB with 4,239 rushing yards, behind
Michael Vick
(6,006 yards and counting) and Randall Cunningham (4,928).
The rest of the top nine: Fran Tarkenton (3,674), Steve McNair (3,590), Donovan McNabb (3,459), John Elway (3,407), Tobin Rote (3,128) and Kordell Stewart (2,874).
How, then, would Harbaugh describe his own playing experience, which included one Pro Bowl selection?
"Pretty mediocre," he said.
"Yeah, I was mediocre. I was a mediocre player. Kap's a great player. That's a big difference."
September, 8, 2014
9/08/14
5:50
PM ET
San Francisco 49ers
Hall of Fame quarterback Steve Young took a strong stand on how his former team has handled the
Ray McDonald
arrest for domestic violence and allowed him to play in the season opener.
McDonald
Young, speaking on the set of ESPN's "Monday Night Countdown," disagreed with how the 49ers have handled McDonald in the course of discussing
Ray Rice
being cut by the
Baltimore Ravens
and suspended indefinitely by the NFL in the wake of a video of him punching his then-
fiancée
in the face being released by TMZ.
"Then Ray McDonald gets arrested, and has visible bruising on his wife, felony domestic abuse, violence," Young said. "Any company in this country, any big company, if that happens, they send you home. They might pay you, but you don't play. You don't come to work until we figure this out.
"You take an affirmative position on it. You've got to have no tolerance about it and mean it and then say, 'Look, if something happened and if it's faulty, it's a fraudulent assertion, then we'll work it out in a few days or weeks and miss a couple of games, OK?'
"But we have got to have a policy that, if you get arrested for this, until we figure it out, we'll call you when we figure it out. We're going to call you from home. It just has to be that way or you're not serious about it."
San Francisco coach Jim Harbaugh, general manager Trent Baalke and NFL commissioner Roger Goodell have all said they wanted to let due process play out, while CEO Jed York has not yet commented.
"I understand due process; that goes on," Young said. "Every owner can decide this for themselves."
July, 11, 2014
7/11/14
10:00
AM ET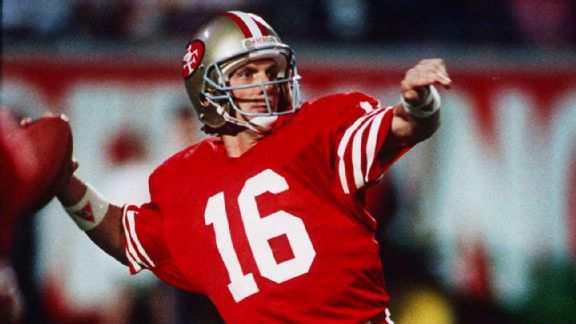 AP Photo
Score:
49ers 28, Cowboys 27
Date:
Jan. 10, 1982
Site:
Candlestick Park
The fans got it right picking The Catch.
Was this really a choice?
That is no disrespect to Joe Montana hitting John Taylor to win the Super Bowl in 1989 or to Steve Young and Terrell Owens hooking up with The Catch II to win a 1998 playoff game. Those were the two other finalists in our 49ers most memorable plays feature this week.
Fine, stunning, unforgettable plays. Both of them.

However, in reality, The Catch is the only choice for the top play in 49ers history. It might be the most memorable play in NFL history.
Whether you were alive or not in 1982, you know this play. You can see Dwight Clark jumping into the sky over Everson Walls to snag Montana's desperate heave right now, can't you?
It is one of the most iconic plays in NFL history. This play represents so much more than what it simply was at the moment. It didn't just surge the
San Francisco 49ers
into their first Super Bowl -- it changed the course of NFL history.
It was the beginning of a dynasty. It was the arrival of Bill Walsh and Montana as NFL legends.
It knocked the
Dallas Cowboys
off their perch for a bit. It ignited one of sports' greatest rivalries.
Like all things great, The Catch's impact was great and long lasting. There is no other play like it in 49ers history. It began the history of the 49ers in a lot of ways, and it certainly defined it.
There was no other choice.
July, 9, 2014
7/09/14
10:00
AM ET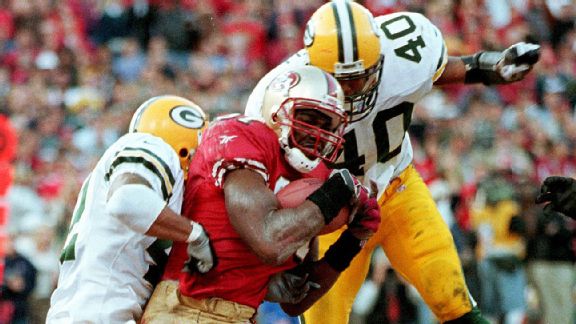 BRUCE GORDON/AFP/Getty Images
»
VOTE HERE
»
NFC Plays:
East
|
West
|
North
|
South
»
AFC:
East
|
West
|
North
|
South
This is one of three nominations for the most memorable play in
San Francisco 49ers
history. Yesterday, we covered the throw from Joe Montana to John Taylor to win Super Bowl XXIII, and Monday we reviewed "The Catch." Please vote for your choice as the 49ers' most memorable play.
Score:
49ers 30, Packers 27
Date
: Jan. 3, 1999
Site
: Candlestick Park
The Catch will always be The Catch.

Montana to Clark will forever be The Catch in the NFL for every fan, no matter who they root for.
However, for 49ers fans, there was another catch. Young to Owens. It instantly became The Catch II.
The play itself didn't have the immediate or future impact as the original catch did. But in its own right, the Catch II remains an iconic moment in the 49ers' rich history. Other than the 49ers' five Super Bowl victories and The Catch, it is difficult to imagine a more emotional postseason moment in franchise history.
It involved two wildly different historic figures in team history. There was Steve Young, a beloved Hall of Fame quarterback. Then there was also Terrell Owens. Owens was regarded in San Francisco like he was regarded everywhere in his career -- talented but not worth the trouble.
Yet, the 49ers were happy to have him on this day. It wasn't a perfect day for Owens, only a perfect ending. He started the day with four drops, including one in the end zone. But when Young needed Owens most, he was there.
The Packers took a 27-23 lead with 1:56 to go. The 49ers had to go 76 yards to win. The drive culminated on a 25-yard pass from Young to Owens. The play was unlikely. Owens was completely unreliable that day. Young went to him while he was tightly covered by two Green Bay defensive backs at the goal line -- with the season on the line.
Yet, Owens found a way to secure the ball, leaving the Packers standing in the end zone in disbelief.
Owens ran to his coach, Steve Mariucci, and collapsed into his arms, sobbing like a newborn. It's a memory etched in the minds of 49ers fans everywhere -- just like Dwight Clark leaping into the heavens to bring down The Catch.
Is there any doubt that the #NFLN49ersTopPlays are the catch 1, 2 & 3? Maybe Hearst's "greatest run of all time".

— Nick Wan (@nickwan) June 6, 2014
June, 4, 2014
6/04/14
7:00
AM ET
Steve Young
-- the classic run-and-throw NFL quarterback -- has an idea for
Colin Kaepernick
this summer.
Tie up your legs.
You read that right.
Tuesday, on ESPN's "NFL Live" the former
San Francisco 49ers
star quarterback had that advice for the current fast-legged, big-armed 49ers passer. Young simply thinks Kaepernick needs to stop relying on his legs and try to become a better pocket quarterback as he enters his second full season as an NFL starter.
"That's going to be a very difficult thing for Colin to master," Young said about Kaepernick's penchant to leave the pocket. "He's going to have to tie his legs in training camp. Literally, he should tie his legs, physically, so he can't do anything but throw from the pocket."
Do not expect the 49ers and Kaepernick to heed Young's advice, but do expect staying in the pocket and read progression to be a heavy part of Kaepernick's summer as it has been all offseason.
December, 20, 2013
12/20/13
1:30
PM ET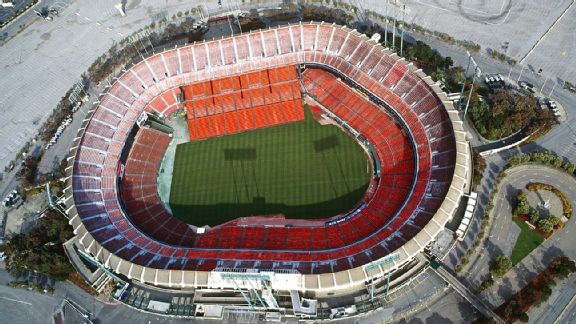 Hoberman Collection/UIG/Getty ImagesOn Monday night, San Francisco 49ers fans will empty out of Candlestick Park for likely the final time.
SANTA CLARA, Calif. – The odds are strong that Monday night will see the final game at Candlestick Park when the
San Francisco 49ers
host the
Atlanta Falcons
.
Barring a complete breakdown by first-place Seattle, the best the 49ers can do as a playoff seed is No. 5. In that scenario, the only way there could be another game at Candlestick – the 49ers move to Levi's Stadium in Santa Clara in 2014 – is if they host the No. 6 seed in the NFC Championship Game.
Don't count on it. According to ESPN Stats & Information, since 1990, a No. 5 seed has never hosted the No. 6 seed in a title game. So prepare to say goodbye to Candlestick on Monday night.
With that in mind, let's take a look at some remembrances of the historic but uncomfortable hunk of cement by the bay, as compiled by ESPN:
[+] Enlarge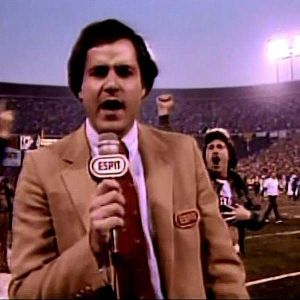 ESPNChris Berman reported from the field after "The Catch" game in 1982 at Candlestick Park.
"It was not the greatest-played game, but you couldn't have had more exciting a game. … The ball looks like it's going into the stands and Dwight Clark leapt like a basketball player, made the catch. But the game wasn't over. There was still a minute to go almost. … It caught even the city by surprise. It was fresh and it was fun, and who knew what they were building at the time. The whole thing sends shivers down my spine, that I was fortunate enough to be there and see it. It's an iconic game in pro football history, let alone Candlestick. That's what Candlestick will be remembered for more than anything else: that play, that game, even though there were some unbelievably great games, all the playoff games the 49ers have had there."
-- ESPN's Chris Berman, who covered "The Catch" from Joe Montana to Dwight Clark in the 1981 NFC Championship Game
"I have a plethora of memories, phenomenal memories of championship games won and lost, Monday night games, big games, December games, games that decided the home-field advantage almost every year it seemed like. The locker room dripping down from condensation. The high tide would come in and you'd get that smell on the field, really soggy when it started to rain. The infield, when the Giants were playing there, with crushed rock, you'd get skinned up all through September and early October. The wind, obviously, early in the season, was always a factor. The stadium needs to close. She's gone as far as she can go, it needs to be done. But for me, obviously it's hard to see her go, it's hard to see it end, and I'll always miss playing at Candlestick Park. I missed it the second I left the 49ers, and I still miss being in that park. It will be fun to be there Monday night and see the last game."
-- ESPN NFL analyst and Hall of Fame 49ers quarterback Steve Young
"When the 49ers beat the Giants on 'Monday Night Football' at Candlestick in 1990, I had this old, beat-up car, a Delta '88. I bought it for $500. It was the worst car you've ever seen. The players all made fun of me. They called me 'Uncle Buck.' This Giants game is huge, and before we leave for the stadium from the team hotel
Charles Haley
says to me, 'I need to ride over with you in that car to the stadium. I've got to get in the right state of mind.' I told him my car might not make it – it was that bad a car. He insisted on riding with me. So he didn't take the team bus. It's the biggest game in my life, and my car's going to break down on the way to the stadium. I don't have a parking pass or anything. So Haley is out the window yelling at security to let us in. I am a nervous wreck. I think Mike Holmgren and George Seifert are going to fire me – my coaching career is over. Even when we got to the stadium, I was scared to go in the locker room. Fortunately, we won 7-3 and Haley played his tail off."
-- ESPN MNF analyst and Super Bowl-winning coach Jon Gruden, who started his NFL coaching career as a 49ers assistant in 1990
[+] Enlarge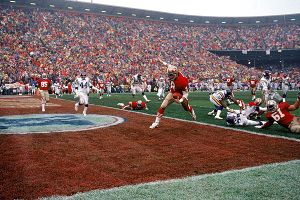 George Rose/Getty Images"I'll always miss playing at Candlestick Park," Steve Young said. "I missed it the second I left the 49ers."
"My first NFL start was at Candlestick against Steve Young's 1994 49ers team -- and I was pathetic. But it was going home to the Bay Area, close to where I grew up, buying 75 tickets for family and friends. At the time, you try not to get caught up in the nostalgia, the history and who you are playing because they were just awesome. Though I didn't play well, it's still a great memory that I was able to have my first NFL start there."
-- ESPN NFL analyst Trent Dilfer, a Northern California native and resident who played his first NFL game with Tampa Bay at Candlestick in 1994
"I remember going onto the field at Candlestick and warming up. I would go to every corner of the field and throw the football because the wind was different in every area of the stadium. You think it would go right, and it would go left. Some areas you think it would knock the ball down, it would take the ball up. You wanted to know what the wind was going to do to the football, and I always felt that was to the quarterback's advantage, knowing the wind current in Candlestick Park."
--ESPN NFL analyst Ron Jaworski, who played at Candlestick as a member of the Los Angeles Rams and Philadelphia Eagles
"The Eagles played the 49ers the last game in the final week of the 1993 season on 'Monday Night Football.' So we play the game and it ends up tied. They played a full 15 minutes of overtime, and with four seconds left Philadelphia was going to try a field goal. The kicker hooks it. He's going to miss the field goal but the defender came in and roughed the kicker. So the game is over, the overtime period is over, but with a foul on the last play of a period, you extend the period. The Eagles re-kicked and won the game 37-34. It was the longest regular-season game in NFL history -- a full game, a full overtime, plus one play."
--MNF rules consultant and former NFL official Gerry Austin, who refereed the longest regular-season game in NFL history at Candlestick on Jan. 3, 1994
October, 16, 2013
10/16/13
8:00
AM ET
SANTA CLARA, Calif. --
Colin Kaepernick
finally has a full season as an NFL starting quarterback on his resume.
Kaepernick is in his first full season as a starter after being a second-round pick of the
San Francisco 49ers
in 2011. He came into the season with 10 starts under his belt. He started the final seven regular season game last season and played in three postseason games, including the Super Bowl. After six games this season, Kaepernick has now started 16 games in the NFL.
His bottom line -- wins and losses -- is strong. The 49ers are 11-5 with Kaepernick as the starting quarterback. They were 5-2 in the regular season last year, 2-1 in the postseason and they are 4-2 this season.
Kaepernick, who played parts of seven games in his career before becoming a starter, has solid overall numbers in his first 16 starts.
Kaepernick has completed 259 of 433 pass attempts as a starter for 3,627 yards. He has thrown 22 touchdowns with 10 interceptions. He has run for 750 yards on 98 carries with six touchdowns.
His numbers compare favorably to two Hall of Famers --
John Elway
and
Steve Young
-- in their first 16 games. Elway threw for 2,448 yards, 10 touchdown passes and was intercepted 21 times in his first 16 games. Young threw for 2,722 yards, nine touchdown passes and had 16 interceptions in that span.