San Francisco 49ers:

Tony Romo
March, 7, 2014
Mar 7
8:00
AM ET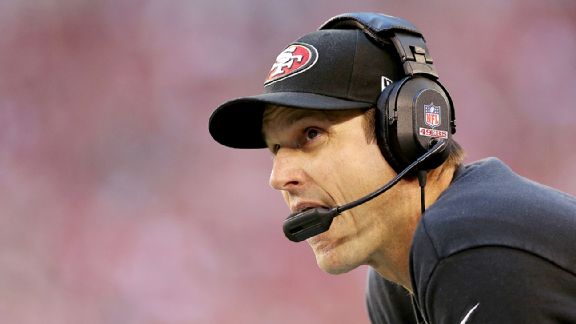 Christian Petersen/Getty ImagesJim Harbaugh has reached the NFC title game in each of his three seasons, so why would the 49ers look elsewhere?
Coach Jim Harbaugh's situation in San Francisco has been one of the most talked-about stories in the league in recent weeks.
If a resolution on his contract isn't reached, it will likely hover over the franchise all season and would be a major story next January, when Harbaugh could leave the team,
although Harbaugh told Sports Illustrated this week he is happy with all aspects of his job and doesn't see any way he will leave the team before the end of his contract.
Still, getting the contract done would ease a lot of issues.
We all know the backdrop: Harbaugh has led the 49ers to the NFC title game in all three of his seasons as coach. He got them to the Super Bowl after the 2012 season. He is entering the fourth year of a five-year contract that pays him $5 million per year. Harbaugh and the 49ers have been in discussion about a new deal for about a year, but are not close to an extension. Team owner Jed York recently told the Sacramento Bee he thinks contract talks will resume after the NFL draft in early May.
Things got interesting when the
Cleveland Browns
pursued a trade for Harbaugh. The 49ers were not interested, but that could change next year.
There have been rampant reports that Harbaugh has had trouble with some in the 49ers' front office, including general manager Trent Baalke. York, Harbaugh and Baalke have long downplayed the friction, indicating that they can coexist.
However, there is enough smoke here to think this situation go could south if a contract isn't agreed upon this year. Let's look at some issues that may be part of this story as it further develops:
The history:
While it would be stunning to see the 49ers-Harbaugh marriage disintegrate after such a stellar start, similar breakups have happened before.
[+] Enlarge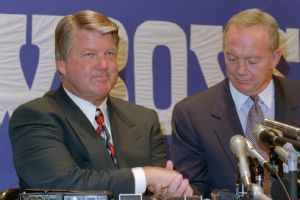 AP Photo/Ron HeflinJim Harbaugh would not be the first successful coach to leave during a team's prime. Jimmy Johnson left the Cowboys after winning two Super Bowls because of fighting with owner Jerry Jones.
After winning two straight Super Bowls, Jimmy Johnson famously left the Cowboys in 1994 after fighting with owner Jerry Jones. Following the 1998 season, Mike Holmgren shocked the NFL when he left quarterback
Brett Favre
and a
Green Bay Packers
team in its prime after a seven-year run that included a Super Bowl win. Holmgren left for more power and much more money in Seattle. In 2002, the Raiders traded coach Jon Gruden to Tampa Bay for a massive amount of draft picks. The Raiders were burned as Gruden led the Buccaneers to a Super Bowl win against Oakland in his first season. In 2007, the Chargers sided with general manager A.J. Smith in his feud with coach Marty Schottenheimer even though the Chargers went 14-2 the season before.
If Harbaugh leaves the 49ers, it wouldn't be the first time a coach and team split despite success.
The highest-paid coaches:
Harbaugh told Sports Illustrated he is not unhappy with his pay, but the man is underpaid considering his massive NFL success. Nine of the 32 NFL coaches in 2013 made at least $7 million. Only five of them had won a Super Bowl.
I'd think it has to bother Harbaugh that Chip Kelly earned $6.5 million in his first NFL season and NFC West rival Jeff Fisher made $7 million in St. Louis. Coaches' salaries are at a premium and, by NFL standards, Harbaugh is underpaid.
The best coaches without power:
He is hypercompetitive and likes to be in control. So, Harbaugh probably isn't always thrilled to defer personnel decisions to Baalke. But I don't sense Harbaugh wanting to be the general manager and making every decision as he said. He is a coach.
I don't see this as a deal-breaker.
There are plenty of great NFL coaches who don't have total power, including Harbaugh's brother, John, in Baltimore. There's also Mike McCarthy in Green Bay, Mike Tomlin in Pittsburgh and Pete Carroll in Seattle. So, a lack of total power in the NFL really isn't a big deal anymore for coaches.
[+] Enlarge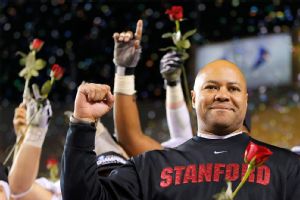 AP Photo/Matt YorkWould Stanford coach David Shaw be a candidate to follow Jim Harbaugh again?
Where could Harbaugh land?
Harbaugh's situation could cause teams to adjust their plans late in the season. I could see many owners prematurely firing a coach to get a shot at Harbaugh if he goes into January unsigned.
But right now, the list of teams that may be making a change next year and may make sense for Harbaugh isn't very long.
Miami and Dallas would be among the biggest suitors. Miami tried to hire Harbaugh before he went to San Francisco. The team has deep pockets, a need for good public relations, and the Dolphins have a good young quarterback in
Ryan Tannehill
. Dallas has big bucks and
Tony Romo
. Harbaugh could like both places.
Other possibilities could include both New York teams and Atlanta (coaching
Matt Ryan
would surely be intriguing). A potential long shot could be Oakland. Harbaugh was an assistant in Oakland and he could stay in the Bay Area. But the Raiders have to find a quarterback and ownership would have to be willing to shell out financially to make it work. Plus, the 49ers would need to get a haul from the Raiders to trade him to their Bay Area rival.
If I had to give odds on the early favorite, I'd look toward Miami.
Who could replace Harbaugh?
It's only logical to think that San Francisco ownership, in the back of its mind, is thinking post-Harbaugh just in case.
The chance of getting draft picks for a coach the 49ers can't come to an agreement with could interest the team next offseason. Also, the idea of front-office peace could be at the forefront as well, especially if things go haywire the rest of this year.
The first place the 49ers would likely look to replace Harbaugh is on the current staff. Because the team has been so successful, I could see the 49ers having interest in staying close to home. Offensive and defensive coordinators Greg Roman and Vic Fangio, respectively, would likely be on the 49ers' list. Defensive line coach Jim Tomsula is a favorite of the front office. He was a candidate when Harbaugh was hired and his players love him.
Here's another name the 49ers could look at -- David Shaw. He replaced Harbaugh at Stanford. I'm sure he wouldn't be afraid to do it again.
Shaw has been steadfast in his desire to stay at Stanford. But if he were ever to leave for the NFL, this would likely be an appealing situation. He and his family could stay in their house and he'd go to a near perfect NFL situation with a franchise quarterback in
Colin Kaepernick
.
There is plenty to unfold in this situation in the next several months. Harbaugh and the 49ers could end it all by coming to a contract extension. But as we have realized early this offseason, it's not that simple.
August, 30, 2013
8/30/13
11:40
AM ET
Six projected starting quarterbacks played in their teams' final exhibition games of the 2013 preseason. The
Seattle Seahawks
'
Russell Wilson
and the
San Francisco 49ers
'
Colin Kaepernick
were two of them, and both led touchdown drives before exiting after one series. None of the NFL's projected starters got hurt Thursday night.
The chart shows week-by-week snap counts for quarterbacks I singled out as projected starters heading into preseason. NFC West alums
Kevin Kolb
and
Matt Flynn
might not start after all, but I've left them in the chart for context.
St. Louis Rams
coach Jeff Fisher has generally played starters in the final preseason game. He did not this time.
"Typically I have, but I guess in the new world that we're in, it's hard to," Fisher told reporters after the Rams' game against Baltimore. "What that implies is that I'm pleased with where they are right now, those guys that sat. They worked hard. We got a great workout and it allowed them to fast-forward their minds to Arizona."
Fisher could have been alluding to the run of higher-profile injuries around the league this summer. Last year, the Rams lost rookie defensive tackle
Michael Brockers
to a high-ankle sprain in the final preseason game.
The Rams emerged from this preseason healthier than their division rivals. That did not stop the 49ers from playing their offensive starters or the Seahawks from playing starters on both sides of the ball Thursday night. The
Arizona Cardinals
rested most of their starters, though
Michael Floyd
was one notable exception.
San Francisco coach
Jim Harbaugh
offered no explanation for playing his starting offense one series. Kaepernick hadn't gotten many snaps through the first three games, however. Getting additional reps for Kaepernick and the team's group of emerging receivers made some sense on the surface.
Seahawks coach Pete Carroll went into the final preseason game saying he wanted starters to play because the team values this games as competitive opportunities.