San Francisco 49ers:

Trent Dilfer
January, 14, 2014
Jan 14
8:00
AM ET
SANTA CLARA, Calif. -- Count Trent Dilfer in.
Kaepernick
He is a
Colin Kaepernick
believer.
Earlier this season, the former NFL quarterback and current ESPN analyst made some news with his criticism of Kaepernick's game. He said the second-year
San Francisco 49ers
' quarterback was "remedial" in his reads.
Dilfer has changed his mind after watching Kaepernick lead the 49ers to the NFC title game for the second straight season.
On ESPN Sunday night, Dilfer said he has been completely impressed by the improvements Kaepernick has made in the second half of this season. He called it "remarkable."
The technical Dilfer said Kaepernick is improving his progressions and he is now "climbing the pocket." He said it was very impressive to see a young player make those strides.
December, 20, 2013
12/20/13
1:30
PM ET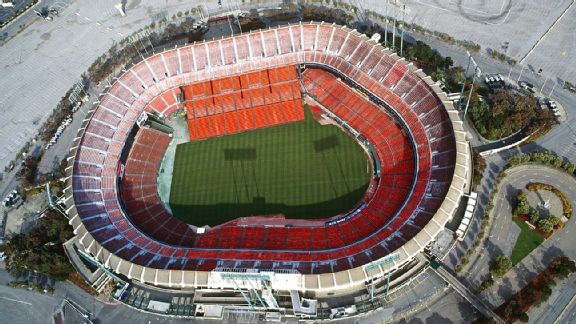 Hoberman Collection/UIG/Getty ImagesOn Monday night, San Francisco 49ers fans will empty out of Candlestick Park for likely the final time.
SANTA CLARA, Calif. – The odds are strong that Monday night will see the final game at Candlestick Park when the
San Francisco 49ers
host the
Atlanta Falcons
.
Barring a complete breakdown by first-place Seattle, the best the 49ers can do as a playoff seed is No. 5. In that scenario, the only way there could be another game at Candlestick – the 49ers move to Levi's Stadium in Santa Clara in 2014 – is if they host the No. 6 seed in the NFC Championship Game.
Don't count on it. According to ESPN Stats & Information, since 1990, a No. 5 seed has never hosted the No. 6 seed in a title game. So prepare to say goodbye to Candlestick on Monday night.
With that in mind, let's take a look at some remembrances of the historic but uncomfortable hunk of cement by the bay, as compiled by ESPN:
[+] Enlarge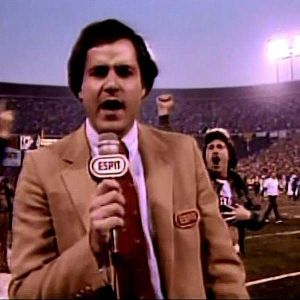 ESPNChris Berman reported from the field after "The Catch" game in 1982 at Candlestick Park.
"It was not the greatest-played game, but you couldn't have had more exciting a game. … The ball looks like it's going into the stands and Dwight Clark leapt like a basketball player, made the catch. But the game wasn't over. There was still a minute to go almost. … It caught even the city by surprise. It was fresh and it was fun, and who knew what they were building at the time. The whole thing sends shivers down my spine, that I was fortunate enough to be there and see it. It's an iconic game in pro football history, let alone Candlestick. That's what Candlestick will be remembered for more than anything else: that play, that game, even though there were some unbelievably great games, all the playoff games the 49ers have had there."
-- ESPN's Chris Berman, who covered "The Catch" from Joe Montana to Dwight Clark in the 1981 NFC Championship Game
"I have a plethora of memories, phenomenal memories of championship games won and lost, Monday night games, big games, December games, games that decided the home-field advantage almost every year it seemed like. The locker room dripping down from condensation. The high tide would come in and you'd get that smell on the field, really soggy when it started to rain. The infield, when the Giants were playing there, with crushed rock, you'd get skinned up all through September and early October. The wind, obviously, early in the season, was always a factor. The stadium needs to close. She's gone as far as she can go, it needs to be done. But for me, obviously it's hard to see her go, it's hard to see it end, and I'll always miss playing at Candlestick Park. I missed it the second I left the 49ers, and I still miss being in that park. It will be fun to be there Monday night and see the last game."
-- ESPN NFL analyst and Hall of Fame 49ers quarterback Steve Young
"When the 49ers beat the Giants on 'Monday Night Football' at Candlestick in 1990, I had this old, beat-up car, a Delta '88. I bought it for $500. It was the worst car you've ever seen. The players all made fun of me. They called me 'Uncle Buck.' This Giants game is huge, and before we leave for the stadium from the team hotel
Charles Haley
says to me, 'I need to ride over with you in that car to the stadium. I've got to get in the right state of mind.' I told him my car might not make it – it was that bad a car. He insisted on riding with me. So he didn't take the team bus. It's the biggest game in my life, and my car's going to break down on the way to the stadium. I don't have a parking pass or anything. So Haley is out the window yelling at security to let us in. I am a nervous wreck. I think Mike Holmgren and George Seifert are going to fire me – my coaching career is over. Even when we got to the stadium, I was scared to go in the locker room. Fortunately, we won 7-3 and Haley played his tail off."
-- ESPN MNF analyst and Super Bowl-winning coach Jon Gruden, who started his NFL coaching career as a 49ers assistant in 1990
[+] Enlarge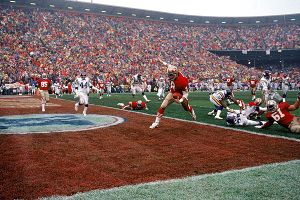 George Rose/Getty Images"I'll always miss playing at Candlestick Park," Steve Young said. "I missed it the second I left the 49ers."
"My first NFL start was at Candlestick against Steve Young's 1994 49ers team -- and I was pathetic. But it was going home to the Bay Area, close to where I grew up, buying 75 tickets for family and friends. At the time, you try not to get caught up in the nostalgia, the history and who you are playing because they were just awesome. Though I didn't play well, it's still a great memory that I was able to have my first NFL start there."
-- ESPN NFL analyst Trent Dilfer, a Northern California native and resident who played his first NFL game with Tampa Bay at Candlestick in 1994
"I remember going onto the field at Candlestick and warming up. I would go to every corner of the field and throw the football because the wind was different in every area of the stadium. You think it would go right, and it would go left. Some areas you think it would knock the ball down, it would take the ball up. You wanted to know what the wind was going to do to the football, and I always felt that was to the quarterback's advantage, knowing the wind current in Candlestick Park."
--ESPN NFL analyst Ron Jaworski, who played at Candlestick as a member of the Los Angeles Rams and Philadelphia Eagles
"The Eagles played the 49ers the last game in the final week of the 1993 season on 'Monday Night Football.' So we play the game and it ends up tied. They played a full 15 minutes of overtime, and with four seconds left Philadelphia was going to try a field goal. The kicker hooks it. He's going to miss the field goal but the defender came in and roughed the kicker. So the game is over, the overtime period is over, but with a foul on the last play of a period, you extend the period. The Eagles re-kicked and won the game 37-34. It was the longest regular-season game in NFL history -- a full game, a full overtime, plus one play."
--MNF rules consultant and former NFL official Gerry Austin, who refereed the longest regular-season game in NFL history at Candlestick on Jan. 3, 1994
November, 21, 2013
11/21/13
9:30
AM ET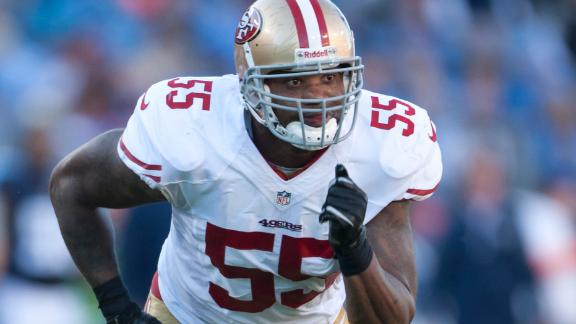 Ahmad Brooks
did just about everything the NFL can expect from a modern pass-rusher Sunday at the Mercedes-Benz Superdome. On one of the game's most important plays, Brooks approached
Drew Brees
with the combination of ferocity and caution that should have allowed him to navigate the league's extensive rules to protect quarterbacks.
Brooks, the
San Francisco 49ers
linebacker, blew past
New Orleans Saints
right tackle
Zach Strief
and aligned his head behind Brees. To initiate contact, Brooks slammed his right shoulder into Brees' right shoulder, and to wrap up, he extended his right arm across Brees' chest.
Brees' upper body snapped back, including his head in a whip-like fashion. In the process, Brooks' arm slid slightly in the direction of Brees' neck.
The ruling from referee Tony Corrente: Personal foul against Brooks, whose slight slip of the arm had violated Rule 12, Section 2, Article 9(c) -- which was amended last spring to specify that a penalty for a hit to the neck of a passer could be called even if the initial contact began below it. The penalty reversed a turnover and gave the Saints 15 yards on the way to a game-tying field goal. Brooks had hit neither Brees' head nor his knees, but he and the 49ers still feel victim to a technicality within the NFL rule labyrinth.
Did the play signify a turning point in the league's efforts to protect quarterbacks? Has it gone too far with its rules in the pocket? Is it unfairly penalizing hits like Brooks' when most quarterback injuries this season
have resulted from scrambles or designed runs
?
Speaking to reporters later, Brooks said he "basically bear-hugged" Brees and added: "That's just how football is played."
The NFL confirmed that sentiment, fining Brooks $15,575 for the play.
Brees, meanwhile, implied the penalty was justified because it was violent and left him with a bloody mouth.
"I don't think what Ahmad Brooks did was intentional at all," Brees told reporters. "I think he's a heck of a football player and a clean football player. A hard-nosed, clean football player. But you look at the result of that … and again in real-time … You can slow it down all you want and watch it and say, 'Look where the [arm is].' But I can tell you how I felt when I got hit. It felt like I got my head ripped off. And I get up and I've got a mouth full of blood. So there was no doubt in my mind that, 'Hey, it's gonna be a penalty.'"
Brees' reaction enraged earlier generations of NFL players, who saw nothing but a standard football play. ESPN analyst
Trent Dilfer said on ESPN Radio
that the penalty was an example of how "the NFL product sucks" and suggested that "roughhousing" is now illegal in the NFL.
Dilfer called Brees a "dear friend" but added: "You're not preventing Drew Brees from getting a concussion by making that call. You're preventing him from getting a bloody lip.
"I was insulted when he came into the presser and said, 'I expected to get the flag thrown.' I can't tell you how many retired quarterbacks texted me … We played a game where we had to stay in the pocket and get hit in the face. We're not saying we're as good as Drew Brees. We're not saying he's soft. We're not saying the guys he is playing with are soft. But part of the badge of honor of playing quarterback in the NFL was standing in there and taking shots in the face and throwing a 20-yard dig route. That's what separated you from the other guys. Now that's just not part of the game."
Has the NFL gone too far? Has it substantively changed the game even as quarterbacks find new ways to get injured? ESPN's NFL Nation asked quarterbacks and defensive players to address the topic.
"I think the most important thing is that the league is protecting all players and making sure of the players' safety. The quarterbacks are in one of the most vulnerable positions and whatnot so they definitely deserve that. And that's what it really comes down to, player safety."
-- Detroit Lions DT
Ndamukong Suh
, as told to ESPN.com Lions reporter Michael Rothstein
---
"It makes it extremely difficult for pass-rushers and I think safeties. Especially I'd say guys going after the quarterback, because there's so many compromising positions that guys are in. You know, you're battling a guy, and all of a sudden the quarterback's there. And a lot of times, they're swiping at the ball and they catch a part of your head. I mean, there's things like that that are, 'OK, that's just a glancing thing. That was unintentional. No big deal.' I think it's the 'lead with the head' or 'explode up through your head/chin area' [that they're trying to prevent]. And again, I don't think what Ahmad Brooks did was intentional at all. I think he's a heck of a football player and a clean football player. A hard-nosed, clean football player. But you look at the result of that, and again it's in real time. You can slow it down all you want and watch it and say, 'Look where the ...' But I can tell you how I felt when I got hit. It felt like I got my head ripped off. And I get up and I've got a mouth full of blood. So there was no doubt in my mind that, 'Hey, it's gonna be a penalty.'"
-- New Orleans Saints QB
Drew Brees
, as told to ESPN.com Saints reporter Mike Triplett
---
"Quarterbacks are the bread and butter of the league. I guess you have protect your investment. It's definitely not easy, but I guess you have to play within the rules. As a pass-rusher, I saw nothing wrong with [Brooks' hit on Brees], but there was a flag and whatever else came along with that, it did. It's tough, but we to play within the confines of the rules."
-- Indianapolis Colts LB
Robert Mathis
, as told to ESPN.com Colts reporter Mike Wells
---
"No. I mean, I'm the wrong guy to ask, but no. They're trying to protect all the players, I think. No one wants to see injuries, no matter what position you play. But no team wants to see its quarterback get hurt. That's the way it goes. I'm sure San Francisco doesn't want to see their quarterback get hit either. Most defenses won't like it, but I'm sure every coach, every GM and every owner will appreciate what they're doing to protect quarterbacks."
-- New York Giants QB
Eli Manning
, as told to ESPN.com Giants reporter Dan Graziano
---
"I feel there's a strike zone running from the shoulders to the knees for a quarterback. If you go down to the knees of a quarterback, you're going to get called. You go up to the head, you're going to get called. It's tough. You're playing full speed and at the last second we're trying to avoid a tackle and duck and move. Sometimes, things happen."
-- Kansas City Chiefs QB
Alex Smith
, as told to ESPN.com Chiefs reporter Adam Teicher
---
"Yup. They are. They definitely are doing way too much, going way overboard to protect quarterbacks, and it's crazy, because we can't play the way we want to play. There's nothing you can do. You can change the way you play, but they're just going to make another rule."
-- New York Giants DE
Jason Pierre-Paul
, as told to ESPN.com Giants reporter Dan Graziano
---
"Yes. I think if you look at the play, I didn't see any helmet-to-helmet [contact]. I'm not an expert on the rulebook. But from looking at the rulebook, you're not supposed to hit the quarterback with your helmet or lunge or torpedo. But I didn't see any of that happen on that play. And of course as a defensive person, they do overdo it when it comes to quarterbacks. They're playing football just like we are. I always think about it: When am I defenseless? I don't think I'm ever defenseless on the field. But you can't hit [quarterbacks] too low, you can't hit him too high, you can't hit him too hard, don't slam him too hard, don't touch his helmet, don't hit his arm. Play football."
-- Miami Dolphins defensive end
Cameron Wake
as told to ESPN.com Dolphins reporter James Walker
November, 13, 2013
11/13/13
7:05
PM ET
SANTA CLARA, Calif. -- ESPN analyst
Trent Dilfer
had some strong opinions on
Colin Kaepernick
's poor performance against Carolina shortly after the 49ers' loss Sunday.
Kaepernick
It caught the Bay Area's attention when Dilfer, a 14-year NFL quarterback, said Kaepernick, who has been a starter for a year, becomes a "remedial" quarterback after he makes his first read. Thus, Dilfer said Kaepernick needs to work on his progressions.
It became a topic because Kaepernick threw for 91 yards in the 10-9 loss to Carolina. Kaepernick was asked about Dilfer's opinion Wednesday, and he had a sharp response.
"I think you should ask him if he knows what my progression is first before he says that," Kaepernick said with a stare.
Before that question was asked, Kaepernick said he didn't hear what Dilfer had to say.
"He's not in the building with us," Kaepernick said. "So what he's saying really doesn't affect me at all. I'm worried about what this team thinks and what I'm doing in here with my teammates."
As he did Monday and has all season, San Francisco coach
Jim Harbaugh
defended Kaepernick. He said the youngster has made a "a good, steady progression."
"I think he's doing a great job," Harbaugh said. "He's one of those rare quarterbacks that can come in and play winning football at a very early time in his career. Those kinds of quarterbacks are rare throughout the history of the NFL. He's one of them that can do that. He's done it. There's evidence and he's proven it."
Harbaugh noted that Kaepernick is being criticized after a loss, but that he received a game ball after the 49ers' two previous games. The Carolina loss ended a five-game 49ers win streak in which they scored at least 31 points in every game.
My opinion on Kaepernick remains the same. He has been much more effective than not all season and he will be better when the 49ers get
Michael Crabtree
back.
Kaepernick has not lost the confidence of his teammates. They expect a bounce-back game Sunday in New Orleans.
"He's going to prepare like no other, come out Sunday and put on a show for us," linebacker Navorro Bowman said. "That's just what we need."