San Francisco 49ers:

Walter Thurmond
March, 16, 2014
3/16/14
1:35
PM ET
It doesn't appear the
San Francisco 49ers
are going to make a major impact at their most pressing need areas via free agency.
It's not surprising. The 49ers just don't have much money. What was surprising really was that they were even in play for some of the bigger names, particularly at receiver.
The 49ers, who currently have less than $4 million in in salary cap room, made some noise in recent days by pursuing receivers and cornerback. None of the pursuits materialized. Saturday night, Pittsburgh receiver
Emmanuel Sanders
cancelled a visit to sign with Denver. Earlier Saturday,
Julian Edelman
returned to the Patriots after visiting his hometown 49ers on Friday.
Sunday morning, Seattle cornerback
Walter Thurmond
signed a $3.5 million one-year deal with the
New York Giants
. He visited the 49ers on Friday. It was the same deal former 49ers' cornerback
Tarell Brown
signed with the Raiders.
I believe losing Thurmond was a bigger deal than the receivers. The 49ers need youth at receiver, but they probably need a little more veteran experience at cornerback.
There isn't much left on the market at either position. The top cornerbacks are Dominuque Rodgers-Cromartie and
Antonio Cromartie
. Rodgers-Cromartie would be a great fit, but he is looking for a lot of money. At receiver, the top options are
James Jones
,
Santonio Holmes
,
Sidney Rice
and
Kenny Britt
.
Even if the 49ers do dip into the market, they will very likely concentrate on these two positions in the draft where they have 11 picks and the flexibility to move up particularly since they don't have many other needs.
March, 15, 2014
3/15/14
6:10
PM ET
The
San Francisco 49ers
' options for a free-agent receiver shrunk Saturday when, as expected,
Julian Edelman
returned
to the
New England Patriots
.
The Bay Area native visited with the 49ers on Friday. However, the pursuit was considered somewhat tepid. Edelman wasn't a natural fit for the 49ers, anyway. He is a slot receiver and that's a role
Anquan Boldin
occupies nicely.
The 49ers need a speed receiver and that's why they are talking to Pittsburgh's
Emmanuel Sanders
. He was supposed to visit the team Saturday night.
There is a possible hurdle for Sanders.
ESPN.com's Scott Brown is reporting
some teams are worried about Sanders' lingering foot issue, and it could affect his price tag. The 49ers, who currently have less than $4 million in salary-cap room, likely wouldn't pay Sanders much, anyway.
If the 49ers go on to look at other receivers in free agency, potential options are
James Jones
,
Santonio Holmes
and
Sidney Rice
.
Meanwhile, the San Francisco Chronicle reported that Seattle cornerback
Walter Thurmond
is planning on taking other visits. He was in San Francisco on Friday. The 49ers are still interested in him.
March, 15, 2014
3/15/14
7:00
AM ET
Free agency is entering its fifth day (it only seems like 43) and the
San Francisco 49ers
have been busy making roster changes. Let's take a look at what has gone on so far:
Returning free agents:
Receiver
Anquan Boldin
, kicker
Phil Dawson
, cornerback
Eric Wright
.
Departed free agents:
Safety
Donte Whitner
(Cleveland), cornerback
Tarell Brown
(Oakland), running back
Anthony Dixon
(tweeted he is signing with Buffalo on Saturday).
Released:
Cornerback
Carlos Rogers
.
Free-agent addition:
Safety
Antoine Bethea
(Colts), Cornerback
Chris Cook
(Vikings).
Acquired in trade:
Quarterback
Blaine Gabbert
from Jaguars; tackle
Jonathan Martin
from Miami.
Who are they interested in?
Cornerback
Walter Thurmond
(Seattle),receivers
Julian Edelman
(New England) and
Emmanuel Sanders
(Pittsburgh).
Remaining 49ers free agents:
Center
Jonathan Goodwin
, receiver
Mario Manningham
, quarterback
Colt McCoy
, receiver
Kassim Osgood
, cornerback
Perrish Cox
.
Starting lineup changes:
Bethea for Whitner; likely
Daniel Kilgore
for Goodwin.
March, 14, 2014
3/14/14
8:45
PM ET
The
San Francisco 49ers
said goodbye to another fixture in their secondary Friday afternoon as
Tarell Brown
bolted across the bay for more money.
Brown
Refusing an offer from the 49ers, the cornerback instead agreed to a one-year deal worth $3.5 million with the
Oakland Raiders
. The 49ers wanted Brown back but weren't winning to overpay for him.
The 49ers are hoping to get a deal done with Seattle free-agent
Walter Thurmond
, who has the same agent as Brown. Thurmond, considered a comparable player to Brown, is currently visiting the 49ers.
In a conference call with Oakland media, Brown said it sounded as if the 49ers didn't make a big play for him.
"It was always something I would have loved to work out, but everything happens for a reason, and I understand that it's a business," Brown said. "They are looking to get younger or they are really looking to bring in other guys, so I can't fault those people for that. So, I understand it's a business and I treat it as such. Like I said, I look forward to being here and starting a new culture here."
Earlier Friday, the 49ers signed ex-
Minnesota Vikings
cornerback
Chris Cook
. He is expected to be a bottom-of-the-rotation player, although at 6-2 he has a chance to make an impact with the team.
"They want me to be the press guy," Cook said in a conference call Friday. "And that's what I like to do. I feel like I'll fit in well with the one-high [safety] scheme that they like to run. I came from a two-high scheme. And I feel like a one-high scheme and a man-to-man scheme fits me well."
Right now,
Chris Culliver
, who missed all of last season with a torn ACL, is set to be a starter along with
Tramaine Brock
. However, Thurmond can play outside. The 49ers are also expected to draft a cornerback in the early rounds, and they also have
Eric Wright
.
If the team doesn't sign Thurmond, among the other cornerbacks on the shrinking market include
Dominique Rodgers-Cromartie
and
Antonio Cromartie
. But their price tags may be high for the 49ers, who have under $4 million of salary-cap room.
Meanwhile, take
Hakeem Nicks
off the 49ers' wish list at receiver as he signed with the Colts. The 49ers visited Friday with New England's
Julian Edelman
and will visit with Pittsburgh's
Emmanuel Sanders
on Saturday.
Also, running back
Anthony Dixon
tweeted that he will sign with Buffalo on Saturday morning. Dixon, who was a solid special teams contributor and popular in the locker room, was not expected back.
The 49ers have a crowded backfield, so this isn't considered a difficult loss.
March, 14, 2014
3/14/14
6:05
PM ET
The
San Francisco 49ers
are getting a veteran cornerback. But they might not be done adding at the position before the draft.
Cook
An NFL source confirmed the team will sign Minnesota free agent
Chris Cook
. He is expected to sign a team-friendly one-year deal. The team still has interest in Seattle cornerback
Walter Thurmond
, who is vising the 49ers on Friday, and have interest in retaining
Tarell Brown
.
Cook will battle for a roster spot. He has experience and at 6-foot-2, he is big for a cornerback. But he has struggled on and off the field at times. He has no career interceptions.
Still, the 49ers -- who added quarterback
Blaine Gabbert
and offensive lineman
Jonathan Martin
-- are banking they can salvage Cook's career. If not, the team doesn't have much invested. ESPN analyst Matt Williamson thinks taking a flier on Cook is worth the 49ers' while.
"He has a lot of talent," Williamson said. "Maybe he can resurrect his career in San Francisco."
March, 14, 2014
3/14/14
11:00
AM ET
The player poaching between the
San Francisco 49ers
and
Seattle Seahawks
has been a well-documented part of the most heated current rivalry in the NFL.
Thurmond
But if the 49ers land Seattle free-agent cornerback
Walter Thurmond
it would change the landscape. Thurmond is set to visit with the 49ers. If the 49ers sign Thurmond, he'd be -- by far -- the best player either has landed from the other during this recent rivalry.
In the past both teams have signed the others' former players, claimed them off waivers or signed them off the practice squad. Among the names that have made the San Francisco-Seattle shuffle in recent years:
Perrish Cox
,
B.J. Daniels
,
Ricardo Lockette
,
Cameron Morrah
,
Chris Harper
,
Charly Martin
,
Ryan Seymour
and
Seneca Wallace
.
Few of these players have made a big impact. Thurmond would be different.
The Seahawks are strong at cornerback, so they likely can handle losing Thurmond. But seeing the 49ers improve with the addition of one of their players would not go over well in Seattle.
March, 13, 2014
3/13/14
8:20
PM ET
The
San Francisco 49ers
may turn to their greatest rival to address one of their few needs.
Thurmond
Seattle free-agent cornerback
Walter Thurmond
tweeted Thursday that he is headed to San Francisco for a visit. He visited Jacksonville on Thursday.
Thurmond is a versatile player who can play inside and outside. He'd be an upgrade for the 49ers at the cornerback position, which is still somewhat of a work in progress.
Interestingly, Thurmond and 49ers free-agent cornerback
Tarell Brown
have the same agent. Because the 49ers have limited cap room, they may be hard pressed to keep Brown -- who reportedly has received interested from Miami -- and sign Thurmond.
The 49ers also are visiting with Minnesota cornerback
Chris Cook
. He is not considered the player Thurmond or Brown are.
In other 49ers news:
Tackle Jonathan Martin passed his physical and his trade to the 49ers from Miami is official. The 49ers are giving Martin, who played for 49ers coach Jim Harbaugh at Stanford, a change to salvage his career after being at the center of a bullying case in Miami last season."Any time we acquire a player we give him a clean slate, along with every opportunity to demonstrate his value to our organization, both on the field and in the community," 49ers general manager Trent Baalke said in a statement. "It will be no different in Jonathan's case. As a former Stanford student-athlete, we are very familiar with Jonathan and look forward to working with him."
Free-agent running back Anthony Dixon tweeted that he is going to Buffalo for a visit. He left Tennessee on Thursday. He is not expected to be back with the 49ers. While the salary cap is still fluid, the 49ers are expected to have about $3-4 million remaining.
March, 11, 2014
3/11/14
8:00
AM ET
Free agency starts at 4 p.m. ET (1 p.m. PT) Tuesday.
It is clear the
San Francisco 49ers
' plan of attack will be to sign their own top free agents. They secured their top free-agent priority, receiver
Anquan Boldin
, last week. Their other targets are safety
Donte Whitner
, cornerback
Tarell Brown
and kicker
Phil Dawson
. Dawson and Brown both may get quick action on the open market.
If any of these players leave, the 49ers will likely have to go find a replacement in some form. Let's take a look at who they may be:
Safety
Possible free-agent options:
Mike Mitchell
(Panthers),
Malcolm Jenkins
(Saints),
James Ihedigbo
(Ravens).
Summary:
The free-agent market is thin, and, in my opinion, signing Whitner is, by far, the best option. If not, one of the above-mentioned players could be a suitable, but not equal signing. If Whitner's market doesn't get crazy, the 49ers need to try to keep him. In-house potential replacements are
C.J. Spillman
and
Craig Dahl
, but neither are considered top options.
Cornerback
Possible free-agent options:
Nolan Carroll
(Dolphins),
Antonio Cromartie
(released by Jets),
Champ Bailey
(released by Broncos),
Walter Thurmond
(Seahawks),
Asante Samuel
(released by Falcons),
Antoine Cason
(Cardinals),
Charles Tillman
(Bears),
Captain Munnerlyn
(Panthers).
Summary:
Replacing Brown may be easier than replacing Whitner. There are a ton of decent cornerbacks. Carroll is one of the players the 49ers have checked in on. If the 49ers lose Brown, they could wait out the market and get a decent player or two here. A wild card could be
Darrelle Revis
, who reportedly either is going to be traded or released, as soon as this week, by Tampa Bay. He will likely be pricey but if something crazy happens, perhaps the 49ers could get involved.
Kicker
Possible free-agent options:
Steven Hauschka
(Seahawks),
Adam Vinatieri
(Colts),
Josh Brown
(Giants),
Dan Carpenter
(Bills).
Summary:
There are some decent kickers available, but I think Dawson is the best fit and I expect him to be back. If not, any of these kickers could be the fix. Just a guess, but I don't think it gets to that point.
March, 6, 2014
3/06/14
8:00
AM ET
In an Insider piece, ESPN analyst, and former NFL general manager, Bill Polian gives
San Francisco 49ers
' cornerback
Tarell Brown
high praise.
Brown
Polian ranks Brown as the best cornerback in unrestricted free agency

. Polian gives Brown the nod over several top-notch free-agent cornerbacks such as
Vontae Davis
,
Dominique Rodgers-Cromartie
and
Aqib Talib
.
If just one NFL team agrees with Polian, the 49ers may be hard pressed to keep Brown. Cornerbacks are often paid at a premium price, so if Brown is coveted, he may be looking at a big contract.
Brown is one of the 49ers' free-agency priorities. CBS Sports reported the team is pushing to get a deal done before free agency starts next Tuesday.
Brown was a starter last year, but lost his job late in the season when he was hurt. However, he did regain it in the playoffs.
Brown would likely be a starter again if he re-signs. If not, the 49ers will get
Chris Culliver
back from a torn ACL. At the very least, he will be the nickel cornerback. They could also try to replace Brown in free agency with someone like Seattle's
Walter Thurmond
. In either scenario, the team will likely use an early draft pick at the position.
December, 5, 2013
12/05/13
10:00
AM ET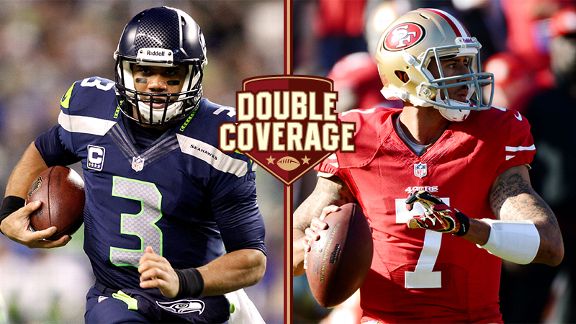 USA TODAY SportsQBs Russell Wilson and Colin Kaepernick meet for the second time this season on Sunday night.
SAN FRANCISCO -- It is not going to be the most important game of the season, as many thought when the schedule was released in April.
The
Seattle Seahawks
, coming off an absolute beat down of New Orleans on Monday night, are 11-1 and the
San Francisco 49ers
are 8-4 heading into their meeting on Sunday, which will be the second-to-last game at Candlestick Park. The Seahawks will clinch the NFC West with a win. The 49ers need a win more because they're holding onto the sixth and final NFC playoff spot by a game.
There is plenty at stake and there is plenty of animosity. Seahawks reporter Terry Blount and 49ers reporter Bill Williamson hash it all out.
Blount:
Bill, almost everyone expected this to be the game that would possibly decide the NFC West title. It still can, but not the way people imagined. The Seahawks can clinch the division crown at San Francisco on Sunday with a victory. Why aren't the 49ers the team everyone thought they would be, and can they still be the team they were a year ago at this time?
Williamson:
Terry, I think the 49ers are fine. They are 8-4 and they have won seven games by double digits, which is tied with Denver for the league high. This is an elite team. Still, there are two issues at play. The 49ers are 2-4 against teams with winning records. They were blown out by the Seahawks and the Colts early in the season and then they lost back-to-back games to Carolina and New Orleans by a total of four points last month. If the 49ers have anything to prove, it's that they can beat a quality team. Another reason why this race hasn't been close is the Seahawks are playing out of their minds. They simply ran away from a good team. Terry, do you think the Seahawks can stay up for this game after the huge win? Or could this be a letdown game?
Blount:
I really thought this was going to be a big letdown game for the Seahawks and a chance for them to come in flat, but now they have the opportunity to clinch the title in the most unlikely of places for them. The Seahawks would love to walk away from this one and be able to tell the 49ers that they clinched the division crown "in your house." So I think they'll be pretty focused, but the short week of preparation and coming off an emotional Monday night game could take a toll.
Bill, the Seahawks had a convincing
29-3 victory
over the 49ers at CenturyLink Field in the second game of the season, but Seattle has lost four consecutive games at Candlestick Park by a combined score of 109-54. Is this a game where the 49ers feel they have something to prove?
Williamson:
Oh, certainly. Players were talking about this game in the locker room Sunday after beating the Rams. I think that was a first for this season. The 49ers want to win this game because I think they want to prove to themselves as much as anyone else that they can end the Seahawks' mini-dominance over the 49ers. The 49ers want to protect their territory in this game. What struck me is players talked about not overthinking this game and not getting caught up in the moment. It's a sign they learned from some previous mistakes. I'm looking forward to seeing it play out. Terry, do you get the sense the Seahawks respect the 49ers as much as they did going into Week 2?
Blount:
Honestly, my sense is most of the Seahawks just really don't like the 49ers, and it's no secret that
Richard Sherman
can't stand
Jim Harbaugh
, along with the fact that Harbaugh and Pete Carroll won't be sending each other Christmas cards. Certainly, the Seahawks realize San Francisco has a lot of very talented players who can beat you in many ways. Publicly, they will say they respect the 49ers. Privately, they can't stand them and respect just doesn't enter the picture.
Bill,
Colin Kaepernick
was the toast of the NFL a year ago as a young quarterback with limitless talent. He's had some rough moments this year, but also has had flashes of brilliance. What's different for him this season and is he as good as he was a year ago?
Williamson:
I think it is a combination of things, including the fact that he is still learning and the offense is still evolving. I think the key was that he lacked all his weapons. It was startling how much better the passing game was Sunday in
Michael Crabtree
's debut. He had just two catches, but it opened up the entire game against St. Louis. Terry, do you think the 49ers can have success against this top-notch Seattle secondary that they didn't have in the past two meetings?
Blount:
Certainly, having Crabtree back makes the 49ers a more formidable receiving corps than the game in September. And the Seahawks are down a man from that game with
Walter Thurmond
's suspension. Some people probably have forgotten that
Brandon Browner
didn't play that night because he had a hamstring injury. But the job backups
Byron Maxwell
and
Jeremy Lane
did against the Saints, as good a passing team as you'll find, showed how much depth Seattle has in the secondary. I think
Vernon Davis
is the key for San Francisco, and I can't see
Anquan Boldin
being shut down this time the way he was in Seattle.
December, 4, 2013
12/04/13
8:00
AM ET
SANTA CLARA, Calif. -- Here is a look at what the
San Francisco 49ers
must do and can't do Sunday at home against the
Seattle Seahawks
:
Must happen:
The 49ers must have success against the Seahawks' secondary. One of the best units in the NFL, the Seahawks are playing without suspended cornerbacks
Walter Thurmond
and
Brandon Browner
. The Seahawks' secondary bottled up the 49ers in the past two meetings between the teams. But with
Michael Crabtree
back and the issues surrounding Seattle, the opportunity is there the 49ers. They must take advantage.
Can't happen:
The 49ers can't allow Seattle to jump out to a big lead. The Seahawks have blown out the 49ers twice in the past calendar year. If the Seahawks jump out to a 14-0 lead, it will get in the heads of both teams. The 49ers can't allow Seattle to get an early edge.