March, 9, 2014
Mar 9
3:13
PM ET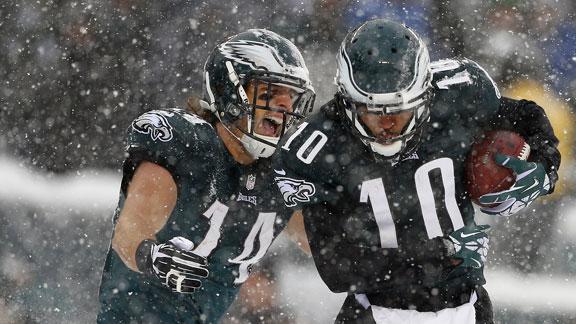 Last year, NFL teams rolled more than $177 million of cap money to 2014 from their 2013 cap anticipating only a $3.3 million increase.
But with an increase of $10 million that pushed the cap to $133 million, teams face an interesting dilemma. They have to decide how much to save for future years with revenues getting a big spike because of increased television revenue. Don't be surprised if teams hold back some spending this year to save money for key re-signings for the future.
What general managers and capologists face is trying to retain the stars from loaded draft classes in 2010 and 2011.
The 2010 draft was the last one under the old collective bargaining agreement that helped top first-round choices receive big contracts. Sam Bradford signed a six-year, $78 million deal. Ndamukong Suh got $63.5 million over five years. Gerald McCoy signed for five years and $63 million. Trent Williams made $10 million a year.
March, 8, 2014
Mar 8
3:02
PM ET
[+] Enlarge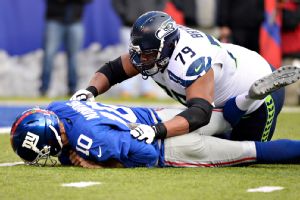 Robert Deutsch/USA TODAY SportsRed Bryant, who was released by Seattle in February, has agreed to a four-year deal with the Jaguars.
JACKSONVILLE, Fla. -- Jaguars coach Gus Bradley has reached back into his Seattle past to help his defense, agreeing to terms with former Seahawks defensive end Red Bryant on a four-year contract.
Bryant, who turns 30 next month, missed only one game in the past three seasons and recorded 87 tackles, 2.5 sacks, and two interceptions over that span. He spent six years in Seattle and made 121 tackles.
He began his career as a defensive tackle but moved to end in 2010. His spot's primary responsibility is stopping the run.
Bradley spent four seasons (2009-12) as Seattle's defensive coordinator. The Super Bowl champion Seahawks drafted Bryant in the fourth round in 2008.
Though free agency doesn't begin until Tuesday, Bryant is able to sign a contract with the Jaguars because he was released by Seattle on Feb. 28. He was scheduled to make $4.5 million in 2014 and was due a $3 million bonus if he was on the Seahawks' roster on March 14.
March, 8, 2014
Mar 8
8:00
AM ET
Just call this Sound-Off Saturday. It's your chance to be
Seattle Seahawks
' John Schneider for a day and make the tough decisions every general manager has to make.
So here's your dilemma. You have three top-priority free agents -- defensive lineman
Michael Bennett
, wide receiver
Golden Tate
and kicker
Steven Hauschka
. But you can only sign two of them and keep your salary cap situation where it needs to be, especially knowing you have big-money deals coming up for safety
Earl Thomas
, cornerback
Richard Sherman
and quarterback
Russell Wilson
next year.
So which two do you sign and which one do you let go?
Here's another consideration. Hauschka likely will come a lot cheaper than Bennett and Tate. Let's say Bennett, who wants to test the free-agent market, could get as much as $40 million over five years, and Tate may want $20 million -- or more -- over four years.
But the Seahawks probably can keep Hauschka for two years at $6 million or three years at $7.5 million. If you sign Hauschka and let one of the other two go, you have more money left over for other free agents, especially defensive tackle
Clinton McDonald
, who was a force inside all season. You also would have more money to sign defensive tackle
Tony McDaniel
and possibly cornerback
Walter Thurmond
.
So Mr. or Ms. big-shot GM, what do you do? Post your thoughts and decisions in the comments field or you can tweet at me at
@TerryBlountESPN
, using the hashtag #seahawksGM.
On Monday, I'll list what some of what you had to say on your day as the GM.
March, 7, 2014
Mar 7
7:00
PM ET
Seattle Seahawks
coach Pete Carroll and general manager John Schneider have said repeatedly that they want to keep this Super Bowl-winning team together as much as possible.
They took a few steps toward proving it on Friday with their three restricted free agents.
Seattle re-signed back-up safety
Jeron Johnson
and back-up offensive linemen
Lemuel Jeanpierre
to one-year deals. The team also tagged receiver
Doug Baldwin
with a second-round tender, proving they plan to do all they can to keep him.
The Seahawks will get a second-round pick if Baldwin leaves (assuming Seattle doesn't match the offer) or pay him $2.2 million if he doesn't get a higher offer. It's still a bargain considering how much Baldwin contributed in 2013.
He caught 50 passes in the regular season, including five touchdown catches, and had 13 receptions in the three playoff games. But Baldwin also was
Russell Wilson
's go-to guy in key third-down situations, consistently making the tough catch to keep drives alive.
Some people might incorrectly read into Baldwin's tender tag that the Seahawks don't intend to re-sign free-agent receiver
Golden Tate
. Seattle released receiver
Sidney Rice
, freeing up over $7 million in cap space, with the thought of using some of that money to keep Tate.
Seattle also released defensive end
Red Bryant
to free up cap money to try to re-sign defensive lineman
Michael Bennett
, who will be one of the most sought-after free agents this year. It won't be easy. Bennett could command as much as $8 million a year over four or five years.
More moves could be on the way with the possible release of defensive end
Chris Clemons
and tight end
Zach Miller
, who could be asked to restructure his contract.
But the point is the Seahawks aren't just sitting back and hoping for the best. Tough decisions remain, but as always, Schneider and Carroll are being proactive with moves to try to keep as much of the Super-Bowl squad together as they can.
March, 7, 2014
Mar 7
6:27
PM ET
The Seattle Seahawks have placed a second-round tender on restricted free-agent receiver Doug Baldwin, hoping to keep one of the key cogs in their offense from the 2013 championship season.
Seattle now has the right of first refusal if another team makes Baldwin an offer, giving the Seahawks a five-day window to match the offer.
If they don't match it, Seattle will receive a second-round draft choice from the team that signs him. If Baldwin doesn't sign elsewhere, he will receive a $2.187 million dollar contract from the Seahawks for the 2014 season.
Baldwin, who just completed his third season out of Stanford, was a bargain in 2013 at a salary-cap hit of $560,000. He caught 50 passes in the regular season for 778 yards and five touchdowns.
He also was outstanding in the playoffs, catching six passes for 106 yards in the NFC Championship Game victory over the San Francisco 49ers. Baldwin caught five passes for 66 yards, including a 10-yard TD catch, in the 43-8 Super Bowl victory over the Denver Broncos.
Some of Baldwin's friends and teammates were tweeting congratulations to him, thinking he had been re-signed. But he clarified that point later with a tweet of his own.
Thanks for the love peeps. However, I have not been signed to an extension. I've just been tagged with the 2nd round tender. More to come.

- Doug Baldwin Jr (@DougBaldwinJr) March 7, 2014
March, 7, 2014
Mar 7
5:15
PM ET
The
Seattle Seahawks
signed offensive lineman
Lemuel Jeanpierre
and safety
Jeron Johnson
to one-year contract extensions on Friday.
Both players were restricted free agents. Johnson was given a second-round tender on Tuesday, which protected the Seahawks in case Johnson signed elsewhere. He reached an agreement with the team before that came into play, but sill signed the tender offer for 2.187 million.
"We are pleased to sign two players that were part of a special championship season," said Seahawks general manager John Schneider. "Lem has performed well when called upon in starting opportunities and we're excited to have him be a part of our 2014 season going forward. Jeron brings physicality and toughness that plays a key role in our special teams unit."
Johnson, who will be playing in his fourth NFL season out of Boise State, missed most of the 2013 season while battling hamstring injuries, playing in only seven games. He made $560,000 last year.
Jeanpierre (6-3, 300) played well while starting three games at center in 2013 when
Max Unger
was injured. Jeanpierre, who made $555,000 last season played college football at South Carolina and originally signed with the
Kansas City Chiefs
as an undrafted rookie in 2010. He is believed to have signed a new deal for around $800,000.
He was signed to Seattle's practice squad after being released by the Chiefs at the end of the 2010 preseason. He's a versatile athlete who can play guard and tackle, also.
March, 7, 2014
Mar 7
11:00
AM ET
»
AFC Free-Agency Primer
:
East
|
West
|
North
|
South
»
NFC
:
East
|
West
|
North
|
South
Key free agents:
DE
Michael Bennett
, WR
Golden Tate
, K
Steven Hauschka
, DT
Clinton McDonald
, OT
Breno Giacomini
, QB
Tarvaris Jackson
.

Where they stand:
The Seahawks have made it a top priority to try to re-sign Bennett, who was the team's best defensive lineman last season and a key component on their path to a Super Bowl win. They also hope to keep Golden Tate. Seattle released defensive end
Red Bryant
and wide receiver
Sidney Rice
, freeing up $13 million in cap space, to try to keep Bennett and Tate. It was a slight surprise the team didn't put the franchise tag on Hauschka, since it would have cost them only $3 million.
What to expect:
Look for the Seahawks to make an all-out effort to keep Bennett, who made $4.8 million in 2013. It probably will take a multiyear deal at over $7 million a season to bring him back. Unless Hauschka receives an extraordinary multiyear offer elsewhere, he is likely to return. Tate is a little more of a wild card. He probably is looking for a deal similar to what receiver
Riley Cooper
received in Philadelphia ($25 million over five years). That may be more years than the Seahawks are willing to go. Seattle wants to keep McDonald, who had a breakout season in 2013, and should be able to keep him since he made only $560,000 last year. The team wants to keep Jackson as the backup quarterback because he knows the system, has the respect of the players and works well behind
Russell Wilson
. Giacomini probably is gone if he gets a quality offer.
March, 7, 2014
Mar 7
8:00
AM ET
It was the three T's -- Tate's Touchdown Taunt -- but it also proved to be the difference in the game.
No. 1: Golden Tate's 80-yard TD at St. Louis.
[+] Enlarge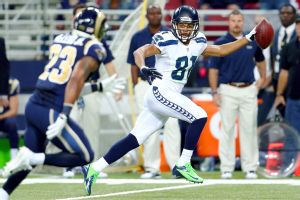 Andy Lyons/Getty ImagesGolden Tate taunts Rams safety Rodney McCleod before completing his 80-yard touchdown reception.
The Seahawks led 7-6 in the third quarter on Monday night at St. Louis. The Rams had completely shut down the Seattle running game.
Marshawn Lynch
would end the night with a season-worst 23 yards on only eight carries.
Quarterback
Russell Wilson
would take a beating, getting sacked seven times on the night. Seattle would end the game with only 135 yards of offense.
The only touchdown of the game in the first half was a 2-yard quick slant from Wilson to Tate, who managed to step in the end zone before going down.
But Seattle had just 43 yards of offense when the key moment came. It was a one-point game when the Seahawks had a second-and-10 at their 20.
Wilson took the shotgun snap and faked a handoff to Lynch, then rolled to his right. Wilson looked back to the left, where Tate was racing down the sideline on a fly pattern.
Tate had a couple of steps on Rams cornerback
Janoris Jenkins
, but Jenkins still had his eye on Wilson as Wilson made the throw. It looked like Jenkins might come up with the interception, but Tate jumped up in front of Jenkins at the St. Louis 39 and made the catch as Jenkins fell to the turf.
It was off the races for Tate, but he had to rub it in on the way to the end zone. Tate held the ball in his left hand as Rams safety
Rodney McLeod
tried to catch him.
Tate held out his right hand, at first motioning bye-bye to McLeod. As McLeod got closer, Tate motioned his fingers at him, as if to say, stop yapping. As a result, McLeod almost caught Tate before he reached the end zone.
The sparse crowd (the Cardinals were playing a World Series game eight blocks away) booed Tate, who was flagged for taunting.
As Tate went and sat on the bench, coach Pete Carroll went over and sat next to him. Carroll had a clear message.
"That's not our kind of football," Carroll said afterward. "It's not who we are and not what we do. There's no place for that. It kind of washes away a fantastic football play."
Tate apologized after the game.
"That was immature of me," Tate said. "I hurt my team. I've gotta stay composed. It was a learning moment for me and I'll move forward. I'm better than that."
The play was so controversial it brought discussions the following week about whether the NFL should change the rules to take away a TD on a taunt when a player scores.
But in all the commotion, people forget it also was a game-winning touchdown. The Rams kicked a fourth-quarter field goal and lost 14-9 after falling short one yard short of the Seattle end zone at the end of the game.
As fate would have it, Tate had a similar catch-and-run TD on a 47-yard play in the game against the Rams that ended the regular season. But there was no taunt on that one.
Tate had the best season of his career in 2013 and now is a free agent about to earn millions of dollars. He learned his lesson, but he also was the reason Seattle won that game.
March, 6, 2014
Mar 6
10:47
PM ET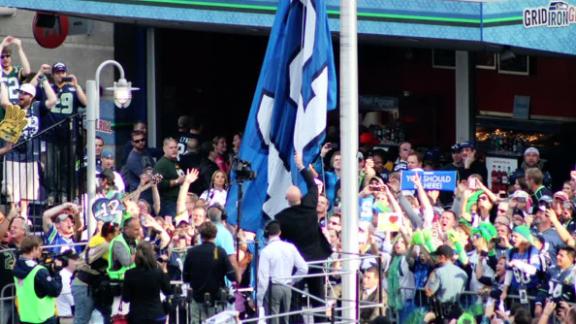 The "12th Fan" is now a best-seller.
Seattle Seahawks jerseys with "FAN" on the name plate and the No. 12 are now the 10th best-selling jersey this season, according to sales on NFLShop.com from April 1, 2013, through Feb. 28, 2014.
Thanks in part to a Super Bowl victory, only two jerseys sold better in February on the league's official online store than the 12th Fan jerseys -- those of Seahawks quarterback Russell Wilson and Denver Broncos quarterback Peyton Manning. The strong month of sales brought the No. 12 jersey into the No. 10 spot, surpassing the sales of jerseys sold this year of both Miami Dolphins quarterback Ryan Tannehill and Washington Redskins quarterback Robert Griffin III, who sold more jerseys last year than any player in a single year in league history.
Selling the 12th Fan gear is a way around the Seahawks agreement with Texas A&M. Since 2006, the Seahawks have paid the university $5,000 a year to license the use of its trademark of "12th Man." The licensing agreement doesn't allow for Seahawks to sell any merchandise with "12th Man" on it.
March, 6, 2014
Mar 6
12:00
PM ET
This is the right man in the right spot. UCLA guard
Xavier Su'a-Filo
is who ESPN Insider Todd McShay has the Seahawks taking at the end of the first round in McShay's Mock Draft 3.0.

If Su'a-Filo is there when they pick, and he probably will be, this is the player that can help the team the most -- an offensive lineman whose stock is rising after how well he performed in the combine.
Seattle probably needs a tackle more than a guard, depending on what happens with free-agent right tackle
Breno Giacomini
, but Su'a-Filo is a big man who could come in a start at either guard spot immediately.
At 6-foot-3, 305 pounds, Su'a-Filo, has power-blocking strength, surprising quickness, excellent balance and the ability to shift his position and stay on his block.
He is the first true freshman to start on offense in a season opener for the Bruins. Su'a-Filo went on a two-year Mormon mission after his freshman year before returning to UCLA in 2012.
He started every game in his three seasons with the Bruins, half at left guard and half at left tackle, but he's probably headed for a guard spot in the NFL. Su'a-Filo earned All Pac-12 honors the past two seasons.
If Su'a-Filo still is on the board when the Seahawks pick at the end of Round 1, this is the right man for Seattle.
March, 6, 2014
Mar 6
11:21
AM ET
As it turns out,
Brandon Browner
was a little misleading on his tweet Tuesday night about being reinstated by the NFL. Browner still has some time to serve on his substance-abuse violation from a positive test for marijuana use.
Yes, Browner reached a deal with the NFL to reduce his one-year suspension, but not without some additional consequences. The veteran cornerback will be suspended for the first four games of 2014. He also will forfeit his pay for the first four games he plays after the suspension.
Browner
That remains a pretty severe penalty. However, he can enter the free-agent market next week and try to sign a new contract, either with the Seahawks or a new team, for 2014. He will be allowed to participate in all summer camp and preseason practices, along with the preseason games.
But Browner's free-agent value will be reduced because of the continuation of his suspension. Browner, who turns 30 in August, is a physical corner at 6-foot-4 and 220 pounds. He was selected for the Pro Bowl in 2011.
He's strictly a press corner with coverage skills that now have limits. Some of those limitations came to light at times while he was on the field in 2013 before suffering a groin injury in November.
A few teams might consider moving Browner to strong safety at this point of his career, utilizing his physical style of play and hiding some of his coverage weaknesses.
If the price is low enough, the Seahawks might consider bringing Browner back because he fits their system, knows the defense and can add veteran leadership. Despite the off-the-field issues, Browner is beloved by his Seattle teammates. They would welcome his return.
But the starting job at right corner now belongs to
Byron Maxwell
, who made the most of his opportunity when Browner and
Walter Thurmond
were suspended.
Thurmond also is an unrestricted free agent. There's no way Seattle brings back both Browner and Thurmond, and it's possible neither player will return. The Seahawks are high on backup corner
Jeremy Lane
, who is one of the best gunners in the league on punt coverage.
The coaches also have big expectations for
Tharold Simon
, a fifth-round draft choice out of LSU last year. Simon spent his rookie season on injured reserve after undergoing foot surgery, but he's a big corner (6-foot-2, 205) with a lot of talent.
March, 6, 2014
Mar 6
11:00
AM ET
Todd McShay's third NFL mock draft for 2014 is out on ESPN Insider today. The Super Bowl Champion
Seattle Seahawks
are loaded, and should very much be back in the mix to repeat next year. But there are a few spots that could use attention.
Sidney Rice
and
Red Bryant
are gone already, and free agency could strip them of
Golden Tate
,
Breno Giacomini
,
Michael Bennett
and other significant players. That would leave the door open for what direction Seattle goes at the very end of Round 1. They covet defensive linemen and could go that way, and should consider adding another cornerback rather high in this draft, especially if they are hit hard at that position in free agency.
A pass catcher is certainly an option at 32, but to me, the best scenario would be Seattle selecting a big powerful right tackle/guard type, as their offensive line was the weakest area of their team in 2013.
Whom does McShay have the Seahawks drafting at No. 32?
Let's take a look
:
To continue reading this article you must be an Insider