March, 28, 2015
Mar 28
4:21
PM ET
By
Ron Matejko
| Special to ESPN.com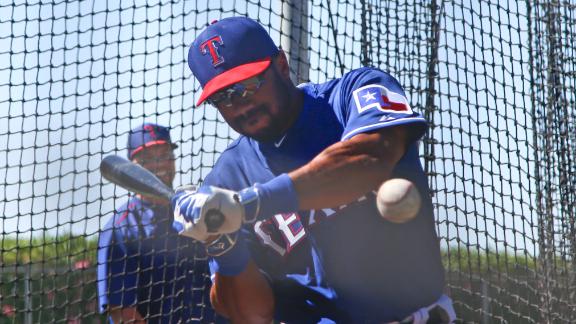 SURPRISE, Ariz. -- Fantasy camp met Major League Baseball camp Saturday, as for the second consecutive year, Seattle Seahawks quarterback Russell Wilson followed up a Super Bowl appearance with a one-day workout with the Texas Rangers.
"It's an honor to be here," Wilson said. "Growing up as a kid, I always had a dream of playing two sports, so I'm thankful for this opportunity to play with these big leaguers and to take ground balls with them.
"The first sport I ever played as a kid was baseball, so it's been important to me my entire life."
Wilson took infield practice and turned double plays with the other second basemen much like he did a year ago. What was different this year, however, was Wilson took batting practice and even homered once.
"I was able to stay back on one and drive it to left-center field," Wilson said. "There's something special about throwing a touchdown because it's so hard to throw touchdowns but hitting a home run is a good feeling, too."
Friday night, Wilson met with numerous Rangers players and coaches for an informal gathering where they shared philosophies about being successful at a high level. Numerous players asked Wilson questions, drawing on his experience of leading the Seahawks to two Super Bowl appearances, including one title, by the age of 26.
"He's an impressive guy," Rangers manager Jeff Banister said. "It was the first time I ever had the chance to speak with him. This is a guy who wants to be the best in the game but he also has a unique balance about being ultra aware of what it takes to be the best.
March, 28, 2015
Mar 28
8:00
AM ET
One message to come out of the NFL owners meetings this week in Phoenix is a likely change in extra points for the 2015 season.
"Anytime a play is 99.3 percent successful, you need to look at what's going on with that," Seattle Seahawks coach Pete Carroll said at the meetings. "Everybody wants to better the game and we'll see what happens."
Nothing has happened yet, but some type of change in the PAT could be announced in May.
So here's your Sound-off Saturday question. What would you like to see the NFL do on extra points:
A) Move it back to the 15-yard line, which would make the PAT a 32- or 33-yard kick.
B) Move the snap to the 1-yard line to encourage teams to try to go for 2.
C) Eliminate the kick completely and only have a 2-point play option.
D) Don't change a thing.
E) An option you propose.
Place your votes over the weekend and I'll post the results Monday. You also can vote on my Twitter page at @TerryBlountESPN.
March, 27, 2015
Mar 27
6:15
PM ET
GREEN BAY, Wis. -- The Green Bay Packers may have some competition for free agent defensive tackle Letroy Guion.
An NFL source confirmed Guion visited the Seattle Seahawks on Friday, three days after his criminal case in Florida was resolved following his February arrest on felony marijuana and firearm possession.
The source said the visit was set up almost immediately after Guion's plea arrangement was finalized on Tuesday, but added that Guion was "still very hopeful" a deal could be reached to return to the Packers.
Guion started every game for the Packers last season and posted career highs in tackles (62) and sacks (3.5) after he signed a one-year, $1 million contract last March.
The Packers also have yet to re-sign defensive tackle B.J. Raji.
Raji's season-ending biceps injury last August opened the door for Guion to be a starter. Guion signed with the Packers after he was cut by the Minnesota Vikings.
Packers coach Mike McCarthy has maintained throughout the offseason that he would like to have Guion back.
"I think to a man, everybody would like to see Letroy be a Green Bay Packer," McCarthy said earlier this week at the NFL annual meetings in Phoenix.
March, 27, 2015
Mar 27
4:43
PM ET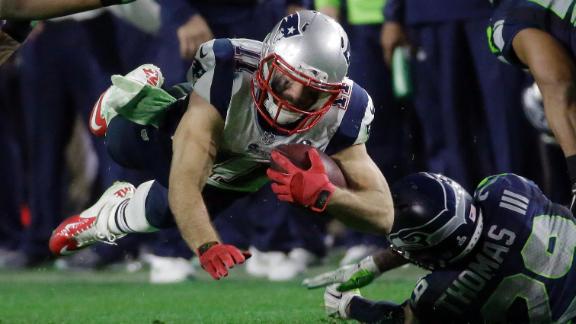 TEMPE, Ariz. -- A safety rule instituted earlier this week by NFL owners, which gives trainers at every game the authority to stop a contest if they think a player needs to be evaluated for a head injury, is being celebrated by some in the sports-medicine world.
Dr. Javier Cardenas, a neurologist in Phoenix who is the independent neurological consultant on the sideline for the Arizona Cardinals' home games, said the new rule is a major advancement for sports medicine.
"In my opinion, this is the biggest thing for sports medicine that has come out," said Cardenas, a Barrow Neurological Institute doctor who is on the NFL head, neck and spine committee. "Where else do you have a medical provider that actually is calling a timeout in any other sport? None. None. Huge for sports medicine."
Under the new rule, if the certified athletic trainer, who'll be sitting in a booth above the field as a spotter, sees a player who needs medical attention, he or she can use the official-to-official communication system to notify the side judge, who will then stop the game.
The purpose of the new rule is to allow Cardenas and other independent consultants at games throughout the league to evaluate players almost immediately after a big hit.
Here are details of the rule when the game is stopped for a medical timeout:
• The game and play clock will stop (if running) and remain frozen until the player is removed from the game.
• Both clocks will start again from the same point unless the play clock was inside 10 seconds, in which case it will be reset to 10.
• The team of the player being removed will have an opportunity to replace him with a substitute, and the opponent will have an opportunity to match up as necessary.
March, 27, 2015
Mar 27
8:00
AM ET
What grade would you give the Seattle Seahawks so far in free agency? ESPN Insider Mike Sando gives them an A-minus

, with only one team ranking ahead of them.
Sando quotes ESPN's Matt Williamson and Field Yates on why the trade for tight end Jimmy Graham was the right move.
Williamson: "No team in the league has as many players who are near the best at their positions, and now they added another one in Graham. Of their 22 starters, there could be 7-8 guys who are top five at their position and that might not even include Russell Wilson, who can be a nightmare to play against."
Yates: "I am not sure there is another team that has a better roster, top to bottom. They do not have a first-round pick, but who has drafted better than Seattle with later picks? No one."
March, 26, 2015
Mar 26
2:15
PM ET
When it comes to making the most out of the NFL draft, the Seattle Seahawks rank at the top of the list.
According to ESPN Stats & Info, the Seahawks are No. 1 in the league in draft production since league expansion in 2002, having drafted four of its five 2014 Pro-Bowl selections.
Those four are free safety Earl Thomas (first round 2010), strong safety Kam Chancellor (fifth round 2010), cornerback Richard Sherman (fifth round 2011) and middle linebacker Bobby Wagner (second round 2012).
And no team has done better in drafting after the second round than Seattle. Here are a few examples:
Quarterback Russell Wilson (third round 2012), tight end Luke Willson (fifth round 2013), outside linebacker K.J. Wright (fourth round 2011) right guard J.R. Sweezy (seventh round 2012), cornerback Byron Maxwell (now with Philadelphia, sixth round 2011) nickelback Jeremy Lane (sixth round 2012), Sherman and Chancellor.
That bodes well entering the 2015 draft since the Seahawks have 11 picks, 10 of which come after the second round and nine come in Rounds 3 through 6.
Here are the top-5 drafting teams in the NFL since 2002, according to ESPN Stats & Info, based on their first four years of value:
1. Seahawks
March, 26, 2015
Mar 26
8:00
AM ET
PHOENIX -- Seattle Seahawks coach Pete Carroll talked Wednesday about some the team's players who are coming off injuries.
He said the only two players who might not make it back for the start of the 2015 season are wide receiver Paul Richardson (ACL surgery) and nickelback Jeremy Lane (arm surgery and ACL surgery).
"That's a long process to get back,'' Carroll said of Lane, who suffered a compound wrist fracture and a knee-ligament tear on his interception in the Super Bowl. "It's about how he handles the final stages of it."
Richardson, a rookie last season out of Colorado, tore his ACL in the playoff game against Carolina. He also tore the same ACL while in college.
"We're hearing he's doing exceedingly well," Carroll said of Richardson. "His mentality is good. He's been through it before so he knows the staging and all that. We expect him to have a full recovery."
The Seattle secondary is a banged-up bunch, but Carroll said things look good for free safety Earl Thomas and cornerback Tharold Simon, both of whom had shoulder surgery.
"Everything we're hearing is things are going really well and the surgeries were very successful," Carroll said. "There's just a time frame we have to make it through."
Thomas had surgery for a torn labrum. Carroll was asked if he expects Thomas will be ready to go by September: "Oh, yeah, certainly."
Kam Chancellor is recovering from a torn MCL in his left knee and cornerback Richard Sherman is recovering from a torn elbow ligament.
Carroll also said 2014 rookie defensive end Cassius Marsh is 100 percent healthy after suffering a broken foot in October.
"He's in great shape," Carroll said of Marsh. "That's a tremendous addition. It's like a brand new draft choice for us because he didn't really get a chance to get started last year. Cassius is a really high-energy, creative and productive football player. We can't wait to get him out there. He's in great shape and looks terrific."
March, 25, 2015
Mar 25
5:30
PM ET
The Seattle Seahawks have added three additional coaches on defense -- Dwaine Board as assistant defensive line coach, Chris Cash as assistant secondary/cornerbacks coach and Andre Curtis as assistant secondary/safeties coach.
Board, 58, spent six seasons (2003-08) as the defensive line coach for the Seahawks. He spent the last two years coaching at St. Francis High School in Mountain View, California. Board played 10 NFL seasons as a defensive end for the San Francisco 49ers (1979-88), earning three Super Bowl rings.
Cash, 34, reunites with Carroll after playing at USC for two seasons (2000-01) and being named a second-team All-Pac-10 selection at cornerback his senior season. He spent five seasons in the NFL with the Detroit Lions and the Atlanta Falcons. Cash spent the last two years coaching defensive backs at Florida A&M.
Curtis, 38, was the assistant secondary coach for the New Orleans Saints the past three seasons. He played linebacker at Virginia Military Academy and coached linebackers at VMI for four years.
March, 25, 2015
Mar 25
4:50
PM ET
Seattle Seahawks coach Pete Carroll said Wednesday he is optimistic the team will re-sign backup quarterback Tarvaris Jackson.
"Our conversations have been good," Carroll said. "He knows we want him back and we know he wants to be part of our team. We should be able to get this worked out eventually."
Carroll also said the team plans to re-sign defensive lineman Demarcus Dobbs soon and hopes to re-sign offensive lineman Steve Schilling, who would join the competition to replace Max Unger as the starting center. Schilling started three games at center and played in eight games last season before injuring his knee and being placed on injured reserve.
"Steve did a nice job last year," Carroll said. "We hope to get Schilling back, and Patrick [Lewis] will be in the mix [at center]. We wouldn't have made the move [trading Unger to New Orleans for tight end Jimmy Graham] if we didn't think we had an opportunity with the guys we have. Free agency isn't over and there are still some opportunities there, but we think we're going to be pretty good."
March, 25, 2015
Mar 25
2:50
PM ET
PHOENIX – Seattle Seahawks coach Pete Carroll was asked Wednesday if he knows where things stand with the contract negotiations for quarterback Russell Wilson.
"There's a good chance that I know that, yes," Carroll said with a smile. "It's a long process with extraordinary ramifications. It's ongoing and we've had great talks. It's tracking very well. We're very well prepared and it's almost that time.
"The timing of it has been handled beautifully. It's been a big focus for us. We are stepping along this process in very good fashion. We'll see what happens."
Wilson is beginning the final year of his rookie contract, which will pay him $1.5 million in 2015. But he is in the process of an extension that likely will be worth well over $100 million.
A good portion of the new deal could be guaranteed, possibly more than $60 million. But contrary to the previous reports, it isn't likely to be an all-guaranteed contract, which would be unprecedented in the NFL.
March, 25, 2015
Mar 25
2:37
PM ET
[+] Enlarge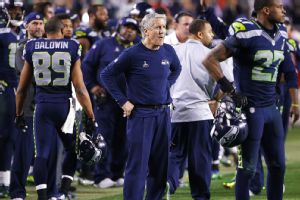 AP Photo/Matt RourkePete Carroll says he's "way over" February's Super Bowl loss but knows the lingering questions about how the game ended are part of the territory.
PHOENIX -- Seattle Seahawks coach Pete Carroll spent a large portion of his media session Wednesday morning answering the question he has answered so many times before: How do you get over the heartbreaking loss in Super Bowl XLIX?
"I'm over it, I'm way over it,"' Carroll said. "But I'm still answering questions about it and we have to be prepared to do that. So as we revisit the memory, we have to put our toe in the water and get going."
Wednesday was the annual NFC coaches' breakfast as part of the NFL owners meetings. In his one-hour interview with reporters, Carroll was asked about the Super Bowl loss 18 times in one way or another.
He cordially answered every question about the infamous moment, the shocking second-down interception by Malcolm Butler at the New England 1-yard line in the final seconds that preserved a 28-24 victory for the Patriots.
"I know you guys want to make this like it's different than something else, but it's the same," Carroll said. "What's happened, happened. What's coming up is what you deal with.
March, 25, 2015
Mar 25
10:00
AM ET
By
ESPN.com staff
| ESPN.com
March, 24, 2015
Mar 24
7:50
PM ET
Here's the official list of the 11 draft picks for the Seattle Seahawks, which includes the four compensatory draft picks they received Monday -- one in the fourth round, one in the fifth and two in the sixth.
The 2015 NFL draft will be held April 30 to May 2 in Chicago. Here's a breakdown on the Seahawks' selections:
Second round: 63rd overall selection

Third round: 95th overall selection

Fourth round: 112th overall selection#

Fourth round: 130th overall selection

Fourth round: 134th overall selection*

Fifth round: 167th overall selection

Fifth round: 170th overall selection*

Sixth round: 180th overall selection#

Sixth round: 209th overall selection*

Sixth round: 214th overall selection*

Seventh round: 248th overall selection

# -- pick acquired in a trade

* -- compensatory selection