November, 28, 2014
Nov 28
2:45
AM ET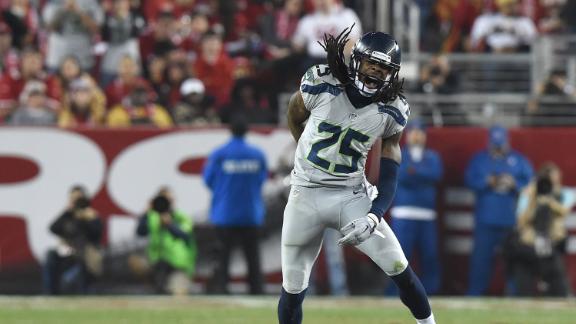 SANTA CLARA, Calif. -- Midway through the third quarter Thursday night, with the
Seattle Seahawks
leading the
San Francisco 49ers
16-0, a good portion of the crowd at Levi's Stadium left the building.
Seattle cornerback
Richard Sherman
noticed the exodus.
"Yeah, I waved to them goodbye," Sherman said.
Midway through the fourth quarter, Sherman, who already had one interception in the game, had a warning for the 49ers.
"I was laughing the whole time," Sherman said. "I told their sideline if they threw it my way I would end the game."
That he did, coming up with his second interception and sealing a
19-3
victory in a dominating performance by the Seattle defense against an NFC West rival.
At this point, 49ers quarterback
Colin Kaepernick
must be seeing Sherman in his nightmares.
Once again, Sherman was the star of the show, just as he was in the NFC Championship Game last season, making the game-saving deflection in the end zone (that
Malcolm Smith
intercepted) to secure the victory.
And once again, Sherman had plenty to say afterward. Not like the national TV rant in January in which he ripped 49ers receiver
Michael Crabtree
, but Sherman made his point, just the same.
First were his feelings about the 49ers' fans.
"Somebody threw a glass bottle at the end," Sherman said. "Every time we came through the tunnel, there were a lot of vulgar things being said. Sometimes you should let sleeping dogs lie. It makes you appreciate your own fans and how they stay for the whole game regardless of the outcome."
Next was talk about his "history" with Kaepernick.
"What history? I know no history," Sherman said. "There was an opponent [Kaepernick] who said he would throw it to the open man. He didn't care who was out there [in coverage]. I was the open man."
And he got in his little dig at Crabtree, who had three receptions for only 10 yards Thursday.
"I have respect for their receivers," Sherman said. "
Stevie [Johnson]
is very talented.
Anquan [Boldin]
has been a terror in this league for a while.
Brandon Lloyd
as well. Obviously, you guys know I'm minus one."
Sherman didn't mention Crabtree one time all week. He never even mentioned the 49ers. His only public comments were his little satirical skit, with receiver
Doug Baldwin
, taking shots at the NFL over
Marshawn Lynch
's $100,000 fine for not talking.
Was that his way to deflect the attention away from the rivalry?
"In a way," he admitted. "Some people said we weren't focused, but we obviously were focused. We weren't worried about the NFC Championship Game. That was last year. It just didn't matter."
What mattered was winning an important divisional matchup to improve to 8-4 and drop the 49ers to third place at 7-5 with only four games to play.
"We know them so well it's like playing against your brothers," Sherman said. "You know all their moves and what they're going to do, so it comes down to will against will. It's head-up, nose-to-nose, man-up football."
Sherman won those battles again against the 49ers.
"Somebody said they threw at [Sherman] five times and he had two picks," Seattle coach Pete Carroll said. "He was all over it. I'm really fired up for him because there's been a lot of scrutiny [on Sherman] and a lot of people watching what he was going to do in this game. He went out and played really good fundamental football, as he has all season."