Seattle Seahawks:

2013 Week 8 SEA at STL
October, 29, 2013
10/29/13
2:40
AM ET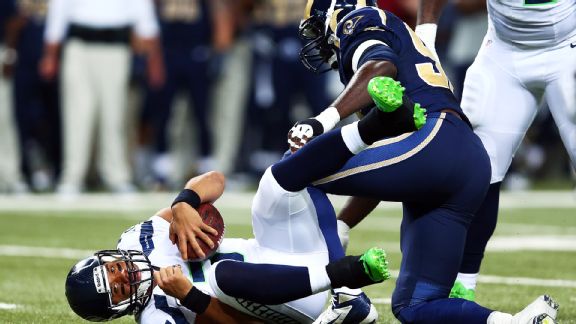 Andy Lyons/Getty ImagesSeahawks quarterback Russell Wilson was sacked seven times by the Rams' defense.
ST. LOUIS -- No team can win this way. No team should win this way, not with an offensive line this bad. The
Seattle Seahawks
have won ugly several times this season. This one was beyond ugly.
It was hideous Monday night, but it was a victory --
14-9
over the outmanned
St. Louis Rams
at a half-empty Edward Jones Dome in a city where the World Series eight blocks away kept most people in town from watching what almost was the biggest upset of the season.
A goal-line stand at the end saved the night for the Seahawks, the game ending on an incomplete pass on great coverage by Seattle when the Rams had fourth-and-goal at the 1 on the game's final play.
A win is a win, no matter what. And the Seahawks are an impressive 7-1 at the halfway point after playing four of their previous five games on the road.
It's commendable, but this is not a Super Bowl-caliber team; not right now, anyway. No team can reach a Super Bowl with an offensive line that played the way this one did Monday night.
Russell Wilson
was sacked seven times, with pass protection becoming a problem that keeps getting worse. And the run blocking wasn't any better.
Only their moms or their wives would give the Seattle offensive line a grade higher than an F on Monday, and it isn't just because of backup tackles playing for the injured starters. No one up front played well. No one up front even played at an average level.
"We had a million problems in protection," Seahawks coach Pete Carroll said. "The Rams rushed like crazy and we did a ton of stuff to try to offset it, but nothing helped us."
The Rams have a solid pass rush, led by defensive ends
Robert Quinn
and
Chris Long
, who had three sacks each. And yes, the Seahawks' offensive line will get better when tackles
Russell Okung
and
Breno Giacomini
return from injuries.
But if you think that's the cure-all, you are mistaken. The entire line needs to get miles better if this team is going to win the NFC West and possibly reach the Super Bowl.
Wilson can't continue to take this much punishment and remain uninjured. The Seahawks will not beat good teams -- like upcoming opponents New Orleans and San Francisco -- with an offensive line that gets manhandled at the line of scrimmage.
And the Seahawks can't keep winning like this when they are outplayed so badly up front.
The Rams had 23 first down to Seattle's seven. St. Louis, playing backup quarterback
Kellen Clemens
, had 339 yards of offense to Seattle's 135 yards.
[+] Enlarge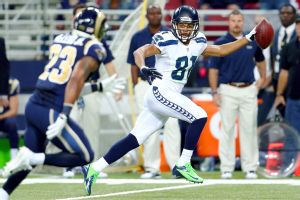 Andy Lyons/Getty ImagesGolden Tate taunts Rams safety Rodney McCleod before completing his 80-yard touchdown reception.
And 80 of those yards came on one play, the big play by receiver
Golden Tate
. Sadly, it will be remembered more for his childish taunting than for his exceptional athletic move to come up with the ball. As Tate raced for the end zone, he stuck out his hands to St. Louis safety
Rodney McCleod
, moving his fingers as if to say, "Don't yap." McLeod almost ran Tate down in the process. The display drew a 15-yard penalty for taunting that was enforced on the ensuing kickoff.
"That is not the way we want to play," Carroll said. "That is not who we are. He is more mature than that. He is a playful, spirited guy who had too much fun at the wrong time. It was not the right thing to do and he knew it."
Tate, who also had a 2-yard TD catch for Seattle's other score, said it was a lesson learned and he apologized to his teammates. But there are no apologies for the offensive line.
It wasn't the only problem the Seahawks had against the 3-5 Rams. St. Louis rushed for 200 yards against a Seahawks defense that was averaging only 92 yards a game against the run.
"They ran all over us," said defensive tackle
Red Bryant
. "Give them credit. They know us well and they were tough."
No one is too worried about the Seattle run defense over one bad game. But every game is a bad game for the offensive line, and it can't continue.
Once again, as Wilson says, "We found a way to win." But it's starting to look like smoke and mirrors. The odds will catch up with the team if the line doesn't show improvement soon.
It's time to make some changes. Don't wait for the tackles to get back. Okung can't return until at least Nov. 17, and Giacomini probably is two weeks away from getting back.
Do something now. Make a change, if for nothing else, just to show that the current play is unacceptable. Put someone else in as a starter --
Lemuel Jeanpierre
, for example. Even consider making a trade before Tuesday afternoon's deadline. Just do something to shake things up.
Don't let one weak link keep an outstanding football team from reaching its goals. No more excuses. Fix it by any means necessary.
.
October, 29, 2013
10/29/13
12:59
AM ET
ST. LOUIS -- Observed in the locker room after the
Seattle Seahawks
' 14-9
victory
over the
St. Louis Rams
:
Tate
Tate apology:
Wide receiver
Golden Tate
apologized to his teammates for his showboat taunting penalty on his 80-yard touchdown catch. "It won't happen again," Tate said. "It's a lesson learned."
Carroll on the offensive line:
"We had a million problems up there," coach Pete Carroll said on the line giving up seven sacks. "We tried a lot of different things to fix it, but nothing worked. We have a lot of work to do."
Goal-line stand talk:
"Bend but not break," said cornerback
Richard Sherman
, on keeping the Rams out of the end zone when St. Louis had a first-and-goal at the 6 with 31 second to go, and fourth-and-goal at the 1 on the final play. "That's what we do. We make the big plays when we have to make them."
October, 28, 2013
10/28/13
11:48
PM ET
ST. LOUIS -- A few thoughts on the
Seattle Seahawks
' 14-9
victory
over the
St. Louis Rams
Monday night at Edward Jones Dome:

What it means:
The Seahawks can beat a weak opponent in a half-empty stadium on a night when Seattle's offensive line could not have played worse. But it came down to the last play when St. Louis had fourth-and-goal at the 2 but couldn't complete the pass.
Stock watch:
One big play was the difference, an 80-yard touchdown pass to receiver
Golden Tate
that will be remembered for his classless taunting instead of his exceptional athletic move to come up with the ball over the defender. Tate's stock goes up by making an outstanding leaping catch on a deep throw, outbattling the defender for the ball. Then his stock goes way down as he heads for the end zone for an easy touchdown, but taunts St. Louis safety
Rodney McLeod
. Tate sticks his arm out and moves his fingers as if to say, "Don't yap." McLeod almost runs Tate down in the process. Completely uncalled for. Act like a pro.
Rice hurt:
Seahawks wide receiver
Sidney Rice
walked to the locker room in the first half with a reported knee issue and did not return.
Defense can't stop the run, but gets it done:
The Seahawks gave up 200 yards rushing, but kept St. Louis out of the end zone and came up with two interceptions -- one by
Bruce Irvin
and one by
Richard Sherman
, giving the Seahawks 13 picks this season.
Horrendous offensive play:
Worst effort of the season by the Seahawks' offensive line.
Russell Wilson
was sacked seven times and under pressure every time he dropped back to throw. And the run blocking wasn't much better. If you're grading, it was an F.
Offensive lows:
With the men up front playing so poorly, the Seahawks had 38 total yards in the first half, their fewest yards in any first half since 2001. Seattle had only 42 yards before Tate's 80-yard touchdown.
What's next:
The Seahawks play at home for the first time in three weeks when the
Tampa Bay Buccaneers
come to Century Link Field on Sunday. Seattle has won 12 consecutive home games.
October, 28, 2013
10/28/13
8:00
AM ET
ST LOUIS -- It's Monday night madness in Gateway City, a downtown sports double that's a rare treat.
But who would have thought the 6-1
Seattle Seahawks
would play their first Monday night game of the season and be the No. 2 show in town?
While the Seahawks and the
St. Louis Rams
play at the Edward Jones Dome, the Boston Red Sox and the St. Louis Cardinals take center ring a few blocks away in Game 5 of the World Series at Busch Stadium.
Take a wild guess which game is getting most of the attention in St. Louis? Signs at the airport cordially welcomed the Red Sox fans, but I didn't see any posters welcoming Seahawks fans to town.
This has always been a baseball town, maybe more so than any city in the country. The Rams, and before them the football Cardinals, always have taken a back seat to the baseball Cardinals here.
At 3-4, this Rams team just lost quarterback <a href="http://espn.go.com/nfl/player/_/id/13197/sam-bradford">Sam Bradford</a> for the season and is an 11-point underdog to the Seahawks, so the football game gets a big of a ho-hum reaction. Tickets to the game were selling for as little as $8 on internet sites.
It's a virtual certainty this game will be the smallest crowd to see the Seahawks play all season, maybe half full at best. Even Seattle coach Pete Carroll joked about it a few days ago.
"I would think that there might be some availability in case some [Seahawks fans] are interested in coming," Carroll said smiling. "We'd love to see them show."
This is a game the Seahawks should win under any circumstances, whether it's a full house or empty.
"It doesn't matter to us,'' Seattle cornerback
Richard Sherman
said. "We have fun at practice every day and there's nobody watching us."
But it will be unusual to play a Monday night game with a limited number of spectators and second-fiddle status to what's going on downtown.
"It doesn't matter how many people are there," Carroll said. "We're not going to change anything that we're doing. It's not going to affect how we approach anything. The point is we can't allow the environment to be the factor. We want to play the same every chance we go out there."
The Seahawks have done a good job of that this season. Seattle is 3-1 on the road, with the only loss coming in a fourth-quarter comeback at Indianapolis by the Colts (34-28).
And the Seahawks are the masters of Monday night. They have an NFL best .692 winning percentage on Monday night at 18-8. Seattle has won six consecutive Monday night games.
Since Carroll became the head coach in 2010, the Seahawks are 7-1 in night games. And they're facing a Rams team that has
Kellen Clemens
making his first start at quarterback since 2011 and only his fifth start in the last six years.
So everything favors a Seahawks victory, and it really doesn't matter if most of the people in St. Louis won't be watching.