Seattle Seahawks:

2013 Week 9 TB at SEA
November, 3, 2013
11/03/13
11:05
PM ET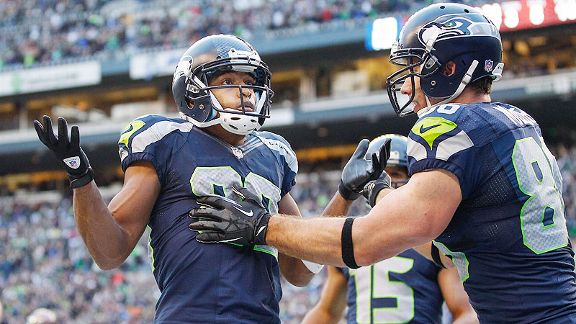 Otto Greule Jr/Getty ImagesDoug Baldwin's TD catch capped the Seahawks' 21-point rally before they beat the Bucs in overtime.
.
SEATTLE -- Clearly, the
Seattle Seahawks
have some sort of deal with the devil. Either that, voodoo magic or some sort of reverse logic that makes this team honestly believe it will win no matter how poorly it plays or how far it gets behind.
They did it again Sunday, winning a game when they got slapped around early and made enough mistakes to guarantee defeat for almost any other team at any level.
Not this team. After trailing by three touchdowns, Seattle defeated the
Tampa Bay Buccaneers
27-24
in overtime in front of a frenzied CenturyLink Field crowd that witnessed an historic moment.
Even a 21-0 deficit to the winless Bucs wasn't insurmountable. No team in Seattle franchise history ever had come back from a 21-point deficit. The most was a 20-0 deficit at Denver in 1995 when the Seahawks won 31-27.
"What a day," Seahawks coach Pete Carroll said. "This really is a tremendous statement about our guys hanging together and believing."
The Seahawks are now 8-1, but they have lived on the edge all season, winning games they easily could have lost. This one wasn't on the edge. It was in a barrel at Niagara Falls. It's almost as if this team can't play its best until it produces its worst.
"We don't try to do that," said receiver
Jermaine Kearse
, who fumbled a kickoff but also had a touchdown catch. "We would prefer to win easy."
Well, it's certainly more dramatic this way. The Seahawks are a little like the guy who jumps out of a plane and, just for fun, doesn't pull the parachute until the last possible moment. It's scary, but it sure is exciting.
Seattle has won 12 consecutive games at CenturyLink, a place where quarterback
Russell Wilson
never has lost. He did enough things wrong to lose this one, throwing two interceptions in Tampa Bay territory, including one when Seattle had first-and-goal at the Tampa Bay 3 while trailing 24-17 in the fourth quarter.
"But Russell has one thing all quarterbacks need," Seattle fullback
Michael Robinson
said. "A short memory."
Seattle tied the game on its next possession when Wilson rolled out and threw a short pass to
Doug Baldwin
for a 10-yard touchdown.
"He never lets a mistake get him down," Baldwin said of Wilson. "And this is the most resilient team I've ever been a part of."
Carroll has learned never to doubt his second-year quarterback.
"I wouldn't want anybody else out there," Carroll said. "I really trust him. He did exactly what we needed him to do. He's just a tremendous football player and a great leader. I have yet to see Russell get frustrated."
It was a frustrating ending for the Bucs, who fall to 0-8.
"To come here against the No. 1 team in the NFC and be up 21-0 [and then lose], well, it's really tough to swallow," Tampa Bay rookie quarterback
Mike Glennon
said.
After stopping the Bucs on their first overtime possession, Seattle won it with a 27-yard field goal by
Steven Hauschka
. But the turning point of the game was a 71-yard punt return by
Golden Tate
late in the third quarter when Seattle trailed 24-14.
"That really hurt us," Tampa Bay cornerback
Darrelle Revis
said. "You could feel the momentum shift. When you have a team down like that, you have to choke them out, because great teams can come back, and they are a great team."
Are they? Maybe, but it's as unconventionally great as you'll ever see. The Seahawks' defense gave up 205 yards rushing Sunday. It was the second consecutive game they allowed at least 200 yards rushing, but they won both of them.
Tampa Bay didn't have a turnover and Seattle had three. The Bucs had the ball for six more minutes than the Seahawks. But Seattle is a team that defies logic. Three touchdowns behind and they don't even flinch.
"That's the difference in this team now compared to teams here in the past," Robinson said. "There's no panic on the sidelines. Guys just stand there and say, 'OK. We're going to make this happen.'"
The closer they get to disaster, the more they play with reckless abandon. Take
Marshawn Lynch
, for example. He rushed for 125 yards on 21 carries, but 44 of those yards came on six carries in the overtime series that set up the winning field goal. Lynch left the game in the first half; it was reported he tweaked a knee injury, but Carroll said that was incorrect. "He got a little sick to his stomach," Carroll said.
So did the Bucs trying to stop him at the end.
Carroll was asked if he ever before coached a team that came back from 21 points down.
"I can't remember," He said. "But I know we've been down 21 points before."
A comeback like this one is not something you forget.
November, 3, 2013
11/03/13
8:49
PM ET
SEATTLE -- Observed in the locker room after the
Seattle Seahawks
'
27-24 overtime victory
over the
Tampa Bay Buccaneers
:
Baldwin
'Resilient':
Doug Baldwin
, who had six receptions and a touchdown, declared, "This is the most resilient team I've ever been a part of. It's the biggest comeback in team history, but we knew we weren't out of it when it was 21-0."
Wilson rebounds:
Russell Wilson
after the fourth-quarter interception he threw at the Tampa Bay goal line: "I was mad at myself, but you have to have a short memory as a quarterback. This win was huge. We always believe in ourselves."
Tate sparks turnaround:
Golden Tate
on his 71-yard punt return in the second half: "We needed an emotional swing at that point, and I have confidence in myself. I hadn't helped us much on offense, so I waited for my opportunity and I got it."
November, 3, 2013
11/03/13
7:25
PM ET
SEATTLE -- A few thoughts on the
Seattle Seahawks
'
27-24 overtime victory
over the
Tampa Bay Buccaneers
on Sunday at Century Link Field:

What it means:
That the Seahawks' magic act continues in finding a way to win when all seems lost. Sunday was the first time in franchise history Seattle has rallied to win from a 21-point deficit, trailing 21-0 in the first half. It was Seattle's second OT victory this season.
Stock watch:
The Seattle run defense was awful again with loads of missed tackles, but it stiffened when it mattered the most late in the game. And the offensive line had its best effort since the two starting tackles have been out.
Beast Mode was back:
After getting only eight carries for 23 yards at St. Louis on Monday night,
Marshawn Lynch
was back, rushing for 125 yards on 21 carries, including 44 on six carries in the OT drive to win it.
Tate was golden:
A 71-yard punt return by
Golden Tate
looked like a Lynch Beast Mode run when Tate broke at least five tackles along the way, an emotional turning point in the game late in the third quarter.
What's next:
The Seahawks play at Atlanta, the place where the season ended last year when the Falcons kicked a game-winning field goal in the final second of the NFC playoff game. But the 2013 Falcons (2-6) may be the most disappointing team in the NFL. Seattle is 4-1 on the road this season.