Seattle Seahawks:

Adrian Peterson
December, 12, 2013
12/12/13
10:00
AM ET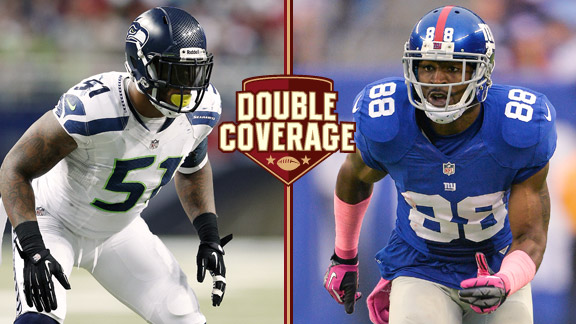 AP PhotoBruce Irvin and the Seahawks are beatable on the road. Can Hakeem Nicks and the Giants win?
The 11-2
Seattle Seahawks
have had their playoff spot wrapped up for a couple of weeks already and have their eyes on the top seed in the NFC. The 5-8
New York Giants
were eliminated from playoff contention Sunday and openly admit that they're playing for pride from this point forward. These two teams meet Sunday at MetLife Stadium -- a place the Seahawks hope to return to in early February for the Super Bowl.
ESPN.com Seahawks reporter Terry Blount and Giants reporter Dan Graziano break down the matchup between the league's best team and one of its most disappointing teams.
Graziano:
Terry, let's start with Seattle's exciting young quarterback. The Giants this year have seen
Terrelle Pryor
,
Cam Newton
and
Robert Griffin III
, who are the only quarterbacks with more rushing yards than
Russell Wilson
has. From your standpoint, what sets Wilson apart from those other mobile quarterbacks?
Blount:
Dan, there are so many intangibles about him that defy description. Some obvious ones are his character, his attention to every detail in his preparation and his underrated skills as a passer. But more than anything else, Wilson has the unusual ability to perform at his best when things appear to be at their worst. I've never seen him rattled, and he rarely makes a careless mistake. He has led the team to nine game-winning drives in his short career, and he almost did it again Sunday at San Francisco. As for his mobility, one thing that clearly sets him apart is his ability to make accurate throws downfield while he's running in either direction.
Speaking of quarterbacks,
Eli Manning
got off to a really rough start this season. What happened, and where is he now compared with seasons past when he was playing at a Pro Bowl level?
Graziano:
Manning's biggest problem at the start of the season was his protection. The offensive line, never great to begin with, was hit with injuries to key starters and never got the kind of blocking help it received in past years from supplemental positions like running back and tight end. Manning has already taken more sacks (33) than he has ever taken in a full season, and there are three games to go. He also had no running game whatsoever for the first half of the season until
Andre Brown
got healthy. And top wide receiver
Hakeem Nicks
has had an awful season in the final year of his contract. Manning obviously could play better, and he'd admit he has missed his share of throws. But I think he's a quarterback who really needs to be comfortable with his surroundings, and this year that hasn't been possible for him.
The Seahawks are so dominant at home, but while they've been good on the road they are clearly not
as
good. We know about the home crowd and the advantage it gives them, but are there on-field things they don't do as well on the road?
Blount:
One noticeable difference in the past three road games is that Wilson hasn't run much because defenses are trying to keep him in the pocket. Wilson had one carry for 2 yards last week at San Francisco, and only 38 yards on seven carries in the past three road games combined. They won two of those three games, however. Still, after Wilson ran for 102 yards at Indianapolis in Week 5 (ironically, one of Seattle's two road losses) teams have focused on not allowing him to beat them with his feet. He's running well at home (he rushed for 47 yards against New Orleans two weeks ago) but not so much on the road.
If the Giants pull off the upset Sunday, they'd send a message that despite a disappointing season, they still have the ability to get it done against the best of the best. Do you get the sense that they'll have a little added fire against a team that many people believe is Super Bowl-bound?
Graziano:
I do. A few of the Giants have already talked about that in the wake of the loss Sunday that eliminated them from postseason contention. There's a lot of talk around East Rutherford about "playing for pride," and that's not hollow with this group. They held together after the 0-6 start and have been professional in their play and their preparation since. This isn't a team that has or will quit on its season. It's just a team that's not very good. I don't think they have the personnel to hang with the Seahawks on Sunday, but if they lose it won't be for a lack of effort.
They do have a tendency to seek and drum up external motivation, and Seattle's excellent record will provide some of that. Tom Coughlin said Monday that they looked forward to measuring themselves against a team like this. The only dissenter so far is wide receiver
Victor Cruz
, who said he'd be "even more disappointed" if the Giants won this game, since it would tell him they had the capability to play with top teams all year and just didn't.
San Francisco had a strong game on the ground Sunday, and the Giants' run game has been considerably better in the second half. Is it possible to run on the Seahawks, or was that a one-game fluke by
Frank Gore
?
Blount:
Some Seattle fans might say it was a one-play fluke, the 51-yard run by Gore on the final drive that set up the game-wining field goal. Take that off the table and the Seahawks did OK against the 49ers' rushing game. However, one stat is a little scary. Of San Francisco's 163 yards on the ground, 137 were before contact, including Gore's big run. The Seahawks have been up and down on this all season. They held
Adrian Peterson
to 65 yards and allowed only 30 yards rushing at Arizona, but also had back-to-back games in which they allowed 200 yards rushing. Now they have to get it done without linebacker
K.J. Wright
, who had 80 tackles this season. He's out with a broken foot. It's hard to predict, but the Seahawks are so focused on the pass rush that they can get burned sometimes on the ground.
The Giants have struggled to stop the run, and
Marshawn Lynch
is one of the best backs in the league. I'm guessing the Seahawks are going to give him the ball early and often, especially if the weather is bad. Will the Giants load the box to try to stop Lynch?
Graziano:
Actually, stopping the run is one of the few things the Giants have done well. They've held down some top backs, such as Peterson,
LeSean McCoy
,
Alfred Morris
and
Eddie Lacy
. Until the Chargers got 144 yards on 40 carries against them Sunday, this had been a fairly consistent strength. So they'll be keyed on Lynch for sure.
Before the Packers game a few weeks ago, I asked
Justin Tuck
if Lacy reminded him of anyone. He said, "a bigger Marshawn Lynch," and then complained that they had to deal with Lynch again a few weeks later. They stacked the box against Lacy that day, but they weren't scared of
Scott Tolzien
's ability to beat them downfield even if they used single coverage on his receivers. Wilson is likely to make them think twice about committing as much to the run as they did that day, and they'll likely rely on the guys in their strong defensive-tackle rotation to get off of blocks better than they did in San Diego.
November, 17, 2013
11/17/13
10:45
PM ET
SEATTLE -- Quarterback
Russell Wilson
threw two touchdowns passes. Running back
Marshawn Lynch
had three scores -- two rushing and one receiving. And
Percy Harvin
had an impressive debut that included a 58-yard kickoff return.
Even with all that firepower, this was a day for the Seattle defense. When a defense holds
Adrian Peterson
to 65 yards on 21 carries, it can do a little boasting.
Keeping Peterson is check was a big reason the Seahawks coasted to a 41-20 victory over the
Minnesota Vikings
Sunday.
"The guys did a fantastic job on Adrian," Seattle coach Pete Carroll said. "We thought our biggest challenge was slowing him down. We handled him well and tackled well."
Peterson had one of his best games of the season at Seattle last year, rushing for 182 yards in the 30-20 loss to the Seahawks.
"We talked a lot about that this week," said Seattle defensive tackle
Clinton McDonald
. "We knew we couldn't let [Peterson] get off to a fast start. We did a great job today of coming up and hitting him early. We were staying in our gaps and hitting him when we needed to hit him."
Peterson said after the game that his sore knee was bothering him more than anything else, but whatever the reason, he wasn't the dominant running back people are accustomed to seeing.
And the Minnesota passing game wasn't much better once they got behind and were forced to throw. The Seahawks had three interceptions, including a 29-yard pick-six by cornerback
Walter Thurmond
, who was starting for an injured
Brandon Browner
.
"The ball came right to me," Thurmond said. "It fell in my lap and I capitalized on the opportunity."
Middle linebacker
Bobby Wagner
also had an interception, and could have had two if not for dropping one right in his hands that might have been another pick-six. Even McDonald had an interception off a deflection from defensive end
Chris Clemons
.
"That my first interception in the NFL," McDonald said. "Actually, it was my first since high school when I had two as a linebacker. I wanted to score, but I was juggling to control the ball and I go tackled [at the Minnesota 15] before I could get there."
Minnesota's only touchdown in the first three quarters came on a rare blown coverage by cornerback
Richard Sherman
that became a 38-yard score to receiver
Jarius Wright
. Long after the outcome was decided, Wright caught a meaningless 21-yard touchdown with 2:18 to go.
On a day when everyone will talk about Harvin's return, the Seattle defense controlled the game by forcing turnovers, including a sack/forced fumble by defensive end
Cliff Avril
on quarterback
Christian Ponder
.
"We have a mindset that we're playing for each other," said Seattle free safety
Earl Thomas
. "It elevates everybody's game. Guys are giving everything they have, so we know no one can beat us because the effort is there."
November, 15, 2013
11/15/13
10:00
AM ET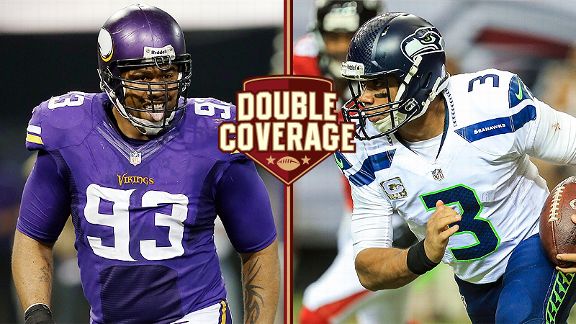 AP Photo, USA Today Sports ImagesKevin Williams' Vikings will face a challenge with Russell Wilson and the Seahawks playing at home.
.
SEATTLE -- The
Seattle Seahawks
have amassed a 9-1 record despite playing with a patchwork offensive line and a receiving corps that lost one starter in
Sidney Rice
and never had its key offseason acquisition in
Percy Harvin
.
That's about to change. The offensive line could have all its starters on the field Sunday for the first time since Week 2, and Harvin could finally make his debut as a Seahawks receiver.
If Harvin plays, it would be against his former team, the
Minnesota Vikings
, adding more drama and intrigue to the moment. ESPN.com Seahawks reporter Terry Blount and Vikings reporter Ben Goessling discuss that, as well as the other storylines for Sunday's game.
Terry Blount:
Ben, obviously, Seahawks fans are going crazy about the possible debut of Harvin and what he can add to the Seattle offense. But let's look at this from the Minnesota side. The Vikings must feel like they got a pretty good deal out of this, don't they?
Ben Goessling:
I think they were pleasantly surprised to get as much for Harvin as they did. Everyone knew they were going to trade him, so for general manager Rick Spielman to get three picks, including a first-rounder, was quite the coup. He's done a good job over the years of creating a market for his players or picks, and the Harvin trade was no different. It will be a while, though, before we know if what they did with the picks worked.
Xavier Rhodes
, whom the Vikings took with Seattle's first-rounder, is being asked to play more zone coverage than he did in college, and he has struggled with that after coming out of Florida State as a press corner. He has the skills to be a good corner, but the learning curve is steep.
While we're on the subject of Harvin, how much of a factor do you think he'll be on Sunday? He probably wants to show up his old team, but will he get the opportunities to do so?
Blount:
If he plays, I think it will be limited -- maybe 10 or 12 snaps, tops. We're talking about a guy who hasn't played in an NFL game in more than a year. Pete Carroll has said over and over they will be very cautious with Harvin. They invested $67 million in the guy. They aren't going to risk everything in his first game back, especially in a game the Seahawks should win whether he plays or not. I know Harvin is fired up about playing against his old teammates, but the coaches want to hold him back a little. They probably want him to get his feet wet and save the real show for the
New Orleans Saints
on the Monday night after Seattle's bye week.
Ben, there seem to be a lot of unknowns about the Minnesota quarterback situation, where the team is headed and with whom it's headed there --
Christian Ponder
,
Josh Freeman
,
Matt Cassel
or maybe someone who isn't there yet. What's the likely answer for the future?
Goessling:
I think in the long run it's probably someone who isn't here yet. Spielman liked Freeman in the 2009 draft -- the Vikings might have drafted him if he were still on the board when their pick came -- and the Vikings are now getting a chance to work with him on a daily basis, though they don't seem to think they need to put him on the field to evaluate him. Cassel is probably a backup at this point, and though Ponder has been better lately, he just isn't consistent enough to count on long term. The Vikings will have a high pick in what looks to be a pretty good quarterback draft, and it would be a surprise if they didn't use the pick to take another crack at getting a franchise QB.
Terry, it's been hard to get a read on the Seahawks' run defense this season. One week, they'll completely shut down an opponent's ground game. The next, they're giving up 200 yards to the Rams or the Buccaneers. Why has it been so inconsistent, and can
Adrian Peterson
exploit it this weekend?
Blount:
That's a great question. I think the Seahawks are better against the run than they were in those two games. But there are times when the front seven get so focused on rushing the passer that they discount the run, get out of position and end up missing tackles. The other problem in those two games was middle linebacker
Bobby Wagner
coming back too soon from a bad ankle sprain and not being able to play up to his usual standard. But last week against Atlanta he had nine solo tackles. The Seahawks know they are facing the best of the best Sunday, so they'll be at their best for Peterson.
Ben, the Vikings haven't won a road game this season. What would it take for them to win this one?
Goessling:
Boy, this one seems tough for the Vikings. As we've discussed, they might be able to run the ball effectively against Seattle -- Peterson had one of his biggest games there last year -- but I don't think Ponder will have much success against that defense. I could see
Marshawn Lynch
giving the Vikings trouble, and if Harvin is in the lineup, there's part of me that thinks he'll have a big game.
Terry, as I said, this matchup looks like a bad one for the Vikings. But time and again we've seen the Seahawks let inferior opponents hang around and nearly beat them. Do the Vikings have any reason for hope this weekend, or do you see this as an easy Seahawks win?
Blount:
I think the Vikings are catching the Seahawks at the wrong time. The offensive line probably will have all five starters back for the first time in eight weeks. If Harvin makes his debut, it will add enormous energy and excitement for the team and the fans. And the Seahawks are coming off their best game of the season, a game in which they looked like the Super Bowl contenders everyone expected to see. This is their last game before the bye, so they will go all out to make sure they get there with their 13th consecutive home victory.
.
November, 15, 2013
11/15/13
8:00
AM ET
RENTON, Wash. -- If watching great running backs is your thing, this is the game for you.
Two of the best will be on the field in Seattle on Sunday:
Adrian Peterson
of the Vikings and
Marshawn Lynch
of the Seahawks.
"This is a fantastic game to watch running backs and compare the two," said Seattle coach Pete Carroll. "It's kind of cool, because they're both extremely dynamic. They have so many things that they can do so uniquely."
Lynch is No. 2 in the NFL this season with 871 yards rushing a 4.6-yard average per carry and seven touchdowns. Peterson is No. 4 with 786 yards, a 4.5-yard average and nine TDs.
[+] Enlarge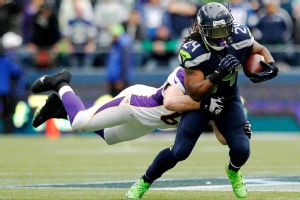 AP Photo/Elaine ThompsonAdrian Peterson outrushed Marshawn Lynch, above, 182 yards to 124 last season, but Lynch's Seahawks won 30-20 over the Vikings.
"I think they are totally different runners," said Seattle cornerback
Richard Sherman
. "I think Adrian runs to go. Marshawn runs to run through people."
Peterson rushed for 2,097 yards last season, falling just nine yards short of breaking
Eric Dickerson
's NFL record, which was set in 1984. Peterson also became the second running back since 1980 (joining Earl Campbell) to rush for 150 yards or more in seven games in a single season.
Lynch rushed for a career best 1,590 yards last season and a 5.0-yard average. He rushed for more than 100 yards in 11 games, including the 24-14 playoff victory at Washington.
Peterson won the individual battle with Lynch last season at Seattle, but the Seahawks won the game 30-20. Peterson had 182 yards on 17 carries and scored two touchdowns. He had a 74-yard run on Minnesota's second play from scrimmage, but the Seahawks defense held Peterson to only 38 yards in the second half.
Lynch also played well, rushing for 124 yards on 26 carries, including a 3-yard TD run that gave Seattle a 27-17 lead in the third quarter.
Now they meet again for two teams heading in opposite directions. The Seahawks are 9-1 and the Vikings are 2-7.
Few people know these two backs better than Seattle offensive coordinator Darrell Bevell, who was the OC at Minnesota from 2006 through 2010.
"They both are the ultimate competitors," Bevell said. "But they have different styles. Marshawn is going to make people miss in a phone booth, in a small area. He's going to come out of the stacks a lot.
"Adrian has that top end breakaway speed. He can still make people miss, but he's not going to do it quite like Marshawn. When Adrian comes out the back end, he can be gone."
Bevell said there's one obvious thing both players have in common.
"They want the ball," Bevell said. "They'll take it as many times as you'll give it to them. They both feel the more times they get it, the better they get a feel on how the game is going. They start seeing how the blocking schemes are coming off, where they can take the ball and how they can set things up. So the more you give it to them, the more effective that they think they can be."
Seattle free safety
Earl Thomas
sees differences between Lynch and Peterson.
"Marshawn is pretty smooth, but AP is kind of jerky in how he runs," Thomas said. "He can jump out and run over you. His head starts pumping when he's on a long run, so we don't want to see that Sunday."
Minnesota defensive end
Jared Allen
said he had a message for his teammates about Lynch: Limit his yards after contact.
"I'm trying to tell our guys, 'Let's not let Beast Mode get all Beast Mode on us,'" Allen said. "We have to try and keep that in check a little bit, but he's a very tough-nosed dude.
"Just like Adrian, you might stop him one, two, three times. Then that fourth time, he might take it 60 yards. I think [Lynch] is well-rounded in every facet of a running back's game. Like I said, tough enough to carry the ball 30 times a game right up the gut, and fast enough to take it around the edge and kill you."
No matter which man gets the upper hand Sunday, Carroll believes it's worth the price of admission just to see them do their thing.
"It's an interesting comparison, to tell you the truth," Carroll said. "But they are different and they both have a really definitive style. Marshawn's way of running and Adrian's way, they're not at all the same. But they're extraordinary players and it'll really be fun to watch them again on the same field."