Seattle Seahawks:

Byron Maxwell
December, 21, 2013
12/21/13
8:00
AM ET
RENTON, Wash. -- The
Seattle Seahawks
were quite a talkative group this week, so here are a few interesting quotes that stood out:
Defensive linemen
Michael Bennett
, who has 7.5 sacks this season and 22 quarterback hurries, was asked the difference in playing for the Seahawks and playing for his previous NFL team at Tampa Bay:
Bennett
"At Tampa you just had one position and kind of stayed there," Bennett said. "Here, everybody [on the defensive line] has to be able to play multiple positions. I think that's one of the strengths of our defense. You can't know where one player is. We move around and make plays."
Bennett on the Seahawks' chances of clinching the NFC West title and home-field advantage in the playoffs with a victory Sunday against Arizona:
"We don't want to put too much emphasis on it," Bennett said "When you do that, guys get afraid to make mistakes and get too uptight. They don't play the way they are capable of playing."
Cornerback
Byron Maxwell
, on playing so well he will cause the coaches to make a tough decision next week on who starts when
Walter Thurmond
returns from his four-game suspension.
"That's a good thing, I guess," Maxwell said. "The end goal is getting to the Super Bowl, so it's all about what's best for the team. It's a blessing we have all these guys [in the secondary]. We're getting each other better."
Maxwell also was asked when was the last time he had two interceptions in a game, which he did against the Giants last weekend:
"High school," he said.
Sherman
Cornerback
Richard Sherman
on who should be the NFL defensive player of the year between him and Seattle free safety
Earl Thomas
:
"I would have to give it to Earl," Sherman said. "I think if there is anywhere that the defensive player of year should be, it should be in Seattle, whether it's myself or Earl."
Outside linebacker O'Brien Schofield on whether the NFL should expand the playoffs:
"I think they should keep it just like it is," he said. "We don't have a seven-game series like baseball or basketball. You show up and get it done or you don't. If they added [playoff] teams, I think the competition goes down. I think the way the system is now is what makes the NFL what it is. You've got to be in the right position to get in the playoffs, and that makes any division race tough."
Quarterback
Russell Wilson
on how important consistency is to his progress:
"Well, that was my number one goal, to be honest with you," he said. "My number one goal coming into the season was being consistent, so that's kind of my approach to the game, to practice, to just each day. I think that's been a good thing so far.
"I want to keep growing. There's so many more things that I can do better, and so many things I can learn. That's the exciting part about being a quarterback in the National Football League. You never really know it all."
December, 19, 2013
12/19/13
3:07
PM ET
RENTON, Wash. -- The division title and home-field advantage are on the line Sunday for the Seahawks against the
Arizona Cardinals
, but you wouldn't know it talking to the Seattle players. Feeling pressure is not their nature.
[+] Enlarge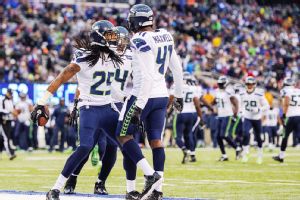 Ron Antonelli/Getty ImagesEarl Thomas had some good-natured criticism for teammates Richard Sherman and Byron Maxwell.
This is one loose bunch going into the most important game of the season so far.
Some of the topics of conversation are celebrations dances and TV commercials of the players, along with hairstyles.
"It's all about having fun," said free safety
Earl Thomas
. "Every game this year we've taken a championship opportunity, so when a game like this one came around we'd be ready for it."
Thomas was on a roll when he spoke to reporters Wednesday. First, he had a message for cornerback
Byron Maxwell
, the new sensation in the Legion of Boom with three interceptions in the last two games.
"Byron is very humble," Thomas said. "He wants it and he gets it. He's very familiar with this system. But one thing I need to say about him. He needs to cut his hair. He's getting to look like a caveman out there."
Thomas had long hair until this season, when he cut his dreadlocks.
Thomas also wanted to talk about the best dancer on the team, especially among the defensive linemen.
Brandon Mebane
has his belly roll after a sack and
Michael Bennett
has his provocative pelvic thrust, similar to Elvis Presley.
"They're not afraid to show their jelly," Thomas said. "It's creative. All of it's good because when we're doing that, it means we're having a lot of success."
Bennett's dance move is getting most of the youtube.com attention these days.
"Whatever I feel like doing, I'm just doing," Bennett said. "But the media went crazy on the last one, so I don't know if I'll do it again. Mebane's been doing his for a while, so I'm just second to his."
Bennett said cornerback
Richard Sherman
probably is the best dancer on the team, but he's not Bennett's favorite.
"Sherm is a great dancer, but the best to me is
Red Bryant
,'' Bennett said. He's so big (6-4, 325). He's not really a dancer, but when he does, it's funny."
Several Seahawks are seen regularly in Seattle on local TV commercials, including
Russell Wilson
,
Marshawn Lynch
,
Max Unger
and Sherman.
"They could be better actors, especially Sherm," Bennett said.
And Bennett said he knows exactly the commercial product he wants to endorse.
"A Rolls Royce," he said. "I'm never gonna shave, so I won't be in a shaving commercial. But I'd be happy to be in a Rolls Royce commercial."
December, 15, 2013
12/15/13
7:30
PM ET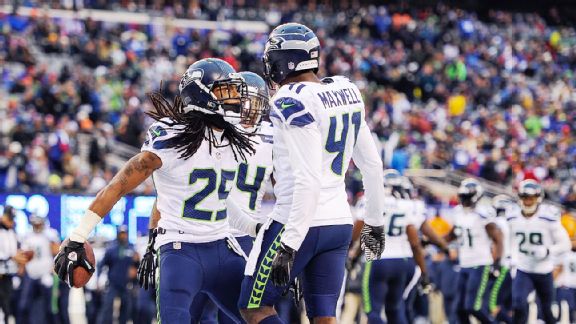 Ron Antonelli/Getty ImagesThe Seahawks made five interceptions, including two apiece by Richard Sherman and Byron Maxwell.
EAST RUTHERFORD, N.J. -- If the
Seattle Seahawks
return to this stellar, and likely frigid, facility in a few weeks for the game of games, it will be because of a defense with depth, talent and skills like no other.
Quarterback
Russell Wilson
is the glamour boy of this team, and deservedly so, as he showed once again in a
23-0 victory
over the
New York Giants
on Sunday at MetLife stadium.
But posting a shutout for the first time this season, along with picking off five
Eli Manning
passes, at the venue where the Super Bowl takes place in seven weeks is something to remember.
This defense is the other thing that sets the Seahawks apart.
"I'd be lying if I said it didn't cross my mind," middle linebacker
Bobby Wagner
said of playing at the Super Bowl site. "Of course it did. And it feels good to play like this here. If the time comes and we take care of business to get back here, it will matter. No doubt about it."
Seattle, with the NFL's best record at 12-2, entered the game with the No. 1 defense in the league in yards allowed. It won't change after this one. The Seahawks gave up only 181 yards, including just 25 yards rushing on 14 carries.
Look at it like this: The Seahawks gave up 26 fewer yards rushing Sunday than they did on one big play to
Frank Gore
in the 19-17 loss at San Francisco last week, a day on which Seattle allowed 163 yards rushing to the 49ers.
"We had a chip on our shoulders about that," said Wagner, who led the team Sunday with 10 tackles and 1½ sacks. "We wanted to show that's not who we are."
Who they are is a defense with such extraordinary depth that a third-string cornerback can intercept two passes against Manning.
Byron Maxwell
now has three interceptions in the past two games starting at right cornerback. Manning found out the hard way that Maxwell isn't your typical backup.
"Yeah, he tested me on the very first play," Maxwell said, referring to an incomplete pass intended for
Victor Cruz
. "But I feel like I'm just as good as our starters and I want people to know it."
Manning had been playing much better in recent weeks after a horrible start to the season, but he was no match for the Seattle secondary. He made the senseless decision to challenge cornerback
Richard Sherman
on a sideline go-route, which Sherman picked off so easily he might as well have called a fair catch.
Sherman had two picks and assisted on another when he tipped a pass into the end zone in the fourth quarter that free safety
Earl Thomas
caught to preserve the shutout.
"He owed me one after I let him have that pick on the [Hail Mary] pass at the end of the half," Thomas said. "We came prepared [Sunday]. We had a bad outing last week, but that doesn't define us.
"You saw what happened [Sunday]. We need to keep this same mentality, because when we're [angry] like this, we're hard to beat. We did a lot of things right today and really disguised our coverage."
Thomas said the Seahawks changed things up a little against the Giants by starting most plays with two safeties deep, but then one of them would close in near the line of scrimmage right before the snap. The Giants didn't know who it would be -- Thomas or strong safety
Kam Chancellor
.
"Did you see some of those hits Kam made today?" Maxwell asked. "Wow. One guy for [the Giants], I won't say who, came up to me and said, 'That's a man right there,' talking about Kam."
Almost everyone on the Seattle defense looked like men among boys Sunday. The Giants didn't even cross midfield until midway through the fourth quarter, long after the outcome was decided.
Giants coach Tom Coughlin called New York's offensive performance "pathetic." The Seahawks have made a lot of offenses look that way this season, but this game stood out.
"That's as good a defensive coverage day for us as I can remember," Seattle coach Pete Carroll said. "Guys really stepped up. It's as complete a game as we've had."
That includes receiver
Doug Baldwin
, who caught six passes for 71 yards and 12-yard touchdown on which he fought he way to the goal line. It includes running back
Marshawn Lynch
, who had six receptions for 73 yards, along with a 2-yard TD run that saw him break four tackles and will his way into the end zone.
And, of course, it includes Wilson, who was 18-of-27 passing for 206 yards and one touchdown, along with 50 yards rushing.
Let's give Wilson his due. He became the only quarterback in NFL history to win 23 games in his first two seasons. He also is one of only three quarterbacks in league history -- joining
Dan Marino
and
Peyton Manning
-- to throw 50 TDs in his first two seasons.
The Seahawks would not be where they are without Wilson. But the new golden boy of the NFL would not be where he is without this remarkable defense that just played lights-out on the field where they hope to return soon.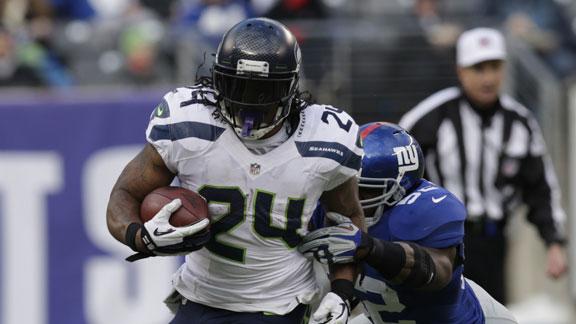 December, 15, 2013
12/15/13
4:09
PM ET
EAST RUTHERFORD, N.J. -- A few thoughts on the
Seattle Seahawks
' 23-0
victory
over the
New York Giants
on Sunday at MetLife Stadium:

What it means:
The Seahawks improve to an NFL-best 12-2 and earn a franchise-record sixth road victory this season. Seattle needs to win only one of its last two games (both at home) to clinch the NFC West title and home-field advantage in the playoffs.
Stock watch:
It was the
best
effort of the season by the Seattle defense. The Giants had only 54 yards in the first half.
Eli Manning
threw five interceptions, and three picks came in the first two quarters, although the last one by
Richard Sherman
was on a Hail Mary pass on the last play of the half. New York had only 15 yards rushing in the first half. This will give you some idea of how well the Seahawks played on defense.
Golden Tate
tied the franchise record with seven punt returns in the game.
Cornered:
Another stellar effort by the Seattle cornerbacks. Two weeks in a row, quarterbacks have tested backup corner
Byron Maxwell
, only to watch him burn them. Maxwell had two interceptions Sunday, giving him three in the past two games. And any team that throws a sideline go route on Sherman is just plain dumb. Manning tried it in the second quarter, and Sherman could have called for a fair catch.
Jeremy Lane
also played well as the nickelback. Even the interception by free safety
Earl Thomas
late in the fourth quarter came on an assist from Sherman in the end zone when he batted the ball to Thomas. The Legion of Boom hasn't missed a beat without cornerbacks
Brandon Browner
and
Walter Thurmond
.
Hauschka a kicking machine:
It was another perfect day for Seattle kicker
Steven Hauschka
, who went 3-for-3 on field goals. He has made 30 of 31 field goals, with his only miss a blocked kick at Indianapolis. Hauschka is the best kicker in the league this season.
What's next:
The Seahawks return home for the final two games of the regular season against the
Arizona Cardinals
on the Sunday before Christmas and the
St. Louis Rams
on the Sunday after Christmas. If the Seahawks defeat Arizona, the final game becomes a chance to rest some starters and not risk injuries before the playoffs.
December, 2, 2013
12/02/13
11:52
PM ET
SEATTLE -- A few thoughts on the
Seattle Seahawks
' 34-7
victory
over the
New Orleans Saints
on Monday night at CenturyLink Field:
What it means:
The Seahawks proved they are the best of the best in the NFC with a convincing victory over the Saints, which gives Seattle a two-game advantage in the race to have home-field advantage in the playoffs. But in reality, it's more than two games because the Seahawks have defeated both the
Carolina Panthers
and New Orleans, which gives Seattle the tiebreaker over both teams that are two games behind them with four games to play, and the Saints and Panthers have to play each other twice.

Stock watch
: In MVP considerations,
Russell Wilson
has moved ahead of
Drew Brees
by clearly outplaying his idol Monday night. Wilson was sensational in the first half, completing 14 of 19 passes for 226 yards and two TDs. And the Seattle defense destroyed the potent New Orleans passing game, including a 22-yard touchdown for defensive linemen
Michael Bennett
after defensive end
Cliff Avril
knocked the ball out of Brees' hand and Bennett caught the deflection.
Miller a tough tight end, too
: This game was supposed to be about the Seahawks defense against New Orleans star tight end
Jimmy Graham
, but the Saints had a tough time covering Seattle tight end
Zach Miller
, who had a 2-yard TD catch after a 60-yard catch in the first quarter.
Maxwell and Lane up to the task
: Fears of Brees lighting up the Seattle backups in the secondary were unfounded. All the distractions this week surrounding the suspension of
Walter Thurmond
and possibly
Brandon Browner
, who is out with a groin injury, didn't hurt the Seahawks at all.
Byron Maxwell
played well as the starter, and
Jeremy Lane
also did a good job in the slot on the nickel packages.
What's next
: The Seahawks fly south to play their archrivals, the
San Francisco 49ers
in Candlestick Park. This was expected to be a game that might decide the NFC West, but Seattle has a three-game lead with four to play, so it isn't the game it might have been, but it is important to San Francisco's playoff hopes.
November, 25, 2013
11/25/13
4:35
PM ET
RENTON, Wash. -- Assuming the Seahawks can talk him out of retirement, and he passes a physical, expect to see
Antoine Winfield
back in a Seattle uniform later this week.
Coach Pete Carroll said the Seahawks could consider re-signing the veteran cornerback to come in and help the depleted secondary.
Winfield
Cornerback
Walter Thurmond
is facing a four-game suspension due to non-PED substance abuse, so Winfield is a veteran player who knows the system and could step in immediately.
That's also assuming he has stayed in good physical condition and is ready to go. Winfield's last real NFL game, excluding preseason, was the
Minnesota Vikings
' playoff loss against Green Bay on Jan. 5 last season when he started at left cornerback. Winfield started all 17 of Minnesota's games last season.
So it would be almost 11 months since his last meaningful game if he is re-signed and plays against the
New Orleans Saints
on Monday night.
In Winfield's case, he probably can step in and make a positive impact. He knows the defensive schemes since he was here for training camp and the entire preseason. And he's a 15-year veteran, including 173 starts, so it's not exactly his first rodeo. But he's bound to be a little rusty.
If they sign him, the Seahawks probably would use Winfield in the slot on their nickel package, while
Byron Maxwell
starts at cornerback for Thurmond. Second-year corner
Jeremy Lane
also will play in the slot, but having a veteran guy like Winfield in the mix certainly could help against a wily veteran quarterback like
Drew Brees
.