Seattle Seahawks:

Cam Newton
September, 6, 2013
9/06/13
12:00
PM ET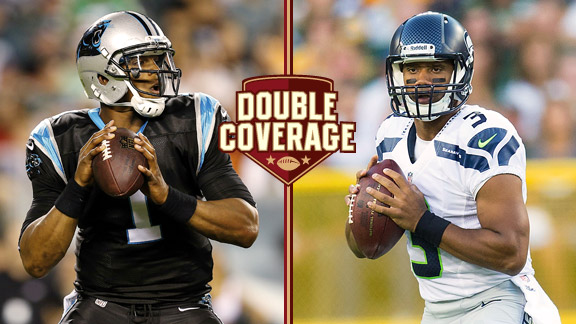 AP Photo, USA TODAY SportsCarolina puts Cam Newton's athleticism on the line versus confident Seattle QB Russell Wilson.
The
Seattle Seahawks
are the sexy pick to win the Super Bowl, with the hot quarterback featured in GQ magazine. The
Carolina Panthers
are the wannabe team with the once-hot quarterback who has lost some of the luster off his cover-boy status.
But there's one thing these teams have in common as they prepare to open the 2013 NFL season on Sunday at 1 p.m. ET.
Slow starts.
Carolina has the worst opening-day record in the league at 6-12. Seattle ranks 30th, with only the
New Orleans Saints
and Panthers behind them. The winner will at least emerge with a chance to change that.
So how do they stack up in what appears a mismatch? Panthers team reporter David Newton and Seahawks reporter Terry Blount are here to tell you.
Let's get right to the question most people are asking: Who is the better quarterback? Carolina's
Cam Newton
or Seattle's
Russell Wilson
?
Newton:
I know Wilson and the Seahawks are the sweethearts of the league after making the playoffs last season. But if I were starting a team, I'd take Newton, and not because we share the same last name. I know the Panthers would. They talked last season about drafting Wilson to back up the first pick of the 2011 draft before Seattle got him in the third round. Backup! Look, Wilson is a solid player who is surrounded by a better supporting cast than Newton has had in his first two seasons and has again this year. Wilson does some great things with his arm and legs. He makes good decisions. Newton would kill for his completion percentage of 64.1 last season. But Newton is one of those special players who, at 6-foot-5 and 245 pounds, can do things the 5-11, 206-pound Wilson can only dream of. Go back and look at the 72-yard touchdown run Newton capped with a flip into the end zone in a 30-20 victory against a one-loss Atlanta team last season and you'll see what I'm talking about. Wilson's biggest edge comes in leadership, and I believe you'll see Newton step it up in that department this year. I see his stock on the rise. Of all the first-year quarterbacks who made the playoffs last year, Wilson is my choice to have a sophomore slump.
Blount:
Newt, I honestly tell you that the Seahawks coaches and players would take Wilson every day of the week, and frankly, I think so would most NFL coaches. In the more than 30 years I've covered sports, I've never met a more impressive young man than Wilson. He's just one of those once-in-a-generation-type athletes who you look at him and listen to him, then you say, "This guy is going places in life." Yes, Cam has more experience, and, obviously, more size. He's an exceptional athlete, a man that Seattle coach Pete Carroll called "a phenomenal talent." But he isn't the team leader that Wilson is, and won't make as many good decisions at key moments as Wilson will.
Let's turn to a team question. Which team will show more improvement this season? Not the better record, but bigger step forward? The Seahawks, who were 11-5 and a playoff team? Or the Panthers, who were 7-9?
Blount:
That's a tough one. I think Carolina could finish with a winning record this season and possibly make the playoffs, which would be a nice improvement over 2012. But since I picked Seattle to go 12-4 and reach the Super Bowl this year, I'll have to go with the Seahawks.
Newton:
Definitely a tough one. I don't see Carolina making the playoffs, but I do see the Panthers coming close to a winning record. And they will improve on defense with the return of
Jon Beason
at linebacker and more talent at tackle. How much they improve overall depends on the progression of the offensive line, which didn't look good during the preseason. Seattle has all the pieces to make a Super Bowl run, but I still think the Seahawks are the second-best team in their division, behind San Francisco. They did so many good things last year it's hard to see them making a substantial improvement. If they do, it really will be Super Bowl or bust.
Now to the game. Last year, Seattle won 16-12 in a defensive struggle in Week 5. Do you see this game being similar?
Newton:
Definitely. And if it's not, Seattle could make it ugly, because Carolina can't win a shootout. The strength of both teams is defense. We're probably looking at two of the top 10 units in the league. Both are used to practicing against the run-option that Newton and Wilson ran well at the end of last season, so they'll be prepared to handle it. The key for Carolina to make this a defensive battle will be the secondary. Will it be the unit that had a league-high 10 interceptions during the preseason, or the one that was soft most of last season?
Blount:
The defenses typically are ahead of the offenses at the start of the season, so that could play into a matchup with two strong defensive units. However, I do expect this game to have a little more scoring than the one last year, because I think both quarterbacks will play better than they did in that game. You're spot-on about the secondary, Newt. I think both secondaries are the key. Seattle might have the best defensive backs in the league and the Panthers looked much improved. But no secondary can cover these receivers forever. What this could come down to is which defensive unit does a better job rushing the passer and which is better able to contain two of the best running quarterbacks in the league.
September, 5, 2013
9/05/13
4:21
PM ET
RENTON, Wash. -- The
Seattle Seahawks
defense knows how dangerous
Carolina Panthers
quarterback
Cam Newton
is when he runs with the football. So what's the plan?
Newton
"We can't let Cam run on us," Seahawks middle linebacker
Bobby Wagner
said. "We want to make him try to beat us throwing, which I don't think he can do."
Wagner has great respect for Newton's athletic ability, but he feels the Seahawks have to focus on taking something away from him.
"We want to force him to make tough decisions," Wagner said. "In the read-option, you have to be disciplined. If one person doesn't have their man, you could see Cam run for 80 yards.
"Everything is not going to happen the way it's supposed to for us. Somebody is going to have to step up and make a play."
Newton completed only 12 of 29 passes for 141 yards in Seattle's 16-12 victory in Charlotte last October.
"The most important thing we did [in the Carolina game last year] was get after the quarterback," safety
Earl Thomas
said. "We got under his skin a little bit.
"Basically, just keep getting hits [on Newton]. With a quarterback like that, you try to move him off his spot. It makes it hard for him. It's delaying his decisions. That's what you're talking about when you play Cam Newton. You have to pressure him."
Defensive end
O'Brien Schofield
, who probably will start Sunday because of
Cliff Avril
's hamstring injury, said the defense has to be ready for Newton's speed.
"He definitely has a motor," Schofield said. "So if he gets by your first pass-rushing move, you have to be able to chase him down when he gets outside of the pocket."
August, 30, 2013
8/30/13
11:40
AM ET
Six projected starting quarterbacks played in their teams' final exhibition games of the 2013 preseason. The
Seattle Seahawks
'
Russell Wilson
and the
San Francisco 49ers
'
Colin Kaepernick
were two of them, and both led touchdown drives before exiting after one series. None of the NFL's projected starters got hurt Thursday night.
The chart shows week-by-week snap counts for quarterbacks I singled out as projected starters heading into preseason. NFC West alums
Kevin Kolb
and
Matt Flynn
might not start after all, but I've left them in the chart for context.
St. Louis Rams
coach Jeff Fisher has generally played starters in the final preseason game. He did not this time.
"Typically I have, but I guess in the new world that we're in, it's hard to," Fisher told reporters after the Rams' game against Baltimore. "What that implies is that I'm pleased with where they are right now, those guys that sat. They worked hard. We got a great workout and it allowed them to fast-forward their minds to Arizona."
Fisher could have been alluding to the run of higher-profile injuries around the league this summer. Last year, the Rams lost rookie defensive tackle
Michael Brockers
to a high-ankle sprain in the final preseason game.
The Rams emerged from this preseason healthier than their division rivals. That did not stop the 49ers from playing their offensive starters or the Seahawks from playing starters on both sides of the ball Thursday night. The
Arizona Cardinals
rested most of their starters, though
Michael Floyd
was one notable exception.
San Francisco coach
Jim Harbaugh
offered no explanation for playing his starting offense one series. Kaepernick hadn't gotten many snaps through the first three games, however. Getting additional reps for Kaepernick and the team's group of emerging receivers made some sense on the surface.
Seahawks coach Pete Carroll went into the final preseason game saying he wanted starters to play because the team values this games as competitive opportunities.