Seattle Seahawks:

Christine Michael
July, 16, 2014
Jul 16
2:00
PM ET
Before training camp begins on July 25, here's a look (by position) at how the
Seattle Seahawks
stack up going in and whether the team is improved or not as good as it was a year ago.
The offensive line was Tuesday. Now, let's look at the rest of the offense.
Wide receivers -- Better
Essentially what has happened in the offseason is the Seahawks have swapped
Golden Tate
for
Percy Harvin
as a starter, but not exactly.
Doug Baldwin
will move from the slot to Tate's spot outside. Harvin, who missed most of last season with a hip injury, will start in the slot.
Harvin
Tate had an outstanding season in 2013 and parlayed that into a big-money deal with the
Detroit Lions
. But a three-receiver formation of Baldwin, Harvin and
Jermaine Kearse
can be better with Harvin instead of Tate.
A big improvement here is speed, including second-round draft choice
Paul Richardson
of Colorado. Richardson can flat-out fly. He proved it in the offseason workouts, consistently getting behind defenders on deep throws.
The man who could be the biggest surprise in the receiving corps is fourth-round pick
Kevin Norwood
of Alabama. Norwood has impressed everyone with his reliable hands and his ability to make tough catches in traffic. He's a mature guy and it's obvious he came from a big-time college program by how he reacts to instruction and his understanding of proper route running.
Seattle's receivers got a bad rap last year. They don't put up big numbers because the Seahawks don't throw the ball as much as most teams. But this is a quality group that has much better speed than it had a year ago.
Tight ends -- Better
Getting starter
Zach Miller
to restructure his contract was a huge plus for Seattle. Miller isn't flashy, but he plays at a consistently high level as a plus blocker and a man who can make key catches over the middle.
What will make the group better this year is
Luke Willson
having a full year under his belt. Willson easily was the highest-performing rookie for the team last year. He had 20 receptions and was a better blocker than expected.
The Seahawks also have Anthony McCoy returning after missing last season with a torn Achilles tendon.
Running backs -- Not as good

Lynch
Marshawn Lynch
has been as big a part of the team's success as anyone with three consecutive seasons of at least 1,200 yards rushing. He is the heart and soul of Seattle's entire team attitude with his relentless power running style and his physical nature.
However, he has taken a pounding, averaging 300 carries per year the last three seasons. It's not just the number of carries; it's how Lynch runs, barreling over defenders in Beast Mode.
The other issue is Lynch's desire for a change to his contract, wanting more money up front this season. He attended minicamp (but did not participate due a sore ankle) because he felt the Seahawks would negotiate in good faith. Everyone put on a happy face and said all is well.
But what happens if Lynch doesn't get what he wants? How will it change things this season and is this his last season in Seattle?
No matter what happens on that front, it's likely Lynch will have fewer carries this season as the Seahawks try to gradually make 2013 rookie
Christine Michael
a bigger part of the offense.
Robert Turbin
also looked good in offseason workouts after having a knee problem repaired when the 2013 season ended.
Lynch also won't have his buddy in the backfield with him. The Seahawks didn't re-sign fullback
Michael Robinson
, who is like a big brother to Lynch. Robinson has health issues that probably have ended his career.
But the Seahawks won't lose anything in fullback production because
Derrick Coleman
is a quality blocker ready to step up. They also drafted a human concrete block in
Kiero Small
(5-8, 250), who will fight for a spot on the 53-man roster.
The Seahawks will continue to be a power-running offense, but look for them to throw a little more this season with speedsters Harvin and Richardson as consistent options.
Quarterback -- Better
Wilson
It's almost scary to think how good
Russell Wilson
can be considering he already led the team to its first Super Bowl title in only his second season. And he did it with an offensive line that struggled through injuries. He also did it for the most part without Harvin, the man who was signed to open up the offense and give Wilson more options.
Now Wilson will have a healthy Harvin on the field, and hopefully, a more consistent performance from his offensive line.
Tarvaris Jackson
gives Seattle one of the best backup QBs in the league -- a man who knows the offense and is well-respected by his teammates.
It will be interesting to see what happens with
Terrelle Pryor
and whether he earns a spot as a third quarterback. Pryor was up and down in the offseason workouts, but his physical ability is unquestioned and the coaches have been impressed with his work ethic. It appears they have no interest in trying him at another position. B.J. Daniels will battle Pryor for a roster spot.
June, 12, 2014
Jun 12
11:45
AM ET
RENTON, Wash. -- It all makes sense now, doesn't it?
All the praise the
Seattle Seahawks
coaches have given running back
Christine Michael
. The comment from offensive coordinator Darrell Bevell about a "running backs by committee" this season, which he later said was misinterpreted.
All that came
before the news Wednesday night from sources
saying
Marshawn Lynch
might skip next week's mandatory minicamp because he wants to renegotiate his contract.
[+] Enlarge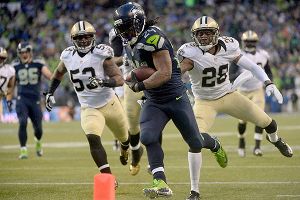 Harry How/Getty ImagesMarshawn Lynch has topped 1,000 rushing yards each of the past three seasons for Seattle.
The Seahawks' staff likely has known about this situation for a while, so pumping up Lynch's likely successor (second-year player Michael) gives Michael more confidence and puts pressure on Lynch to get back on the field.
Lynch didn't participate in the voluntary organized team activities, which concluded Thursday, but that didn't send up any red flags. Lynch missed most of the OTAs last year. And Michael has looked good in all the workouts.
But Lynch's absence this time appears to be more than just the usual quirky nature of Seattle's beastly back. People close to Lynch say he has noticed that he now is only the fifth highest-paid player on the team in average salary per year.
He has watched free safety
Earl Thomas
get a $40 million contract extension and cornerback
Richard Sherman
sign a new $56 million deal.
So Lynch might feel a bit underappreciated at the moment as the man who rushed for more than 1,000 each of the past three seasons and the key cog in the team's power running game.
Lynch, however, ranks among the highest-paid running backs in the league. He's in the third year of a four-year, $30-million contract. His $5 million base salary this season ranks fifth in the NFL behind Minnesota's
Adrian Peterson
($11.75 million), Philadelphia
LeSean McCoy
($7.6 million), Chicago's
Matt Forte
($5.9 million) and Houston's
Arian Foster
($5.7 million).
Lynch's bigger concern could be what happens after this season. He saw the Seahawks release defensive ends
Chris Clemons
and
Red Bryant
, along with wide receiver
Sidney Rice
, all of whom had time left on their contracts. But the Seahawks were saving cap space for other players. Rice was re-signed for only $1.4 million.
Now the Seahawks have to make cap space for the upcoming deal in 2015 that likely will pay quarterback
Russell Wilson
close to $25 million a year.
Lynch knows that could mean he gets released after 2014, even though he is scheduled to make $5.5 million in base salary in 2015. His contract, which included a $6 million bonus, would cost the Seahawks $9 million in 2015 cap space.
With that in mind, Lynch might want more of his money now to counteract what might happen after this season.
Without actually hearing from Lynch, highly unlikely knowing his dislike for speaking to reporters, it's impossible to say for sure what he's thinking. It's also impossible to say for sure what he might do.
No one in the NFL is more unpredictable than Lynch. He seems to enjoy doing what no one expects, so it wouldn't be a shock to see him walk out on the practice field next week like nothing happened.
However, people close to him believe Lynch intends to take a stand and try to get some type of financial concession from the Seahawks.
With Lynch, you just never know. One thing for sure, he's never boring.
April, 21, 2014
Apr 21
8:00
AM ET
If the voters are correct, Seahawks running back
Christine Michael
is about to step up and show everyone what he can do in 2014.
In what was far and away the biggest response we've ever had in a Sound-Off Saturday survey, Michael was the clear winner as the player you believe will take a major step forward in 2014 and have a breakout year that surprises a lot of people.
[+] Enlarge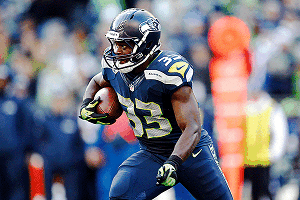 Joe Nicholson/USA TODAY Sports"We've seen him and we know that he can do really special stuff," Seattle coach Pete Carroll said of Christine Michael.
First, let me thank everyone who voted either on ESPN.com, my Twitter page, my Facebook page or by sending me an email. I even had a couple of people come up to me at a restaurant Saturday night and tell me who they would choose.
Clearly, this was a passionate topic for the 12s. What surprised me the most was the number of players who received votes. Twenty-nine players received at least one vote, but the winner was no contest.
Michael, the 2013 rookie out of Texas A&M, received 21 percent of the vote. A distant second was receiver
Percy Harvin
with 10 percent of the total vote.
Receivers were big choices in the survey.
Jermaine Kearse
was third with 6 percent of the vote and
Doug Baldwin
was only three votes behind Kearse.
Defensive linemen
Greg Scruggs
and
Jesse Williams
tied for the most votes for a defensive player, each receiving 4 percent of the vote.
I agree that Harvin is likely to have big numbers is 2014 after missing most of last season with a hip injury, but I don't think it will surprise most people if Harvin has a big year.
There is a bit of a link between Harvin and Michael. The Seahawks gave up their first-round draft pick last year in the deal to acquire Harvin from the
Minnesota Vikings
.
Michael was a surprise second-round pick, which was Seattle's first choice in the 2013 draft. Clearly, the Seahawks were drafting talent over need because they have one of the best backs in the NFL in
Marshawn Lynch
and a quality backup in
Robert Turbin
.
The Seahawks were drafting for the future, as was true for most of the 2013 Seattle draft selections.
By the way, Seahawks coach Pete Carroll tends to agree with you on Michael. During the NFL combine in February, Carroll said he though Michael could have a breakout season in 2014.
"He's really talented and he's a really exciting guy in our program," Carroll said of Michael. "He probably has the most breakout potential of anybody because you haven't seen much of him yet. We've seen him and we know that he can do really special stuff."
It all depends on his much Michael will play. Lynch remains the centerpiece in Seattle's power-running game. And for now, Turbin still is No. 2 on the depth chart. He isn't as talented a runner as Michael, but Turbin is a better blocker, an area where Michael needs to show improvement.
There's little doubt Michael is the back of the future for the Seahawks. But will it start in 2014 or is he more likely to blossom in 2015? By Carroll's words alone, it seems obvious Michael will get a lot more than the 18 carries he had as a rookie.
And my pick for a 2014 breakout player? I'll go defense and say Williams, the 2013 rookie from Alabama who missed last season with a knee injury. The big Aussie (6-foot-3, 325 pounds) will be a force at defensive tackle.
April, 1, 2014
Apr 1
5:00
PM ET
Taylor Kirkwood may be the most popular young lady at the Anahuac High School prom on April 12, considering who her date is.
Michael
Kirkwood, 18, will be escorted to prom night by
Seattle Seahawks
running back
Christine Michael
. The former Texas A&M running back accepted the invitation when Taylor's mother, Stacie Holmes, reached out to him to see if he might be interested.
Kirkwood is autistic. She also was the school's homecoming queen. Her mother wanted to do something special for her on prom night.
"I was just like, we'll see what happens," Holmes told KPRC-TV in Houston, the media outlet that first reported the story. "I know he's busy and I wasn't sure if he could."
Holmes didn't know it when she contacted Michael, but he went to high school with her cousin at Beaumont (Texas) West Brook, about 50 miles from Anahuac.
Kirkwood was thrilled when she heard the news that Michael would be her date.
"After my teacher showed me the picture [of Michael], my eyes just lit up," Taylor said.
Willson
Michael, 23, is the second Seahawks player to accept a prom invitation this spring. Tight end
Luke Willson
, who played college football at Rice University in Houston, will escort a student from his high school in LaSalle, Ontario, Canada.
Stephanie Dufour asked Willson if he would go with her last month while he was speaking to students at the high school gym, saying she wanted a "hotter date" than all her friends. To her surprise, Willson said he would go.
Michael and Willson both were rookies for the Seahawks last season. Michael was the team's second-round draft pick and Willson was selected in the fifth round.
Kirkwood told her mom she plans to give Michael a kiss on prom night.
Here's
the link to the KPRC video
about Kirkwood and Michael.
December, 24, 2013
12/24/13
8:00
AM ET
RENTON, Wash. – For the
Seattle Seahawks
fans waiting to see more of rookie running back
Christine Michael
, you may have to keep waiting.

"He's working his way in and we think he has great promise for the future," coach Pete Carroll said of Michael Monday on 710 ESPN Seattle radio. "But he's still a young guy trying to break in."
In other words, Carroll is going to stick with veteran
Marshawn Lynch
, even though some fans are itching to see more of Michael. Lynch has not rushed for more than 100 yards in a game since Nov. 10 at Atlanta.
Lynch rushed for 60 yards in the first half of the 17-10 loss Sunday to Arizona, but had only 11 yards on seven carries in the second half. Lynch also failed to score on two tries when Seattle had first-and-goal at the Arizona 3 in the second quarter.
Lynch has rushed for 1,160 yards this season, but he has gained only 289 yards in the last five games, on an average of 3.3 yards per carry.
September, 4, 2013
9/04/13
5:00
AM ET
The
Seattle Seahawks
had 11 draft picks in 2013, but only one of them is likely to get much playing time in the season opener at Carolina.
Back-up tight end
Luke Willson
, a fifth-round selection from Rice, will be on the field in Seattle's two-tight sets and probably have a few passes thrown his way after his impressive showing in the preseason.

But other than Willson, don't look for much action from the other draft picks. That's a big difference from a year ago.
As a rookie,
Russell Wilson
started every game at quarterback. Middle linebacker
Bobby Wagner
started 15 of 16 regular season games at middle linebacker.
J.R. Sweezy
started the season opener at guard.
First-round pick
Bruce Irvin
played in every game at defensive end and led all NFL rookies with eight sacks. Running back
Robert Turbin
played in all 16 games as the backup to
Marshawn Lynch
.
The verdict is out on the 2013 draft choices, but it's clear they won't contribute as much as some of the 2012 picks did at the start of the season.
Three seventh-round picks in 2013 -- offensive linemen
Ryan Seymour
and
Jared Smith
, along with linebacker
Ty Powell
, were placed on the practice squad.
Here's a rundown on the other seven 2013 draft choices:
However, the Seahawks are likely to receive meaningful contributions this weekend from two undrafted rookies.
Benson Mayowa
, a defensive end from Idaho, is expected to see significant playing time Sunday after an impressive preseason when he had 3.5 sacks. And
John Lotulelei
, an outside linebacker from UNLV, probably will see some action backing up
K.J. Wright
.
August, 26, 2013
8/26/13
1:24
PM ET
RENTON, Wash. -- Summer fun for the
Seattle Seahawks
is almost over, so what stood out?
Training camp has officially ended, cuts are coming and the final preseason game for the Seahawks is Thursday night at home against Oakland.
[+] Enlarge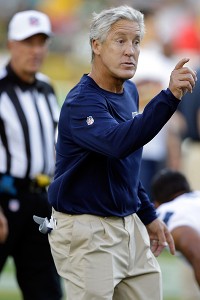 AP Photo/Tom LynnPete Carroll's Seahawks will have to work on cutting down the penalties after a preseason chock full of them.
Here's a quick look at some of the high, lows and truly unusual moments over the last month.
Best surprise on offense:
Receiver
Stephen Williams
. He's been nothing short of spectacular. The former Arizona Cardinal leads all NFL receivers in the preseason with 186 yards on six receptions, including three long touchdowns and four catches of 20-plus yards. At 6-5, 210, the lanky Williams has long arms and has shown the ability to out-leap defenders for tough catches down the sidelines.
Best surprise on defense:
Defensive end
Benson Mayowa
. The undrafted rookie from Idaho has stood out at practice and in the games with his quickness and ability to rush the passer. At 6-3, 255, he was a long shot to make the team when training camp started. Now he appears to be a shoo-in. He has 10 tackles in three games and 2.5 sacks. He also has five quarterback pressures and a fumble recovery.
The humble celebrity:
Quarterback
Russell Wilson
, of course. This town is in a Wilson frenzy. Probably not since the heyday of Ken Griffey Jr. has any athlete captured the heart of the city like Wilson. But Wilson's growing status as an NFL celebrity reaches far beyond the Pacific Northwest. He was the cover for ESPN The Magazine's NFL preview issue and recently was featured in GQ Magazine. In Russ We Trust is the hottest slogan in Seattle, but Wilson takes it all in stride and handles his popularity with quiet dignity.
Biggest disappointment:
Losing receiver
Percy Harvin
before he got started. The 67 million-dollar man was Seattle's biggest off-season acquisition, the dynamic receiver who could give the Seahawks' offense its one missing piece as a game-breaker and consistent deep threat for Wilson. But a torn labrum required hip surgery that will keep him off the field until at least late November. How can you miss what you never had? The Seahawks will find out soon enough.
Best moves for a big man:
Defensive tackle
Clinton McDonald
, all 6-2, 300 pounds of him, showing off his popping dance moves to the music during a walk-through practice. Maybe he can earn a spot on "Dancing With The Stars."
Fat man in some little shorts:
OK, he's not really fat, just big, but I kept thinking of the old "Tommy Boy" line by Chris Farley every time guard
John Moffitt
walked on the practice field in the shorts that looked like he was ready to play a 1975 NBA game. I wonder if he is wearing mini-shorts now in Denver, and what
Peyton Manning
has to say about it if he is?
Cuts all teams will watch:
Those will come in the Seattle secondary, a spot where two or three of the back-ups could start for most NFL teams. The Seahawks literally are three-deep at all four spots. The reductions among the defensive backfield will be some difficult decisions for the Seattle coaches, but other teams probably are salivating waiting to see which of these DBs hits the waiver wire.
Most disappointing draft pick:
Chris Harper
. The fourth-round pick from Kansas State just hasn't done anything to stand out, other than being big and strong at 6-1, 235.
If at first you don't succeed:
It took two tries over 24 hours, but Moffitt ended up in Denver after first being traded to Cleveland. That deal was voided when the Browns had concerns over a previous knee injury. Apparently, the Broncos were OK with that, shipping defensive tackle
Sealver Siliga
to Seattle for Moffitt within minutes to the deal falling through with Cleveland.
Yellow Seahawks:
Not yellow, as in cowardly lion. Yellow as in penalty flags. It's been a sea of yellow for the Seahawks in the first three preseason games -- 34 penalties for a whopping 354 yards. But Seattle managed to win all three games and has outscored its opponents 88-30. Coach Pete Carroll isn't happy about it and knows this trend has to end.
Don't call me ChrisTEEN:
It appears the Seahawks have done it again with an early draft pick that had many experts shaking their heads. Seattle didn't have a pick until late in the second round. When the pick came, it stunned many observers to see the Seahawks take a running back, not exactly a weak spot for the team. But Texas A&M's
Christine (pronounced KRIS-ton) Michael
, has looked sensational. Michael leads the NFL is preseason rushing yards with 186 yards on 27 carries in two games for a 13.5-yard average, including a 43-yard TD run at Green Bay.
Swiss timing:
Receiver
Sidney Rice
flew across one continent and one ocean to get a knee treatment that took 20 minutes. Hey, whatever works. Rice had a platelet-enriched plasma procedure (whatever that is) on his knee, something that isn't done in the U.S. He returned two days later and has looked fine on the practice field, but hasn't played yet in the preseason.
Two plays, two TDs and 213 yards:
You could watch a thousand NFL games and not see this happen again. The Seahawks have a 107-yard touchdown (
Jermaine Kearse
's kickoff return) and a 106-yard TD (
Brandon Browner
's fumble recovery in the end zone) in the first half of the Denver game Aug. 17.
People everywhere:
It was a training camp festival every day at the Virginia Mason Athletic Center. The Seahawks had 2,500 tickets available for each practice at camp and they sold them all. Heck, they probably could have sold 10,000 each day if they had the space at the V-MAC. The Seahawks' facility is one of the most picturesque settings in the NFL, sitting on the eastern banks of Lake Washington. There's a hill overlooking the field and the lake where fans sit to watch practice. It was packed every day.
August, 24, 2013
8/24/13
11:36
AM ET
Penalties, lots of penalties, haven't kept the
Seattle Seahawks
from winning in the preseason.
Seattle now has an unimaginable 34 penalties for 354 yards in the first three games, but the Seahawks won each of them. That includes a
17-10 victory
Friday night at Green Bay when the Seahawks were flagged 14 times for 182 yards.
[+] Enlarge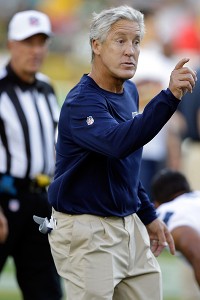 AP Photo/Tom LynnPete Carroll's Seahawks were penalized 14 times for 182 yards on Friday against Green Bay.
It looks worse when you realize coach Pete Carroll made the penalty problems his main point of emphasis entering the Green Bay game. Instead of getting better, it got worse.
"There were a lot of distractions in the game with 180 yards of penalties,'' Carroll said. "It's hard to deal with, and we are focused on cleaning that up. You never want to give your opponent anything, and we gave them 180 yards. That's makes it difficult to win."
The Seahawks won anyway. Here are a few observations from the game:
1. The defense does it again:
Seattle's defense has allowed only 30 points in the first three preseason games, and only three touchdowns, one in each game.
Tony McDaniel
looked good in his first start at defensive tackle, stuffing the middle and posting two tackles along with one pass defensed.
Sealver Siliga
, the defensive tackle Seattle acquired last week when guard
John Moffitt
was traded to Denver, had a strong first game with the Seahawks. Siliga had two tackles, including a sack.
2. Wow Mayowa:
The man on defense who continues to stand out is rookie free agent
Benson Mayowa
, a defensive end from Idaho. Mayowa's quickness makes it seem like he's everywhere on the field. He had four tackles Friday night, including one tackle behind the line. Mayowa had a quarterback hit and a fumble recovery.
Maybe his most impressive play Friday came when Green Bay had a 31-yard gain. Running back
Alex Green
got around the left end and was off to the races down the sideline, but Mayowa ran him down from behind.
Mayowa (6-3, 255) was a longshot to make the team when training camp started. Now he appears to be a lock. He has 10 tackles in three games and 2.5 sacks. He also has five quarterback pressures.
3. Big-play Williams:
Lanky receiver
Stephen Williams
, another man fighting for a roster spot, now has three long touchdown receptions in the first three games, one in each game.
Williams (6-5, 210) had a 42-yard touchdown catch Friday, pulling the ball away from the defender at the goal line on a pass from
Brady Quinn
. Williams came close to another long touchdown Friday on a play that could have been called interference on Green Bay defender
Brandon Smith
.
With
Percy Harvin
out until at least late November, it seems unimaginable now that Seattle wouldn't keep Williams as a deep threat with the height to out-leap defenders for the ball.
4. One tough Aggie:
Christine Michael
, Seattle's second-round draft choice from Texas A&M, had his best game of the preseason, rushing for 97 yards on 11 carries. Michael (5-10, 220) has shown a knack for breaking tackles and hitting the hole quickly at the line of scrimmage.
Seattle rushed for 166 yards on 27 carries (a 6.1-yard average) against the Packers.
6. The penalty culprits:
The running game looked strong despite a bad night for the Seahawks' offensive line. It allowed four sacks and was penalized five times for holding. Starting right
J.R. Sweezy
was penalized three times in the first half -- two for holding and once for a personal foul.
The bottom line is the Seahawks managed to get the job done despite all the miscues and yellow flags. But that isn't likely to continue in the regular season unless the team cleans up its act.