Seattle Seahawks:

Clinton McDonald
November, 24, 2013
Nov 24
8:00
AM ET
RENTON, Wash. -- The Seahawks have their share of limelight players who receive plenty of recognition nationally, like quarterback
Russell Wilson
, running back
Marshawn Lynch
, cornerback
Richard Sherman
and free safety
Earl Thomas
.
Here are a few players who don't receive that type of praise but who have contributed to the 10-1 record:
Best rookie:
Tight end
Luke Willson
was a steal as a late fifth-round pick. Few people had heard of the 6-5, 250-pound Canadian who played college ball at Rice -- another example of GM John Schneider's ability to find quality players other teams overlook.
Willson
Willson has 12 receptions for a 14.2-yard average per catch. The Seahawks knew he could catch and had good speed, but he has performed better as a blocker than most people expected.
He started two games when
Zach Miller
was out with a hamstring injury, but officially, Willson has started seven games because the Seahawks opened with a two-tight end set, showing their confidence in Willson.
He is an all-around athlete who played, hockey, soccer and baseball in high school, including a stint on the Canadian Junior National Team, along with football. But he also is a brainiac (typical of Rice grads) who had a 4.0 GPA.
Best new position:
It's
Bruce Irvin
moving from defensive end to outside linebacker. After missing the first four games due to a PED suspension, Irvin stepped into his new spot and made an immediate impact with a sack in his first game back.

Irvin
Irvin's speed has enabled to do things at linebacker that he didn't do at defensive end, like intercepting a pass 30 yards downfield in the game at St. Louis.
Irvin has 28 tackles (20 solo), two sacks, five quarterback hurries and one forced fumble. Irvin loves playing linebacker and believes he can do more things without constantly taking on huge offensive tackles.
Most underrated player:
This one will surprise you. I'm going with punter
Jon Ryan
, the other Canadian on the Seahawks. Ryan doesn't rank among the league leaders in yards per punt, which is a misleading stat in regard to a punter's value.
Ryan's success comes from how high he kicks the ball. Returners appear to wait forever for the ball to come down, so they don't get many opportunities to gain any yards after the catch.
Only 11 of his 44 punts have been returned. But here's the eye-popping numbers. The 11 returns totaled a measly 15 yards. And one of those was 10 yards, so the other 10 totaled only 5 yards.
Eighteen punts were downed inside the 20. Ryan completely shut down the best punt returner in the league --
Marcus Sherels
-- last week against Minnesota. All Sherels could muster was three fair catches. On the other two Ryan punts, one was downed at the 7 and the other went out of bounds at the 20.
Ryan is a major field-position asset for the Seahawks.
Best offseason acquisition:
Now this is a tough one because Seattle has three new players --
Cliff Avril
,
Tony McDaniel
and
Michael Bennett
-- who have made a big difference on the defensive front line, but I'll go with Bennett at defensive end.
Bennett
Bennett is tied with Avril for the team lead with 6 1/2 sacks, but he also has 16 quarterback hurries and 20 tackles.
Avril missed the first game of the season with an injury and feels like he's just starting to find his rhythm. He has three forced fumbles, including one on a sack in the Minnesota game.
But McDaniel also is a good pick from his defensive tackle spot. He has 44 tackles, including tying his season-high with seven against Minnesota when coach Pete Carroll singled him out as having his best game.
Honestly, I'm good with picking any of these three guys. They have dramatically improved the defensive front for Seattle, which was one of the team's top priorities after last season.
And, of course, I haven't even mentioned receiver
Percy Harvin
, who could win this category by the end of the season.
Best return:
Some would say defensive tackle
Clinton McDonald
, whom I listed earlier this week as the most pleasant surprise on defense this season since he came back in Week 2 after being released at the end of preseason.
But my pick here is fullback
Michael Robinson
. He has helped throw some key blocks for Marshawn Lynch in the last three games, but maybe just as important is his leadership in the locker room and the respect he has from all his teammates.
As this young team heads toward a possible Super Bowl run, having a veteran leader like Robinson is a big asset to keep everyone pointing in the right direction.
November, 22, 2013
Nov 22
8:00
AM ET
RENTON, Wash. -- What do Seattle defensive tackle
Clinton McDonald
and wide receiver
Jermaine Kearse
have in common?
Kearse
McDonald
They are my most surprising players of the season for the Seahawks at the bye week after 11 games.
McDonald (6-foot-3, 295 pounds) played the previous two seasons as a backup for the Seahawks, but he was briefly released this year at the end of training camp. He was re-signed by Seattle two weeks later in what has proved to one of the team's best moves.
He has 22 tackles, 3½ sacks, seven quarterback hurries, one fumble recovery and one interception, which came last weekend in the 41-20 victory over Minnesota.
McDonald did not have a sack in his previous three NFL seasons, including 29 games with the Seahawks. But now the Seahawks like to use McDonald as an inside rusher on passing downs.
"Clinton has done a really good job," Seattle coach Pete Carroll said Monday. "He's been a real surprise for us. He's come back as one of the four [pass] rushers and mixing in with the other guys at times."
He's the big surprise on defense, but Kearse is the team's big surprise on offense. The second-year player from Washington has made the most of his opportunities this season with four touchdowns catches in only 13 receptions. He also has contributed on special teams, including kickoff returns and a block on a punt at Indianapolis that became a safety.
Kearse suffered a concussion on a first-quarter kickoff return against Minnesota, but he should be fine for the New Orleans game Dec. 2.
The question now is how much Kearse will play with
Percy Harvin
back. Carroll said all the receivers still will be part of the rotation, but he also said Harvin is the kick returner now after his 58-yard return against the Vikings.
Harvin usually plays in the slot and Kearse plays outside, but slot receiver
Doug Baldwin
has played more on the outside in recent weeks and may get some of Kearse's snaps when Harvin is on the field. However, Kearse has shown enough that he deserves to get his share of plays.
November, 20, 2013
Nov 20
8:00
AM ET
RENTON, Wash. -- Defensive linemen
Red Bryant
has played a lot of great games for the Seahawks in his career, but coach Pete Carroll believed Bryant's effort Sunday stood out.
"Red played his best game he's played for us," Carroll said. "I don't know if you guys noticed that, but he was really in the backfield. It was really clear how forceful he was on a number of plays."
Bryant missed the Atlanta game the previous week because of a concussion he suffered in the Tampa Bay game. But Bryant wasn't the only defensive player Carroll praised on Monday. Carroll thought defensive tackle
Tony McDaniel
had one of his best games, along with defensive tackles
Brandon Mebane
and
Clinton McDonald
, who had the first interception of his career.
The Seahawks held Minnesota running back
Adrian Peterson
to 65 yards on 21 carries in the 41-20 victory over the Vikings.
"But it was really Tony and Red that made a big difference," Carroll said. "Those two guys combined to really hit the line of scrimmage. Both guys got better, so it's just another indication that there's room for improvement. Their consistency and intensity was great, and they tackled well because of it. It was really obvious and exactly what we hoped."
McDaniel had seven tackles, including one in the backfield. Bryant had three tackles, but that doesn't show how disruptive he was up front all game. He had two tackles for losses and one quarterback hit.
September, 14, 2013
Sep 14
5:35
PM ET
The
Seattle Seahawks
have re-signed defensive tackle
Clinton McDonald
and released offensive tackle
Mike Person
, the team announced Saturday.
McDonald (6-foot-2, 295 pounds) was among the final roster cuts by the Seahawks two weeks ago. He was first acquired by Seattle in a 2011 trade with the Cincinnati Bengals. McDonald played in 29 games for Seattle, including one start, in the previous two seasons.
Person (6-4, 300) was a backup offensive tackle, but worked as the team's third tight end in the season opener. However, Seattle signed veteran tight end
Kellen Davis
earlier this week.
August, 26, 2013
Aug 26
1:24
PM ET
RENTON, Wash. -- Summer fun for the
Seattle Seahawks
is almost over, so what stood out?
Training camp has officially ended, cuts are coming and the final preseason game for the Seahawks is Thursday night at home against Oakland.
[+] Enlarge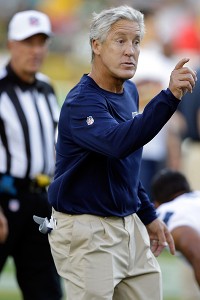 AP Photo/Tom LynnPete Carroll's Seahawks will have to work on cutting down the penalties after a preseason chock full of them.
Here's a quick look at some of the high, lows and truly unusual moments over the last month.
Best surprise on offense:
Receiver
Stephen Williams
. He's been nothing short of spectacular. The former Arizona Cardinal leads all NFL receivers in the preseason with 186 yards on six receptions, including three long touchdowns and four catches of 20-plus yards. At 6-5, 210, the lanky Williams has long arms and has shown the ability to out-leap defenders for tough catches down the sidelines.
Best surprise on defense:
Defensive end
Benson Mayowa
. The undrafted rookie from Idaho has stood out at practice and in the games with his quickness and ability to rush the passer. At 6-3, 255, he was a long shot to make the team when training camp started. Now he appears to be a shoo-in. He has 10 tackles in three games and 2.5 sacks. He also has five quarterback pressures and a fumble recovery.
The humble celebrity:
Quarterback
Russell Wilson
, of course. This town is in a Wilson frenzy. Probably not since the heyday of Ken Griffey Jr. has any athlete captured the heart of the city like Wilson. But Wilson's growing status as an NFL celebrity reaches far beyond the Pacific Northwest. He was the cover for ESPN The Magazine's NFL preview issue and recently was featured in GQ Magazine. In Russ We Trust is the hottest slogan in Seattle, but Wilson takes it all in stride and handles his popularity with quiet dignity.
Biggest disappointment:
Losing receiver
Percy Harvin
before he got started. The 67 million-dollar man was Seattle's biggest off-season acquisition, the dynamic receiver who could give the Seahawks' offense its one missing piece as a game-breaker and consistent deep threat for Wilson. But a torn labrum required hip surgery that will keep him off the field until at least late November. How can you miss what you never had? The Seahawks will find out soon enough.
Best moves for a big man:
Defensive tackle
Clinton McDonald
, all 6-2, 300 pounds of him, showing off his popping dance moves to the music during a walk-through practice. Maybe he can earn a spot on "Dancing With The Stars."
Fat man in some little shorts:
OK, he's not really fat, just big, but I kept thinking of the old "Tommy Boy" line by Chris Farley every time guard
John Moffitt
walked on the practice field in the shorts that looked like he was ready to play a 1975 NBA game. I wonder if he is wearing mini-shorts now in Denver, and what
Peyton Manning
has to say about it if he is?
Cuts all teams will watch:
Those will come in the Seattle secondary, a spot where two or three of the back-ups could start for most NFL teams. The Seahawks literally are three-deep at all four spots. The reductions among the defensive backfield will be some difficult decisions for the Seattle coaches, but other teams probably are salivating waiting to see which of these DBs hits the waiver wire.
Most disappointing draft pick:
Chris Harper
. The fourth-round pick from Kansas State just hasn't done anything to stand out, other than being big and strong at 6-1, 235.
If at first you don't succeed:
It took two tries over 24 hours, but Moffitt ended up in Denver after first being traded to Cleveland. That deal was voided when the Browns had concerns over a previous knee injury. Apparently, the Broncos were OK with that, shipping defensive tackle
Sealver Siliga
to Seattle for Moffitt within minutes to the deal falling through with Cleveland.
Yellow Seahawks:
Not yellow, as in cowardly lion. Yellow as in penalty flags. It's been a sea of yellow for the Seahawks in the first three preseason games -- 34 penalties for a whopping 354 yards. But Seattle managed to win all three games and has outscored its opponents 88-30. Coach Pete Carroll isn't happy about it and knows this trend has to end.
Don't call me ChrisTEEN:
It appears the Seahawks have done it again with an early draft pick that had many experts shaking their heads. Seattle didn't have a pick until late in the second round. When the pick came, it stunned many observers to see the Seahawks take a running back, not exactly a weak spot for the team. But Texas A&M's
Christine (pronounced KRIS-ton) Michael
, has looked sensational. Michael leads the NFL is preseason rushing yards with 186 yards on 27 carries in two games for a 13.5-yard average, including a 43-yard TD run at Green Bay.
Swiss timing:
Receiver
Sidney Rice
flew across one continent and one ocean to get a knee treatment that took 20 minutes. Hey, whatever works. Rice had a platelet-enriched plasma procedure (whatever that is) on his knee, something that isn't done in the U.S. He returned two days later and has looked fine on the practice field, but hasn't played yet in the preseason.
Two plays, two TDs and 213 yards:
You could watch a thousand NFL games and not see this happen again. The Seahawks have a 107-yard touchdown (
Jermaine Kearse
's kickoff return) and a 106-yard TD (
Brandon Browner
's fumble recovery in the end zone) in the first half of the Denver game Aug. 17.
People everywhere:
It was a training camp festival every day at the Virginia Mason Athletic Center. The Seahawks had 2,500 tickets available for each practice at camp and they sold them all. Heck, they probably could have sold 10,000 each day if they had the space at the V-MAC. The Seahawks' facility is one of the most picturesque settings in the NFL, sitting on the eastern banks of Lake Washington. There's a hill overlooking the field and the lake where fans sit to watch practice. It was packed every day.