Seattle Seahawks:

Dan Quinn
February, 22, 2014
2/22/14
8:00
AM ET
It produced the Rant Heard Round the World afterward, but it was also the play that sent the
Seattle Seahawks
to the Super Bowl.
No. 2 -- Richard Sherman and Malcolm Smith make the game-saving play in the NFC Championship.
[+] Enlarge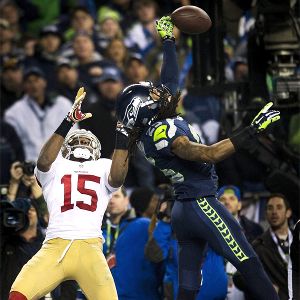 MCT via Getty ImagesThe Seahawks may not have even played in the Super Bowl if not for a game-saving play by Richard Sherman and Malcolm Smith on the 49ers' Michael Crabtree.
Trailing 23-17, the
San Francisco 49ers
had a first-and-10 at the Seattle 18 in the final seconds. Quarterback
Colin Kaepernick
tried to get the ball to
Michael Crabtree
in the back corner of the end zone, but Sherman leaped and tipped it into the hands of Smith for the interception.
Many people, however, will only remember what came a few moments later with Sherman's screaming rant against Crabtree on national TV, but it might have been the 49ers in the Super Bowl instead of the Seahawks if not for that play by Sherman and Smith.
That play was one of the few times Kaepernick challenged Sherman all game. It was a type of throw that rarely works against the All-Pro cornerback. But Smith didn't get enough credit for finishing the play, using his speed to race to the ball and make the interception.
Seahawks defensive coordinator Dan Quinn has a saying for his players: "Good things happen to those who run." It's certainly true for Smith, one of the league's fastest linebackers. He proved it in the Super Bowl with his 69-yard pick-6 that made him the MVP.
February, 2, 2014
2/02/14
10:30
PM ET
EAST RUTHERFORD, N.J. -- It has been at least 13 years and probably more since a team dominated a Super Bowl the way the
Seattle Seahawks
did Sunday night at MetLife Stadium, winning
43-8
over the
Denver Broncos
. They scored touchdowns on offense, defense and special teams -- all after recording a safety on the first snap of the game. And they didn't give up any points until the end of the third quarter after building a 36-0 lead. The result is a report card that would be the envy of an Ivy League college applicant.
PASSING OFFENSE





It was as good as it had to be. Russell Wilson's passer rating was 123.1, eight different players caught his passes and he wasn't sacked or intercepted. Seattle raced out to a huge first-half lead, so Wilson didn't need to put up gaudy stats to win. But he was 4-of-5 for 64 yards on third-down plays in the first quarter, when the game was still in doubt, and he was still flinging it around in the fourth quarter as the Seahawks padded their lead.
---
RUSHING OFFENSE





Marshawn Lynch struggled to find room against Terrance Knighton and a Broncos defensive front focused on stopping the run. But Seattle's yards-per-carry average got a boost from Percy Harvin's 15-yard and 30-yard runs on jet sweep plays, and Lynch was able to muscle into the end zone on second down from the 1-yard line after a pass interference penalty in the end zone set up the game's first touchdown.
---
PASSING DEFENSE





Broncos quarterback Peyton Manning won his fifth MVP award for a season in which he threw a record 55 touchdown passes. But he was a mess all night against Seattle's pass rush, throwing two interceptions. Led by Cliff Avril, Seattle's line moved Manning off his spot all night and batted down some key passes while the big, physical defensive backs made life miserable for Broncos receivers before and after the catch. The "Legion of Boom" lived up to its name, outmuscling the top-scoring offense in NFL history.
---
RUSHING DEFENSE





Total domination. And yeah, the Broncos had to get away from the run because they were down 15-0 before they had a chance to run their offense. But Seattle's front bottled up Knowshon Moreno and Montee Ball, holding Denver to 27 yards rushing on 14 carries, forcing a fumble (that Denver recovered) and stripping the Broncos of any chance to maintain any level of balance on offense.
---
SPECIAL TEAMS





Harvin barely played all season. Finally healthy, he was a difference-maker in the biggest game of his career. Seattle's 22-0 halftime lead looked tough to overcome, but the 29-0 lead they had 12 seconds into the half after Harvin's 87-yard kickoff return for a touchdown looked impossible. Seattle's kick coverage team held electric Denver return man Trindon Holliday in check.
---
COACHING





Give Pete Carroll the grade for the full year, as every move he made seemed to pay off. He had enough faith in his defense to let Manning start the game with the ball after he won the coin toss and to kick a first-quarter field goal instead of going for it on fourth-and-short inside the Denver 10. He also stayed aggressive even as his team was rolling early, calling timeout on a Denver fourth-and-2 from the Seattle 19 with 1:06 left in the first half. Seattle didn't even try to move the ball in the final minute after stopping the Broncos and taking possession, but it showed a coach in control of the game. You also have to hand Seattle defensive coordinator Dan Quinn the victory over Denver offensive coordinator Adam Gase in the matchup of hot head-coaching candidates.
January, 29, 2014
1/29/14
7:30
PM ET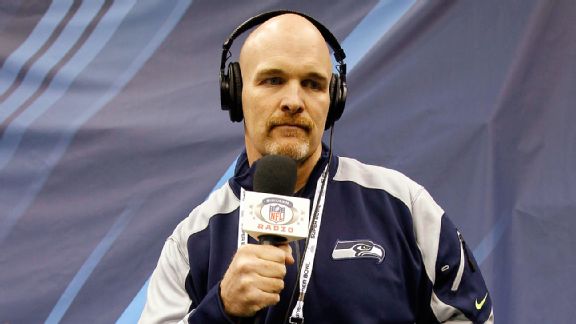 Adam Hunger/USA TODAY SportsSeahawks defensive coordinator Dan Quinn has been in demand.
JERSEY CITY, N.J. -- Dan Quinn is a Jersey Guy. He grew up in a five-bedroom colonial in Morristown, listening to Bon Jovi and rooting for the
New York Giants
of Parcells and Taylor and Carson. He lived for the Jersey Shore, long before it was a TV show, and he dreamed of one day of coming home to coach football.
Quinn did it for two years, in 2007 and 2008, coaching the defensive line for Eric Mangini's
New York Jets
. You never know, maybe there will be more green in his future, because if Rex Ryan disappoints in 2014 and gets fired, Quinn will be high on general manager John Idzik's list of replacement candidates.
But that's crystal ball talk, especially this week, with Quinn back home for Super Bowl XLVIII. He's the defensive coordinator of the
Seattle Seahawks
, and his job is to figure out what so many others have tried (and failed) to do this season: Make
Denver Broncos
star
Peyton Manning
play like a mortal quarterback.
Quinn, 43, isn't coming into this with decades of been-there, done-that experience, that's for sure, but he has worked for several respected coaches in a relatively short amount of time. Pete Carroll. Nick Saban. Steve Mariucci. And the late Joe Gardi, the former Hofstra coach who made his bones as a Jets defensive assistant during the heyday of the New York Sack Exchange.
"It was one of the most awesome places to come up as a young coach," Quinn said of his five years at Hofstra (1996-2000), which produced NFL players
Wayne Chrebet
,
Willie Colon
,
Lance Schulters
and
Marques Colston
before the university's suits decided to shut down the football program.
After jobs with the
San Francisco 49ers
and
Miami Dolphins
, Quinn ended up back on the Hofstra campus, except it was to work for the Jets, who trained at the Long Island school before moving to Florham Park, N.J., in 2008. He saw a lot in a short amount of time with the Jets, experiencing one of the most talked-about years in team history.
[+] Enlarge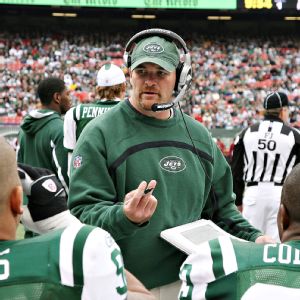 Al Pereira/Getty ImagesQuinn, who spent two seasons coaching the Jets' defensive line, is no stranger to working in East Rutherford, N.J., site of Sunday's Super Bowl.
Brett Favre
, 2008.
Quinn said the quarterbacks had a small basketball hoop in their meeting room and that, during breaks, Favre organized games. He described the future Hall of Famer as ultra competitive.
"He was one of the most fun guys to be around," Quinn said, smiling. "He had a great energy about him in terms of the way he conducted himself."
Unfortunately for the Jets, Favre's arm gave out, the team collapsed in the home stretch, it missed the playoffs, and Mangini was fired.
In came Ryan, who cleared out almost the entire coaching staff, including Quinn. But there was something different about Quinn's departure. People remember how a variety of staffers, from the video department to the grounds crew, showed up to say goodbye -- a reflection of his popularity.
Quinn went to Seattle, where he was introduced to Idzik, then a Seahawks executive. Quinn stayed for two years and returned this season, with a two-year stint as the University of Florida defensive coordinator sandwiched in between. He was Carroll's immediate choice to replace Gus Bradley, who left to become the
Jacksonville Jaguars
' coach.
Under Quinn, the Seahawks improved, going from No. 4 to No. 1 in total defense. Obviously, he inherited a tremendous amount of talent, but there's something to be said for not messing up a good thing. In some ways, he made it better, especially against the pass.
"He represents our mentality and our approach really well, that's why we were so excited to get him back," Carroll said. "He's everything beyond what I thought he'd be. He was able to not just capture [our philosophy], but accent it, doing it in his fashion."
Quinn has worked for polar opposites in Carroll and Mangini. Carroll is laid back, the epitome of California cool. Mangini is rigid and uptight, a micromanager. But Quinn liked his time with Mangini, praising his organizational skills and saying "there was an upper level of thinking with Eric."
Carroll has a Mr. Nice Guy reputation, but he challenges his assistants in the meeting room, seeing how they respond in hypothetical game situations. Of course, there's a soft edge.
"There are a lot of different ways to do the job," Quinn said.
Quinn has drawn attention around the league. During the Seahawks' playoff bye, he interviewed for the
Cleveland Browns
' head-coach vacancy. He might have landed the job, but he was penalized by the Seahawks' success. The Browns didn't want to wait for Quinn, so they hired Mike Pettine.
"No complaints on my end," said Quinn, who will be a hot candidate next year.
What's to complain about? He's preparing for a Super Bowl in East Rutherford, N.J., where he spent part of his youth cheering for his champions. If he wins Sunday, he'll walk among them.