Seattle Seahawks:

Darrelle Revis
March, 14, 2014
Mar 14
8:05
PM ET
Few people expected him to return to the Seahawks, but now it's official.
Brandon Browner
signed a three-year deal Friday with the
New England Patriots
worth $17 million.
Browner
The Patriots now have signed two big-name cornerbacks for big dollars. They signed
Darrelle Revis
on Thursday to a deal worth $12 million for the 2014 season.
And obviously, the fact that Browner has to serve a suspension of four more games at the start of the 2014 season was not a deterrent for New England. Browner also will have to forfeit four additional weeks of salary as part of his suspension for his 2013 substance-abuse violation over a positive test for marijuana.
Browner tweeted this statement Friday evening:
"Today, I am proud to announce that I am a New England Patriot. I am honored that the Patriots are making me part of their legendary organization, and am
grateful for the opportunity Mr. Kraft, Coach Belichick, Nick Caserio and the entire team have given me.
"I intend to diligently work with the same passion and dedication that I have displayed since coming into the NFL to uphold the great traditions and qualities that are embodied by the Patriots."
Browner also thanked the Seahawks organization:
"I would be remiss if I didn't thank the
Seattle Seahawks
for giving a CFL player the once in-a-lifetime opportunity to return to the NFL, making a
young boy's dream come true.
"To Coach Pete Carroll, GM John Schneider, [former Seahawks vice president, now Jets GM] John Idzik, [defensive backs] Coach [Kris] Richard, [defensive passing game coordinator] Rocky Seto, the LOB, [Legion of Boom], my teammates, the training staff, the equipment guys the Seahawks organization as a whole and most importantly the 12th Man, I say thank you for everything you have done for myself and my family. I am a truly blessed person."
Browner, who made the Pro Bowl in 2011, missed the final six regular season games of 2013, along with the playoffs, because of a groin injury, and subsequently, the suspension.
He becomes the sixth free agent the Seahawks have lost this week. The others are wide receiver
Golden Tate
, offensive tackle
Breno Giacomini
, safety
Chris Maragos
, defensive tackle
Clinton McDonald
and defensive end
O'Brien Schofield
(although his deal with the
New York Giants
was canceled because of a knee problem).
The Seahawks met Friday with former Bears defensive tackle
Henry Melton
. Former Raiders defensive tackle
Vance Walker
was scheduled to meet with the Seahawks, but he signed Friday with Kansas City.
It's still possible the Seahawks will sign former Green Bay tight end
Jermichael Finley
, who met with team officials earlier this week.
November, 1, 2013
11/01/13
12:00
PM ET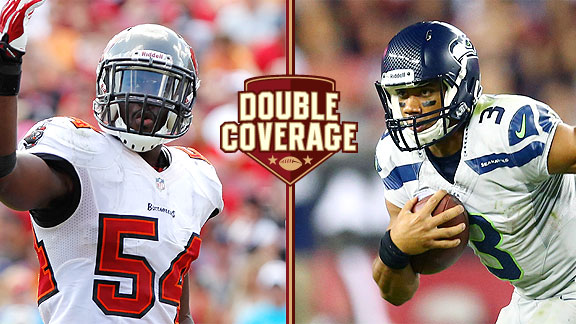 USA Today SportsThe key for Lavonte David and the Bucs is to try to pressure Russell Wilson and to attack a line that gave up seven sacks on Monday.
Despite getting outplayed in almost every statistical category Monday night at St. Louis, the
Seattle Seahawks
defeated the Rams 14-9 and reached the midpoint of the season at 7-1 after a rough stretch of four road games in five weeks.
Now Seattle returns to CenturyLink Field against the winless
Tampa Bay Buccaneers
, hoping to win at home for the 12
th
consecutive time. It looks like a mismatch, but so did the Rams game.
The Seahawks still have backups starting at both offensive tackle spots and now are missing receiver
Sidney Rice
, who tore an ACL on Monday night. Rice is due $8.5 million in 2014, but he's probably played his last game with Seattle.
Receiver
Percy Harvin
should return soon after undergoing hip surgery three months ago, but it probably won't be this weekend. Nevertheless, the Seahawks should win this game.
Blount:
Pat, a lot of people thought the Bucs would have a new head coach by the time the team got to Seattle, but Greg Schiano is hanging on. If Tampa Bay comes here and loses by a big margin, is that the end for him?
Yasinskas:
Terry, I've been pointing to the Seattle game for several weeks as a possible end for Schiano. I think he's still employed in large part because the Bucs are putting forth an effort. But I could see that changing on a long road trip against a good team and in a hostile environment. The interim route rarely works out well. But if this team lies down in Seattle, I can see ownership pulling the plug on Schiano.
Aside from the loss to Indianapolis, Seattle seems to have been nearly perfect. But there's no such thing as perfect in the NFL. What are the Seahawks' biggest weaknesses?
Blount:
Without question, it's the offensive line. It's not just weak right now. It's awful. Obviously, missing
Russell Okung
and
Breno Giacomini
is a big part of it, but having to go with backups at the tackle spots is not the only issue. Neither starting guard has played well, and center
Max Unger
, who had an arm injury earlier this season, hasn't played up to his Pro Bowl level of last year. It will improve when Okung and Giacomini get back in a few weeks, which will enable the Seahawks to move
Paul McQuistan
back to one of the guard spots instead of being out of position at left tackle. But it has to improve dramatically if Seattle hopes to live up to the Super Bowl expectations.
Pat, speaking of the Seattle line, it's obvious right now that the way to stop the Seattle offense is to load the box and blitz like crazy against the backup tackles, along with the rest of the offensive line that hasn't played well.
Russell Wilson
didn't have time to breathe at St. Louis. Do you see this as Tampa Bay's strategy on Sunday?
Yasinskas:
I think the Bucs will try a similar approach, but I'm not sure they'll have as much success as St. Louis did. The defensive line hasn't been generating much of a pass rush. Linebackers
Lavonte David
and
Mason Foster
have been effective as blitzers, and I think you'll see the Bucs use them as pass-rushers.
Terry, how much does losing Rice hurt the receiving corps?
Blount:
When Harvin gets on the field, assuming he's healthy, the Seahawks won't miss Rice. In fact, they'll be much better with Harvin's speed and versatility. Rice never has lived up to expectations here. He hasn't played nearly as well this season as receivers
Golden Tate
and
Doug Baldwin
. But if Harvin still isn't ready to come back, it hurts Seattle's depth at the receiver spot and enables any defense to use more double coverage on Tate and/or Baldwin. But this also could be an opportunity for
Jermaine Kearse
to shine. He's been a big surprise this season in limited play.
Pat, obviously, the Bucs aren't going anywhere this season. They spent a ton of money to bring in some top players on defense like
Darrelle Revis
and
Dashon Goldson
. What do you see as the team's goal for the rest of the season, and what do the Bucs hope to accomplish going forward in 2013?
Yasinskas:
It's been a hugely disappointing year for a team with eight players on the roster who have been to the Pro Bowl. This team's struggles aren't entirely due to a lack of talent. Schiano prides himself on being a disciplinarian, but this team has struggled with mental mistakes and penalties. The thinking is that playing smarter will translate into some wins. But those might be coming too late to save Schiano's job. There is a segment of the fan base that wouldn't mind seeing the Bucs go winless so that they get the first overall pick in the 2014 draft.
Terry, the Seahawks are third in the league in pass defense, and we've heard a lot about their secondary. Is rookie quarterback
Mike Glennon
walking into the ultimate ambush?
Blount:
That's what everyone thought Monday night for Rams backup quarterback
Kellen Clemens
, but he played pretty well most of the game. Clemens made two overthrows that became interceptions but came within one goal-line play of upsetting the Seahawks at the end of the game. The Seahawks do a great job of mixing things up and disguising coverages, but they do take chances to come up with turnovers. If Glennon doesn't recognize things quickly, they will make him pay.