Seattle Seahawks:

Gus Bradley
September, 20, 2013
9/20/13
12:00
PM ET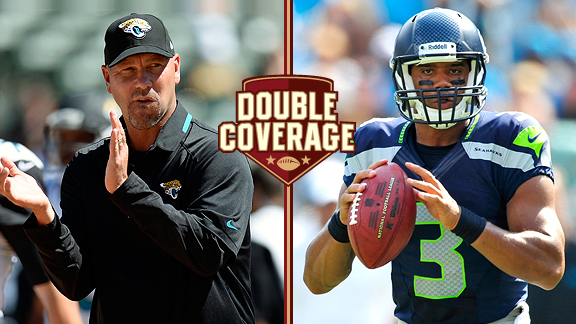 Getty ImagesWill Jaguars coach Gus Bradley, the ex-Seattle defensive coordinator, find a way to stop Seahawks QB Russell Wilson?
This is as close to a David versus Goliath matchup as you can get in the NFL, but it will take more than a slingshot for the
Jacksonville Jaguars
to knock over the
Seattle Seahawks
Sunday at CenturyLink Field. However, it marks the return to Seattle for Jaguars coach Gus Bradley, the former defensive coordinator for the Seahawks who left at the end of last season to take the Jacksonville job.
Terry Blount
: Michael, no one knows the ins and outs of the Seattle defense better than Gus Bradley. He's the man who built a defense that many people consider the best in the league. Do you think his knowledge of the Seahawks' schemes and players will help the Jaguars this week?
Michael DiRocco:
Bradley's knowledge of the personnel and their strengths and weaknesses will certainly help, especially when it comes to the secondary. He also knows the best way to attack the defense and should be able to school offensive coordinator Jedd Fisch on tendencies. With that being said, Seahawks coach Pete Carroll and defensive coordinator Dan Quinn are aware of that and will make some changes this week to counter. The bottom line is this: It doesn't matter if the Jaguars know exactly what's coming if they don't have the personnel to stop it or fail to execute properly. Right now the team just doesn't have a lot of talent, and the talent the Jaguars do have on offense is either banged up (
Maurice Jones-Drew
,
Marcedes Lewis
) or suspended (
Justin Blackmon
). Plus, the offensive line has struggled, giving up 11 sacks in two games. Jacksonville has scored just one touchdown in two weeks because of those issues and poor execution. I've always thought knowing what's coming on any given play is overrated, anyway. Everybody knew Nebraska was going to run the option but they couldn't stop it. Sometimes defenses played it perfectly and still got gashed for big yards. Why? The Huskers had better personnel.
Terry,
Russell Wilson
has had slow starts the first two weeks of the season. Is there a reason for that, and what can he or offensive coordinator Darrell Bevell do to fix it?
Blount:
I think they will fix it, Michael. The main thing that has slowed Wilson down has been a slew of penalties -- false start, illegal formations, illegal procedure and holding. There have been several times in the first two games where Wilson was driving the team down the field, only to have the progress halted by penalties that backed the team up. They won't eliminate all the holding calls, of course, but I expect to see a lot less of the careless penalties this weekend. Pete Carroll is fed up with it and made it a point of emphasis this week. But Wilson also has missed throws earlier in games that he usually makes, something I doubt will continue.
Michael, statistically speaking, this is a huge mismatch with the worst offense (Jacksonville) going against the best defense (Seattle). What could make this a close game?
DiRocco:
The biggest factor will be turnovers. The Jaguars would have to get at least three, and most of them would need to be in Seahawks' territory. This offense isn't going to be able to put together 70- or 80-yard drives against that defense, especially if Jones-Drew is limited because of his ankle injury. The Jaguars will need some short fields with which to work. And they need to capitalize on those turnovers with touchdowns. Field goals won't get it done. If the Jaguars can get 14 or more points off turnovers, they'll have a chance. That's not going to be easy, though. The Seahawks have forced 25 turnovers at home since the start of the 2012 season and their plus-18 turnover margin in that span leads the NFL. That means they've turned it over only seven times in nine home games.
Terry, the 12th man set a world record against San Francisco the other night. Is their effect on opposing teams overrated?
Blount:
I used to think it was a bit overblown, but I don't now. There's absolutely no question that crowd was a factor in Seattle's victory Sunday night against San Francisco. It's just electric in the stadium. The noise level drives the opposing offense crazy and clearly limits its effectiveness. When the Seahawks weren't very good, the crowd probably wasn't as big a deal, but this city has gone Seahawks crazy and the team feeds off it.
Michael, Bradley inherited a difficult situation in Jacksonville. How do you think he's handling things so far and what's the general feeling about him there?
DiRocco:
Bradley has been consistent in terms of staying upbeat and positive, and that's just the way he has to handle things in 2013. This is not a very talented team. It's not going to win many games. Bradley knows that. The GM knows that. The smart fans know that, too. He's concentrating on laying the foundation for what everyone hopes will only be a three-year rebuilding project. His biggest task this season will be making sure he doesn't lose the team as the losses pile up, and keeps the players focused on improving. So far, so good.
Terry, do you think it's possible the Seahawks could get caught looking ahead to the Texans game next week in Houston?
Blount:
Pete Carroll talked about this Monday, saying the Seahawks look at each game as a championship opportunity. Everyone says that, of course, but I think it works for this team. They realize they are in position to possibly win a championship this season, but one careless slip-up could cost them home-field advantage in the playoffs. And in this case, I think the coaches will emphasize how familiar Bradley is with the way the Seahawks do things, so they don't get caught off guard.
September, 18, 2013
9/18/13
6:30
PM ET
Jacksonville Jaguars
coach Gus Bradley has an odd situation this weekend. He has to try to beat the juggernaut he helped build.
For four seasons, Bradley was the defensive coordinator for the
Seattle Seahawks
, transforming the defensive unit into what now is one of the best in the NFL.
Bradley opted to leave his stellar creation to take over as the head coach of a franchise in disarray. Does he have any regrets?
"People ask me that a lot,'' Bradley said on a conference call Wednesday with Seahawks reporters. "I'm just happy for those guys. I'm not going to stop caring for those guys up there. They are very important to me. They gave me a lot and I wouldn't be in the position I'm in right now if it wasn't for those guys.
[+] Enlarge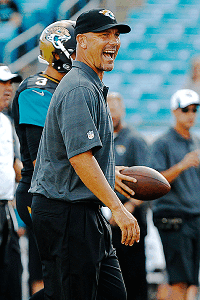 Kim Klement/USA TODAY SportsLike how he did with the Seattle defense, coach Gus Bradley is trying to keep things positive with the struggling Jaguars.
"I hold them in high regard. But this is a new step. I'm excited about this opportunity. We're not where we want to be yet, but it doesn't stop us from trying to get there as fast as we can."
Bradley is as upbeat a football coach as you'll ever see, which should help in guiding a team that likely will take its lumps this season.
"We're trying to build something special,'' Bradley said. "I've had a unique opportunity with our staff to really revamp our culture. It gives me the opportunity to share our message.
"We're seeing our guys get better. We're still making some mistakes in our growth, but I really like our guys, their attitude and their whole mentality."
Jacksonville enters Sunday's game at Seattle a 19½-point underdog, partially because of the defense that Bradley guided and the players he developed. He will watch those players from the other side of the field for the first time on Sunday.
"It is weird," Bradley said. "I watched the film [of the Seahawks defense] with my offensive staff and said, 'What is Deuce doing there? He can't do that.'"
Deuce is the nickname Bradley gave Seattle Pro Bowl free safety
Earl Thomas
. Bradley first wanted to call Thomas, "Earl the Pearl," but realized there's only one of those --former NBA great Earl Monroe.
"But you can be No. 2,'' Bradley told Thomas, so "Deuce" was born. Bradley also said if he had another son, he wanted to name him Deuce, which says a lot about his relationship with Thomas.
"Deuce is one of the guys I really took to and think the world of," Bradley said. "To see him playing at that level is great for him. He's playing with a lot of confidence. He's really on it.
"It looks like he's playing a little closer to the line of scrimmage, which shows he has a lot of confidence in the guys on the perimeter. He's just around the ball a lot more."
Thomas was asked how excited he was when Bradley got the head coaching job at Jacksonville
"I wasn't excited," Thomas said smiling. "I wanted him to stay here, but that goes along with being in the NFL.
"It's gonna be weird [Sunday] because of the relationship we built. I wouldn't say he was a father to me, but he was like an uncle. He just always believed in me."
Seattle cornerback
Walter Thurmond
feels the same way.
"When I was going through all my injuries, Gus never gave up on me," Thurmond said. "I really appreciated that. There are so many guys on this defense he made better, including me."
Bradley takes a lot of pride in seeing players like Thomas, cornerback
Richard Sherman
, middle linebacker
Bobby Wagner
and others become some of the most respected players at their positions in the NFL.
"Those guys are playing really well," Bradley said. "Dan [Quinn, the new defensive coordinator] and his guys have really got them flying around. They're impressive."
[+] Enlarge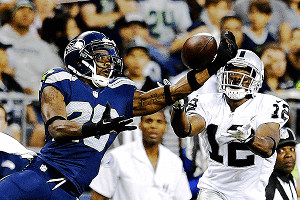 AP Photo/Elaine Thompson"There are so many guys on this defense he made better, including me," Seattle CB Walter Thurmond said of Gus Bradley.
Quinn worked with Bradley for two seasons as Seattle's defensive line coach before becoming the defensive coordinator at the University of Florida.
Seahawks coach Pete Carroll brought Quinn back when Bradley left, a way to have a smooth transition with someone who knew Seattle's defensive system. Quinn has the same positive coaching style that Bradley shares with Carroll.
"Pete and I are very similar in many ways, but there are other ways we're different," Bradley said. "You probably could come [to Jacksonville] and see a lot of similarities, but some things are different in trying to stay true to who I am.
"It's important to be genuine with our guys. I try to be upbeat and positive. To go through this process that way is important to me. Our guys have really responded well."
Carroll hated to lose Bradley, but knew it was only a matter of time before Bradley became an NFL head coach.
"Gus is such a dynamic personality," Carroll said. "He's loaded with the mentality, the mindset, the communication skills and the sensitivity it takes to deal with people and in all areas. There was no question he was preparing to do this and he was ready to do this.
"I couldn't have been more excited for him. When coaches first come here to join our staff, I tell them, 'I hope I can help you be the best you can be and get whatever you want in coaching.' The whole process is preparing them for it if that's where they want to go. So it's great when a guy gets the opportunity."
Bradley basically is starting from scratch at Jacksonville. The Jaguars were 2-14 last season and have started this year 0-2.
"It's been a new challenge for me," Bradley said. "I feel my position here is to try to help everybody be at their best. I try to give our coaches an environment where they can excel, and that's the same thing we're doing with the players."
The Seahawks went 5-11 the year Bradley arrived, but improved to an 11-5 playoff team last season. Does Bradley use that as an example of how things can change?
"We don't talk too much about that,'' Bradley said. "Probably the last thing the players want to hear is about Seattle. For me, I reflect on times through my career. I was at Fort Lewis College and we got beat by New Mexico Highlands 70-50.
"Talk about taking it on the chin. It goes back to that when you're starting something. You take those things to learn and grow from it."
That's the message Bradley is hoping to convey to his young team. He believes they're embracing it.
"That's what I like about our team right now," Bradley said. "It hurts them when we don't come out with a victory. It really bothers them, but their attitude the next day is great. That's where we have the opportunity to get better."
Sunday could be one of those take-it-on-the-chin moments for the Jaguars and Bradley. Even if that happens, Bradley can walk away thinking, "I helped build that." Now he's trying to do it again.