Seattle Seahawks:

J.R. Sweezy
December, 19, 2013
12/19/13
8:54
PM ET
RENTON, Wash. -- Starting right guard
J.R. Sweezy
and cornerback
Jeremy Lane
were surprises on the injury report Thursday as two players who did not practice.
Lane is listed as having an ankle injury, but Sweezy is the bigger concern because of a concussion. It's not known when the concussion occurred since Sweezy was not on the injury list Wednesday and participated fully in practice.
Any player who doesn't practice Thursday because of a concussion causes doubts about whether he will play that weekend. If Sweezy can't play Sunday, it's likely
Paul McQuistan
would start at right guard.
McQuistan has been splitting time at left guard with
James Carpenter
, who started the last two games. McQuistan started the first 12 games this season, including four at left guard and eight at left tackle when
Russell Okung
was injured. Sweezy has started all 14 games at right guard.
Receiver
Percy Harvin
was the only other player who did not practice Thursday. Tight end
Zach Miller
(bruised ribs) and running back
Robert Turbin
(groin) were limited at practice.
October, 31, 2013
10/31/13
8:05
PM ET
RENTON, Wash. --
Seattle Seahawks
guard
J.R. Sweezy
and defensive lineman
Michael Bennett
returned to full practice participation Thursday after sitting out Wednesday. Sweezy was listed with an elbow issue and Bennett was ill.
Running back
Marshawn Lynch
did not practice for the second consecutive day and is listed with a knee injury, but he played the entire game Monday night at St. Louis. It will be a surprise if he doesn't play Sunday against Tampa Bay.
The wait for
Percy Harvin
's debut continues. Seahawks coach Pete Carroll confirmed that receiver Harvin will not play Sunday.
"Percy won't play this week," Carroll said on Sirius Radio. "He's getting close, but not close enough."
Defensive tackle
Brandon Mebane
did not practice Thursday, but it was not injury related.
Also missing practice were fullback
Derrick Coleman
and safety
Jeron Johnson
(both with hamstring injuries) and offensive tackle
Breno Giacomini
, who had arthroscopic knee surgery Sept. 30.
October, 30, 2013
10/30/13
9:00
PM ET
RENTON, Wash. --
Seattle Seahawks
coach Pete Carroll said Pro Bowl left tackle
Russell Okung
can return to practice Friday.
Okung
Okung is on injured reserve and isn't eligible to play until the Nov. 17 home game against Minnesota, but his recovery from a torn ligament in a big toe is going well.
Offensive tackle
Breno Giacomini
, who had arthroscopic knee surgery Sept. 30, is also getting closer to returning and might be back in two weeks.
Carroll also said receiver
Percy Harvin
did not practice and his return remains day to day. The Seahawks have two more weeks to activate Harvin off the physically unable to perform list, but his return this weekend appears unlikely since the Seahawks activated receiver
Ricardo Lockette
off the practice squad Wednesday.
Running back
Marshawn Lynch
, guard
J.R. Sweezy
and defensive end
Michael Bennett
did not practice Wednesday, but it was a short workout because of the game Monday night. Lynch was listed on the injury report as having a knee injury, and Sweezy was listed with an elbow injury. Bennett missed practice because of an illness. All three players finished the game Monday at St. Louis.
Fullback
Derrick Coleman
and safety
Jeron Johnson
, who are both suffering from hamstring injuries, did not practice Wednesday. Neither played at St. Louis.
October, 11, 2013
10/11/13
8:00
AM ET
RENTON, Wash. -- The last time the
Seattle Seahawks
lost a regular-season game, they proceeded to go on a six-game winning streak. Can they do it again?
The Seahawks lost at Miami on Nov. 25, 2012, dropping their record to 6-5. They didn't lose again until the playoff game at Atlanta on Jan. 13, on a field goal with eight seconds remaining. This season, Seattle won four in a row to start this season before a 34-28 loss at Indianapolis last week, when the Colts came from behind in the fourth quarter after trailing 28-23.

Seahawks quarterback
Russell Wilson
and cornerback
Richard Sherman
both believe the team is much better now than it was 11 months ago after the loss at Miami.
"We're more mature,'' Sherman said Wednesday. "We pretty much have the same players, just a year older."
That's a little misleading. Fifteen Seahawks players were not with the team at that time last season, but 20 of the current 22 starters were.
"Now we have guys that have been to Pro Bowls and have seen a lot more ball than we did then," Sherman said. "I think we're just more capable. We're more ready. We're just better than we were them. So hopefully, the result will be the same."
Wilson said the team has a better sense of its capabilities than it did 11 months ago.
"I think our team is much more competitive," Wilson said. "I believe we know who our guys are, who our leaders are and what we need to do to be successful."
Maybe the biggest difference is Wilson. He was a rookie with only 11 NFL starts when Seattle lost at Miami last season. Three other current starters -- offensive lineman
J.R. Sweezy
, outside linebacker
Bruce Irvin
and middle linebacker
Bobby Wagner
-- were in their first season, too.
But even as a rookie, Wilson doesn't think he was ever flustered.
"I don't remember the last time I was ever flustered," he said. "I think the biggest thing for me is just I stay composed. I know that I'm still really young. It's my second year in the league. I'm just starting. I understand that there's going to be a process to learn the whole thing.
"We understand that playing in the situations, you learn from them. You grow from them, whether it's good or bad. It's one of things that you use each situation to try to understand it the best way that you can."
Whether Seattle can put together another six-game winning streak after a regular-season loss remains to be seen. But Wilson and Sherman are convinced this team is better prepared to do it now than it was 11 months ago.
August, 24, 2013
8/24/13
11:36
AM ET
Penalties, lots of penalties, haven't kept the
Seattle Seahawks
from winning in the preseason.
Seattle now has an unimaginable 34 penalties for 354 yards in the first three games, but the Seahawks won each of them. That includes a
17-10 victory
Friday night at Green Bay when the Seahawks were flagged 14 times for 182 yards.
[+] Enlarge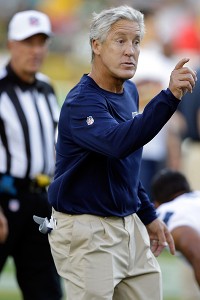 AP Photo/Tom LynnPete Carroll's Seahawks were penalized 14 times for 182 yards on Friday against Green Bay.
It looks worse when you realize coach Pete Carroll made the penalty problems his main point of emphasis entering the Green Bay game. Instead of getting better, it got worse.
"There were a lot of distractions in the game with 180 yards of penalties,'' Carroll said. "It's hard to deal with, and we are focused on cleaning that up. You never want to give your opponent anything, and we gave them 180 yards. That's makes it difficult to win."
The Seahawks won anyway. Here are a few observations from the game:
1. The defense does it again:
Seattle's defense has allowed only 30 points in the first three preseason games, and only three touchdowns, one in each game.
Tony McDaniel
looked good in his first start at defensive tackle, stuffing the middle and posting two tackles along with one pass defensed.
Sealver Siliga
, the defensive tackle Seattle acquired last week when guard
John Moffitt
was traded to Denver, had a strong first game with the Seahawks. Siliga had two tackles, including a sack.
2. Wow Mayowa:
The man on defense who continues to stand out is rookie free agent
Benson Mayowa
, a defensive end from Idaho. Mayowa's quickness makes it seem like he's everywhere on the field. He had four tackles Friday night, including one tackle behind the line. Mayowa had a quarterback hit and a fumble recovery.
Maybe his most impressive play Friday came when Green Bay had a 31-yard gain. Running back
Alex Green
got around the left end and was off to the races down the sideline, but Mayowa ran him down from behind.
Mayowa (6-3, 255) was a longshot to make the team when training camp started. Now he appears to be a lock. He has 10 tackles in three games and 2.5 sacks. He also has five quarterback pressures.
3. Big-play Williams:
Lanky receiver
Stephen Williams
, another man fighting for a roster spot, now has three long touchdown receptions in the first three games, one in each game.
Williams (6-5, 210) had a 42-yard touchdown catch Friday, pulling the ball away from the defender at the goal line on a pass from
Brady Quinn
. Williams came close to another long touchdown Friday on a play that could have been called interference on Green Bay defender
Brandon Smith
.
With
Percy Harvin
out until at least late November, it seems unimaginable now that Seattle wouldn't keep Williams as a deep threat with the height to out-leap defenders for the ball.
4. One tough Aggie:
Christine Michael
, Seattle's second-round draft choice from Texas A&M, had his best game of the preseason, rushing for 97 yards on 11 carries. Michael (5-10, 220) has shown a knack for breaking tackles and hitting the hole quickly at the line of scrimmage.
Seattle rushed for 166 yards on 27 carries (a 6.1-yard average) against the Packers.
6. The penalty culprits:
The running game looked strong despite a bad night for the Seahawks' offensive line. It allowed four sacks and was penalized five times for holding. Starting right
J.R. Sweezy
was penalized three times in the first half -- two for holding and once for a personal foul.
The bottom line is the Seahawks managed to get the job done despite all the miscues and yellow flags. But that isn't likely to continue in the regular season unless the team cleans up its act.