Seattle Seahawks:

Jim Harbaugh
January, 18, 2014
Jan 18
8:00
AM ET
RENTON, Wash. --
Seattle Seahawks
coach Pete Carroll says everyone is making too much of the relationship "issues" between him and
San Francisco 49ers
coach
Jim Harbaugh
.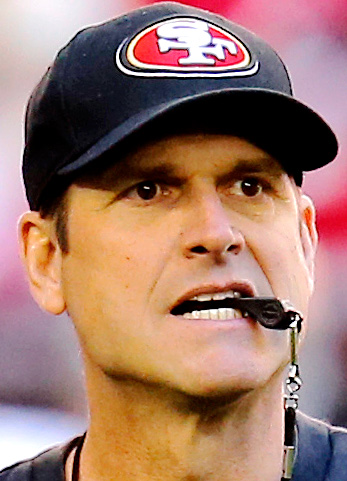 Harbaugh

Carroll
"We have not been friends over the years because we don't know each other very well," Carroll said. "We just know each other through the games, so it's a very confined relationship.
"For whatever reason, you guys have had a field day with thinking that it's something other than it is."
Well, the reason is obvious. Harbaugh and Carroll had a brief confrontation in 2009 when Harbaugh was the coach at Stanford and Carroll was still at Southern California. Harbaugh ran up the score in a blowout victory against the Trojans. Carroll met Harbaugh on the field after the game, gave him a pensive look and asked: "What's your deal?"
Harbaugh jogged off, and the two really haven't spoken since other than a postgame handshake.
"I have great respect for what Jim has done," Carroll said. "I think he's a tremendous football coach. I don't know him very well personally, so that's it. That's where it starts and stops, and all the rest of the stuff, you guys have had a blast with it, but there's nothing there."
January, 16, 2014
Jan 16
6:30
PM ET
RENTON, Wash. --
Doug Baldwin
had made up his mind. He was leaving Stanford.
His ongoing conflicts with Jim Harbaugh, the Stanford head coach at the time, were more than he could take. Baldwin was headed to Vanderbilt for his junior year.
"I had already filled out the papers," Baldwin said. "It was very close. Basically, it came down to what my mom told me to do."
Baldwin's mother told him to finish what he started.
"She said I had to stick through it," Baldwin said. "I eventually came to that realization, as well."
[+] Enlarge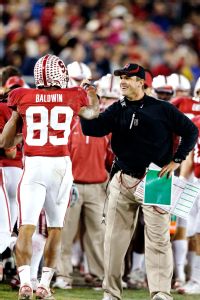 Jason O. Watson/USA TODAY SportsDoug Baldwin "clashed at times" with coach Jim Harbaugh while at Stanford, "but I actually thank him now for the adversity he helped me through, so to speak," Baldwin said.
Baldwin and Harbaugh toughed it out, and both men have moved on. Baldwin is the starting slot receiver for the
Seattle Seahawks
and Harbaugh is the successful head coach of the
San Francisco 49ers
.
As he's done six time times before, Baldwin will go against his old coach Sunday, but this time, it's for the NFC championship and a trip to the Super Bowl.
But Baldwin doesn't have the same view of Harbaugh now that he did five years ago.
"Jim and I did not have the best relationship while I was at Stanford," Baldwin said. "I was immature, a young athlete who thought I knew everything. We clashed at times. I was dealing with injuries and that also prevented me from performing the way I wanted to on the field. So a lot of things went into it.
"But I actually thank him now for the adversity he helped me through, so to speak. He made me who I am today, a better person and a better football player. It's nothing against him personally. I just want to show him I'm as good as I think I am."
Along with his mom, Baldwin said
Richard Sherman
, his Seahawks teammate now and his Stanford teammate at the time, also influenced his decision to stay at Stanford. Sherman had moved from receiver to cornerback after his sophomore year, partially because of conflicts with Harbaugh.
"It did have an impact on my decision, but more by example," Baldwin said. "Sherm had gone through a similar thing just a year prior. He decided he wasn't going to allow any circumstances to allow him to keep from achieving his goal in life, which was to be successful in football. I took that to heart."
Baldwin says the years have helped mellow his feelings about Harbaugh.
"We actually have a pretty decent relationship right now,'' Baldwin said. "He has texted me a few times."
Harbaugh has praised Baldwin many times since Baldwin became a starter at Seattle, even saying he should have drafted him.
"I'm kicking myself for not doing that," Harbaugh said in a Tacoma News Tribune story two years ago. "At the same time, I'm really, really happy for Doug."
Baldwin says playing for Pete Carroll is a much different experience than playing for Harbaugh.
"Coach Harbaugh is more of a disciplinarian," Baldwin said. "He likes to be in control of things and be hands-on with things. He wants to be involved with everything to make sure things are running smoothly, and that he has his say on stuff.
"Pete is the same in some ways, but they have different approaches. Harbaugh is more of a military-type style. It has to be precise and exactly the way he wants it. Pete kind of gives us leeway to do the things we want to do. It gives the players a sense of just having fun."
Baldwin prefers Carroll's way of doing things.
"When we're in meetings, Pete has a tradition that he does, which I can't talk about here," Baldwin said. "But it loosens the mood and breaks the ice. It sets the tone and allows everyone to be who they are and unleash your personality. We shoot basketballs in team meetings. It's a very free environment."
That isn't Harbaugh's style, but you can't argue with his success. He is one win away from taking the 49ers to back-to-back Super Bowls.
Whatever the differences were between Baldwin and Harbaugh years ago, Baldwin says it served to motivate him, along with the fact that he wasn't drafted. His teammates sometimes refer to him as Angry Doug, because of the chip on his shoulder from not being drafted.
"I don't have a chip on my shoulder,'' Baldwin said. "I have a boulder on my shoulder. I'm one of these people that don't like it to be easy, no matter what it is. Whatever I'm going through, it has to be difficult.
"So any negative comments that come out about me or my teammates just adds fuel to the fire. It's not about proving others wrong. It's about proving myself right."
Baldwin hopes he proved that to Harbaugh long ago.
January, 14, 2014
Jan 14
8:00
AM ET
RENTON, Wash. -- A lot has been made about the animosity between Seahawks coach Pete Carroll and 49ers coach Jim Harbaugh, but it never extended to either man's offspring.
Harbaugh was the head coach at the University of San Diego in 2006 when he made a call to Nate Carroll, Pete's youngest son.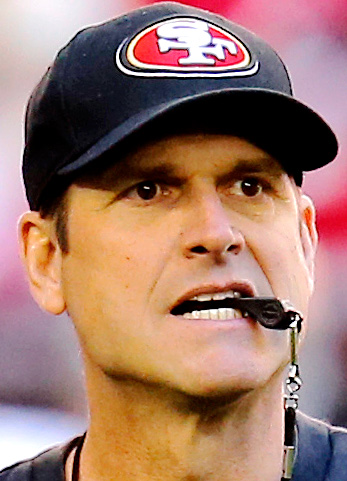 Harbaugh

Carroll
"He did recruit my son to go to San Diego," Carroll said Monday. "But I wasn't there for the home visit."
Carroll was the head coach at USC at the time. So did Pete advise his son on whether or not to play for Harbaugh?
"It didn't get that far," Pete said smiling. "He was going to USC."
Nate, now 26 with a degree in philosophy from USC, is an offensive assistant with the Seahawks, who face the Harbaugh-coached 49ers Sunday in the NFC Championship Game.
The friction between Harbaugh and Pete Carroll happened later when Harbaugh was the coach at Stanford and ran up the score in a game against USC. Afterward, Carroll met Harbaugh on the field and asked, "What's your deal?"
But Carroll has nothing but praise now for Harbaugh's coaching skills.
"I'm not surprised Jim has done such a good job coaching," Carroll said. "He does a really good job of utilizing the guys on his team. You can see how they adapt with their skills guys.
"Jim has great core principles. His dad [Jack] was a great football coach, as well. Jim was raised as a coach's kid and he demonstrated the savvy as a player that translated into his coaching, along with his brother, John [
Baltimore Ravens
head coach]. Both are great football coaches."
December, 5, 2013
12/05/13
8:00
AM ET
RENTON, Wash. --
San Francisco 49ers
coach Jim Harbaugh couldn't say enough good things Wednesday about
Seattle Seahawks
quarterback
Russell Wilson
.
Wilson
"He's a fantastic player, a wonderful, wonderful player and competitor.'' Harbaugh said. "You see his arm talent, his mobility and his great field awareness. He understands the scrambling lanes and escape routes out of the pocket. And then he has that feel, that only so many quarterbacks have ever had, to really extend plays. So he has a lot of great qualities, a lot of wonderful qualities about him. He's just a phenomenal player."
Harbaugh was asked to compare Wilson and 49ers quarterback
Colin Kaepernick
.
"I think they're both very talented quarterbacks,'' Harbaugh said. "And they both throw really well from the pocket, too. They stand in there and deliver. Their timing and accuracy, they're very good at that."
San Francisco defensive tackle
Justin Smith
said Wilson's speed is one thing that enables him to make plays.
"He's running around backward, whirly-birding for 20 yards," Smith said. "I guess he's a little bit quicker than most D-linemen, and I'm one of them."
Smith said Wilson's versatility is what makes him difficult to stop.
"It's all the different things he brings,'' Smith said. "He's not one-dimensional. He runs really well, but he also throws with great accuracy. He extends plays and moves the pocket. But he's not trying to force anything and doesn't make dumb plays. It's an all-around challenge for us. He's one of the big reasons they are where they are."
September, 12, 2013
9/12/13
5:15
PM ET
RENTON, Wash. --
Seattle Seahawks
cornerback
Richard Sherman
gave his take on the personality differences of
San Francisco 49ers
coach Jim Harbaugh and Seattle Seahawks coach Pete Carroll.
[+] Enlarge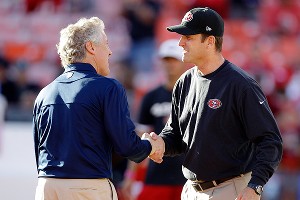 AP Photo/Ben MargotJim Harbaugh (old school) and Pete Carroll (positive) have different coaching styles says Richard Sherman, who has played for both.
In Sherman's view, one is old school like Alabama legend Bear Bryant; the other is more a modern style, positive-reinforcement guy.
Sherman should know. He played for Harbaugh at Stanford before joining the Seahawks and seeing Carroll's approach.
"I think they are two different sides of the sphere," Sherman said Thursday. "Pete is energetic, fun, positive, positive, positive. And Jim is more of stern, it's going to be this way. He's old-school coach, like Bear Bryant and those guys that preached discipline. They [Harbaugh and Carroll] are just cut from different molds."
Sherman started his Stanford career as a wide receiver, but moved to cornerback his junior year. Sherman was asked which coaching style motivates him the most.
"I'm self-motivated, but I like Pete's approach because it's always positive," Sherman said. "Win, lose or draw, he's going to find the positives in it.
"No player loves to be dog-cussed. There's some hard coaching here, but Pete does it in a way where nobody screams, nobody yells, everybody has a positive mindset. Pete tries to pull a good message out of every game, regardless if you feel like you played the worst game of your life. As a player, you can't help but love that."
September, 12, 2013
9/12/13
9:00
AM ET
As early season games go, this is about as big as they come. NFC West rivals, some would say bitter rivals, in a Week 2 showdown to see which team has the upper hand in the division and, if the preseason prognosticators are correct, in the race to the Super Bowl.
So let's get right to it:
Quarterbacks
Colin Kaepernick
and
Russell Wilson
are rising stars in the NFL, dynamic team leaders who are masters in the read-option and dangerous with both their legs and their arm. So who has the upper hand?
Terry Blount:
I'll say Wilson in this one, strictly because the home-field advantage is so big in CenturyLink and it's the home opener. These two guys are so similar in how they play the game, but much different in terms of personality. Wilson is more of a buttoned-up-businessman type of guy, while Kaepernick is more colorful and a little more carefree in his approach; at least that is how it looks. But I know Wilson has the utmost respect for Kaepernick and his abilities as a quarterback.
Bill Williamson:
Terry, this reminds me of the argument I had to make last year when the question was who was having a better comeback season, Denver's
Peyton Manning
or Minnesota's
Adrian Peterson
. There was no wrong answer. I have the same issue here. Kaepernick and Wilson are two of the reasons why the game going to be so great in the next decade. It's difficult to disparage or poke holes in the game of either one. However, for the sake of this exercise, I will back Kaepernick. I'm sure the Packers would agree. Any time a guy beats a team with 181 yards on the ground and then comes back with 412 yards in the air, that is the work of a special player. I think Kaepernick may be just a tad more dangerous the Wilson. I'd lean on Kaepernick's side, but again, I'd take Wilson on my side most Sundays. Kaepernick was nearly flawless against Green Bay. It was stunning.
What do you think will be the key defensively as the Seahawks try to contain Kaepernick?
Blount:
Last week, Seattle middle linebacker
Bobby Wagner
said they wanted to keep
Cam Newton
from running because they didn't think he could beat them throwing. He was right, but that plan won't work with Kaepernick. The Seahawks' line will have to get more pressure on Kaepernick than it did on Newton. Defensive end
Cliff Avril
would help if he could finally get on the field. So would defensive end
Chris Clemons
, although that seems unlikely. And Seattle needs the return of cornerback
Brandon Browner
, who missed the opener with a hamstring issue.
Walter Thurmond
played well in place of Browner, but Browner's size (6-foot-4, 221 pounds) is such an asset against a strong receiver like
Anquan Boldin
.
Williamson:
After the Green Bay game, San Francisco safety
Donte Whitner
said he can't wait to see the season develop because Kaepernick can beat defenses so many different ways. If the Seattle secondary keeps Kaepernick from going wild, perhaps he will beat them with his feet. That's the thing about Kaepernick -- he will get you. He will make his impact. Keeping it under control on the ground and in the air is the key for Seattle.
Let's talk about the running backs --
Frank Gore
and
Marshawn Lynch
. Might one of these guys determine the outcome of the game?
Williamson:
I certainly can see both veterans playing a major role. Gore was pretty quiet against the Packers -- until he needed to be loud. Yes, he had just a paltry 44 yards on 21 carries, but Gore made a difference with some key, clock-eating runs. At 30 years old, that is Gore's role in this multidimensional offense. He is not going to be the lead dog, but the 49ers rely on him when needed. His days of carrying this offense are over, but he can help. I expect him to come up with a few solid runs Sunday. As for Lynch, he is clearly an emotional spark plug for the Seahawks. He will come at the 49ers. But this is a defense that will be ready. San Francisco allowed 3.7 yards a carry last season, the third-fewest in the NFL. And the 49ers shut down a revamped Green Bay run game Sunday, allowing the Packers 63 yards on 19 carries -- a 3.3-per-carry average. Green Bay's longest run was 7 yards. In the end, I think both Gore and Lynch may have their moments, but neither will take over the game.
Blount:
Lynch had a terrible game in the opener, rushing for only 43 yards on 17 carries. That won't work if Seattle hopes to win Sunday. With all the talk of Wilson and Kaepernick, the Seahawks still are a power-running team. Pete Carroll made the running game a point of emphasis at practice this week. Gore has enjoyed some of his best games against Seattle, rushing for 1,238 in 14 games against the Seahawks. But I think Lynch will go into Beast Mode on Sunday to prove last week was an exception. And it's worth noting that Lynch has four 100-yard rushing games in his last six meetings with the 49ers.
It will be interesting to see how emotions come into play in this game. The 49ers are coming off an emotionally charged win over the Packers, and we all know about the 49ers-Seahawks rivalry. Do you think it will carry over to the field?
Blount:
I really don't think it matters for this one. Both teams have been pointing to this matchup since the end of last season. And let's tell it like it is: Regardless how much they try to downplay it, these teams really don't like each other. The issues between Carroll and Jim Harbaugh go back to their Pac-12 days. Seattle cornerback
Richard Sherman
has made it clear he has no love lost for Harbaugh, his coach at Stanford. So a little bad blood going in makes it even bigger.
Williamson:
Teams can play emotionally for only so long before they wear down. Still, no team is going to wear down emotionally in Week 2. The 49ers are coming off an emotionally draining win over the Packers, but there is zero chance for a letdown. Harbaugh will see to that. He will get his team up for this game. There is serious disdain involved here. I expect plenty of pushing, shoving and yapping. In this case, it will only enhance the game, and I don't think it will be a detriment to either team unless someone loses control.
49ers wide receiver Boldin and tight end
Vernon Davis
are coming off huge performances last week. Can the Seattle defensive backs -- whom many believe are the best in the league -- slow them down?
Williamson:
That will be the goal for sure. The biggest question mark about the 49ers going into the season was at receiver with
Michael Crabtree
and
Mario Manningham
out. But Boldin and Davis answered that question. In their first game together, Boldin and Kaepernick looked like they had played together for five years. Nearly every yard of Boldin's 208 yards came in the clutch. Kaepernick and Davis combined for just six catches total in the final six games of the regular season last year. But they connected well in the postseason, and they were terrific together Sunday. Seattle will likely slow down both Boldin and Davis some. Don't expect for Boldin and Davis to dominate. The 49ers will have to find other options. The key for San Francisco is to get rotational receivers
Kyle Williams
,
Marlon Moore
and
Quinton Patton
involved, as well as
Kendall Hunter
out of the backfield. I think San Francisco is varied enough to do it, but Boldin and Davis will have to make some kind of impact as well.
Blount:
No secondary, no matter how good it is, can stop Boldin and Davis entirely. Free safety
Earl Thomas
said what that they want to do, not just in this game but in every game, is lure a quarterback to throw to the middle of the field. Thomas often cheats up near the line, leaving only
Kam Chancellor
deep, to entice throws into the middle. The Seahawks see it as a trap. They believe they have enough talent to force turnovers and mistakes by any offense if they throw consistently over the middle, so Davis, especially, will get his chances. Seattle's defensive backs have a knack for forcing turnovers, and I expect they will come up with one or two Sunday.
August, 30, 2013
8/30/13
11:40
AM ET
Six projected starting quarterbacks played in their teams' final exhibition games of the 2013 preseason. The
Seattle Seahawks
'
Russell Wilson
and the
San Francisco 49ers
'
Colin Kaepernick
were two of them, and both led touchdown drives before exiting after one series. None of the NFL's projected starters got hurt Thursday night.
The chart shows week-by-week snap counts for quarterbacks I singled out as projected starters heading into preseason. NFC West alums
Kevin Kolb
and
Matt Flynn
might not start after all, but I've left them in the chart for context.
St. Louis Rams
coach Jeff Fisher has generally played starters in the final preseason game. He did not this time.
"Typically I have, but I guess in the new world that we're in, it's hard to," Fisher told reporters after the Rams' game against Baltimore. "What that implies is that I'm pleased with where they are right now, those guys that sat. They worked hard. We got a great workout and it allowed them to fast-forward their minds to Arizona."
Fisher could have been alluding to the run of higher-profile injuries around the league this summer. Last year, the Rams lost rookie defensive tackle
Michael Brockers
to a high-ankle sprain in the final preseason game.
The Rams emerged from this preseason healthier than their division rivals. That did not stop the 49ers from playing their offensive starters or the Seahawks from playing starters on both sides of the ball Thursday night. The
Arizona Cardinals
rested most of their starters, though
Michael Floyd
was one notable exception.
San Francisco coach
Jim Harbaugh
offered no explanation for playing his starting offense one series. Kaepernick hadn't gotten many snaps through the first three games, however. Getting additional reps for Kaepernick and the team's group of emerging receivers made some sense on the surface.
Seahawks coach Pete Carroll went into the final preseason game saying he wanted starters to play because the team values this games as competitive opportunities.
August, 26, 2013
8/26/13
8:00
AM ET
A potential competition for the
San Francisco 49ers
' No. 2 quarterback job might have dissipated before it really began.
Colt McCoy
is the guy behind the No. 1 guy,
coach Jim Harbaugh told reporters
Sunday night following a 34-14 victory over the Minnesota Vikings at Candlestick Park.
A chronology provides some context:
March 12:
The trade sending backup
Alex Smith
to Kansas City becomes official.
April 2:
The 49ers acquire McCoy to be their presumed No. 2 quarterback.
Aug. 8 and 16:
McCoy performs unconvincingly in the 49ers' first two exhibition games.
Aug. 22:
The 49ers sign free-agent quarterback
Seneca Wallace
.
Aug. 24:
McCoy accepts a reduced salary. The news comes out a day later, at which point McCoy confirms that he accepted the reduction on Saturday night, the 24th.
Aug. 25:
McCoy completes 11 of 15 passes for 109 yards and an interception during the 49ers' preseason game against Minnesota. Wallace hardly plays. After the game, Harbaugh tells reporters he "feels real good about Colt as the backup quarterback."
The timeline suggests Wallace's signing helped the 49ers secure a pay reduction from McCoy while providing insurance. That may or may not be the case. We know
Colin Kaepernick
is the starter and McCoy is the heavy favorite to serve in the No. 2 role, and that Wallace could have some additional time to learn the offense -- perhaps so the 49ers could turn to him later if a need arose.
Teams have until Tuesday to reduce their rosters from the 90-man limit to no more than 75 players. The mandatory reduction to 53-man limits is Saturday.