Seattle Seahawks:

Larry Fitzgerald
October, 25, 2013
10/25/13
8:00
AM ET
RENTON, Wash. -- Usually, when a coach sends a video tape of an opposing player to the NFL offices, it means that coach saw something he doesn't like and wants to register a complaint about the player.
Seattle Seahawks
coach Pete Carroll sent a tape to the league offices this week on Arizona receiver
Larry Fitzgerald
, but it wasn't to complain.
Carroll wanted to make a point about Fitzgerald doing things the right way in the new era of NFL contact, making some big hits without using his helmet or hitting the other player in the head.
[+] Enlarge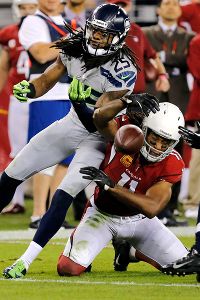 AP Photo/Ross D. FranklinLarry Fitzgerald was able to get in a hit on Richard Sherman that impressed Seahawks coach Pete Carroll, The Seahawks coach sent in a clip of the play to the league office to cite as an example of the proper technique in a new era of contact.
"I sent in two plays that Larry had, plays that jumped off the game film," Carroll said Thursday. "I said something to Larry after the game [a 34-22 Seattle victory on Oct. 17] about those two decisions, perfectly illustrating the new mentality and the right mentality. With an iconic guy like that, I just thought it was really powerful."
One of the plays was a ferocious block on Seattle cornerback
Richard Sherman
when Fitzgerald used his shoulder and caught Sherman right in the chest, slamming Sherman backward into the turf.
Sherman got up and patted Fitzgerald on the helmet to say, "nice hit."
"It's still a big hit," Carroll said. "But it could have been a colossal collision had he taken full advantage of the opportunity, and he didn't. His poise and his character demonstrated that he understands. That's really cool stuff and that's where the league is going. We can do this."
Fitzgerald had a similar hit on Seahawks cornerback
Walter Thurmond
that Carroll also sent to the NFL offices.
"I sent those plays to make that statement," Carroll said. "Let's demonstrate that guys like that are turning the corner and do get it. That message should go throughout pro football, throughout college football and down to the young kids playing so they can see the game can be played differently."
Carroll is passionate about this topic. He spent of good portion of his media session Thursday talking about how much things have changed in this era of concussion awareness.
"It has come a million miles from the dark days where nobody would ever acknowledge it or talk about it," Carroll said. "The players all would ignore it and the coaches would ignore it. You'd just say, 'shake it off,' and you would see guys literally shaking their heads, which is the worst thing you can do.
"We didn't have any idea what it took to [recover], and we weren't tuned in to the symptoms. I've learned now you can look at a guy three or four days after a legit concussion and can see it in his eyes if something is not right. We are just so much more aware of it. I think it's a fantastic new understanding that we have. We're still growing with it."
Carroll admits he was slow to accept the idea that the game needed to change.
"There was a time when I was with the Jets years ago and we had a session in the league office to talk about these violent hits," Carroll said. "The coaches couldn't even fathom the fact that we were being restricted in the way we played. That's the only way we understood to play the game.
"We've come a long, long way since then, but I don't think the game really shifted until the last two or three years. The way guys play is really changing. The players are declaring, in the flash of a moment, how to adjust so they don't make that [illegal] shot."
Carroll believes it is leading to a safer game.
"There's still the warrior mentality of the players, which we can relate to," Carroll said. "But through proper education and awareness, the way they play is shifting. It's clear our game is not the same as it was, but it's still OK. It's fine.
"We're doing the right things and making the right choices. We're going in the direction where we're really going to see a change in the numbers of these [head] injuries and the severity of them."
Some fans fear the game will become too bland and lose its macho nature under the new rules that limit the type of hits players can make. Carroll said his point of sending in the tape of Fitzgerald's hits was to show that isn't the case.
"It still can be a very aggressive, tough game," Carroll said. "So I was really fired up about that illustration. I was amazed that such a great player, and a tough dude, could make such great decisions.
"And guys like [Seahawks safety]
Kam Chancellor
can be as physical and tough as anybody in football and still make the right decisions on hitting guys to keep the game safe. I would have never thought I would be saying this; I see the game different now."
And what really surprises Carroll is that he likes it.
August, 31, 2013
8/31/13
1:40
PM ET
San Francisco 49ers
and 13
Seattle Seahawks
helped the NFC West account for a disproportionate number of players listed in the #NFLRank project from ESPN.
Sixty-three voters helped rank 100 top players on each side of the ball. NFC West teams accounted for 20 players on defense and 16 on offense. The 36-player total works out to 18 percent representation for the NFC West, above the 12.5 percent expectation for any division.
The chart shows where NFC West players ranked on each list. I shaded offensive players in gray to better distinguish the rankings.
The 49ers' Patrick Willis and the
Arizona Cardinals
' Larry Fitzgerald have long been perceived as the best players in the division. They've got additional competition, but those two ranked higher than anyone else in the NFC West.
There were sure to be oversights in a project of this scope. Defensive end
Calais Campbell
of the Cardinals stands out to me as the most glaring one. I might have placed him between Patrick Peterson and Chris Long in defensive rankings as they stood for this project.
Three Seahawks cornerbacks earned spots on the list even though one of them, Antoine Winfield,
reportedly could be released by the team
Saturday in the reduction to 53 players Saturday.
A quick look at ranked players by team:
San Francisco 49ers:
Patrick Willis (3), Aldon Smith (10), Justin Smith (11), Vernon Davis (18), NaVorro Bowman (18), Joe Staley (25), Mike Iupati (32), Frank Gore (37), Colin Kaepernick (42), Ahmad Brooks (56), Anthony Davis (60), Donte Whitner (64), Michael Crabtree (78), Anquan Boldin (83) and Jonathan Goodwin (92).
Seattle Seahawks:
Richard Sherman (8), Earl Thomas (17), Percy Harvin (26), Marshawn Lynch (27), Brandon Browner (46), Russell Wilson (47), Russell Okung (49), Kam Chancellor (49), Max Unger (57), Bobby Wagner (67), Winfield (70), Cliff Avril (74) and Chris Clemons (85).
St. Louis Rams:
Long (40), James Laurinaitis (57), Jake Long (61), Cortland Finnegan (63).
Arizona Cardinals:
Larry Fitzgerald (7), Patrick Peterson (19), Daryl Washington (59) and Darnell Dockett (79).
Fifteen