Seattle Seahawks:

Malcolm Smith
February, 22, 2014
Feb 22
8:00
AM ET
It produced the Rant Heard Round the World afterward, but it was also the play that sent the
Seattle Seahawks
to the Super Bowl.
No. 2 -- Richard Sherman and Malcolm Smith make the game-saving play in the NFC Championship.
[+] Enlarge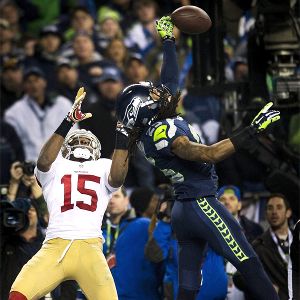 MCT via Getty ImagesThe Seahawks may not have even played in the Super Bowl if not for a game-saving play by Richard Sherman and Malcolm Smith on the 49ers' Michael Crabtree.
Trailing 23-17, the
San Francisco 49ers
had a first-and-10 at the Seattle 18 in the final seconds. Quarterback
Colin Kaepernick
tried to get the ball to
Michael Crabtree
in the back corner of the end zone, but Sherman leaped and tipped it into the hands of Smith for the interception.
Many people, however, will only remember what came a few moments later with Sherman's screaming rant against Crabtree on national TV, but it might have been the 49ers in the Super Bowl instead of the Seahawks if not for that play by Sherman and Smith.
That play was one of the few times Kaepernick challenged Sherman all game. It was a type of throw that rarely works against the All-Pro cornerback. But Smith didn't get enough credit for finishing the play, using his speed to race to the ball and make the interception.
Seahawks defensive coordinator Dan Quinn has a saying for his players: "Good things happen to those who run." It's certainly true for Smith, one of the league's fastest linebackers. He proved it in the Super Bowl with his 69-yard pick-6 that made him the MVP.
February, 3, 2014
Feb 3
1:35
AM ET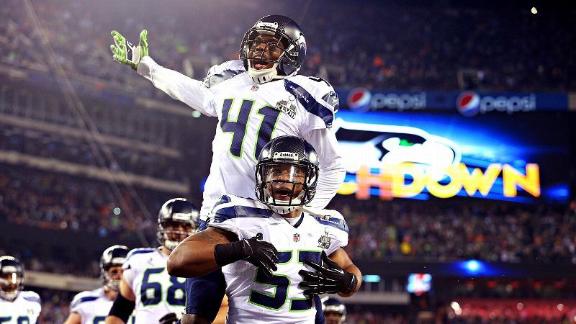 EAST RUTHERFORD, N.J. --
Peyton Manning
might be the best quarterback in NFL history, but Mr. Manning was no match for the
Seattle Seahawks
' defense in Super Bowl XLVIII.
He and his
Denver Broncos
were helpless, hopeless and hapless in a
43-8 loss
to Seattle, which turned in one of the greatest defensive performances in Super Bowl history against the greatest offense in NFL history.
Manning had the best season of any quarterback, and the Broncos offense scored a record 606 points.
No. 1 offense versus No. 1 defense. It's all everyone heard about going into this game.
No contest.
Manning and his Broncos were completely outmanned by a defense like no other. This was men against boys, Super Bowl style.
"Our defense is one of the best that has ever played," Seattle defensive lineman
Michael Bennett
said without hesitation. "We just have so many great players. I can't believe the NFL even lets us all play on the same defense. Guys like me, [free safety]
Earl Thomas
and [defensive end]
Cliff Avril
. It's just unfair."
It looked unfair to the Broncos, a team that had manhandled almost every defense it faced this season.
But then they met the Seahawks' defense and became unwatchable.
"Watching the film on them, we saw they hadn't played a defense like ours," middle linebacker
Bobby Wagner
said. "They hadn't played a defense that flies around like we do, that hits like we do and does it on every single play."
Seattle had two interceptions and two forced fumbles. The Seahawks shut out Manning and the Broncos in the first half before allowing one meaningless touchdown in the third quarter, long after the outcome had been decided.
Seahawks outside linebacker
Malcolm Smith
was the Super Bowl MVP, the first defensive player to win it since Tampa Bay's Dexter Jackson in 2003. Smith had a 69-yard pick-six, a fumble recovery and 10 tackles. And he spent most of the season as a backup.
"It's unbelievable," Smith said. "No way I thought this could happen, but it feels good. I just feel so fortunate to be a part of this defense.
"Peyton is a great quarterback, and they have a great offense, but we felt they hadn't seen a defense with the amount of speed we have."
If ever the MVP trophy should have gone to a group, this game was it. You could have picked a half-dozen guys on Seattle's defense, including strong safety
Kam Chancellor
-- who had 10 tackles and an interception -- and Wagner, who had 10 tackles.
Avril had two pass deflections, one of which led to Smith's pick-six. Defensive end
Chris Clemons
forced a fumble and had a deflection.
Officially, the Seahawks had only one sack, but they were in Manning's face most of the night.
"We knew if we got pressure on Manning, we could affect the outcome of the game," Avril said. "That's what we did tonight."
They did it without any tricks or surprises.
"We didn't change anything we do," Seattle defensive coordinator Dan Quinn said. "We let our guys play in the situations they are comfortable with. It wasn't about [Denver]. It was about us playing the way we play."
And that meant getting after Manning.
"I know our guys know how to rush," Quinn said. "But we didn't talk about sacks. We talked about moving Peyton off his spot. If we did that, we knew they would have to deal with us."
Manning has the ability to outsmart and out-think any defense. But Sunday, he looked like a confused kid against the neighborhood bullies.
Some people said this Super Bowl would determine his legacy. Hogwash. Manning's legacy is secure. But no man, not even Superman, could have gotten it done against the Seahawks' defense Sunday night.
Don't be misled by the statistics. Manning set a Super Bowl record for passes completed with 34 out of 49 throws. And receiver
Demaryius Thomas
had a record 13 receptions.
How utterly meaningless those numbers are. Most of those completions and catches came long after the outcome had been determined.
From the first play, it was a disaster for the Broncos. The opening snap sailed over Manning's head for a safety.
It only got worse.
The Seahawks' defensive line dominated the game -- ferocious, fierce and overwhelmingly physical. They smacked the Broncos in the mouth, and Denver's offense couldn't smack back.
"We know when we play up to our capabilities, no offense can beat us," Bennett said. "I think a lot of people who doubted us feel pretty stupid right now."
One historically great player was no match for a defense full of hungry, young players with a bad-boy image and a toughness that defined a championship season.
"I couldn't be more proud of these guys," Quinn said. "We played the game on our terms. We just talked about playing our style, which is fast and physical. It's an attitude."
It was an attitude that made history against a quarterback for the ages. In a season to cherish, Seattle's defense finished with a Super Bowl performance to remember.
February, 2, 2014
Feb 2
8:00
AM ET
NEW YORK -- The talk is over, and the day finally is here: Super Bowl Sunday.
Here are five things the
Seattle Seahawks
must do well to defeat the
Denver Broncos
at MetLife Stadium:
1. Pressure Peyton Manning
: It's a mammoth task against a quarterback who gets rid of the football so quickly, but it isn't so much about getting sacks as it is putting enough pressure on Manning to take him out of his comfort zone.
Everyone knows Manning is a classic pocket passer. He likes to step up in the pocket to make his throws. That will make it difficult for a talented edge-rusher like
Cliff Avril
to get to Manning.

Bryant
So the Seahawks have to get pressure up the middle with their defensive tackles --
Brandon Mebane
,
Clinton McDonald
and
Tony McDaniel
. Big
Red Bryant
will also get a push in the middle sometimes, and they might use some stunts with end
Michael Bennett
rushing up the middle when he lines up outside. Also, look for middle linebacker
Bobby Wagner
to blitz a couple of times.
"There's no certain way to get to Manning," Bennett said. "It comes down to doing what we do and beating your man."
2. Let the quiet Beast loudly rumble
: It's been a strange and somewhat stressful week for
Marshawn Lynch
, having to do media sessions on three consecutive days. Not his cup of tea, and a distraction the Seahawks could have lived without, but that is all behind them now.

Lynch
Lynch was successful on runs up the middle in the first two playoff games this season, but the Seahawks should try more off-tackle runs and toss sweeps against Denver. The Broncos have
Terrance Knighton
at nose tackle, a mountain of a man at 340 pounds. He's a run-stuffer.
When asked what his biggest concern was regarding the Denver defense, Lynch didn't hesitate. "Pot Roast," he said, which is Knighton's nickname. "He's a big boy."
The Seahawks might use a third tackle with
Alvin Bailey
, as they did against the
49ers
, to line up with tight end
Zach Miller
and use a muscle push to run Lynch off the edge of the line and hope he goes Beast Mode.
3. Keep the Broncos guessing with Harvin
: The Seahawks need to make the most of their X factor in receiver
Percy Harvin
. The Denver defense can't know exactly how to account for a guy who played only six quarters this season, but they know he's faster than a cheetah with its tail on fire.
Harvin
So make them worry about Harvin on almost every play by putting him in motion and lining him up in different spots. Get the ball to him early so Denver will know he's part of the plan. Someone for Denver will have to spy him, meaning someone else on the Seattle offense -- receivers
Golden Tate
or
Doug Baldwin
-- will get free.
"We're excited to have Percy back, because he brings more to the table," Tate said. "He's going to open it up for other guys more."
4. Punish the Broncos on crossing routes
: The Seattle defense can't allow Manning and his receivers to nickel-and-dime them to death with short passes over the middle and quick slants.

Chancellor
And if receiver
Wes Welker
wants to try a pick-play block, have strong safety
Kam Chancellor
waiting to greet him. Linebackers
Malcolm Smith
and
K.J. Wright
also have to get physical on these plays and let the Broncos know there is a price to pay every time they catch a pass in the middle of the field.
"We are a physical bunch," Chancellor said. "We like to be physical. We like to be hands-on. We like to make you feel our presence. That's how we operate."
5. Play with poise
: This is the most important point. Seattle is the more talented team overall, but the Seahawks must play smart and not get over-amped in the biggest game of their lives. Careless personal fouls and false starts can be the difference in the game, and too much emotion can cause a player to make a mistake he wouldn't normally make.
Sherman
The Seahawks did a great job of controlling their emotions in the NFC Championship Game against the hated 49ers. Well, until the end when cornerback
Richard Sherman
went on testosterone overload after the game-saving play. But the game was decided at that point, so have at it.
The same is true in the Super Bowl. Play your game and don't give the Broncos a freebie. Do what you did to get here.
"Respect the journey," said Seattle quarterback
Russell Wilson
. "But at the same time, enjoy the moment. Take it all in. It is real. Just be poised and respect the process. I'm going to play with a smile on my face and just go for it."
Good advice. If the Seahawks follow it, that should be enough.
January, 22, 2014
Jan 22
8:00
AM ET
RENTON, Wash. -- The Seahawks didn't take any time last week thinking about whom they might play in the Super Bowl. Taking on the rival 49ers was a big enough task. Super Bowl questions would have to wait.
Manning
But now that it's here, the Seahawks players say this is what they wanted all along, a showdown with possibly the best quarterback ever to play the game in Denver's
Peyton Manning
.
"We wouldn't have it any other way," Seattle cornerback
Richard Sherman
said. "They're an unbelievable, record-setting offense with a Hall of Fame quarterback. That's as good as it gets. And that's as tough a game as you can get in the Super Bowl.
"The No. 1 defense [Seattle] against the No. 1 offense [Denver]. It doesn't happen like this too often where both No. 1 seeds make it. It's a testament to the hard work on both teams. I'm sure it's going to be a fantastic game."
It may be the first snowy game in a Super Bowl. Temperatures in MetLife Stadium on Feb. 2 could be in the teens, and snow always is a possibility that time of year in New Jersey.
"We're ready for it," Seahawks defensive lineman
Michael Bennett
said. "Whatever happens, we don't care about the weather. We just want to go out there and win the game."
And winning against one of the all-time greats would add to the moment for many of the Seahawks.
"Going heads-up with Peyton Manning is special," Seattle linebacker
Malcolm Smith
said. "Just knowing all the things he's done for football, it's really an exciting opportunity."
Free safety
Earl Thomas
can't wait to test his skills against Manning.
"As a competitor, you always want to play the best," Thomas said. "We know what's at stake. We know a chance like this is rare."
January, 19, 2014
Jan 19
10:07
PM ET
SEATTLE -- A few thoughts on the
Seattle Seahawks
'
23-17 victory
over the
San Francisco 49ers
Sunday in the NFC Championship Game at Century Link Field:
What it means:
The Seahawks (15-3) reach the Super Bowl for the second time in franchise history and the first time since the 2005 season. Seattle will play the
Denver Broncos
in a matchup that many people expected before the season began.

Stock watch:
The championship game was everything it was hyped up to be, big plays on both sides. Huge momentum swings, vicious hitting and close all the way to the end. The Seahawks came back from a 10-0 deficit in the first half.
Sherman/Smith save the day:
The 49ers were driving for what could have been the winning touchdown in the final seconds when
Richard Sherman
batted away a pass in the end zone intended for
Michael Crabtree
that linebacker
Malcolm Smith
intercepted to seal the victory. Sherman ran to shake Crabtree's hand after the play and was whistled for taunting, not that it mattered.
Fourth-down glory:
The Seahawks went for it on fourth-and-7 at the 49ers' 35 in the fourth quarter,
Russell Wilson
made a perfect deep throw and
Jermaine Kearse
made a spectacular catch in the end zone to give Seattle a 20-17 lead.
Baldwin comes up big:
Seattle receiver
Doug Baldwin
had one of his best games of the season with six receptions for 106 yards. He also had a 69-yard kickoff return.
Lynch gets beastly:
After a slow start, Seattle running back
Marshawn Lynch
got it going in the second half, including a 40-yard TD run in the third quarter. He rushed for 109 yards on 22 carries.
What's next:
The Seahawks will practice in Seattle this week before heading to New Jersey/New York next weekend to begin the week of festivities leading up to the Super Bowl on Feb. 2 at MetLife Stadium.
January, 10, 2014
Jan 10
12:00
PM ET
SEATTLE -- Six weeks ago, the
New Orleans Saints
came to Seattle in a big Monday night showdown with the Seahawks to see which team would gain the upper hand in homefield advantage for the playoffs.
The Seahawks steamrolled past the Saints 34-7 that night. So here the Saints are again, back in Seattle with hopes of a different outcome in the playoffs.
ESPN.com Saints reporter Mike Triplett and Seahawks reporter Terry Blount take a detailed look at how these two teams match up for Saturday's NFC divisional round game at CenturyLink Field:
Blount:
Mike, the Saints took it on the chin at Seattle six weeks ago. How much of a motivational factor do you think that is this week for the team?
Triplett:
I'd say this game is about as big as it gets in the motivation department. That was really one of the two or three most humbling defeats in the Sean Payton-
Drew Brees
era. I might rank it No. 1 considering how high the expectations were going into that game. But more important than those emotions is the fact that this is the second round of the playoffs -- which is pretty good motivation for any team. The Saints haven't advanced past this point since their 2009 Super Bowl season. And a big win here would instantly erase all the little regrets from earlier this season.
I'll also say this: The Saints are a very confident bunch. I think they expected to get back in this situation at some point, and they relish the opportunity. They certainly respect the Seahawks, but I think they're fully expecting a much more competitive game. As am I.
On the flip side, Terry, do you see a repeat performance coming from the Seahawks? They were pretty lights-out that night, especially
Russell Wilson
.
Blount:
I certainly don't see a repeat performance if you mean a 27-point Seattle victory. It's hard to beat any team twice in the same season, much less two blowouts. But I do see Wilson having another strong performance. He's coming off a good game in the season finale against St. Louis and he typically plays at a much higher level at home. Obviously, having
Percy Harvin
on the field would help, but Wilson is battle-tested with two tough playoff games last year when he really showed a lot of people what he can do.
Mike, Wilson had one of his best games of the season against the Saints with three TD passes and 310 yards passing. He burned the Saints a couple times on their blitzes. Do you think they will have a different approach this time?
Triplett:
They'll definitely tweak the approach. But I think the execution is even more important. That night, it was pretty obvious that the Saints' top priority was containing
Marshawn Lynch
-- which they did a good job of. But they got burned too often by play-action fakes (big pass plays and big runs by Wilson). I've never seen them have so many undisciplined breakdowns, before or since. They've been much better playing in similar-style games against the
Carolina Panthers
and
Philadelphia Eagles
since. They were outstanding against both
LeSean McCoy
and
DeSean Jackson
last week.
The Saints defense is much better than what people saw that night -- though they did lose talented safety
Kenny Vaccaro
to a season-ending ankle injury since then, which hurts against both the pass and run.
A two-part question for you: When defenses have had success against Seattle's offense this year, what have they done to cause problems? And how much do you think the Saints will have to worry about Harvin in this game?
Blount:
In the late-season losses to the 49ers and the Cardinals, both teams did a great job of keeping Wilson in the pocket. If Wilson was going to run, they wanted to make him run up the middle, and it worked. They didn't blitz a lot, but they made sure to cut off Wilson's outside angles. Both teams also stacked the box and did a good job of stopping Lynch and limited the running game.
If Harvin is on the field, that changes a lot of things. Seattle free safety
Earl Thomas
told me last week that if he had to play against Harvin, he would need to account for him on every play because of Harvin's exceptional speed. So if Harvin's out there, even if he isn't 100 percent healthy, he changes the way a defense plays. You have to pick your poison. Load the box to stop Lynch and you risk Harvin beating someone one-on-one. Pay more attention to Harvin and Lynch might break a big run. Either way, it makes things better for Wilson.
Mike, I thought a big factor in the victory at Philadelphia was New Orleans' success at running the ball with
Mark Ingram
. How confident are you they can repeat that performance against the Seahawks?
Triplett:
The Saints are still a pass-first, pass-often team. But I think they've been even better this year than usual at staying patient and "taking what the defense gives them." Last week, the Eagles were practically begging the Saints to run the ball, so they did. They'll still take their shots down the field, but they're smart enough to attack the matchups they find most favorable in any given game. It's also a pick-your-poison offense with so many versatile weapons like
Jimmy Graham
,
Darren Sproles
,
Marques Colston
,
Lance Moore
,
Kenny Stills
and a deep group of running backs.
Graham, however, said Seattle's defense causes a lot of problems because the defensive backs and linebackers are all so fast (not to mention physical). Are there any weaknesses the Saints might be able to exploit?
Blount:
Honestly Mike, I just don't see it. The front seven held the Rams to 13 yards rushing in the season finale. The secondary is the best I've seen in 30 years. However, one man who had a big impact in the Monday night game six weeks ago was linebacker
K.J. Wright
, who did a superb job covering Saints tight Graham.
Wright is out for this game after undergoing foot surgery.
Malcolm Smith
has played lights out in his place, but Smith is only 6 feet tall. I can't see him covering the 6-7 Graham the way Wright (a lanky 6-4) was able to do. Strong safety
Kam Chancellor
likely will get those duties, but Graham might make some big plays he didn't make in the first meeting.
October, 9, 2013
10/09/13
7:25
PM ET
RENTON, Wash. --
Seattle Seahawks
middle linebacker
Bobby Wagner
was walking on crutches Wednesday and wearing a protective boot over his sprained left ankle.
"Bobby will see if he can make it back by game day," Seahawks coach Pete Carroll said Wednesday. "But it will go all the way to Sunday."
If Wagner doesn't play,
K.J. Wright
will move from his outside linebacker spot to Wagner's middle linebacker spot.
Malcolm Smith
and
Bruce Irvin
would start at the outside spots.
Carroll is confident that Pro Bowl center
Max Unger
will return this weekend after missing the last two games with a triceps injury. Unger was a full participant at practice Wednesday,
"We're counting on him coming back this week," Carroll said. "We're really hoping Max will secure the calls."
The Seahawks were missing four starters up front in the 34-28 loss to Indianapolisn on Sunday: Unger, tackles
Russell Okung
and
Breno Giacomini
and tight end
Zach Miller
.
Okung and Giacomini still are out, and Miller (strained hamstring) will be a game-day decision, Carroll said. But Carroll believes Unger's return is a big key to the backup players performing at a higher level.
"Max is one if your team leaders," Carroll said. "He is the guy who has the greatest command of what we're doing up front. He will help other guys play well and make the right choices. And he'll help the quarterback [
Russell Wilson
], too, in identification.
"We missed that the last couple of weeks and it's made a difference in our pass protection. There are some spacing issues that we don't want. Max can get everybody on the right guys. The biggest issue has been the inconsistency on communication. We've had to suffer through that and it's why Russell has had to run more."
Carroll also was asked how wide receiver
Percy Harvin
looks since returning to the Seahawks facility after rehabbing in New York following his hip surgery Aug. 1.
"Percy has been working hard," Carroll said. "He's excited and he's running and we're hoping there are no setbacks along the way. We'll keep progressing with it."
Harvin is eligible to come off the physically-unable-to-perform list for the game against the
Arizona Cardinals
next week, but Carroll does not see that happening.
"I don't think that is realistic," Carroll said. "I think that's too soon, but it'll happen when he's ready to go and we get a chance to prepare him so he's physically capable of being safe.
"He's a full-on, full-speed football player. He's got to be ready to go. When he comes back, we want him to be able to endure the rigors of the end of the season. It's not important to rush him back. It's important to wait it out and be patient and get him out there when he's ready to go and withstand the load of the game."
Defensive tackle
Michael Bennett
(quad) and cornerback
Walter Thurmond
(knee) did not practice Wednesday. Running back
Marshawn Lynch
also did not practice, but he is not injured.
Carroll also said that cornerback
Jeremy Lane
(hamstring) and running back
Spencer Ware
(ankle) will be game-day decisions this week.
September, 25, 2013
9/25/13
7:36
PM ET
RENTON, Wash. -- The
Seattle Seahawks
may be without both starting offensive tackles this weekend, a scary thought going against star defensive linemen
J.J. Watt
and the
Houston Texans'
defense.
Right tackle
Breno Giacomini
did not practice Wednesday because of a knee problem. His status for Sunday's game at Houston is unknown.
"His knee is sore," Seahawks coach Pete Carroll said Wednesday of Giacomini. "We have some more information to get to see where he is. He got nicked a little bit in the [Jacksonville] game."
Pro Bowl left tackle
Russell Okung
is out for at least eight weeks with a torn ligament in a big toe.
Paul McQuistan
moved from guard to Okung's tackle spot.
[+] Enlarge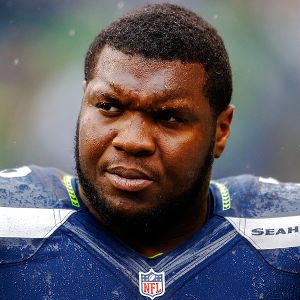 Otto Greule Jr/Getty ImagesRookie tackle Alvin Bailey saw action in Week 3, and could see even more this Sunday for Seattle.
If Giacomini doesn't play, the Seahawks probably will start a rookie at right tackle -- either
Michael Bowie
or
Alvin Bailey
. Bowie (6-foot-4, 330 and a seventh-round draft choice from Northeastern State in Oklahoma) likely would be the starter.
Both Bowie and Bailey (6-foot-3, 320 and undrafted out of Arkansas) played extensively in the second half last weekend after the Seahawks built a big lead against Jacksonville.
"They've made great progress," Carroll said of his rookie tackles. "I went back [Tuesday] night and watched the [Jacksonville] game over again just to watch those guys and see how they're doing. They came off the ball really well and did fine in pass protection. They did a very nice job and they're coming along quickly."
Seahawks offensive line coach Tom Cable also was pleased with what he saw from his young tackles in the Jacksonville game.
"I saw some really cool stuff," Cable said. "I'm really excited about their future. I thought both those kids went in there and knocked people off the ball.
"It was a huge moment of growth for them to know they're OK and can handle an NFL game. It's like gold. If they have to do it, they'll be comfortable to do what they're capable of doing."
But can either handle Watt?
"We don't really focus on him," Cable said. "We focus on doing things right."
The backup tackles will need to do a lot of things right to stop Watt and the attacking Houston defense, which ranks No. 2 in the NFL behind the Seahawks.
"They will pressure us more than any team we play this season," Carroll said of the Texans defense.
Carroll also was asked how he felt McQuistan was doing in Okung's spot.
"Paul survived the first game [when Okung got hurt against the
San Francisco 49ers
] and played better in the second game," Carroll said. "He was sharper on stuff and the communication was better. But that's a big jump for Paul. He has played tackle in his history, but to play up to Russell Okung's level is a lot to ask. He's performed well so far."
Seattle made a roster move Wednesday to add veteran offensive linemen in
Jason Spitz
, who was released by Jacksonville in August. Spitz, (6-foot-3, 300) played five seasons at Green Bay before spending the past two years with the Jaguars, but he was on injured reserve all last season.
Even if Seattle had both its starting tackles, it would be a big task to stop Watt, the NFL defensive player of the year last season with 20.5 sacks.
"He's a fantastic talent," Carroll said of Watt. "I don't think anybody knew he would be this dominant, and I've heard Houston say they didn't know that either. But he's an extraordinary player. He's faster than more guys his size, running a 4.6. That's one thing that separates him. And the guys Houston has around him makes him even better."
One of those guys is inside linebacker
Brian Cushing
, a player Carroll knows well. Cushing played for Carroll at USC.
"Cush was an outside guy for us," Carroll said. "He's one of the best guys we ever recruited as far as all-around ability. He's a great, great player. It's not a surprise to me that he ended up playing inside. He's so instinctive and aggressive and wants to come at you. He lines up right behind Watt, so he's a big issue for us, also."
Injury updates:
Defensive tackle
Red Bryant
(back spasms) did not practice Wednesday, but Carroll expects him back on the field Thursday.
Wide receiver
Jermaine Kearse
(sprained ankle) did not practice, but Carroll is hopeful he can play at Houston.
"He's going to try to go tomorrow," Carroll said of Kearse. "He's making a very quick recovery. We have our fingers crossed that he has a chance to play."
Carroll said rookie fullback
Spencer Ware
is still out with a high-ankle sprain.
Outside linebacker
Malcolm Smith
returned to practice after being inactive against Jacksonville with a hamstring issue. Rookie defensive tackle
Jordan Hill
returned to practice on a limited basis.
September, 23, 2013
9/23/13
2:00
PM ET
An examination of four hot issues from the
Seattle Seahawks
'
45-17 victory
over the
Jacksonville Jaguars
:
[+] Enlarge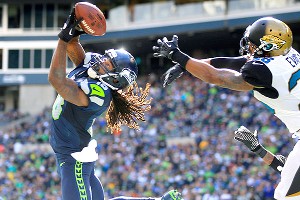 AP Photo/Stephen BrashearSidney Rice pulled in two touchdown passes in a 45-17 rout of the Jaguars.
A cleaner and better offense:
The Seahawks offense accomplished two big goals Sunday of cutting down on senseless penalties and getting off to a better start, especially in the passing game, than in the first two games. Seattle had only three offensive penalties for 20 yards.
Russell Wilson
threw four touchdown passes, including three in the first half, and
Tarvaris Jackson
also had a touchdown throw.
Was Pro Bowl tackle Russell Okung missed?:
Well, not much when you play a team as weak as the Jaguars, but the real question is whether it will hurt the Seahawks in coming weeks against better opponents. First up are the
Houston Texans
and monster defensive lineman
J.J. Watt
.
Paul McQuistan
had some good moments and some bad moments Sunday in Okung's left tackle spot. "He did alright and hung in there pretty nice," Seahawks coach Pete Carroll said of McQuistan. Carroll was happy rookie tackles
Michael Bowie
and
Alvin Bailey
got to play in the lopsided game. "To have a chance to get them in the game was awesome," Carroll said. "They got significant playing time."
An abundance of riches on the defensive line:
With the return of defensive end
Chris Clemons
, who looked good in pressuring the quarterback on passing downs, the Seahawks have a scary bunch up front. The coaches had a goal in the offseason to shore up the pass rush with free-agent acquisitions, and it worked. Defensive end
Michael Bennett
has been sensational. He had 1.5 sacks Sunday and a tackle for loss.
O'Brien Schofield
has been a solid contributor, starting at linebacker Sunday for injured
Malcolm Smith
. And defensive end
Cliff Avril
is another pass-rush specialist who adds to the attacking defense. Defensive end/linebacker
Bruce Irvin
will add to the depth in two weeks when he returns from suspension.
Staying focused:
The Seahawks pounced on the Jaguars from the outset, not allowing for any type of letdown or lack of effort against a lesser opponent. Seattle led 31-0 before Jacksonville scored. The Jaguars had only 20 yards rushing in the first half and only 44 yards passing. Seahawks running back
Marshawn Lynch
had 55 yards rushing in the first quarter on nine carries. Seattle came out smoking and had the game won by halftime, when they were up 24-0. The final score is misleading because the Seahawks were playing mostly reserves in the second half, and all of Jacksonville points came in garbage time long after the outcome was decided.