Seattle Seahawks:

O'Brien Schofield
May, 2, 2014
May 2
7:15
PM ET
The Seahawks made several coaching changes Friday, along with re-signing linebacker O'Brien Schofield and signing free-agent cornerback
A.J. Jefferson
.
The coaching changes include Will Harriger being named offensive assistant, Chris Morgan assistant offensive line coach and
Chad Morton
assistant special teams coach.
Nate Carroll, the youngest son of head coach Pete Carroll, now assumes the role of assistant wide receivers coach after working last season as an offensive assistant. John Glenn takes over as the quality control/defense coach. Glenn was a coaching assistant for special team the last two years.
Harriger has coached at six universities, including the last two years at Florida. He worked with Seahawks defensive coordinator Dan Quinn when Quinn was the defensive coordinator at Florida in 2011-12.
Morgan was with the
Washington Redskins
the last three years, also has an assistant offensive line coach. He previously worked with Seattle offensive line coach Tom Cable when Cable was the Raiders' head coach.
Morton, who played seven NFL seasons as a running back/kick returner, spent the last five seasons with the
Green Bay Packers
as assistant special teams coach.
The Seahawks also officially announced they have re-signed Schofield,
who tweeted the news earlier in the day
.
Jefferson, who played at Fresno State, was originally signed by the
Arizona Cardinals
as a rookie free agent in 2010. He spent two seasons with Arizona, playing in 18 games with seven starts. He was traded to the
Minnesota Vikings
on Sept. 1, 2012. He played in 25 games with seven starts for the Vikings before being was released last November.
Jefferson has 103 tackles, two interceptions, 19 passes defensed and two fumble recoveries in his career.
May, 2, 2014
May 2
3:45
PM ET
Linebacker/defensive end
O'Brien Schofield
sent out a tweet Friday that seems to indicate he has re-signed with the Seahawks.
Hey 12th man, I'm coming back home one more year. #blessed #backtowork #seahawks #12thMan

— O'Brien Schofield (@Ob_Scho) May 2, 2014
Schofield was a free agent at the end of the season and signed a two-year, $8 million deal with the
New York Giants
in March. But that contract was voided when he failed a physical because of a previous knee injury.
Schofield, 27, spent three seasons with the
Arizona Cardinals
before he was claimed off waivers by the Seahawks last summer. He played in all 16 regular-season games and two of the three playoff games, including the Super Bowl.
March, 14, 2014
Mar 14
8:05
PM ET
Few people expected him to return to the Seahawks, but now it's official.
Brandon Browner
signed a three-year deal Friday with the
New England Patriots
worth $17 million.
Browner
The Patriots now have signed two big-name cornerbacks for big dollars. They signed
Darrelle Revis
on Thursday to a deal worth $12 million for the 2014 season.
And obviously, the fact that Browner has to serve a suspension of four more games at the start of the 2014 season was not a deterrent for New England. Browner also will have to forfeit four additional weeks of salary as part of his suspension for his 2013 substance-abuse violation over a positive test for marijuana.
Browner tweeted this statement Friday evening:
"Today, I am proud to announce that I am a New England Patriot. I am honored that the Patriots are making me part of their legendary organization, and am
grateful for the opportunity Mr. Kraft, Coach Belichick, Nick Caserio and the entire team have given me.
"I intend to diligently work with the same passion and dedication that I have displayed since coming into the NFL to uphold the great traditions and qualities that are embodied by the Patriots."
Browner also thanked the Seahawks organization:
"I would be remiss if I didn't thank the
Seattle Seahawks
for giving a CFL player the once in-a-lifetime opportunity to return to the NFL, making a
young boy's dream come true.
"To Coach Pete Carroll, GM John Schneider, [former Seahawks vice president, now Jets GM] John Idzik, [defensive backs] Coach [Kris] Richard, [defensive passing game coordinator] Rocky Seto, the LOB, [Legion of Boom], my teammates, the training staff, the equipment guys the Seahawks organization as a whole and most importantly the 12th Man, I say thank you for everything you have done for myself and my family. I am a truly blessed person."
Browner, who made the Pro Bowl in 2011, missed the final six regular season games of 2013, along with the playoffs, because of a groin injury, and subsequently, the suspension.
He becomes the sixth free agent the Seahawks have lost this week. The others are wide receiver
Golden Tate
, offensive tackle
Breno Giacomini
, safety
Chris Maragos
, defensive tackle
Clinton McDonald
and defensive end
O'Brien Schofield
(although his deal with the
New York Giants
was canceled because of a knee problem).
The Seahawks met Friday with former Bears defensive tackle
Henry Melton
. Former Raiders defensive tackle
Vance Walker
was scheduled to meet with the Seahawks, but he signed Friday with Kansas City.
It's still possible the Seahawks will sign former Green Bay tight end
Jermichael Finley
, who met with team officials earlier this week.
December, 21, 2013
12/21/13
8:00
AM ET
RENTON, Wash. -- The
Seattle Seahawks
were quite a talkative group this week, so here are a few interesting quotes that stood out:
Defensive linemen
Michael Bennett
, who has 7.5 sacks this season and 22 quarterback hurries, was asked the difference in playing for the Seahawks and playing for his previous NFL team at Tampa Bay:
Bennett
"At Tampa you just had one position and kind of stayed there," Bennett said. "Here, everybody [on the defensive line] has to be able to play multiple positions. I think that's one of the strengths of our defense. You can't know where one player is. We move around and make plays."
Bennett on the Seahawks' chances of clinching the NFC West title and home-field advantage in the playoffs with a victory Sunday against Arizona:
"We don't want to put too much emphasis on it," Bennett said "When you do that, guys get afraid to make mistakes and get too uptight. They don't play the way they are capable of playing."
Cornerback
Byron Maxwell
, on playing so well he will cause the coaches to make a tough decision next week on who starts when
Walter Thurmond
returns from his four-game suspension.
"That's a good thing, I guess," Maxwell said. "The end goal is getting to the Super Bowl, so it's all about what's best for the team. It's a blessing we have all these guys [in the secondary]. We're getting each other better."
Maxwell also was asked when was the last time he had two interceptions in a game, which he did against the Giants last weekend:
"High school," he said.
Sherman
Cornerback
Richard Sherman
on who should be the NFL defensive player of the year between him and Seattle free safety
Earl Thomas
:
"I would have to give it to Earl," Sherman said. "I think if there is anywhere that the defensive player of year should be, it should be in Seattle, whether it's myself or Earl."
Outside linebacker O'Brien Schofield on whether the NFL should expand the playoffs:
"I think they should keep it just like it is," he said. "We don't have a seven-game series like baseball or basketball. You show up and get it done or you don't. If they added [playoff] teams, I think the competition goes down. I think the way the system is now is what makes the NFL what it is. You've got to be in the right position to get in the playoffs, and that makes any division race tough."
Quarterback
Russell Wilson
on how important consistency is to his progress:
"Well, that was my number one goal, to be honest with you," he said. "My number one goal coming into the season was being consistent, so that's kind of my approach to the game, to practice, to just each day. I think that's been a good thing so far.
"I want to keep growing. There's so many more things that I can do better, and so many things I can learn. That's the exciting part about being a quarterback in the National Football League. You never really know it all."
September, 27, 2013
9/27/13
12:00
PM ET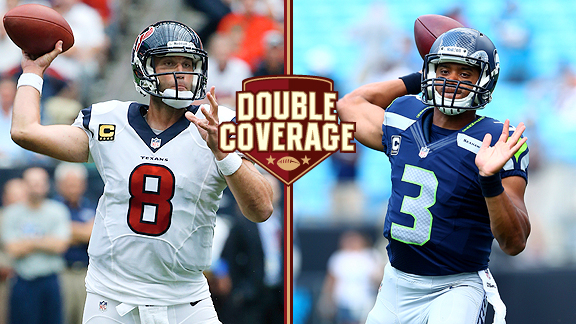 Getty ImagesMatt Schaub and Russell Wilson have combined to throw 12 touchdowns through Week 3.
When they saw each other at the Pro Bowl earlier this year,
Houston Texans
defensive end
J.J. Watt
told
Seattle Seahawks
quarterback
Russell Wilson
that if Watt had just stayed another year at Wisconsin, they might have won a national championship together.
"I wish I knew he was coming," said Watt on Wednesday, who left Wisconsin after his junior year, just as Wilson arrived.
Sunday at Reliant Stadium, they might see a lot of each other. The matchup between the Texans and Seahawks will pit the league's two best defenses against each other. But Wilson won't be easy to contain for a Texans' defense that gave up only 236 yards in last week's loss to the
Baltimore Ravens
. The Seahawks, meanwhile, are coming off such a dominating win over the
Jacksonville Jaguars
that Wilson didn't need to finish the game.
Texans reporter Tania Ganguli and Seahawks reporter Terry Blount take a look at the matchup.
Ganguli:
So Terry, what makes Seahawks cornerback
Richard Sherman
special?
Blount:
Preparation, enormous athleticism and confidence are what makes him special. I know many people outside of Seattle just see Sherman as a arrogant guy with a big mouth. That's a big mistake. Sherman is an extremely hard worker who spends hours studying film of every receiver he faces. Consequently, he rarely gets fooled on a play, and the few times when he does, he has the athletic ability to react quickly, overcome it and get back to the ball.
Tania, how do you think
Andre Johnson
will do against the talented Seattle secondary, and especially a head-to-head matchup with Sherman?
Ganguli:
The Texans are considering Johnson day-to-day right now. He didn't look right when he tried to play Sunday after suffering a shin bruise in Baltimore and ultimately recognized that it was better for him to leave and heal than play hindered by the injury. If they don't have him, the Texans will look to rookie receiver
DeAndre Hopkins
, a budding star who has shown talent from the moment he arrived in Houston, but also improved steadily as a rookie.
And speaking of young players, how has quarterback Wilson changed in his second year?
Blount:
Wilson is willing to take a lot more chances on difficult throws now because he understands what his receivers are going to do and where they will be. In the Jacksonville game, he made what appeared to be a dangerous throw in the middle of the end zone when
Sidney Rice
had three defenders near him. But Rice had signaled Wilson to toss it up high and Rice would get it, which he did. Wilson knows the offense now and has complete confidence to make plays at clutch moments, and his teammates believe in him.
Wilson is at his best when he scrambles and improvises, often resulting in big plays downfield. Can the Texans defense contain him?
Ganguli:
The most mobile quarterback they faced so far this season was Titans quarterback
Jake Locker
, who threw two touchdown passes but had a QBR of 44.3 against the Texans. They haven't faced a quarterback who is such an accurate passer while having the ability to use his legs and improvise. Wilson's numbers have been among the best in the league this season. That will be a challenge for a defense that wants to be the best in the league.
You wrote that the loss of left tackle
Russell Okung
didn't hurt much against the Jaguars, but how do you see it impacting the Seahawks going forward?
Blount:
Tania, this has to be Seattle's biggest concern entering the Texans game. The Seahawks may be the deepest team in the league, but the offensive line, and particular the tackle spots, is a thin area. They are no match for
J.J. Watt
.
Paul McQuistan
moved from guard to left tackle to replace Okung, but the team is weaker without Okung on the field. Right tackle
Breno Giacomini
probably won't play because of a knee injury. That means rookie
Michael Bowie
, a seventh-round draft choice, will have to go head-to-head with Watt. Bailey is talented, but he has a lot to learn. Throwing him out there this week against Watt is truly scary for the Seahawks.
I know the Seahawks have major concerns about trying to stop Watt and keeping him off Wilson. Do you see Watt having a big game Sunday?
Ganguli:
Watt has a keen ability to exploit weaknesses in inexperienced players. And if he doesn't know it right from the start, he figures it out eventually. He's a player with work ethic to match his talent, which isn't always the case with athletes of his caliber. Watt has been the third most effective player at disrupting opponents' passes since he entered the NFL. He ranks behind San Francisco's
Aldon Smith
and Minnesota's
Jared Allen
. Watt has played very well this season and he's determined to have a better year than he did last year when he led the league with 20.5 sacks and 16 batted passes.
The Seahawks secondary gets the most attention, but how has their defensive front played and what are their strengths and weaknesses?
Blount:
This was an area of needed improvement at the end of last season, so the staff made a major effort to bring in veterans who could help with the pass rush. It worked. Defensive linemen
Michael Bennett
, a free agent Seattle signed after he spent four years in Tampa Bay, has been a force up front.
Cliff Avril
, the biggest offseason acquisition, was hurt all preseason, but is back now and just starting to contribute. Defensive end
Chris Clemons
, the team's top pass-rusher last season, returned last week after offseason ACL surgery. And
O'Brien Schofield
, who was released at Arizona, has been strong at linebacker and defensive end. This is a much stronger, deeper and quicker group than it was a year ago, and it still doesn't have
Bruce Irvin
. He returns next week after a four-game suspension for PEDs.
Tania, these teams have two of the best running backs in the NFL in
Arian Foster
in Houston and
Marshawn Lynch
at Seattle. Which running back do you think will have the upper hand on Sunday?
Ganguli:
The running back situation has been interesting in Houston this season. The Texans eased Foster into the season after he missed the entire preseason and in the meantime backup
Ben Tate
has played very well. Tate is in a contract year and if he keeps up the way he's started, he'll be making some money after the season. His yards per carry have been strong and even better have been his yards after contact, 4.5 yards, the best in the NFL. If we're talking fantasy numbers, Lynch will definitely have the upper hand on Sunday. Foster will be sharing his load with Tate.
Last question from me: What is one name Texans fans might not know that they will after Sunday's game?
Blount:
Great question. I'll pick a couple. First might be middle linebacker
Bobby Wagner
, a second-year player who is growing into one of the best linebackers in the league. Another is slot receiver
Doug Baldwin
, an exceptional possession-type receiver who has a knack for making the big catch on third down.
And finally, everyone talks about how the Seahawks have the best home-field advantage in the NFL, but I'm a Houston native who has seen some pretty rabid fans down there, as well. How much of a factor can the crowd be Sunday at Reliant Stadium?
Ganguli:
They are a rabid bunch and have the added benefit of a perpetually closed roof that keeps their rabidity trapped like a greenhouse gas. They've been frustrated recently, but if their team plays well on Sunday, it will be loud.
.
September, 23, 2013
9/23/13
2:00
PM ET
An examination of four hot issues from the
Seattle Seahawks
'
45-17 victory
over the
Jacksonville Jaguars
:
[+] Enlarge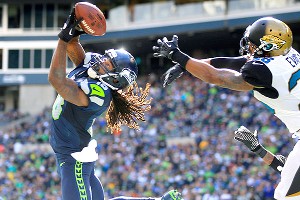 AP Photo/Stephen BrashearSidney Rice pulled in two touchdown passes in a 45-17 rout of the Jaguars.
A cleaner and better offense:
The Seahawks offense accomplished two big goals Sunday of cutting down on senseless penalties and getting off to a better start, especially in the passing game, than in the first two games. Seattle had only three offensive penalties for 20 yards.
Russell Wilson
threw four touchdown passes, including three in the first half, and
Tarvaris Jackson
also had a touchdown throw.
Was Pro Bowl tackle Russell Okung missed?:
Well, not much when you play a team as weak as the Jaguars, but the real question is whether it will hurt the Seahawks in coming weeks against better opponents. First up are the
Houston Texans
and monster defensive lineman
J.J. Watt
.
Paul McQuistan
had some good moments and some bad moments Sunday in Okung's left tackle spot. "He did alright and hung in there pretty nice," Seahawks coach Pete Carroll said of McQuistan. Carroll was happy rookie tackles
Michael Bowie
and
Alvin Bailey
got to play in the lopsided game. "To have a chance to get them in the game was awesome," Carroll said. "They got significant playing time."
An abundance of riches on the defensive line:
With the return of defensive end
Chris Clemons
, who looked good in pressuring the quarterback on passing downs, the Seahawks have a scary bunch up front. The coaches had a goal in the offseason to shore up the pass rush with free-agent acquisitions, and it worked. Defensive end
Michael Bennett
has been sensational. He had 1.5 sacks Sunday and a tackle for loss.
O'Brien Schofield
has been a solid contributor, starting at linebacker Sunday for injured
Malcolm Smith
. And defensive end
Cliff Avril
is another pass-rush specialist who adds to the attacking defense. Defensive end/linebacker
Bruce Irvin
will add to the depth in two weeks when he returns from suspension.
Staying focused:
The Seahawks pounced on the Jaguars from the outset, not allowing for any type of letdown or lack of effort against a lesser opponent. Seattle led 31-0 before Jacksonville scored. The Jaguars had only 20 yards rushing in the first half and only 44 yards passing. Seahawks running back
Marshawn Lynch
had 55 yards rushing in the first quarter on nine carries. Seattle came out smoking and had the game won by halftime, when they were up 24-0. The final score is misleading because the Seahawks were playing mostly reserves in the second half, and all of Jacksonville points came in garbage time long after the outcome was decided.
September, 11, 2013
9/11/13
9:30
PM ET
RENTON, Wash. --
Seattle Seahawks
cornerback
Brandon Browner
, who has a hamstring injury and didn't play in the season opener, did not practice Wednesday. But coach Pete Carroll is hopeful Browner can play Sunday night against the
San Francisco 49ers
in the Seahawks' home opener.
Avril
Browner
"He is going to run today and he's going to practice [Thursday]," Carroll said. "He's been running all week. It looks like he's got a good chance to make it back. We will try to do it right and not push it too soon. But tomorrow will be a big day for us to understand [if Browner is ready], and we will go all the way to Friday to see how he responds. So we won't know for a while."
Defensive end
Cliff Avril
, who also missed the season opener with a hamstring injury, practiced on a limited basis Wednesday. Carroll also is optimistic about Avril's chances of playing Sunday.
"Cliff is good possibility if he makes it through the week," Carroll said. "He practiced well enough last week. He was very close to playing [at Carolina]. We are planning on him being part of it this week unless he has some kind of setback we can't foresee. So that would be a nice little boost to get him back in the game.
"But I thought O.B. [O'Brien] Schofield did a very good job playing the Leo [defensive end] spot for us. He rushed well, had a nice sack and a couple of good pursuit plays. He really did a good job starting for us for the first time."
Defensive end
Chris Clemons
, the team's leading pass-rusher last season who is recovering from offseason ACL surgery, returned to practice on a limited basis Wednesday.
"He's still working his way into that position right now,' Carroll said before Wednesday's session. "He's going to practice today and it's the first time that he'll go and get live snaps."
Brandon Mebane
was a bit of a surprise on the injury list Wednesday with an ankle problem. He did not participate in practice.
Wide receiver
Sidney Rice
(knee) was limited in practice, but he is expected to play Sunday. Rookie tight end
Luke Willson
, who is listed with an oblique injury, was a full participant in practice, but the Seahawks signed veteran tight end
Kellen Davis
Wednesday as a third tight end if needed.
September, 5, 2013
9/05/13
4:21
PM ET
RENTON, Wash. -- The
Seattle Seahawks
defense knows how dangerous
Carolina Panthers
quarterback
Cam Newton
is when he runs with the football. So what's the plan?
Newton
"We can't let Cam run on us," Seahawks middle linebacker
Bobby Wagner
said. "We want to make him try to beat us throwing, which I don't think he can do."
Wagner has great respect for Newton's athletic ability, but he feels the Seahawks have to focus on taking something away from him.
"We want to force him to make tough decisions," Wagner said. "In the read-option, you have to be disciplined. If one person doesn't have their man, you could see Cam run for 80 yards.
"Everything is not going to happen the way it's supposed to for us. Somebody is going to have to step up and make a play."
Newton completed only 12 of 29 passes for 141 yards in Seattle's 16-12 victory in Charlotte last October.
"The most important thing we did [in the Carolina game last year] was get after the quarterback," safety
Earl Thomas
said. "We got under his skin a little bit.
"Basically, just keep getting hits [on Newton]. With a quarterback like that, you try to move him off his spot. It makes it hard for him. It's delaying his decisions. That's what you're talking about when you play Cam Newton. You have to pressure him."
Defensive end
O'Brien Schofield
, who probably will start Sunday because of
Cliff Avril
's hamstring injury, said the defense has to be ready for Newton's speed.
"He definitely has a motor," Schofield said. "So if he gets by your first pass-rushing move, you have to be able to chase him down when he gets outside of the pocket."
August, 29, 2013
8/29/13
8:00
AM ET
SEATTLE -- With one last warm-up before the regular season, here are four things to watch -- and one you won't get to watch -- Thursday night in the
Seattle Seahawks
game against Oakland.

The Seahawks pass rush:
Hopefully, there is one to watch. Oakland has one of the worst offensive lines in the NFL. If Seattle can't get to the quarterback in this game, it's time to worry. And they'll have to do with backups. Defensive ends
Chris Clemons
and
Cliff Avril
won't play. Neither will defensive tackles
Brandon Mebane
,
Tony McDaniel
and
Michael Bennett
.
Clemons and Avril probably won't play next weekend in the season opener at Carolina. So it is increasingly important to watch
Benson Mayowa
and
O'Brien Schofield
to see if they can continue to shine as pass-rushers.
Ty Powell
, a hybrid linebacker/defensive end, also will see some time as a down rusher.
Penalty flags:
Just keeping the yellow flags under double figures and less than 100 yards would look decent at this point. The Seahawks haf 14 penalties for 182 yards last week in the 17-10 victory at Green Bay. Seattle has 354 yards on 34 penalties in the three preseason games.
"We just want to be really disciplined with our offense and make sure we're not getting any penalties,'' quarterback
Russell Wilson
said Tuesday. "That's our No. 1 focus."
Coach Pete Carroll has harped on this for the past two weeks.
"We have to show progress before we head into the opener in terms of getting out of our own way," Carroll said. "We have to comply and we're a little out of compliance. The guys know. They don't want to play like that. They just have to make better decisions."
Pass blocking:
The Seahawks offensive line struggled to stop the blitzing Packers last week. That has to improve, along with cutting down on holding calls and false starts.
James Carpenter
finally will get back on the field at guard, which could help. This is a good line overall, especially in run blocking. But a better showing on pass plays needs to happen tonight.
Bubble boys:
No team in the NFL has tougher roster cuts to make than the Seahawks. The depth on this team is extraordinary and the coaches have difficult decisions to make after this game.
Some players need to shine to earn a spot. Receiver
Stephen Williams
probably already has done so, but one more good game wouldn't hurt. Rookie receiver
Chris Harper
needs to step up. Will the Seahawks keep three fullbacks --
Michael Robinson
(who won't play tonight) rookie
Spencer Ware
and
Derrick Coleman
?
The toughest cuts will come in the secondary, where some of the backups could start for many NFL teams. Cornerback
Ron Parker
needs a good game. So does
Winston Guy
and
DeShawn Shead
. The coaches really like rookie linebacker
John Lotulelei
, but is there room for him?
No Matt Flynn:
Some Seattle fans probably were looking forward to seeing quarterback Matt Flynn play against his former Seahawks teammates, but Flynn will watch from the sideline because of a sore arm.
He's probably got a few other sore places considering he's been sacked seven times in the preseason. Flynn hasn't played well, so it's possible he could lose out on the starting-job competition for the second consecutive year.
Terrelle Pryor
will start against Seattle. He's much better at running and avoiding the rush than Flynn, which is important with the Raiders porous offensive line.
August, 28, 2013
8/28/13
4:35
PM ET
Eleven days before the season opener, injuries are starting to become a concern for the
Seattle Seahawks
.

Chris Clemons
and
Cliff Avril
, the projected starters at the defensive end spots, probably won't be ready for the opener at Carolina on Sept. 8. Starting fullback
Michael Robinson
, recovering from a virus, also may not play in the opener.
The Seahawks already know defensive end/linebacker
Bruce Irvin
won't play the first four games because of a suspension, reportedly for PEDs.
Two other starters -- defensive tackle
Brandon Mebane
and receiver
Sidney Rice
-- won't play Thursday night against Oakland in the final preseason game. Defensive tackle
Tony McDaniel
, a possible starter at the 3-technique spot, also won't play Thursday because of a groin pull.
Mebane suffered a groin injury in practice Monday. Coach Pete Carroll hopes Mebane and McDaniel will be ready for the opener.
Carroll said Rice will play in the opener, but had an unusual comment: "He'll be ready unless there is a setback next week at practice again."
A setback again? When was the first practice setback? Rice flew to Switzerland four weeks ago for a 20-minute platelet-enriched plasma treatment on his knee. But he later returned to practice and didn't show any problems. He has not played in the preseason.
The biggest concern for the Seahawks is the defensive line. Defensive tackle
Michael Bennett
also won't play Thursday because he having a procedure done on an injured toe. Carroll expects Bennett to play in the opener.
Rookie defensive tackle
Jordan Hill
is out with a shoulder injury and fellow rookie defensive tackle
Jesse Williams
is on injured reserve with a knee injury.
The Seahawks hoped to shore up their pass rush this season, but two key cogs are iffy in Clemons and Avril. Clemons, who led Seattle with 11.5 sacks last year, still is recovering from off-season ACL surgery.
"He's making great progress," Carroll said of Clemons. "We have a big decision to make there."
The decision is whether to place Clemons on the reserve/ physically unable to perform (PUP) list or to place him on the 53-man roster. If Clemons goes to the PUP list, he can't play until Week 6. Either way, it's doubtful he plays in the opener.
Avril, Seattle's top free-agent acquisition in the offseason for the defense, has a hamstring injury and hasn't played in the preseason. His status for the opener is tentative at best.
"As of this morning he's feeling better and we're hoping he will be able to go next week," Carroll said. "But we won't know until we get there."
Even if Avril does play, how effective will he be after missing so much time?
On the bright side, starting tight end
Zach Miller
will play Thursday and guard
James Carpenter
also will see action in the Oakland game.
"It's necessary for him to get out there and play again,'' Carroll said of Carpenter. "He was really making some progress and missed a couple of weeks here, so it will be great to get him out."
But the injury problems, especially on the defensive line, are worrisome. The Seahawks may have to rely on two players who weren't part of the picture a month ago -- free agent defensive ends
Benson Mayowa
and
O'Brien Schofield
.
Both have looked good in the preseason, especially Mayowa, an undrafted rookie from Idaho. He has 2.5 sacks and 10 total tackles in three preseason games. Schofield, who played for the
Arizona Cardinals
the previous three seasons, has a sack, force fumble and fumble recovery in the preseason.
If needed, starting defensive end
Red Bryant
can move inside and play tackle. Bryant has seen quite a bit of action inside during the preseason.