Seattle Seahawks:

Patrick Peterson
May, 27, 2014
May 27
8:00
AM ET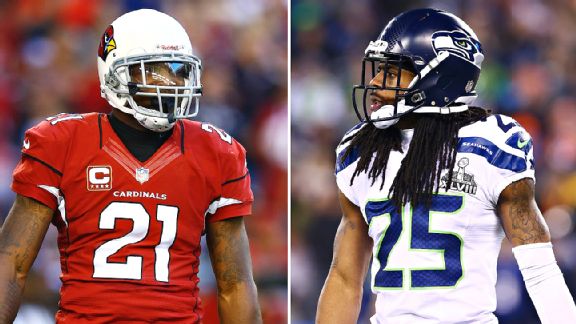 USA TODAY SportsArizona's Patrick Peterson, left, and Seattle's Richard Sherman have been engaging in a war of words regarding who is the better cornerback.
The debate has raged on for almost a week: Who's the better cornerback?
Ask proponents of
Arizona Cardinals
cornerback
Patrick Peterson
, and they'll tell you the three-time Pro Bowler and two-time All-Pro is worthy of the distinction. But if you ask supporters of
Seattle Seahawks
cornerback
Richard Sherman
, they'll tell you the two-time All Pro, one-time Pro Bowler and Super Bowl champion has that honor locked down.
But now it's time to hear from two people who are around them as much as anybody during the season, Cardinals reporter Josh Weinfuss and Seahawks reporter Terry Blount.
Weinfuss and Blount discuss and debate the topic that has swept through the NFL in the last few days.

Blount:
Josh, Peterson always has taken the high road on this kind of thing. Why all of a sudden did he decide to take a stand and join the anti-Sherman group?
Weinfuss:
You know, it's a great question and one that could have a handful of answers. Peterson is typically takes the high road when it comes to debates like this. He'll very honestly tell you he's the best cornerback in the game because he truly believes he is, and he'll praise what other players do but he'll always stop short of calling them the best, which shouldn't be a surprise if you talk to any elite athlete. But when he answered
the question on the radio last week
, he had an opportunity to just answer it generically and move on. But, in my opinion, Peterson was either tired of all of Sherman's talk when Peterson felt deep down he was better, or this was prodded along by someone else, perhaps his agent, to get Peterson more face time throughout the media, which, has happened.
Terry, this debate between Peterson and Sherman
has now entered the Twitter-sphere
. What's your take on where this "conversation" has gone?
Blount:
When all this started Thursday, I put this on Twitter: "My new definition for asinine: A war of words on Twitter,
#
14yearoldboys." It's become the new way to debate nonsense, which I find ridiculously childish. In the words of Rodney King, can't we all just get along? Why can't each of these guys just say this: "He's a great player and I wish him all the best. We don't necessarily play the position the same way, but that's OK. Both ways are effective, obviously. I'll let others decided who is better, but my career speaks for itself." But alas, I guess that's too much to ask in the era of social media. By the way Josh, I'm putting this on Twitter: Weinfuss can't possibly do this job as well as I do it. He's just an Arizona desert-loving, rattlesnake-eating hack.
Josh, isn't this a little but like comparing apples and oranges since these defenses play different schemes in the secondary?
Weinfuss:
It sure is. These two corners are great in their own right, which means in their own schemes. Arizona plays a Cover 1 defense, which promotes man-to-man coverage. Peterson is usually assigned the opponent's top receiver and then the assignments cascade from there -- the second corner takes the second receiver, the safety defends the tight end and linebackers are usually on running backs. Whereas the Seahawks run a Cover 3, in which the field is generally divided into thirds, and Sherman is responsible for only his third of the field, with an emphasis on nobody getting behind him. In short, Sherman is locked into the left side while Peterson roams to both sides. So yes, very different schemes and both corners excel in their own respective defense.
Terry, why do you think Sherman feels the need to antagonize people? Despite all he has accomplished is there still a chip on his shoulder or a complex of sorts?
Blount:
Even on the day he signed his new $57 million deal, Sherman made a point to say the chip on his shoulder never will go away. He's never going to get over the fact that he was a fifth-round draft choice and watched 23 cornerbacks get picked head on him. "Nothing will erase that," Sherman said. "It's always there. It keeps me angry. It doesn't go away because, at the time, it was disrespecting me." So when anyone publicly questions his skills, Sherman can't let it go. For him, it's going back to that day, or even further back, to his days growing up in Compton, California. Even now, after all he has done, he still feels people don't respect him and he lashes out when someone says he not that good, as Peterson did. It's too bad it becomes a Twitter theater of the absurd, but Sherman just wants respect. He respects people who respect him and will get into a verbal war with those who don't.
Josh, I guess the bottom line everyone wants to know from each of them is obvious: Who is the best corner between the two, and why?
Weinfuss:
Like I explained in my answer to your question about schemes, they're both different players, but I think Peterson shoulders more responsibility than Sherman, making, as Peterson pointed out, Sherman's job easier.
Like I wrote on Monday
, Sherman is a great corner. He's athletic and cerebral, and has the ability and the stats to be rated as one of the best cornerbacks in the game. And because of his numbers, some people think he is the top corner. But there's more to it. Peterson covered an opponent's top receiver 55 percent of the time; Sherman did it just 27 percent. So, simply by looking at the numbers, Sherman's job is easier because he covers inferior talent. And since he's usually grossly more talented than the second receivers he's covering, Sherman can take advantage of that by getting more interceptions. The fact that Sherman has two Pro Bowl safeties covering his back also helps quite a bit because he can take more risks than Peterson -- not saying Peterson isn't risky, however. Physically, Peterson is widely considered the prototypical corner. He has the thickness and the athleticism to play with anybody, which makes up for him being shorter than the receivers he defends.
Terry, let me shoot the question back at you: Who is the best corner between Peterson and Sherman, and why?
Blount:
Watching him every week in games and every day in practice, there is no doubt in my mind Sherman is the best cornerback in the NFL. Granted, he benefits from having two of the best safeties in football playing behind him, but he would adjust his game, accordingly, and has the talent to do so, if that were not the case. He also benefits from the physical, press coverage the Seahawks employ, but I'm convinced he could play the position under any scheme. It's not just his size and speed. I've never seen a player that studies his opponent as much as Sherman. He spends countless hours watching film of every receiver he faces, along with every quarterback. Consequently, he often knows what's coming. He can get beat at times off a double move because Sherman will take risks to come up with a big play, so he will jump the move to go for an interception. But he does so because he knows he has
Earl Thomas
and
Kam Chancellor
backing him up. If you are a stats person, he has that covered as well. His 20 interceptions and 60 passes defensed easily are the most in the NFL since he arrived in 2011. Now, who wants to go to war with me on Twitter?
October, 15, 2013
10/15/13
7:00
PM ET
RENTON, Wash. -- Two talented defensive backs from LSU could cause problems for the
Seattle Seahawks
on Thursday night against the
Arizona Cardinals
.
One is 2011 first-round draft choice
Patrick Peterson
. The other is rookie
Tyrann Mathieu
, who probably would have been a first-round pick if not for off-the-field problems during his college career.
Mathieu
Peterson
It's a short week, but Seattle quarterback
Russell Wilson
has watched a lot of film on Peterson and Mathieu.
"Those two guys are really athletic, flying around-type of guys," Wilson said Tuesday. "They're ball hawks. They have a knack for getting to the football. You have to always know where they are, but at the same time, not be afraid to attack them."
Some people thought Arizona took a big risk in using a third-round pick on Mathieu, the former Heisman Trophy finalist who was dismissed from the team at LSU over substance-abuse issues.
But Cardinals coach Bruce Arians said one person convinced him Mathieu was worth the risk -- Peterson.
"Patrick knocked on the door and walked in my office," Arians said. "He said, 'I'll stand on the table for this guy. He's a good kid and he deserves a chance.'''
Arians, who spoke to Seahawks reporters on a conference call Tuesday, said he agreed with Peterson after meeting Mathieu.
"I thought he was a wonderful young man," Arians said. "He knew his mistakes, owned up to his mistakes and was just looking for an opportunity. The football part spoke for itself, but he's been nothing a dream to coach."
Mathieu's 40 tackles are second-best on the team. He also has an interception, a sack and a forced fumble. Arians was asked whether anything about Mathieu has surprised him.
"What has surprised me is how good of a tackler he is," Arians said. "Just a straight-up tackler. I was a little concerned with his size [5-foot-9, 185], but he plays bigger and he plays faster because his instincts are so good."
Arizona quarterback
Carson Palmer
was concerned at first about what Mathieu might bring to the team, but was pleasantly surprised.
"The one thing that surprised me is his maturity," Palmer said of Mathieu. "You don't know what to expect when you hear so many negative things about somebody, to have his name rubbed through the mud like it was for a long time.
"But he's been an absolute professional from the first day. He listens and watches extra film. You see him work his butt off every day and try to learn everything he can from Patrick, not to feel like he's already got it."
Peterson is a bigger guy at 6-1, 220. He was Arizona's first-round pick in 2011. Arians was asked how Peterson compares to Seattle cornerback
Richard Sherman
.
"They're very similar," Arians said. "They're both big guys, big corners who love to play press man-to-man. I think they're two of the best in the business."
Sherman believes he is the best corner in the NFL, and has said so on several occasions. But he said Tuesday that Peterson has him beat in one respect.
"He's a way better athlete than I am," Sherman said. "He moves better and he's faster. He has so much speed that it allows him to play a little differently than I do. I have to play straight technical football. He gets to play a little looser because he can recover in a flash and get back in a play."
August, 31, 2013
8/31/13
1:40
PM ET
San Francisco 49ers
and 13
Seattle Seahawks
helped the NFC West account for a disproportionate number of players listed in the #NFLRank project from ESPN.
Sixty-three voters helped rank 100 top players on each side of the ball. NFC West teams accounted for 20 players on defense and 16 on offense. The 36-player total works out to 18 percent representation for the NFC West, above the 12.5 percent expectation for any division.
The chart shows where NFC West players ranked on each list. I shaded offensive players in gray to better distinguish the rankings.
The 49ers' Patrick Willis and the
Arizona Cardinals
' Larry Fitzgerald have long been perceived as the best players in the division. They've got additional competition, but those two ranked higher than anyone else in the NFC West.
There were sure to be oversights in a project of this scope. Defensive end
Calais Campbell
of the Cardinals stands out to me as the most glaring one. I might have placed him between Patrick Peterson and Chris Long in defensive rankings as they stood for this project.
Three Seahawks cornerbacks earned spots on the list even though one of them, Antoine Winfield,
reportedly could be released by the team
Saturday in the reduction to 53 players Saturday.
A quick look at ranked players by team:
San Francisco 49ers:
Patrick Willis (3), Aldon Smith (10), Justin Smith (11), Vernon Davis (18), NaVorro Bowman (18), Joe Staley (25), Mike Iupati (32), Frank Gore (37), Colin Kaepernick (42), Ahmad Brooks (56), Anthony Davis (60), Donte Whitner (64), Michael Crabtree (78), Anquan Boldin (83) and Jonathan Goodwin (92).
Seattle Seahawks:
Richard Sherman (8), Earl Thomas (17), Percy Harvin (26), Marshawn Lynch (27), Brandon Browner (46), Russell Wilson (47), Russell Okung (49), Kam Chancellor (49), Max Unger (57), Bobby Wagner (67), Winfield (70), Cliff Avril (74) and Chris Clemons (85).
St. Louis Rams:
Long (40), James Laurinaitis (57), Jake Long (61), Cortland Finnegan (63).
Arizona Cardinals:
Larry Fitzgerald (7), Patrick Peterson (19), Daryl Washington (59) and Darnell Dockett (79).
Fifteen