Seattle Seahawks:

Paul McQuistan
December, 19, 2013
12/19/13
8:54
PM ET
RENTON, Wash. -- Starting right guard
J.R. Sweezy
and cornerback
Jeremy Lane
were surprises on the injury report Thursday as two players who did not practice.
Lane is listed as having an ankle injury, but Sweezy is the bigger concern because of a concussion. It's not known when the concussion occurred since Sweezy was not on the injury list Wednesday and participated fully in practice.
Any player who doesn't practice Thursday because of a concussion causes doubts about whether he will play that weekend. If Sweezy can't play Sunday, it's likely
Paul McQuistan
would start at right guard.
McQuistan has been splitting time at left guard with
James Carpenter
, who started the last two games. McQuistan started the first 12 games this season, including four at left guard and eight at left tackle when
Russell Okung
was injured. Sweezy has started all 14 games at right guard.
Receiver
Percy Harvin
was the only other player who did not practice Thursday. Tight end
Zach Miller
(bruised ribs) and running back
Robert Turbin
(groin) were limited at practice.
November, 1, 2013
11/01/13
12:00
PM ET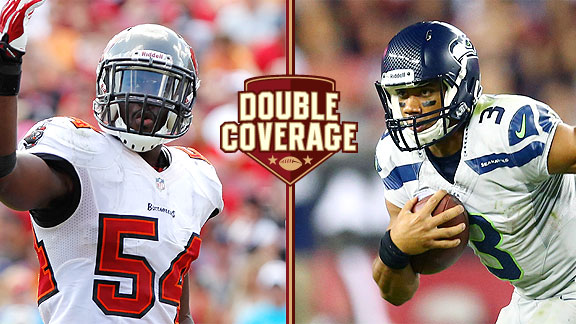 USA Today SportsThe key for Lavonte David and the Bucs is to try to pressure Russell Wilson and to attack a line that gave up seven sacks on Monday.
Despite getting outplayed in almost every statistical category Monday night at St. Louis, the
Seattle Seahawks
defeated the Rams 14-9 and reached the midpoint of the season at 7-1 after a rough stretch of four road games in five weeks.
Now Seattle returns to CenturyLink Field against the winless
Tampa Bay Buccaneers
, hoping to win at home for the 12
th
consecutive time. It looks like a mismatch, but so did the Rams game.
The Seahawks still have backups starting at both offensive tackle spots and now are missing receiver
Sidney Rice
, who tore an ACL on Monday night. Rice is due $8.5 million in 2014, but he's probably played his last game with Seattle.
Receiver
Percy Harvin
should return soon after undergoing hip surgery three months ago, but it probably won't be this weekend. Nevertheless, the Seahawks should win this game.
Blount:
Pat, a lot of people thought the Bucs would have a new head coach by the time the team got to Seattle, but Greg Schiano is hanging on. If Tampa Bay comes here and loses by a big margin, is that the end for him?
Yasinskas:
Terry, I've been pointing to the Seattle game for several weeks as a possible end for Schiano. I think he's still employed in large part because the Bucs are putting forth an effort. But I could see that changing on a long road trip against a good team and in a hostile environment. The interim route rarely works out well. But if this team lies down in Seattle, I can see ownership pulling the plug on Schiano.
Aside from the loss to Indianapolis, Seattle seems to have been nearly perfect. But there's no such thing as perfect in the NFL. What are the Seahawks' biggest weaknesses?
Blount:
Without question, it's the offensive line. It's not just weak right now. It's awful. Obviously, missing
Russell Okung
and
Breno Giacomini
is a big part of it, but having to go with backups at the tackle spots is not the only issue. Neither starting guard has played well, and center
Max Unger
, who had an arm injury earlier this season, hasn't played up to his Pro Bowl level of last year. It will improve when Okung and Giacomini get back in a few weeks, which will enable the Seahawks to move
Paul McQuistan
back to one of the guard spots instead of being out of position at left tackle. But it has to improve dramatically if Seattle hopes to live up to the Super Bowl expectations.
Pat, speaking of the Seattle line, it's obvious right now that the way to stop the Seattle offense is to load the box and blitz like crazy against the backup tackles, along with the rest of the offensive line that hasn't played well.
Russell Wilson
didn't have time to breathe at St. Louis. Do you see this as Tampa Bay's strategy on Sunday?
Yasinskas:
I think the Bucs will try a similar approach, but I'm not sure they'll have as much success as St. Louis did. The defensive line hasn't been generating much of a pass rush. Linebackers
Lavonte David
and
Mason Foster
have been effective as blitzers, and I think you'll see the Bucs use them as pass-rushers.
Terry, how much does losing Rice hurt the receiving corps?
Blount:
When Harvin gets on the field, assuming he's healthy, the Seahawks won't miss Rice. In fact, they'll be much better with Harvin's speed and versatility. Rice never has lived up to expectations here. He hasn't played nearly as well this season as receivers
Golden Tate
and
Doug Baldwin
. But if Harvin still isn't ready to come back, it hurts Seattle's depth at the receiver spot and enables any defense to use more double coverage on Tate and/or Baldwin. But this also could be an opportunity for
Jermaine Kearse
to shine. He's been a big surprise this season in limited play.
Pat, obviously, the Bucs aren't going anywhere this season. They spent a ton of money to bring in some top players on defense like
Darrelle Revis
and
Dashon Goldson
. What do you see as the team's goal for the rest of the season, and what do the Bucs hope to accomplish going forward in 2013?
Yasinskas:
It's been a hugely disappointing year for a team with eight players on the roster who have been to the Pro Bowl. This team's struggles aren't entirely due to a lack of talent. Schiano prides himself on being a disciplinarian, but this team has struggled with mental mistakes and penalties. The thinking is that playing smarter will translate into some wins. But those might be coming too late to save Schiano's job. There is a segment of the fan base that wouldn't mind seeing the Bucs go winless so that they get the first overall pick in the 2014 draft.
Terry, the Seahawks are third in the league in pass defense, and we've heard a lot about their secondary. Is rookie quarterback
Mike Glennon
walking into the ultimate ambush?
Blount:
That's what everyone thought Monday night for Rams backup quarterback
Kellen Clemens
, but he played pretty well most of the game. Clemens made two overthrows that became interceptions but came within one goal-line play of upsetting the Seahawks at the end of the game. The Seahawks do a great job of mixing things up and disguising coverages, but they do take chances to come up with turnovers. If Glennon doesn't recognize things quickly, they will make him pay.
October, 1, 2013
10/01/13
8:00
AM ET
RENTON, Wash. -- When
Seattle Seahawks
coach Pete Carroll was asked Monday how his patchwork offensive line did against the
Houston Texans
, he used the same word a couple of times, which seemed appropriate: Survived.
Carroll was asked how rookie right tackle
Michael Bowie
held up against unstoppable
J.J. Watt
.
"Yeah, he survived the game," Carroll said of Bowie.
And what about
Paul McQuistan
, moving from guard to make his second consecutive start at left tackle
Russell Okung
?
Bowie
McQuistan
"He's surviving," Carroll said of McQuistan.
You can read between the lines. In other words, both men did their best and left the field healthy, but didn't exactly take charge out there.
The truth is, none of the five starters up front did that, including guards
James Carpenter
and
J.R. Sweezy
, or back-up center
Lemuel Jeanpierre
, who started for injured Pro Bowler
Max Unger
. Quarterback
Russell Wilson
was sacked five times and was under constant pressure.
Yet the Seahawks still found a way to come from behind and beat a good team on the road 23-20 in overtime, remaining unbeaten at 4-0.
However, can the Seahawks continue to do that with an offensive line that's struggling and trying to find its way?
"Well they're going to get better," Carroll said of the offensive line. "They're going to improve. It's going to be easier for Mike with the second time out at right tackle. I thought he and Sweezy did better as the game went on. They struggled early and got better in terms of working together. So, hopefully, that will continue to improve."
It needs to because Bowie will continue to start a few weeks longer. Starting right tackle
Breno Giacomini
had arthroscopic knee surgery Monday. Carroll said doctors told him the procedure went well and Giacomini could return soon, but the timetable is uncertain.
All Carroll hopes to see from Bowie is his best effort to get better.
"I don't know that we could ask for any more than that," Carroll said. "He did improve during the game [at Houston], which what's most encouraging. Mike is going to be a good football player. We really don't have any question about that. He's growing quickly. He was comfortable with it and it wasn't too big for him. So I'm hoping that we'll see real steady improvement here in the next couple of weeks until Breno has a chance to come back."
Unger (who missed the Houston game with a triceps injury) could return this weekend at center, but McQuistan is the likely starter at left tackle for at least six more week until Okung is eligible to come off injured reserve.
"It's not his natural spot, but with smarts and utilizing the scheme he's getting through it," Carroll said of McQuistan. "That's all we can hope for him to continue to do for us. It's a big challenge out there. He's getting great players [lining up against him] week in and week out and he's going to work hard to survive it."
Survival is the minimum requirement. Anything more is a bonus.
Bennett OK:
There were a lot of concerned faces among the Seahawks when defensive linemen
Michael Bennett
was face down on the turf before being carted off the field in the first half Sunday. He was taken to a Houston hospital, but Bennett returned to Reliant Stadium late in the second half and was walking on the sideline. He strained a muscle in his lower back.
"Michael is gonna be OK and will practice this week,'' Carroll said Monday about Bennett. "He was feeling pretty good [Monday]. He was really scared when it happened and didn't know what was going on. We will see how much he can work, but hope he can play this week."
September, 26, 2013
9/26/13
7:45
PM ET
RENTON, Wash. -- When
Seattle Seahawks
quarterback
Russell Wilson
started his weekly interview session with reporters, the first thing he wanted to talk about was his new wallet.
It was a homemade, Seahawks-themed billfold, given to Wilson by an 11-year-old girl named Allison, who is having heart-transplant surgery. She gave it to Wilson during his weekly visit to Seattle Children's Hospital.
[+] Enlarge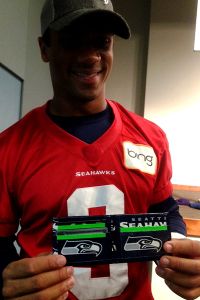 Terry BlountRussell Wilson was excited to show off a Seahawks wallet made for him by an 11-year-old girl who is having heart-transplant surgery.
"It's one of a kind," Wilson said, holding up the wallet. "The coolest part about it is it's all made out of duct tape."
Which led the first question of the day: "Russell, are you worried your offensive line will be held together by duct tape on Sunday against the
Houston Texans
and standout defensive lineman
J.J. Watt
?"
"I think we'll do a great job," Wilson said. "They're obviously a very talented defense, and it all starts with J.J. and his ability to get to the quarterback and makes plays. We're going to have to play our best football and step up to the challenge on the road."
The Seahawks may start the game with backups at both tackle spots.
Paul McQuistan
will start at left tackle for
Russell Okung
(on injured reserve with a torn ligament in his big toe), and rookie
Michael Bowie
is preparing to start at right tackle for
Breno Giacomini
, who has a knee injury and has not practiced this week.
"I'm ready to go," Bowie said Thursday. "I live for moments like this. I'm anxious. It's a big test for me and it will allow me to see where I'm at. If I play pretty good, it will help my confidence and I'll know I can only get better from there. I'm starting to learn the offense more and it's allowing me to move faster."
Bowie is a seventh-round draft choice who has played in one half of one game, last week against Jacksonville. So trying to go head-to-head with Watt, the 2012 NFL defensive player of the year, is a lot to ask.
Starting center
Max Unger
was limited at practice Thursday with a arm injury, but he is expected to play Sunday.
No one has to tell Wilson about Watt's talent. Watt left the University of Wisconsin the season before Wilson arrived.
"People love J.J. at Wisconsin," Wilson said. "I remember at the Pro Bowl last year, J.J. and I were talking at dinner. He said, 'Man, if I had stayed for my senior year we probably would have won the national championship.'"
But only one of them can come out a winner Sunday in Houston.
"It's hard to stop a guy like that," Wilson said. "The thing is, can we slow him down and make the plays when we need to? It's about staying calm when the game is on the line."
The Texans are an aggressive, all-out defense, which is the way defensive coordinator Wade Phillips likes it. The Texans blitz 80 percent of the time.
"I love playing for Wade,'' Watt said Wednesday. "Wade is a great coach. Obviously, he's been around the game for an extremely long time. He knows what he's talking about. He trusts his players and he gives us opportunities to have success. He lets us go out there, fly around and have fun, and that's what it's all about."
Wilson hopes the Seahawks can keep Watt and the Texans' defense from having too much fun.
[+] Enlarge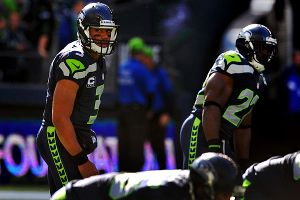 Steve Dykes/Getty ImagesWith the Seahawks perhaps starting two backups on the offensive line Sunday, Russell Wilson will have to keep an eye out for J.J. Watt.
"The biggest thing is getting the ball out quick," Wilson said. "It's being smart with the football and protecting, making sure the communication calls are right. It's not always going to be perfect, but you have to take advantage of the times when you can step up and make a play.
"I'm always trying to get it to our true playmakers. When there's a chance to make game-altering plays, we have to capitalize on those moments."
Wilson has completed passes to 10 players in the first three games. Six of those players have averaged more than 15 yards per catch. He said Seahawks offensive coordinator Darrell Bevell helps him find mismatches.
"And I'm not the type of guy to just throw it to one guy all the time," Wilson said. "I believe you have to spread the ball around and get the ball to the right guy [at] the right time. We have so many talented receivers."
But some of those receivers may need to help block this week more than usual.
"We have three tight ends that can really block," Wilson said. "And [running back]
Marshawn Lynch
has the ability to move his feet and be so physical. Obviously, he can run the football, but you can't underestimate his ability to block as well."
Wilson is doing everything he can to learn where they can get an advantage on the Texans' defense, despite having some concerns on the offensive line.
Wilson was asked if he planned to watch NFC West battle Thursday night between San Francisco and St. Louis.
"I probably won't watch it at all," Wilson said. "I'll be watching Houston [on video tape] and their blitzes and trying to figure out what they're doing."
Injury update:
Defensive tackle
Red Bryant
(back spasms) was a full participant in practice Thursday, as was wide receiver
Jermaine Kearse
(sprained ankle). Rookie defensive tackle
Jordan Hill
was a limited participant. Fullback
Spencer Ware
(ankle) and safety
Jeron Johnson
(hamstring) did not practice, along with Giacomini.
September, 25, 2013
9/25/13
7:36
PM ET
RENTON, Wash. -- The
Seattle Seahawks
may be without both starting offensive tackles this weekend, a scary thought going against star defensive linemen
J.J. Watt
and the
Houston Texans'
defense.
Right tackle
Breno Giacomini
did not practice Wednesday because of a knee problem. His status for Sunday's game at Houston is unknown.
"His knee is sore," Seahawks coach Pete Carroll said Wednesday of Giacomini. "We have some more information to get to see where he is. He got nicked a little bit in the [Jacksonville] game."
Pro Bowl left tackle
Russell Okung
is out for at least eight weeks with a torn ligament in a big toe.
Paul McQuistan
moved from guard to Okung's tackle spot.
[+] Enlarge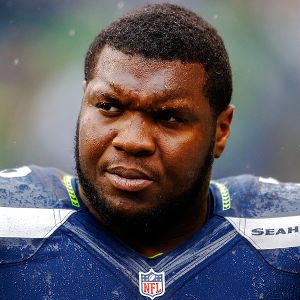 Otto Greule Jr/Getty ImagesRookie tackle Alvin Bailey saw action in Week 3, and could see even more this Sunday for Seattle.
If Giacomini doesn't play, the Seahawks probably will start a rookie at right tackle -- either
Michael Bowie
or
Alvin Bailey
. Bowie (6-foot-4, 330 and a seventh-round draft choice from Northeastern State in Oklahoma) likely would be the starter.
Both Bowie and Bailey (6-foot-3, 320 and undrafted out of Arkansas) played extensively in the second half last weekend after the Seahawks built a big lead against Jacksonville.
"They've made great progress," Carroll said of his rookie tackles. "I went back [Tuesday] night and watched the [Jacksonville] game over again just to watch those guys and see how they're doing. They came off the ball really well and did fine in pass protection. They did a very nice job and they're coming along quickly."
Seahawks offensive line coach Tom Cable also was pleased with what he saw from his young tackles in the Jacksonville game.
"I saw some really cool stuff," Cable said. "I'm really excited about their future. I thought both those kids went in there and knocked people off the ball.
"It was a huge moment of growth for them to know they're OK and can handle an NFL game. It's like gold. If they have to do it, they'll be comfortable to do what they're capable of doing."
But can either handle Watt?
"We don't really focus on him," Cable said. "We focus on doing things right."
The backup tackles will need to do a lot of things right to stop Watt and the attacking Houston defense, which ranks No. 2 in the NFL behind the Seahawks.
"They will pressure us more than any team we play this season," Carroll said of the Texans defense.
Carroll also was asked how he felt McQuistan was doing in Okung's spot.
"Paul survived the first game [when Okung got hurt against the
San Francisco 49ers
] and played better in the second game," Carroll said. "He was sharper on stuff and the communication was better. But that's a big jump for Paul. He has played tackle in his history, but to play up to Russell Okung's level is a lot to ask. He's performed well so far."
Seattle made a roster move Wednesday to add veteran offensive linemen in
Jason Spitz
, who was released by Jacksonville in August. Spitz, (6-foot-3, 300) played five seasons at Green Bay before spending the past two years with the Jaguars, but he was on injured reserve all last season.
Even if Seattle had both its starting tackles, it would be a big task to stop Watt, the NFL defensive player of the year last season with 20.5 sacks.
"He's a fantastic talent," Carroll said of Watt. "I don't think anybody knew he would be this dominant, and I've heard Houston say they didn't know that either. But he's an extraordinary player. He's faster than more guys his size, running a 4.6. That's one thing that separates him. And the guys Houston has around him makes him even better."
One of those guys is inside linebacker
Brian Cushing
, a player Carroll knows well. Cushing played for Carroll at USC.
"Cush was an outside guy for us," Carroll said. "He's one of the best guys we ever recruited as far as all-around ability. He's a great, great player. It's not a surprise to me that he ended up playing inside. He's so instinctive and aggressive and wants to come at you. He lines up right behind Watt, so he's a big issue for us, also."
Injury updates:
Defensive tackle
Red Bryant
(back spasms) did not practice Wednesday, but Carroll expects him back on the field Thursday.
Wide receiver
Jermaine Kearse
(sprained ankle) did not practice, but Carroll is hopeful he can play at Houston.
"He's going to try to go tomorrow," Carroll said of Kearse. "He's making a very quick recovery. We have our fingers crossed that he has a chance to play."
Carroll said rookie fullback
Spencer Ware
is still out with a high-ankle sprain.
Outside linebacker
Malcolm Smith
returned to practice after being inactive against Jacksonville with a hamstring issue. Rookie defensive tackle
Jordan Hill
returned to practice on a limited basis.
September, 23, 2013
9/23/13
2:00
PM ET
An examination of four hot issues from the
Seattle Seahawks
'
45-17 victory
over the
Jacksonville Jaguars
:
[+] Enlarge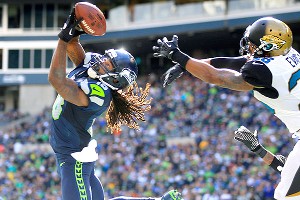 AP Photo/Stephen BrashearSidney Rice pulled in two touchdown passes in a 45-17 rout of the Jaguars.
A cleaner and better offense:
The Seahawks offense accomplished two big goals Sunday of cutting down on senseless penalties and getting off to a better start, especially in the passing game, than in the first two games. Seattle had only three offensive penalties for 20 yards.
Russell Wilson
threw four touchdown passes, including three in the first half, and
Tarvaris Jackson
also had a touchdown throw.
Was Pro Bowl tackle Russell Okung missed?:
Well, not much when you play a team as weak as the Jaguars, but the real question is whether it will hurt the Seahawks in coming weeks against better opponents. First up are the
Houston Texans
and monster defensive lineman
J.J. Watt
.
Paul McQuistan
had some good moments and some bad moments Sunday in Okung's left tackle spot. "He did alright and hung in there pretty nice," Seahawks coach Pete Carroll said of McQuistan. Carroll was happy rookie tackles
Michael Bowie
and
Alvin Bailey
got to play in the lopsided game. "To have a chance to get them in the game was awesome," Carroll said. "They got significant playing time."
An abundance of riches on the defensive line:
With the return of defensive end
Chris Clemons
, who looked good in pressuring the quarterback on passing downs, the Seahawks have a scary bunch up front. The coaches had a goal in the offseason to shore up the pass rush with free-agent acquisitions, and it worked. Defensive end
Michael Bennett
has been sensational. He had 1.5 sacks Sunday and a tackle for loss.
O'Brien Schofield
has been a solid contributor, starting at linebacker Sunday for injured
Malcolm Smith
. And defensive end
Cliff Avril
is another pass-rush specialist who adds to the attacking defense. Defensive end/linebacker
Bruce Irvin
will add to the depth in two weeks when he returns from suspension.
Staying focused:
The Seahawks pounced on the Jaguars from the outset, not allowing for any type of letdown or lack of effort against a lesser opponent. Seattle led 31-0 before Jacksonville scored. The Jaguars had only 20 yards rushing in the first half and only 44 yards passing. Seahawks running back
Marshawn Lynch
had 55 yards rushing in the first quarter on nine carries. Seattle came out smoking and had the game won by halftime, when they were up 24-0. The final score is misleading because the Seahawks were playing mostly reserves in the second half, and all of Jacksonville points came in garbage time long after the outcome was decided.
September, 20, 2013
9/20/13
6:30
PM ET
RENTON, Wash. -- Could
Russell Okung
and
Percy Harvin
return for the same game?
With Okung, now officially out for at least eight weeks, it's possible the
Seattle Seahawks
' Pro Bowl offensive tackle and wide receiver could return together for the home game against the
Minnesota Vikings
on Nov. 17.
Okung was placed on the injured reserve-designated to return list Friday because of a torn ligament in a big toe. The Minnesota game is the first week Okung could return.
Harvin, the Seahawks' top off-season acquisition in a trade with the Vikings, had hip surgery Aug. 1 to repair a torn labrum. The usual recovery time for the surgery is three-to-four months.
So it's not out of the question that both players could return to action at the same time. It would make for a dramatic return for Harvin if his first game for the Seahawks came against his former teammates.
Harvin
But Harvin has been tweeting he plans to be back sooner than expected. He was jogging on the field last weekend before the game against the
San Francisco 49ers
.
The biggest concern for the Seahawks right now is getting by without one of the best left tackles in the NFL.
Paul McQuistan
, an eight-year veteran, is moving over from his left guard spot to start at left tackle. It will be his first start at the position since the last regular season game of the 2011 season, when he started the last four games while Okung was out with a torn pectoral muscle. And he played almost his entire college career at left tackle, making 42 starts at that spot for Weber State. So McQuistan isn't coming into this without knowledge of the position.
McQuistan is a capable offensive linemen, but he isn't Okung. McQuistan is known as an excellent run blocker, but an average pass blocker, which can be a problem when you typically have to face the opponent's best pass-rusher every week.
It probably won't matter much on Sunday against Jacksonville, possibly the worst team in the NFL. But next week at Houston will be a much tougher test for McQuistan.
J.J. Watt
, the NFL defensive player of the year last season with 20.5 sacks, normally doesn't line up over the opponent's left tackle, but the Texans might want to see if McQuistan can stop Watt and keep him away from quarterback
Russell Wilson
.
McQuistan may need some help. One option for the Seahawks could be to keep tight end
Zach Miller
on the line of scrimmage more for blocking. Miller did that a lot his first season at Seattle in 2011 because the offensive line was unsettled, but coach Pete Carroll said earlier this week they have no plans to change the way they use Miller.
Seahawks rookie tight end
Luke Willson
is a strong receiver, but not the blocker Miller is. Seattle also could keep three tight ends active and use recently acquired veteran
Kellen Davis
as an extra blocker. Davis (6-7, 265) is known as a blocking tight end.
Seattle also has two talented rookie offensive tackles in
Michael Bowie
and
Alvin Bailey
. Both players were inactive last week, but at least one of them will be on the active roster Sunday, if not both of them.
"This sends a strong message to Bailey and Bowie that they've got to get right," Carroll said Friday. "They are one step away from playing. There's a sense of urgency there."
Carroll wouldn't say which rookie would come in first if needed. When asked if one them was ahead of the other, he said, "I'm sure one of them is to some degree."
No one can be the player Okung is, but that doesn't mean the Seahawks will struggle without him. Time will tell how McQuistan handles the job.
And Nov. 17 against the Vikings could be "Return-Sunday" if Okung and Harvin come back on the same day.
September, 16, 2013
9/16/13
9:40
PM ET
RENTON, Wash. –
Seattle Seahawks
coach Pete Carroll said Monday he doesn't think offensive tackle
Russell Okung
can play this weekend because of a toe injury suffered early in the game with the
San Francisco 49ers
on Sunday night.
Okung
"I don't think that's possible," Carroll said. "We'll wait and see. There are some options that we'll deal with to try to figure it out. We need to wait and see. It's a spectrum of options."
Whatever option the Seahawks select, it won't be as good as Okung, a Pro Bowl player and the sixth overall pick in the 2010 draft.
Okung (6-foot-5, 310 pounds) has a torn ligament in his toe, leagues sources told ESPN NFL Insider Adam Schefter on Monday. Carroll would not confirm the specifics of the injury.
"We're still taking in information to know what it's all about," Carroll said. "We're waiting for more info. We don't know yet. If I told you something different I'd be making it all up."
With Okung likely out for Sunday's home game against the
Jacksonville Jaguars
, the Seahawks will have some tough decisions to make at the crucial left-tackle spot.
Paul McQuistan
moved from left guard to Okung's left-tackle spot when Okung left Sunday's game in the first half.
James Carpenter
came in to play left guard. But the Seahawks coaches might opt to play one of their two rookie offensive tackles --
Alvin Bailey
or
Michael Bowie
-- against Jacksonville and leave McQuistan at guard to split time with Carpenter.
Both Bailey and Bowie were on the inactive list against the 49ers. Bowie (6-foot-4, 330) was a seventh-round draft choice out of Northeastern State in Oklahoma. Bowie suffered a shoulder injury in the final preseason game against Oakland, but was back practicing full speed last week.
Bailey (6-foot-3, 320) was an undrafted free agent out of Arkansas. He is listed as Okung's backup on the Seahawks' depth chart, which is unofficial.
Another option for Seattle could be to bring back free agent
Mike Person
, who was released last week. Person (6-foot-4, 300 from Montana State) is a tackle who was working as the team's third tight end before the Seahawks signed veteran tight end
Kellen Davis
last week.
Seattle is one of the deepest teams in the NFL, but the offensive-tackle spot is a thin area on the depth chart.
Okung struggled with ankle problems his rookie year, missing the first three games of the season before starting 10 games.
He missed four games in 2011 with a torn pectoral muscle, but he started 15 regular-season games last year and both playoff games, along with being voted to the Pro Bowl for the first time.
Carroll said the only other injury from Sunday's game was rookie running back
Spencer Ware
, who suffered a sprained ankle at the end of the game.
"It's a significant sprain," Carroll said.
September, 16, 2013
9/16/13
12:35
PM ET
SEATTLE -- An examination of four hot issues from the
Seattle Seahawks
' 29-3
victory
over the
San Francisco 49ers
:
[+] Enlarge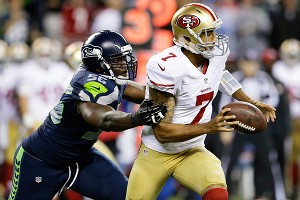 AP Photo/Elaine ThompsonOffseason acquisition Cliff Avril forced a fumble, leading a dominant defensive showing by Seattle.
Dominant defense:
The Seahawks shut down one of the best offenses in the NFL, keeping the 49ers out of the end zone and holding San Francisco to 207 yards of offense. After a career-best 412-yard effort in Week 1 against Green Bay, San Francisco quarterback
Colin Kaepernick
was held to 127 yards passing and threw three interceptions. And the Seahawks did it without three of their best defensive players: defensive end
Chris Clemons
, cornerback
Brandon Browner
(out with injuries) and defensive end/linebacker
Bruce Irvin
(suspended for the first four games). Defensive end
Cliff Avril
, the Seahawks' top offseason acquisition on defense, finally got on the field and showed his worth by forcing a Kaepernick fumble on a sack. The Seattle defense has allowed one touchdown in the first two games.
Okung and the offensive line:
The Seahawks lost Pro Bowl offensive tackle
Russell Okung
to a foot injury in the first half. His status for Week 3 is unknown, but this is one of the few areas where Seattle doesn't have much quality depth. The Seahawks had to move left guard
Paul McQuistan
to Okung's left tackle spot because the backup tackles -- rookies
Michael Bowie
and
Alvin Bailey
-- were inactive. McQuistan, who hasn't lined up at tackle all summer, settled in and did OK in the second half after getting burned a couple of times by 49ers speed-rusher
Aldon Smith
. However, the offensive line played much better overall than in the season opener against Carolina. The line opened some nice holes for running back
Marshawn Lynch
, who rushed for 98 yards and scored three touchdowns, two rushing and one receiving.
Slow starts for Wilson:
For the second week in a row, quarterback
Russell Wilson
got off to a horrible start. He was 0-for-6 passing in the first quarter and completed one of his first nine throws. Wilson improved as the game progressed, completing 7 of his last 10 passes. But he admitted he missed some throws early that he normally makes. Wilson always seems to find a way to get it done, but the Seahawks need him to start games the way he finishes them. Maybe a shower will help. During the one-hour lightning delay Sunday night, Wilson took a shower in the locker room, saying he wanted to start fresh after the break. Hey, whatever works.
Avoiding a letdown:
The Seahawks are coming off an emotional home opener against their division rival in a game many people viewed as a battle for NFC supremacy. Now Seattle will face one of the worst teams in the NFL in the
Jacksonville Jaguars
. It would be easy to look past Jacksonville and start thinking about a road game against the
Houston Texans
one week later.
September, 16, 2013
9/16/13
12:41
AM ET
SEATTLE -- A few thoughts on the
Seattle Seahawks
'
29-3 victory
over the
San Francisco 49ers
Sunday night at CenturyLink Field:

What it means for the Seahawks:
Seattle gets the early upper hand against its NFC West rival in a game between two of the best teams in the NFL on a strange night that included an hour-long weather delay in the first half. It's only two weeks into the season, but the Seahawks sent a message that they are the team to beat in the NFC.
Stock watch:
The Seahawks' defense is taking up where it left off last season, when it allowed the fewest points in the league. Seattle has allowed only 10 points in the first two games of 2013, holding the 49ers to a field goal a week after they scored 34 points against Green Bay. After 13 receptions against the Packers,
Anquan Boldin
had one catch for seven yards against the Seahawks. The "Legion of Boom" secondary had three interceptions -- one each for
Earl Thomas
,
Richard Sherman
and
Kam Chancellor
.
"Beast mode" is back:
After a disappointing effort in the first game,
Marshawn Lynch
got the running game going and scored three touchdowns Sunday night, two rushing and one receiving.
Okung injured:
The Seahawks lost Pro Bowl offensive tackle
Russell Okung
to a foot injury in the first half.
Paul McQuistan
moved from left guard to Okung's left tackle spot and struggled in the first half with 49ers linebacker
Aldon Smith
, but McQuistan improved in the second half.
Attendance record:
The crowd of 68,338 was the largest ever for a Seahawks game at CenturyLink Field, topping by seven spectators the previous mark (from 2007, against the 49ers).
What's next:
The Seahawks play host to Jacksonville next Sunday, a game that brings back former Seattle defensive coordinator Gus Bradley, who left at the end of last season to become the Jaguars coach.