Seattle Seahawks:

Peyton Manning
February, 3, 2014
Feb 3
12:20
AM ET
EAST RUTHERFORD, N.J. --
Russell Wilson
went to last season's Super Bowl to do research. So confident was the
Seattle Seahawks
' rookie quarterback in his and his team's ability to reach the NFL's championship game -- and reach it soon -- that he wanted to know everything he could about what it felt like to be there.
"I wanted to get a sense of how it was going to be," Wilson recalled Sunday night. "I wanted to know how the pregame was going to go, halftime, all of it, the whole experience, so I could be as prepared as possible."
This is why what happened Sunday night, with Wilson and the Seahawks trouncing
Peyton Manning
and the
Denver Broncos
43-8
in one of the most one-sided Super Bowls, is so scary. Wilson doesn't just ponder his future, he works to grab as much control of it as he possibly can. At 25 years old, he is already a Super Bowl champion quarterback. And while nothing for him or anyone is guaranteed, the possibilities for Wilson at this moment in time are dizzying.
He has the keys to the hottest car in the league and seems uniquely equipped to drive it. The Seahawks are the second-youngest team in the NFL and the second youngest ever to compete in a Super Bowl. The only younger roster in Super Bowl history was the 1971
Miami Dolphins
, who lost Super Bowl VI to the
Dallas Cowboys
and then went undefeated the following season. These Seahawks have already done that group one better, and they did it with the defense leading the way. As Wilson improves with the wealth of young talent around him, only better things await.
"He just wants to be great so much," Seahawks wide receiver
Percy Harvin
said. "I haven't seen anybody prepare like him."
Here's what's special about Wilson's opportunity. He is set up, yes, with a dominant defense, power running game and a player -- Harvin -- that Wilson didn't even get to use this season waiting to do big things with him in 2014 and beyond. Having lasted until the third round of the 2013 draft, Wilson carries a mere $817,302 salary-cap hit for 2014, obviously less than he's worth. For now, he allows Seattle to continue to put great pieces around him. When you're still a couple of years from having to really pay your franchise quarterback, you can trade a first-round pick for Harvin. Your GM's offseason priority list becomes a lot more fun.
"Obviously, we feel like we have a really strong foundation," Seattle GM John Schneider said. "Every team's looking for a great pass rush, a great quarterback and a strong runner like
Marshawn [Lynch]
."
The Seahawks have all of that, and, unlike a lot of Super Bowl champions, it appears they will get to keep all of it for a while and build on it. As they do, they take great comfort in the knowledge that their 25-year-old quarterback won't let them get complacent.
"He refuses to fail. He refuses to let himself fail. And he's going to refuse to let anyone else around him allow that to happen," Seahawks offensive coordinator Darrell Bevell said. "So he's always going to be grabbing guys and making them watch a little more film, make them work a little bit more on this play or that play. A lot of the things that you would say about Peyton Manning, he has a lot of those qualities."
Ah, yes, Manning: the established superstar vanquished by Wilson's Seahawks in Super Bowl XLVIII. This game had a chance to be Manning's coronation -- a victory that could have erased so many of the things his critics hold against him and anointed him the undisputed best of all time. That must wait now, and, at 37, Manning has to know he's running out of chances. Wilson inhabits the other end of the spectrum and can legitimately dream about winning countless more.
"We've already said it," Seattle wide receiver
Doug Baldwin
said. "We're going to win this one, and then what's next is we're going to win it again."
Seattle has a team-wide swagger befitting its youth, but Wilson has a leader's mien, and a leader's responsibility to be more circumspect.
"The goal was to win the first one," Wilson said. "We've got a great group of guys, and I believe we can do it again, but it's not easy. So you can think about the future and how many great players we have and one of the youngest teams in the league, but we just wanted to win this one. To think about the future, that wouldn't be us."
I thank Wilson for his permission, and here goes: There's no one in the NFL you'd rather be right now than Russell Wilson. He knows for a fact he can win the Super Bowl and has a team around him that's deep and solid enough to be a clear-cut Super Bowl favorite going into 2014. But what should frighten the rest of the teams in the NFL is Wilson knows the breadth of his opportunity and feels a responsibility to work hard enough to cash it in. Sunday was the night of Wilson's life so far, but there's ample reason to believe there are more nights like this to come.
February, 2, 2014
Feb 2
10:30
PM ET
EAST RUTHERFORD, N.J. -- It has been at least 13 years and probably more since a team dominated a Super Bowl the way the
Seattle Seahawks
did Sunday night at MetLife Stadium, winning
43-8
over the
Denver Broncos
. They scored touchdowns on offense, defense and special teams -- all after recording a safety on the first snap of the game. And they didn't give up any points until the end of the third quarter after building a 36-0 lead. The result is a report card that would be the envy of an Ivy League college applicant.
PASSING OFFENSE





It was as good as it had to be. Russell Wilson's passer rating was 123.1, eight different players caught his passes and he wasn't sacked or intercepted. Seattle raced out to a huge first-half lead, so Wilson didn't need to put up gaudy stats to win. But he was 4-of-5 for 64 yards on third-down plays in the first quarter, when the game was still in doubt, and he was still flinging it around in the fourth quarter as the Seahawks padded their lead.
---
RUSHING OFFENSE





Marshawn Lynch struggled to find room against Terrance Knighton and a Broncos defensive front focused on stopping the run. But Seattle's yards-per-carry average got a boost from Percy Harvin's 15-yard and 30-yard runs on jet sweep plays, and Lynch was able to muscle into the end zone on second down from the 1-yard line after a pass interference penalty in the end zone set up the game's first touchdown.
---
PASSING DEFENSE





Broncos quarterback Peyton Manning won his fifth MVP award for a season in which he threw a record 55 touchdown passes. But he was a mess all night against Seattle's pass rush, throwing two interceptions. Led by Cliff Avril, Seattle's line moved Manning off his spot all night and batted down some key passes while the big, physical defensive backs made life miserable for Broncos receivers before and after the catch. The "Legion of Boom" lived up to its name, outmuscling the top-scoring offense in NFL history.
---
RUSHING DEFENSE





Total domination. And yeah, the Broncos had to get away from the run because they were down 15-0 before they had a chance to run their offense. But Seattle's front bottled up Knowshon Moreno and Montee Ball, holding Denver to 27 yards rushing on 14 carries, forcing a fumble (that Denver recovered) and stripping the Broncos of any chance to maintain any level of balance on offense.
---
SPECIAL TEAMS





Harvin barely played all season. Finally healthy, he was a difference-maker in the biggest game of his career. Seattle's 22-0 halftime lead looked tough to overcome, but the 29-0 lead they had 12 seconds into the half after Harvin's 87-yard kickoff return for a touchdown looked impossible. Seattle's kick coverage team held electric Denver return man Trindon Holliday in check.
---
COACHING





Give Pete Carroll the grade for the full year, as every move he made seemed to pay off. He had enough faith in his defense to let Manning start the game with the ball after he won the coin toss and to kick a first-quarter field goal instead of going for it on fourth-and-short inside the Denver 10. He also stayed aggressive even as his team was rolling early, calling timeout on a Denver fourth-and-2 from the Seattle 19 with 1:06 left in the first half. Seattle didn't even try to move the ball in the final minute after stopping the Broncos and taking possession, but it showed a coach in control of the game. You also have to hand Seattle defensive coordinator Dan Quinn the victory over Denver offensive coordinator Adam Gase in the matchup of hot head-coaching candidates.
January, 31, 2014
Jan 31
11:00
AM ET
There was a time, when
John Elway
wore a helmet at work instead of a tie, when the
Denver Broncos
and
Seattle Seahawks
were division rivals.
From 1977 to 2001, the two teams did their football business together in the AFC West and now these former division rivals, who have gone their separate ways since -- through good times and bad -- now arrive to Super Bowl XLVIII as the matchup many wanted to see.
The Broncos' league-leading scoring offense -- which produced an NFL record 606 points with
Peyton Manning
at quarterback -- against Seattle's league-leading defense (14.4 points per game), a physical, brash group that led the league in scoring defense, total defense, pass defense and interceptions.
It is the first time the league's No. 1 offense and No. 1 defense have met in the Super Bowl since 1990, when the
Buffalo Bills
and
New York Giants
authored a classic, a 20-19 Giants win decided when Scott Norwood's kick drifted wide right.
ESPN.com Seahawks reporter Terry Blount and ESPN.com Broncos reporter Jeff Legwold discuss Sunday's game:
Legwold:
Terry, in your mind, what are some of the major decisions John Schneider and Pete Carroll have made to put the Seahawks in this position?
Blount:
Jeff, first and foremost, the one decision that almost everyone will point to is selecting
Russell Wilson
with a third-round draft choice two years ago when so many experts felt Wilson was too short to be an effective starter in today's NFL. That led to another big decision when Carroll named Wilson the starter after the team had signed
Matt Flynn
to a big-money deal -- a brave move, to say the least. But pointing to one move doesn't begin to tell the story of a team that Schneider and Carroll completely revamped over the past four seasons. Only four players remain from the team they inherited in 2010. Schneider and Carroll's strengths are their trust in each other and their ability to make stars, or at least quality starters, out of players that other teams overlooked such as cornerback
Richard Sherman
(a fifth-round pick), slot receiver
Doug Baldwin
(undrafted) and guard
J.R. Sweezy
(a seventh-round pick). They also made one of the best trades in team history, acquiring
Marshawn Lynch
from Buffalo in 2010. It's an example of how Schneider and Carroll are willing to take chances on players who might have had off-the-field issues.
Let me ask you a similar question, Jeff. Elway gets huge props for convincing Manning that Denver was the place for him to end his career, but obviously, it took more than one move to get the Broncos to the Super Bowl. Aside from Manning, what has made Elway's tenure so successful?
Legwold:
Elway's mission, for owner Pat Bowlen, when he took the job, wasn't just to make the team competitive as quickly as possible after the 4-12 finish in 2010, but to fix the cracks in the foundation. This meant addressing the personnel and salary-cap issues that needed to be dealt with if the team was going to succeed over the long term. Elway always says people talk to him about a "win-now philosophy," but he wants the team to win from now on.
Elway and the Broncos' front office cleaned up the cap a bit, and though Elway is a former quarterback, he thinks big picture. They've drafted plenty of defensive players -- 11 of 23 picks under Elway -- and they've made finding the guy they want more important than simply making big-ticket splashes in free agency, other than Manning of course. Signing players to one-year deals with little or no signing bonuses, such as
Shaun Phillips
(10 sacks),
Paris Lenon
and
Quentin Jammer
(two starters and a situational player in the defense), have made it go. Starting center
Manny Ramirez
was released by the Lions at one point. John Fox, hand-picked by Elway, and his staff also have gotten more from players who were holdovers such as
Knowshon Moreno
and
Demaryius Thomas
. Toss in some big-time draft hits --
Von Miller
and
Julius Thomas
-- and you have back-to-back 13-3 finishes.
For their part, the Seahawks have played quality defense all season long. Terry, how do you think they will attack Manning?
Blount:
They will line up and say, 'This is who were are and what we do. Beat us if you can.' I honestly don't think they'll change a thing. Whether it's a rookie calling the signals or one of the all-time greats such as Manning, the Seahawks don't believe anyone can outperform their defense. They are as talented a group as I've seen. Two things set them apart: incredible overall speed, especially at the linebacker spots, and a physical approach that borders on all-out violence and intimidation. Calling for crossing patterns over the middle against this bunch is asking for punishment. The one thing defensive coordinator Dan Quinn said they will do is change the wording and signals on their calls. And what they must do in this game is get a push up the middle on the defensive front and force Manning to move in the pocket. Defensive tackles
Brandon Mebane
,
Tony McDaniel
and
Clinton McDonald
have to outmuscle Denver interior linemen in this game.
Seattle's Legion of Boom secondary is an extraordinarily talented group that includes three players who were voted into the Pro Bowl. They play a lot of press coverage and almost dare a quarterback to try to beat them.
Jeff, does man-to-man coverage help or hurt Manning and his receivers?
Legwold:
Man coverage almost never hurts Manning, unless those defensive backs consistently knock the Broncos' receivers off their routes, or Mother Nature brings a windy night. And not just a breeze, but something on the order of the 40-mph gusts the team faced on a frigid night at New England this season. But even then Manning was sharp and aggressive on a late drive to tie the game at 31-31. Where some defenses have had some success this season -- Indianapolis, New England and to a certain extent Jacksonville -- was when they essentially tossed aside the idea of adding pressure to try to get Manning, because he gets the ball out too quickly, and play as physically as possible against the Broncos' receivers to disrupt their routes and disrupt the offense's timing. That said, Manning still threw for 386 yards and three touchdowns against the Colts to go with 295 yards and two touchdowns against the Jaguars. And while the Patriots held him to a season-low 150 yards on Nov. 24, Manning still looked sharp late, throwing the ball in a game in which the Broncos rushed for 280 yards because New England often left six-man fronts after dropping so many players into coverage. In the AFC Championship Game against the Patriots, who used much the same philosophy as in November, Manning threw for 400 yards and two touchdowns. The mix for some kind of defensive success is usually to get the Broncos receivers out of sorts and find a way to pressure Manning in the middle of the field so he can't step into the throws.
Staying at quarterback, Terry, how do you think Wilson, certainly well-known for his poise and maturity, will handle his first Super Bowl behind center?
Blount:
I realize it's a lot to ask of any second-year quarterback to enter this setting and not have it effect his performance, but Wilson is an extraordinary young man. I've said all season that he has the unusual quality of being at his best when things appear to be at their worst. He thrives on the big stage. I've never seen him rattled, and when he does make a mistake (such as fumbling on the first play in the NFC Championship Game), he acts like it never happened. And I've never seen any athlete who prepares with the time and detail that Wilson prepares. You can't fool him. People often compare him to Fran Tarkenton because of his scrambling ability, which is true. But in some ways, I see him more of a Bart Starr-type quarterback, a man who had the ultimate respect of his teammates, understood the skills of the men around him and made them better. Wilson said his goal every game is to be the calm in the storm and stay in the moment. Well, there's no moment like this one. It's cliché to say, but I think he truly believes he was born for this moment.
Jeff, there has been a lot of talk about how extreme weather conditions could benefit the Seahawks and hinder Manning's ability to throw the football the way he normally would. Do you think that's overblown?
Legwold:
There may be no more overblown idea circulating around than Manning's ability to play in the cold. The cold-weather stats are always tossed around, but there are at least two of those games in some of the totals people are using when Manning played only one series because the Colts had their playoff position wrapped up. One of those was in Denver to close out the 2004 regular season (32 degrees at kickoff; Manning threw two passes in the game). The wind has been a far-bigger deal for Manning. Post-surgery, he has had to make some adjustments to his game because of some grip issues in his right hand. He wears a glove on his throwing hand in a variety of temperatures now. This season, he wore it in New England (22 degrees, wind chill of 6 degrees), against Tennessee (18 degrees), as well as in Houston (kickoff temperature was 58 degrees) and at Oakland in the regular-season finale, when the kickoff temperature was 70. And with the glove on his throwing hand in 10 games this season, including both of the Broncos' playoff wins, Manning has thrown 33 touchdown passes to go with five interceptions. He's had four 400-yard games and six games when he attempted at least 40 passes. People have scrutinized every wobble of every pass this season, but somehow he threw for 5,477 yards and 55 touchdowns. And wobbles or not, Manning has not been sacked and the Broncos have punted only once in this postseason.
In the Seahawks' defense, Terry, how big of an impact did signing
Cliff Avril
and
Michael Bennett
in free agency have on that group?
Blount:
It's this simple: The Seahawks would not be playing in the Super Bowl without them. Seattle's big weakness last year was the lack of a consistent pass rush and a lack of depth on the defensive line. Not anymore. Along with those two, Seattle also signed veteran defensive tackle Tony McDaniel, a mountain of a guy who has been a disruptive force inside. Bennett may be the most underrated defensive linemen in the NFL. He has been everything the Seahawks hoped for as a hybrid down linemen who can play end or tackle effectively. He is a relentless, high-motor guy who never takes a play off. Avril is a gifted speed-rusher whose claim to fame is his uncanny ability to knock the ball out of a quarterback's hands and force a fumble, something he has done five times this season and 13 times over the past three years.
Jeff, everyone talks about the matchup between the Seahawks' No. 1 defense against the Broncos' No. 1 offense, but how do you think Denver's defense matches up against Seattle's offense and its power-running game with Lynch?
Legwold:
Since
Champ Bailey
's full return from a left foot injury he originally suffered against the Seahawks in the preseason -- Bailey played in just five games in the regular season and was shut down for several weeks after a failed return in early December -- the team has played far better. It's surrendered 17 or fewer points in each of the past four games, including both playoff wins. And while Denver's numbers, as well as its play at times for that matter, haven't always been pretty, the Broncos do play better out of their base defense.
They will be in their base defense against the Seahawks if Seattle chooses to pound Lynch out of a two-tight-end or two-back set. They inserted a veteran, Lenon, into the middle linebacker spot down the stretch in the base to add some bulk. With Lenon,
Nate Irving
and
Danny Trevathan
at linebacker, they have speed to the ball if their defensive end can consistently set the edge. Against some of the power teams they have faced this season, including those with some read-option things in the offense such as Washington and Oakland, the Broncos showed a little more of a 3-4 look on early downs. It will be intriguing if the Seahawks -- seeing the Broncos have done far better in the heavier looks -- try to run against the nickel and dime packages and how the Broncos respond.
Terry, if the Seahawks win, what players beyond Wilson will have had the biggest roles to make it happen?
Blount:
Probably the defensive linemen we mentioned earlier: Bennent, Avril and the defensive tackles getting pressure on Manning. If they do, the Legion of Boom will shine and come up with an interception or two that could change the outcome. No matter how well this rugged defense performs, it won't matter unless Wilson can throw effectively. Having receiver
Percy Harvin
on the field could help, but it really comes down to the same story all season. If Lynch has a punishing day running the ball, someone will be open for a big play in the passing game.
Jeff, if you had to pick one thing that Denver must do to win this game what would it be?
Legwold:
Overall, they have to manage the moment. Teams don't win the Super Bowl as they go through all the build-up, but plenty have lost it when they got distracted by the bright lights and attention only to forget why they were in the Super Bowl city in the first place. As Phillips put it: "If guys want to party in New York, New York will still be there next week." But on the field, they have to keep Manning clean, give him some space to work in the pocket and with that their receivers have to play with an edge, fight for both their real estate and the ball.
January, 30, 2014
Jan 30
2:30
PM ET
JERSEY CITY, N.J. --
Richard Sherman
is done talking -- at least for now.
Sherman
The
Seattle Seahawks
cornerback, who made himself the biggest story in America with his postgame outburst following the NFC Championship Game, faced the media for the final time before Super Bowl XLVIII on Thursday morning, and continued his week-long reticence.
Many expected Sherman to continue making incendiary remarks this week under the Super Bowl spotlight, in the largest media market in the country. But he steered clear of controversy, for the most part.
The one issue that flared up stemmed from something Sherman wrote in a column published on TheMMQB.com a month ago. Sherman listed the Denver Broncos'
Peyton Manning
as the smartest quarterback in the NFL, but questioned his arm strength, saying Manning throws "ducks."
Sherman stood by what he wrote when asked about it Wednesday. On Thursday morning, Manning was
asked to respond
.
"I do throw ducks," Manning said. "I've thrown a lot of yards and touchdown ducks, so I'm actually quite proud of it."
A couple hours later, Sherman was asked to respond to Manning's comment.
"Oh, I agree," Sherman said. "That's exactly what I said. That's what I said. It sounds like a repeat of what I said."
This hardly qualifies as a war of words.
Sherman's words immediately after his Seahawks beat the
San Francisco 49ers
two Sunday ago, however, are another story. "I'm the best corner in the game," Sherman yelled into the TV camera, before ripping 49ers wide receiver
Michael Crabtree
.
Sherman was asked Thursday if he still feels he is the best cornerback in the NFL.
"As a corner, at the cornerback position, I think every one of them out there is gonna say that they're the best. And that's the way you gotta play the position," Sherman said. "I'm sure every corner out there that's playing good football right now -- the Joe Hadens, the Patrick Petersons, the Darrelle Revises, the Aqib Talibs, the Alterraun Verners -- feels like they're the best corner in football. In order to play this game at the highest level, that's how you gotta feel, that's the confidence you feel."
"Now they may not go out and say it out loud and proclaim it like I do," Sherman added. "But I'm 100 percent sure they feel that way. They played some great football, and they deserve to feel that way as well."
Sherman went into Super Bowl week like a lion, and went out like a lamb.
Now all that's left is a football game, three days from now.
January, 25, 2014
Jan 25
8:00
AM ET
RENTON, Wash. -- The
Seattle Seahawks
were one of the teams
Peyton Manning
had on his short list before signing with the
Denver Broncos
two years ago.
Seattle coach Pete Carroll was asked Friday how serious those negotiations became at the time.
Manning
"Well, he called me," Carroll said about Manning's interest. "That was a good start. Then everything went downhill from there, so I guess I didn't do a very good job on the phone."
Carroll can joke about it now because the Seahawks went on to draft
Russell Wilson
, who became the rookie starter as a third-round pick. Would they have drafted Wilson if Manning had signed with the Seahawks?
"Yes," Carroll said. "And knowing what we know now, we would have drafted him a lot sooner. Obviously, we've all moved on, but it is interesting that we're playing each other now in this setting. It's pretty cool."
Seahawks general manager John Schneider was asked if he wonders how things might have turned out had the team signed Manning.
"Yeah, often," Schneider said. "I think we would have continued to do things the way we do them. We would not have been able to afford several players we have now, but we would have competed in other areas to compensate."
January, 24, 2014
Jan 24
12:10
PM ET
RENTON, Wash. --
Denver Broncos
quarterback
Peyton Manning
can bark out "Omaha" or any other middle America city he wants to use in his signal calling.
The
Seattle Seahawks
don't care. They won't be listening in Super Bowl XLVIII.
The Seattle defense knows Manning says a lot of things while he's making his play-calling decisions before each snap, but the Seahawks won't try to translate it like some on-the-field United Nations interpreter.
"You can't be a genie and think what he's thinking," Seattle free safety
Earl Thomas
said. "Obviously, you don't know what's coming. That's why you just have to be ready for anything. You just have to think principled ball. Why are you out there? It's best to just line up and do what you do."
What they do, in becoming the No. 1 defense in the NFL, is play aggressively and be physical at the point of attack with press coverage. The Seahawks aren't going to change things to try to second-guess Manning's constant audibles.
"Certainly for us, we have a real style about how we play," Seattle defensive coordinator Dan Quinn said. "We have to focus on our style and our football. We know that part of those checks [Manning's signals] are dummy calls at the line of scrimmage.
"So for us, it's more about how we play than the checks and the information that they're doing on the other side."
Seattle strong safety
Kam Chancellor
said it comes down to the communications between the guys on defense more than deciphering Manning's codes.
"It's not worth it trying to figure out what he's saying," Chancellor said. "Just play your defense, play your coverage, know what you have to do on your side of the ball and just be sound at it."
And, for the record, what's does Chancellor think "Omaha" means?
"I have no clue," he said.
January, 22, 2014
Jan 22
8:00
AM ET
RENTON, Wash. -- The Seahawks didn't take any time last week thinking about whom they might play in the Super Bowl. Taking on the rival 49ers was a big enough task. Super Bowl questions would have to wait.
Manning
But now that it's here, the Seahawks players say this is what they wanted all along, a showdown with possibly the best quarterback ever to play the game in Denver's
Peyton Manning
.
"We wouldn't have it any other way," Seattle cornerback
Richard Sherman
said. "They're an unbelievable, record-setting offense with a Hall of Fame quarterback. That's as good as it gets. And that's as tough a game as you can get in the Super Bowl.
"The No. 1 defense [Seattle] against the No. 1 offense [Denver]. It doesn't happen like this too often where both No. 1 seeds make it. It's a testament to the hard work on both teams. I'm sure it's going to be a fantastic game."
It may be the first snowy game in a Super Bowl. Temperatures in MetLife Stadium on Feb. 2 could be in the teens, and snow always is a possibility that time of year in New Jersey.
"We're ready for it," Seahawks defensive lineman
Michael Bennett
said. "Whatever happens, we don't care about the weather. We just want to go out there and win the game."
And winning against one of the all-time greats would add to the moment for many of the Seahawks.
"Going heads-up with Peyton Manning is special," Seattle linebacker
Malcolm Smith
said. "Just knowing all the things he's done for football, it's really an exciting opportunity."
Free safety
Earl Thomas
can't wait to test his skills against Manning.
"As a competitor, you always want to play the best," Thomas said. "We know what's at stake. We know a chance like this is rare."
January, 20, 2014
Jan 20
5:14
PM ET
RENTON, Wash. -- A Pete Carroll-coached team is facing quarterback
Peyton Manning
for the first time since 1999, Manning's second season in the NFL.

Carroll
Manning
Things have changed quite a bit for both men since then, to say the least. Carroll was the head coach at New England in 1999 and Manning was beginning his career with the
Indianapolis Colts
.
Carroll was fired after that season and went on to win a national championship as the head coach at Southern Cal. Manning played 13 seasons and won a Super Bowl for the Colts and then moved on to Denver last season.
The Seahawks haven't played a game against Manning, other than preseason, since Carroll took over as the coach in 2010. But Carroll is excited about the Seahawks playing against the future Hall of Famer.
"What a great challenge," Carroll said. "I think it's an extraordinary opportunity to go against a guy that set all the records in the history of the game, and the incredible production that they put up this year.
"He deserves to be there because of what he's done this year with his team. We're not going to take this challenge lightly. We're going to go after this thing, and we're not going into this game any other way but thinking that we're going to win. These guys don't know any other way."
August, 30, 2013
8/30/13
11:40
AM ET
Six projected starting quarterbacks played in their teams' final exhibition games of the 2013 preseason. The
Seattle Seahawks
'
Russell Wilson
and the
San Francisco 49ers
'
Colin Kaepernick
were two of them, and both led touchdown drives before exiting after one series. None of the NFL's projected starters got hurt Thursday night.
The chart shows week-by-week snap counts for quarterbacks I singled out as projected starters heading into preseason. NFC West alums
Kevin Kolb
and
Matt Flynn
might not start after all, but I've left them in the chart for context.
St. Louis Rams
coach Jeff Fisher has generally played starters in the final preseason game. He did not this time.
"Typically I have, but I guess in the new world that we're in, it's hard to," Fisher told reporters after the Rams' game against Baltimore. "What that implies is that I'm pleased with where they are right now, those guys that sat. They worked hard. We got a great workout and it allowed them to fast-forward their minds to Arizona."
Fisher could have been alluding to the run of higher-profile injuries around the league this summer. Last year, the Rams lost rookie defensive tackle
Michael Brockers
to a high-ankle sprain in the final preseason game.
The Rams emerged from this preseason healthier than their division rivals. That did not stop the 49ers from playing their offensive starters or the Seahawks from playing starters on both sides of the ball Thursday night. The
Arizona Cardinals
rested most of their starters, though
Michael Floyd
was one notable exception.
San Francisco coach
Jim Harbaugh
offered no explanation for playing his starting offense one series. Kaepernick hadn't gotten many snaps through the first three games, however. Getting additional reps for Kaepernick and the team's group of emerging receivers made some sense on the surface.
Seahawks coach Pete Carroll went into the final preseason game saying he wanted starters to play because the team values this games as competitive opportunities.
August, 26, 2013
8/26/13
1:24
PM ET
RENTON, Wash. -- Summer fun for the
Seattle Seahawks
is almost over, so what stood out?
Training camp has officially ended, cuts are coming and the final preseason game for the Seahawks is Thursday night at home against Oakland.
[+] Enlarge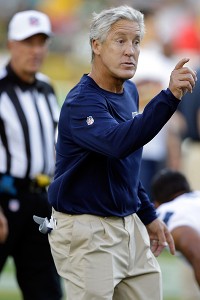 AP Photo/Tom LynnPete Carroll's Seahawks will have to work on cutting down the penalties after a preseason chock full of them.
Here's a quick look at some of the high, lows and truly unusual moments over the last month.
Best surprise on offense:
Receiver
Stephen Williams
. He's been nothing short of spectacular. The former Arizona Cardinal leads all NFL receivers in the preseason with 186 yards on six receptions, including three long touchdowns and four catches of 20-plus yards. At 6-5, 210, the lanky Williams has long arms and has shown the ability to out-leap defenders for tough catches down the sidelines.
Best surprise on defense:
Defensive end
Benson Mayowa
. The undrafted rookie from Idaho has stood out at practice and in the games with his quickness and ability to rush the passer. At 6-3, 255, he was a long shot to make the team when training camp started. Now he appears to be a shoo-in. He has 10 tackles in three games and 2.5 sacks. He also has five quarterback pressures and a fumble recovery.
The humble celebrity:
Quarterback
Russell Wilson
, of course. This town is in a Wilson frenzy. Probably not since the heyday of Ken Griffey Jr. has any athlete captured the heart of the city like Wilson. But Wilson's growing status as an NFL celebrity reaches far beyond the Pacific Northwest. He was the cover for ESPN The Magazine's NFL preview issue and recently was featured in GQ Magazine. In Russ We Trust is the hottest slogan in Seattle, but Wilson takes it all in stride and handles his popularity with quiet dignity.
Biggest disappointment:
Losing receiver
Percy Harvin
before he got started. The 67 million-dollar man was Seattle's biggest off-season acquisition, the dynamic receiver who could give the Seahawks' offense its one missing piece as a game-breaker and consistent deep threat for Wilson. But a torn labrum required hip surgery that will keep him off the field until at least late November. How can you miss what you never had? The Seahawks will find out soon enough.
Best moves for a big man:
Defensive tackle
Clinton McDonald
, all 6-2, 300 pounds of him, showing off his popping dance moves to the music during a walk-through practice. Maybe he can earn a spot on "Dancing With The Stars."
Fat man in some little shorts:
OK, he's not really fat, just big, but I kept thinking of the old "Tommy Boy" line by Chris Farley every time guard
John Moffitt
walked on the practice field in the shorts that looked like he was ready to play a 1975 NBA game. I wonder if he is wearing mini-shorts now in Denver, and what
Peyton Manning
has to say about it if he is?
Cuts all teams will watch:
Those will come in the Seattle secondary, a spot where two or three of the back-ups could start for most NFL teams. The Seahawks literally are three-deep at all four spots. The reductions among the defensive backfield will be some difficult decisions for the Seattle coaches, but other teams probably are salivating waiting to see which of these DBs hits the waiver wire.
Most disappointing draft pick:
Chris Harper
. The fourth-round pick from Kansas State just hasn't done anything to stand out, other than being big and strong at 6-1, 235.
If at first you don't succeed:
It took two tries over 24 hours, but Moffitt ended up in Denver after first being traded to Cleveland. That deal was voided when the Browns had concerns over a previous knee injury. Apparently, the Broncos were OK with that, shipping defensive tackle
Sealver Siliga
to Seattle for Moffitt within minutes to the deal falling through with Cleveland.
Yellow Seahawks:
Not yellow, as in cowardly lion. Yellow as in penalty flags. It's been a sea of yellow for the Seahawks in the first three preseason games -- 34 penalties for a whopping 354 yards. But Seattle managed to win all three games and has outscored its opponents 88-30. Coach Pete Carroll isn't happy about it and knows this trend has to end.
Don't call me ChrisTEEN:
It appears the Seahawks have done it again with an early draft pick that had many experts shaking their heads. Seattle didn't have a pick until late in the second round. When the pick came, it stunned many observers to see the Seahawks take a running back, not exactly a weak spot for the team. But Texas A&M's
Christine (pronounced KRIS-ton) Michael
, has looked sensational. Michael leads the NFL is preseason rushing yards with 186 yards on 27 carries in two games for a 13.5-yard average, including a 43-yard TD run at Green Bay.
Swiss timing:
Receiver
Sidney Rice
flew across one continent and one ocean to get a knee treatment that took 20 minutes. Hey, whatever works. Rice had a platelet-enriched plasma procedure (whatever that is) on his knee, something that isn't done in the U.S. He returned two days later and has looked fine on the practice field, but hasn't played yet in the preseason.
Two plays, two TDs and 213 yards:
You could watch a thousand NFL games and not see this happen again. The Seahawks have a 107-yard touchdown (
Jermaine Kearse
's kickoff return) and a 106-yard TD (
Brandon Browner
's fumble recovery in the end zone) in the first half of the Denver game Aug. 17.
People everywhere:
It was a training camp festival every day at the Virginia Mason Athletic Center. The Seahawks had 2,500 tickets available for each practice at camp and they sold them all. Heck, they probably could have sold 10,000 each day if they had the space at the V-MAC. The Seahawks' facility is one of the most picturesque settings in the NFL, sitting on the eastern banks of Lake Washington. There's a hill overlooking the field and the lake where fans sit to watch practice. It was packed every day.