Seattle Seahawks:

Red Bryant
February, 2, 2014
Feb 2
8:00
AM ET
NEW YORK -- The talk is over, and the day finally is here: Super Bowl Sunday.
Here are five things the
Seattle Seahawks
must do well to defeat the
Denver Broncos
at MetLife Stadium:
1. Pressure Peyton Manning
: It's a mammoth task against a quarterback who gets rid of the football so quickly, but it isn't so much about getting sacks as it is putting enough pressure on Manning to take him out of his comfort zone.
Everyone knows Manning is a classic pocket passer. He likes to step up in the pocket to make his throws. That will make it difficult for a talented edge-rusher like
Cliff Avril
to get to Manning.

Bryant
So the Seahawks have to get pressure up the middle with their defensive tackles --
Brandon Mebane
,
Clinton McDonald
and
Tony McDaniel
. Big
Red Bryant
will also get a push in the middle sometimes, and they might use some stunts with end
Michael Bennett
rushing up the middle when he lines up outside. Also, look for middle linebacker
Bobby Wagner
to blitz a couple of times.
"There's no certain way to get to Manning," Bennett said. "It comes down to doing what we do and beating your man."
2. Let the quiet Beast loudly rumble
: It's been a strange and somewhat stressful week for
Marshawn Lynch
, having to do media sessions on three consecutive days. Not his cup of tea, and a distraction the Seahawks could have lived without, but that is all behind them now.

Lynch
Lynch was successful on runs up the middle in the first two playoff games this season, but the Seahawks should try more off-tackle runs and toss sweeps against Denver. The Broncos have
Terrance Knighton
at nose tackle, a mountain of a man at 340 pounds. He's a run-stuffer.
When asked what his biggest concern was regarding the Denver defense, Lynch didn't hesitate. "Pot Roast," he said, which is Knighton's nickname. "He's a big boy."
The Seahawks might use a third tackle with
Alvin Bailey
, as they did against the
49ers
, to line up with tight end
Zach Miller
and use a muscle push to run Lynch off the edge of the line and hope he goes Beast Mode.
3. Keep the Broncos guessing with Harvin
: The Seahawks need to make the most of their X factor in receiver
Percy Harvin
. The Denver defense can't know exactly how to account for a guy who played only six quarters this season, but they know he's faster than a cheetah with its tail on fire.
Harvin
So make them worry about Harvin on almost every play by putting him in motion and lining him up in different spots. Get the ball to him early so Denver will know he's part of the plan. Someone for Denver will have to spy him, meaning someone else on the Seattle offense -- receivers
Golden Tate
or
Doug Baldwin
-- will get free.
"We're excited to have Percy back, because he brings more to the table," Tate said. "He's going to open it up for other guys more."
4. Punish the Broncos on crossing routes
: The Seattle defense can't allow Manning and his receivers to nickel-and-dime them to death with short passes over the middle and quick slants.

Chancellor
And if receiver
Wes Welker
wants to try a pick-play block, have strong safety
Kam Chancellor
waiting to greet him. Linebackers
Malcolm Smith
and
K.J. Wright
also have to get physical on these plays and let the Broncos know there is a price to pay every time they catch a pass in the middle of the field.
"We are a physical bunch," Chancellor said. "We like to be physical. We like to be hands-on. We like to make you feel our presence. That's how we operate."
5. Play with poise
: This is the most important point. Seattle is the more talented team overall, but the Seahawks must play smart and not get over-amped in the biggest game of their lives. Careless personal fouls and false starts can be the difference in the game, and too much emotion can cause a player to make a mistake he wouldn't normally make.
Sherman
The Seahawks did a great job of controlling their emotions in the NFC Championship Game against the hated 49ers. Well, until the end when cornerback
Richard Sherman
went on testosterone overload after the game-saving play. But the game was decided at that point, so have at it.
The same is true in the Super Bowl. Play your game and don't give the Broncos a freebie. Do what you did to get here.
"Respect the journey," said Seattle quarterback
Russell Wilson
. "But at the same time, enjoy the moment. Take it all in. It is real. Just be poised and respect the process. I'm going to play with a smile on my face and just go for it."
Good advice. If the Seahawks follow it, that should be enough.
December, 19, 2013
12/19/13
3:07
PM ET
RENTON, Wash. -- The division title and home-field advantage are on the line Sunday for the Seahawks against the
Arizona Cardinals
, but you wouldn't know it talking to the Seattle players. Feeling pressure is not their nature.
[+] Enlarge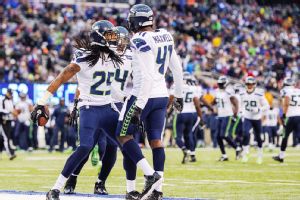 Ron Antonelli/Getty ImagesEarl Thomas had some good-natured criticism for teammates Richard Sherman and Byron Maxwell.
This is one loose bunch going into the most important game of the season so far.
Some of the topics of conversation are celebrations dances and TV commercials of the players, along with hairstyles.
"It's all about having fun," said free safety
Earl Thomas
. "Every game this year we've taken a championship opportunity, so when a game like this one came around we'd be ready for it."
Thomas was on a roll when he spoke to reporters Wednesday. First, he had a message for cornerback
Byron Maxwell
, the new sensation in the Legion of Boom with three interceptions in the last two games.
"Byron is very humble," Thomas said. "He wants it and he gets it. He's very familiar with this system. But one thing I need to say about him. He needs to cut his hair. He's getting to look like a caveman out there."
Thomas had long hair until this season, when he cut his dreadlocks.
Thomas also wanted to talk about the best dancer on the team, especially among the defensive linemen.
Brandon Mebane
has his belly roll after a sack and
Michael Bennett
has his provocative pelvic thrust, similar to Elvis Presley.
"They're not afraid to show their jelly," Thomas said. "It's creative. All of it's good because when we're doing that, it means we're having a lot of success."
Bennett's dance move is getting most of the youtube.com attention these days.
"Whatever I feel like doing, I'm just doing," Bennett said. "But the media went crazy on the last one, so I don't know if I'll do it again. Mebane's been doing his for a while, so I'm just second to his."
Bennett said cornerback
Richard Sherman
probably is the best dancer on the team, but he's not Bennett's favorite.
"Sherm is a great dancer, but the best to me is
Red Bryant
,'' Bennett said. He's so big (6-4, 325). He's not really a dancer, but when he does, it's funny."
Several Seahawks are seen regularly in Seattle on local TV commercials, including
Russell Wilson
,
Marshawn Lynch
,
Max Unger
and Sherman.
"They could be better actors, especially Sherm," Bennett said.
And Bennett said he knows exactly the commercial product he wants to endorse.
"A Rolls Royce," he said. "I'm never gonna shave, so I won't be in a shaving commercial. But I'd be happy to be in a Rolls Royce commercial."
December, 8, 2013
12/08/13
11:33
PM ET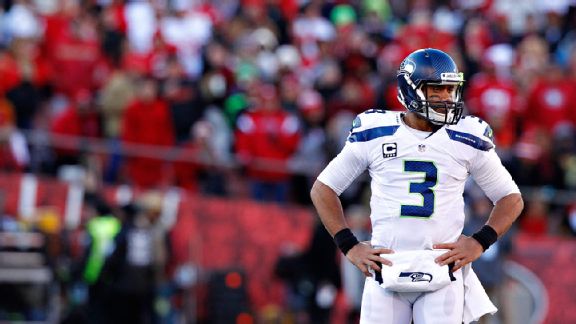 Cary Edmondson/USA TODAY Sports"We should have won it," Russell Wilson said, echoing the Seahawks' version of events Sunday.
SAN FRANCISCO -- The
San Francisco 49ers
got it done, winning
19-17
over the
Seattle Seahawks
in archaic Candlestick Park. If you think it made a statement or caused the Seahawks to shiver with fear, think again.
San Francisco was the better team on this day, but the best team lost.
The home team, playing in front a frenzied crowd in a game it had to have against its archrival to stay in good playoff position, won it with a field goal in the final minute.
"Penalties killed us today," Seattle defensive lineman
Michael Bennett
said. "But you can't make too much of it. This is a tournament, one game at a time, and the ultimate goal is the Super Bowl."
The Seahawks still firmly believe they are on the right path to get there. Losing a close one to the 49ers didn't place any doubts in their heads. And there's no way the 49ers walked away from this one and honestly said to themselves, "Oh yeah, we're better than they are."
The Seahawks, now 11-2 and still likely to clinch the NFC West crown, walked away firmly believing they're the better team, despite the slight hiccup Sunday.
And they're right. San Francisco (9-4) did nothing more than hold serve, barely, thanks to some sloppy play by the team that had beaten them by a combined score of 71-16 in the previous two meetings.
All this game proved is that Seattle can't have nine penalties for 85 yards and get a punt blocked, and still beat a strong team on the road.
"It was a terrific, hard-fought football game, just a slugfest," Seattle coach Pete Carroll said. "It was one of those types of games where one play can make a big difference. But we couldn't get out of our own way with the penalties. That dictated the flow of the game."
Seattle entered the game with a seven-game winning streak. They now have lost twice this season, by a total of eight points.
"We should have won it," Seattle quarterback
Russell Wilson
said. "The penalties really hurt us offensively and got us off schedule. We play so physical that sometimes those calls are going to go against us. But we have to eliminate that."
Neither team led by more than six points Sunday. The lead changed hands six times. Seattle led 17-16 before a 51-yard run by
Frank Gore
gave the 49ers the field position they needed to set up a winning field goal, a 22-yarder by
Phil Dawson
with 26 seconds to go.
"We fought hard all the way, but they got the big run at the end that gashed us," Seattle free safety
Earl Thomas
said. "We didn't take care of the little things today, and when that happens, anyone can beat you. We just were not disciplined enough against a good team. But you can't let a game like this one define you, and it doesn't."
In the locker room afterward, the Seahawks kept saying the same thing over and over.
"All our goals are still in front of us," defensive end
Red Bryant
said, a nine-word statement that was the theme of the moment. "It was a great game to be in and you have to give them credit. They made the plays to win the game, but we can handle it. We'll lick our wounds and be just fine."
In other words, no big deal. The 49ers won it. A soft "congratulations" came from the Seahawks, but with a look in their eyes that said, "Now, catch us if you can."
"It's good to get this out of the way now," Seattle receiver
Doug Baldwin
said. "We knew it would be a hard-fought battle because they are a good football team. But it's really about us taking care of our business now. That's all that matters."
Cornerback
Richard Sherman
, who was called for defensive holding twice (one of which was declined), sat at his locker without the least bit of concern.
"This doesn't change anything for us," Sherman said. "They got some fortunate penalty calls and that was the difference. It happens sometimes. When you lose like that it's hard to be upset.
Maybe the worst news of the day for Seattle was that linebacker
K.J. Wright
suffered a broken foot, an injury that Carroll said likely would sideline him at least six weeks.
[+] Enlarge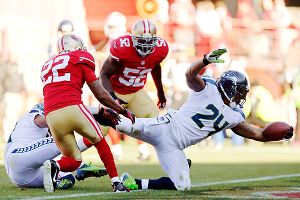 Brian Bahr/Getty ImagesMarshawn Lynch scored a touchdown in the first half, but for the game he was held to 3.6 yards per carry.
And guess what his teammates were thinking? That Wright could return for the Super Bowl.
"The season wasn't going to end today, one way or the other," Carroll said. "Everything is still out there for us."
Unless the Seahawks have a total collapse in the final three games, including the last two at home against Arizona and St. Louis, they are going to have home-field advantage in the playoffs. Seattle has won 14 in a row at CenturyLink Field.
Had the Seahawks come to Candlestick and stunk up the place, as New Orleans did last week at Seattle, maybe they would have some concerns. That didn't happen. Aside from the penalties, they played pretty well in a tough environment. The defense gave up one touchdown. Wilson completed 15 of 25 passes for 199 yards and one touchdown. His only interception was a desperation deep throw at the end of the game.
This was like one hitless game in a season in which your slugger has a .350 average and 30 homers.
"We're still in great position," Wilson said. "There's no panic. We just need to stay positive."
Keeping a positive attitude is not a problem for this team.
"You can't win them all," Wilson said. "The goal is winning the last one."
November, 20, 2013
11/20/13
8:00
AM ET
RENTON, Wash. -- Defensive linemen
Red Bryant
has played a lot of great games for the Seahawks in his career, but coach Pete Carroll believed Bryant's effort Sunday stood out.
"Red played his best game he's played for us," Carroll said. "I don't know if you guys noticed that, but he was really in the backfield. It was really clear how forceful he was on a number of plays."
Bryant missed the Atlanta game the previous week because of a concussion he suffered in the Tampa Bay game. But Bryant wasn't the only defensive player Carroll praised on Monday. Carroll thought defensive tackle
Tony McDaniel
had one of his best games, along with defensive tackles
Brandon Mebane
and
Clinton McDonald
, who had the first interception of his career.
The Seahawks held Minnesota running back
Adrian Peterson
to 65 yards on 21 carries in the 41-20 victory over the Vikings.
"But it was really Tony and Red that made a big difference," Carroll said. "Those two guys combined to really hit the line of scrimmage. Both guys got better, so it's just another indication that there's room for improvement. Their consistency and intensity was great, and they tackled well because of it. It was really obvious and exactly what we hoped."
McDaniel had seven tackles, including one in the backfield. Bryant had three tackles, but that doesn't show how disruptive he was up front all game. He had two tackles for losses and one quarterback hit.
November, 14, 2013
11/14/13
7:08
PM ET
RENTON, Wash. –
Seattle Seahawks
receiver
Percy Harvin
was a full participant in practice Thursday for the first time since his hip surgery in August, increasing the likelihood that he will play Sunday against his former team, the
Minnesota Vikings
.
Harvin
Harvin did not speak to reporters Thursday, but he is expected to talk Friday. If he plays Sunday, it would be his first appearance in an NFL game since Nov. 4, 2012, when, coincidentally, the Vikings played at Seattle.
Seahawks quarterback
Russell Wilson
said he doesn't anticipate much of an adjustment period once Harvin joins the offense.
"I feel so comfortable with Percy," Wilson said Thursday. "I threw a ton with him this offseason before the injury really popped up, so it was one of those things where we had a really good relationship before. I trust what he does."
Wilson believes Harvin can make an immediate difference for the Seahawks.
"He's in and out of his breaks really quickly," Wilson said. "He's just a great football player. You want to give him the ball as much as you can. On our offense, we have so many guys that we can use. You add Percy into the mix and he brings a whole other explosive mentality to our football team."
Cornerback
Richard Sherman
returned to full participation Thursday after missing practice Wednesday with what was listed as a hip injury. Sherman said he really just needed a day to rest.
Offensive tackles
Russell Okung
and
Breno Giacomini
and center
Max Unger
also were full participants in practice, as was defensive tackle
Red Bryant
. Unger and Bryant missed last week's game with concussions. The Seahawks will need to make a roster move by Saturday to activate Okung.
Defensive tackle
Tony McDaniel
(hamstring) and cornerback
Jeremy Lane
(thigh) did not practice. Cornerback
Brandon Browner
has a groin injury and will not play Sunday, but the Seahawks have not said how long Browner will be out.
November, 8, 2013
11/08/13
5:48
PM ET
RENTON, Wash. -- Seattle center
Max Unger
and defensive linemen
Red Bryant
will not play Sunday at Atlanta, Seahawks coach Pete Carroll confirmed after practice Friday. Both suffered concussions against Tampa Bay last weekend.

Bryant
"We're going to take care of them this week and have them ready for next week," Carroll said. "We have some rotations we've been working on [in Bryant's absence] in practice, but the same guys will be playing for the most part."
Carroll said rookie defensive tackle
Jordan Hill
also will not play because of a biceps injury.
Lemuel Jeanpierre
will get his third start of the season for Unger, who missed two games earlier this season
"He's done really well," Carroll said of Jeanpierre. "Whenever he has played for us he's come through."
Receiver
Percy Harvin
will not be activated this weekend, but Carroll is pleased with his progress.
"Percy is the best he's been," Carroll said. "He had another good workout [Friday]. He's not ready to play this week, but will return to practice, hopefully, next week. All the signs are really encouraging. He feels good and he's not having any issues after he works out. We're hoping he'll be able to jump back into it next week."
Starting right tackle
Breno Giacomini
, who returned to practice this week, is officially listed as doubtful for Sunday; he will not start and isn't likely to play. Giacomini and left tackle
Russell Okung
could return against Minnesota next week.
"They practiced and were able to handle the work, so that's a really good sign," Carroll said. "Those guys are dying to play. We will go into next week to see if they can handle it [at practice] and get ready to play."
Fullback
Derrick Coleman
continued to rehab a hamstring injury and is out for Sunday. Backup safety
Jeron Johnson
is listed as questionable with a hamstring injury.
November, 7, 2013
11/07/13
7:45
PM ET
RENTON, Wash. --
Seattle Seahawks
center
Max Unger
and defensive lineman
Red Bryant
missed practice again Thursday as they continue to go through the league's mandatory concussion protocol this week.

Bryant

Bryant
What happens at Friday's practice will give a clearer picture on whether either man will play Sunday at Atlanta.
If Unger doesn't play,
Lemuel Jeanpierre
will start at center. Jeanpierre did a decent job earlier this season when he started two games while Unger was out with an upper-arm injury.
Bryant has starting every game this season, officially at left defensive end, but he sometimes plays inside in more of a defensive-tackle role. The Seahawks have lot of depth on the defensive line and rotate nine players. If Bryant doesn't play, look for
Michael Bennett
and
Chris Clemons
to start at the defensive-end spots while
Tony McDaniel
and
Brandon Mebane
start at defensive tackle.
Rookie defensive tackle
Jordan Hill
also hasn't practiced this week; he has a biceps injury. Fullback Derrick Coleman is out because of a hamstring issue, and will not play Sunday.
Strong safety
Kam Chancellor
was limited at practice with an ankle injury.
Running back
Marshawn Lynch
returned to full participation at practice after being limited Wednesday with a sore knee. Clemons returned to practice after being out Wednesday with a non-injury-related issue.
November, 6, 2013
11/06/13
7:36
PM ET
RENTON, Wash. --
Seattle Seahawks
coach Pete Carroll said receiver
Percy Harvin
did not practice Wednesday, but Harvin is progressing nicely in is rehab.
"Percy had a really good workout [Wednesday morning]," Carroll said. "I know he's very encouraged about the work he did today. I threw with him a lot before the walk-through, so we'll see what happens. But it's still a day-to-day process.
Harvin
"Really, I think the best way to say it is that we're kind of in phase two of the rehab right now and we're excited that he's strong and feeling good. We'll see what we can do in the days ahead."
So how many phases are there in Harvin's recovery?
"I knew you were going to ask that,'' Carroll said. "I just thought I'd give you a term for it. I have no idea. We'll have to wait and see."
Still, it appears likely the Seahawks will wait at least one more week before activating Harvin and getting him in a game.
"I think it's just a matter of time," Carroll said. "We feel confident that the [hip] surgery [on Aug. 1] went very well. He has no pain in his hip. He's working diligently to get things done. We just have to do it right, because we want him to finish the season with us without it being an issue. He's such a tremendous competitor and he's dying to get back."
Center
Max Unger
and defensive lineman
Red Bryant
did not practice because they are going through the league's concussion protocol.
"We'll see if they can make it back," Carroll said of Unger and Bryant. "Both of them are really determined to do it if possible. We have a real good system in place to make sure we do the right thing there."
Starting offensive tackles
Russell Okung
and
Breno Giacomini
returned to practice on a limited basis Wednesday, but neither will play Sunday at Atlanta. Okung can't return until Nov. 17, and Carroll wants to give Giacomini two weeks of practice before getting back in a game.
Safety
Jeron Johnson
(hamstring) returned to practice, but Carroll said he probably won't play this weekend. Defensive tackle
Jordan Hill
(biceps) did not practice. Defensive end
Chris Clemons
missed practice, but it was not injury-related.
Running back
Marshawn Lynch
participated on a limited basis, which is not unusual for him on a Wednesday.
November, 4, 2013
11/04/13
7:15
PM ET
RENTON, Wash. -- Center
Max Unger
and defensive lineman
Red Bryant
both suffered concussion symptoms in Sunday's game,
Seattle Seahawks
coach Pete Carroll said Monday.
"Max had a good day [Monday]," Carroll said "He got hit in the head [in Sunday's game] and Red did as well, as we found out today. They both will go through the [concussion] protocol to see if they are able to return [to play this weekend]. We'll take great care in making those decisions."
Carroll also was asked about receiver
Percy Harvin
's status to return this weekend at Atlanta.
"I don't know that, but I'm not counting on that," Carroll said. "We'll see. We're still working to bring him back, and he had a good rehab work [Monday]."
Carroll also said it's unlikely right tackle
Breno Giacomini
will return to the offense this weekend, but he will practice this week, as will left tackle
Russell Okung
.
Okung can't come off injured reserve until Nov. 17, so it's possible both starting offensive tackles could come back for the home game against Minnesota that day.
"Breno could play this week, but it's not likely he'll be ready," Carroll said. "It's a lot to ask in one week on the practice field. We'll take a couple of weeks to get his legs under him."
Giacomini had arthroscopic knee surgery Sept. 30
th
. Okung has a torn ligament in a big toe. Both players worked out on the field before Sunday's game against Tampa Bay.
October, 11, 2013
10/11/13
12:00
PM ET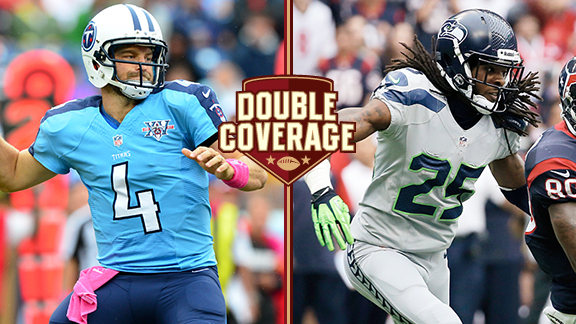 USA TODAY Sports, Getty ImagesBackup quarterback Ryan Fitzpatrick will have to face a stifling Seattle secondary and the league's best corner in Richard Sherman.
Sunday's game between the
Tennessee Titans
and
Seattle Seahawks
is a matchup between two winning teams coming off losses, and both are missing key players on offense.
Quarterback
Jake Locker
is out for the Titans. Both starting tackles --
Russell Okung
and
Breno Giacomini
-- are out for Seattle. Tight end
Zach Miller
could also sit.
The Seahawks have a 10-game home winning streak on the line, hoping to rebound after their first defeat of the season, 34-28 to the
Indianapolis Colts
.
The Titans hope to get a stagnant running game going and find some consistency with backup quarterback
Ryan Fitzpatrick
.
Paul, it looked like Fitzpatrick had a rough first outing for the Titans subbing for an injured Locker. Do you think Fitzpatrick will improve, and how difficult will it be for Tennessee to have success on offense while Locker is out?
Kuharsky:
Fitzpatrick is certainly capable of playing better than he did in the loss to Kansas City, when he had three very bad quarters and one good one. I'm not sure what the Titans can do to help him if they are unable to run the ball. If they can bring some balance with
Chris Johnson
(and maybe
Shonn Greene
, who's still trying to get back after knee surgery), it could be a lot less difficult. Fitzpatrick hardly has Locker's excellent speed, but he scrambled around pretty well against the Chiefs. With Locker in the first four games, the Titans didn't turn the ball over and overcame their deficiencies running the ball. Without him, they need Fitzpatrick to imitate the mistake-free youngster. But Fitzpatrick is more of a gunslinger than Locker and is streakier, and that's probably too much to ask.
Terry, the Titans pledged to be a great running team. It hasn't really panned out that way. Last time Johnson was in Seattle, he had a 2,000-yard season. What's the run defense going to be like?
Blount:
It's been all but impossible to run up the middle on the Seahawks. Defensive tackle
Brandon Mebane
is as strong a run stopper as there is the NFL, and it takes two blockers to handle 325-pound
Red Bryant
. If that fails, it's tough to get past middle linebacker
Bobby Wagner
. But Wagner probably won't play Sunday because of a high ankle sprain. Nevertheless, it's difficult to establish a running game on the Seahawks. Seattle is an aggressive outside pass-rushing team, so occasionally a back can get yardage outside, but not often.
Paul, Locker told us on the conference call Wednesday what a disappointment it is that he won't get to play this weekend in front of family, friends and University of Washington alumni who love him for all he did to help turn around the Huskies football program. He is a beloved guy here and a huge hero in this community. How is he viewed in Nashville?
Kuharsky:
Nothing close to that yet. People who have given him a chance know he's an eminently likable guy, a hard worker and a well-respected leader, but plenty of fans called talk radio over the offseason talking about why Fitzpatrick would be a better choice or how it should at least be a camp competition. Even after Week 2's overtime loss in Houston, when he overthrew a wide-open
Kenny Britt
on a crucial third-and-1 late in the game, there were calls for change. (It's a throw he's got to make.) The game-winning drive against San Diego showed people what he can do. Locker also had a fantastic two-plus quarters against the Jets, which seems to have done a lot to win more people over. In playing style and development arc, I think he is a lot like
Steve McNair
so far. If that holds true, impatient fans will wind up happy.
Terry, home field is viewed as such a giant advantage for the Seahawks. Can you give us a tangible feel for just how loud and crazy the atmosphere is there?
Blount:
In the San Francisco game, where the outdoor stadium decibel record was set at 131.9, it was so loud that it was difficult at times to even hear people talk in the enclosed press box. I know every team believes its stadium is one of the loudest, and I've been to most of them, but trust me, there is nothing like CenturyLink Field. It's deafening.
Paul, cornerback
Alterraun Verner
is off to an outstanding start this season with four interceptions and 11 passes defensed. Seattle cornerback
Richard Sherman
is viewed by some as the best corner in the NFL, but is Verner the most underrated?
Kuharsky:
He could have had another two picks last week on balls he didn't manage to haul in. Verner has been really good. The team wasn't sure what it had in him. The Titans knew they got a good football player out of UCLA three years ago. But as they revamped this offseason, with Gregg Williams joining the coaching staff and the Titans determined to get more aggressive, they figured a big increase in press-man coverage would move them away from Verner's strengths. They wanted
Tommie Campbell
, a faster and bigger guy to win the job. (Some wrote about how Campbell has some of what makes Sherman so good.) But Campbell didn't catch on and bombed in training camp, and Verner proved to be better. If
Coty Sensabaugh
hasn't recovered from his concussion for Sunday, Verner will start in base and move into the slot in nickel, with Campbell replacing him outside.
The Titans rush pretty well, and Verner is getting his hands on balls all over the field. Who has had the best success slowing
Russell Wilson
and how?
Blount:
Even though Seattle came back and won the game, the Texans had the most success because of their talented defensive front and all-everything defensive lineman
J.J. Watt
. Both Houston and Indianapolis took advantage of Seattle missing starters on the offensive line and teed off on Wilson on third down. Nevertheless, Wilson is the best I've ever seen making the most of a bad situation and finding the opening the defense gives him. Anticipating when Wilson will roll out and cutting off his running lanes is the key, but it is far easier said than done.
September, 29, 2013
9/29/13
9:00
PM ET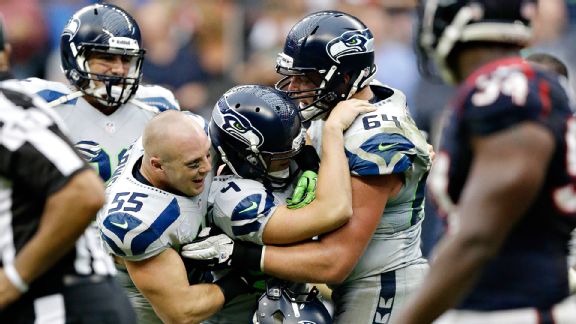 AP Photo/Patric SchneiderSeattle celebrated a 4-0 start after Steven Hauschka kicked the game winner in overtime.
HOUSTON -- An ugly winner always is better than a pretty loser, at least in football.
Teams just aren't supposed to win
23-20 in overtime
when they do as many things wrong as the
Seattle Seahawks
did Sunday against the
Houston Texans
.
Seahawks receiver
Golden Tate
sat in a jubilant locker room afterward and just shook his head, almost in disbelief at what he had just witnessed and been a part of.
"Wow. Man, I'm in awe," he said. "It's never over for us. We have a lot of things to fix everywhere, but you know what? We're getting on this plane and going home 4 and 0."
Special-teams captain
Heath Farwell
also seemed a little stunned afterward.
"This team is something special," Farwell said. "Today showed the difference between a good team and a great team. I'm just so proud of all these guys."
He should be. They were down 20-3 on the road at halftime. Their offensive line was missing three starters, including two Pro Bowl players, and they were starting a rookie, seventh-round draft choice (
Michael Bowie
) against the best defensive player in the NFL (
J.J. Watt
).
Their defense completely forgot they entered the game No. 1 in the league, playing like they were No. 1 in leaving receivers wide open.
The Seahawks were outgained by more than 206 yards and their third-down efficiency was 21 percent. And their quarterback (
Russell Wilson
) had a miserable 49.7 passer rating for the game because he spent most of the day trying to avoid becoming permanently embedded in the Reliant Stadium turf.
But there's something strange about this team, in a good way. When things seem to be at their worst, the Seahawks are at their best.
Despite all those negatives and all those mistakes, Seattle did enough things right to win and remain unbeaten. It's the first time in franchise history the Seahawks have started a season with four victories.
"It wasn't the prettiest win in the world," Wilson said Sunday after the game. "But it sure looks pretty now."
Seattle couldn't have played much worse in the first half, down 17 points in a game the Texans had dominated on both sides of the ball.
"They handed it to us in the first half and we didn't have any answers to stop it," said Seahawks coach Pete Carroll. "But to play the way we did in the second half and overtime was crazy good. This is a fantastic team."
It was when it mattered the most. The Texans failed to score in the final 41 minutes and 34 seconds of the game.
"It's a testament to our character," defensive tackle
Red Bryant
said. "We never quit. We hung in there and kept fighting. We played our best football in the second half. We showed a lot of grit today."
The biggest mistake anyone can make is to look at game stats and try to determine how good the Seahawks are. You won't find it there.
This team is undefeated because it makes the game-changing plays when the outcome is on the line:
Cornerback Richard Sherman getting a 58-yard pick-six to tie the game in the fourth quarter.

Wilson deciding to run with the ball when the Texans' defense kept him from throwing it effectively.

Receiver Doug Baldwinmaking another tiptoe sideline catch to keep a touchdown drive going in the fourth quarter.

Tate making a decision to field a punt on the goal line, then returning it to the 31 to start the final drive that won the game on Steven Hauschka's 45-yard field goal.
"We have playmakers all around," Tate said. "No. 3 [Wilson] took over the game when he needed to. Sherm took over when he needed to. Our goal is always to play longer and harder than our opponent. We found a way. It wasn't easy and it wasn't pretty, but we found a way."
The Seahawks are firm believers in risks being worth the reward, like Sherman jumping in front of a
Matt Schaub
pass in the flat that became a Seattle touchdown.
"It's a high-risk play," Sherman said. "You've got to jump it and you might get beat. But if you make the play you can change the game. I lost my shoe for about 50 of those yards, so it may be the longest return without a shoe."
No shoes required, just courage. The same with Tate's unorthodox punt return.
"I know I'm going to hear about it in the meetings this week," Tate said. "I went totally against what I'm supposed to do, but I felt a play needed to be made and we needed some momentum. I was confident. We do what we have to do."
That's exactly what Wilson did on a 98-yard scoring drive in the fourth quarter when he ran for 53 of those yards before
Marshawn Lynch
scored on a 3-yard run.
"Marshawn and I talked," Wilson said "He said, 'Hey Russ, just take over.' So I decided just to take off and try to get positive gains. We had to find a way."
The Seahawks found a way to win on a day when every indicator said they should have lost.
"It's gonna be ugly sometimes," Sherman said. "It wasn't a great stat game, but we did enough things and made enough plays to get the win. Those kind of games make championship teams. We had guys out there grinding. Regardless of how we get the win, it's still a win."
.
September, 25, 2013
9/25/13
7:36
PM ET
RENTON, Wash. -- The
Seattle Seahawks
may be without both starting offensive tackles this weekend, a scary thought going against star defensive linemen
J.J. Watt
and the
Houston Texans'
defense.
Right tackle
Breno Giacomini
did not practice Wednesday because of a knee problem. His status for Sunday's game at Houston is unknown.
"His knee is sore," Seahawks coach Pete Carroll said Wednesday of Giacomini. "We have some more information to get to see where he is. He got nicked a little bit in the [Jacksonville] game."
Pro Bowl left tackle
Russell Okung
is out for at least eight weeks with a torn ligament in a big toe.
Paul McQuistan
moved from guard to Okung's tackle spot.
[+] Enlarge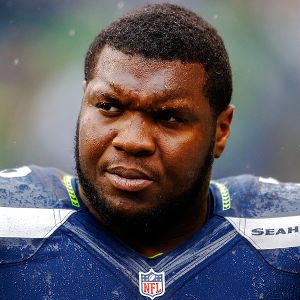 Otto Greule Jr/Getty ImagesRookie tackle Alvin Bailey saw action in Week 3, and could see even more this Sunday for Seattle.
If Giacomini doesn't play, the Seahawks probably will start a rookie at right tackle -- either
Michael Bowie
or
Alvin Bailey
. Bowie (6-foot-4, 330 and a seventh-round draft choice from Northeastern State in Oklahoma) likely would be the starter.
Both Bowie and Bailey (6-foot-3, 320 and undrafted out of Arkansas) played extensively in the second half last weekend after the Seahawks built a big lead against Jacksonville.
"They've made great progress," Carroll said of his rookie tackles. "I went back [Tuesday] night and watched the [Jacksonville] game over again just to watch those guys and see how they're doing. They came off the ball really well and did fine in pass protection. They did a very nice job and they're coming along quickly."
Seahawks offensive line coach Tom Cable also was pleased with what he saw from his young tackles in the Jacksonville game.
"I saw some really cool stuff," Cable said. "I'm really excited about their future. I thought both those kids went in there and knocked people off the ball.
"It was a huge moment of growth for them to know they're OK and can handle an NFL game. It's like gold. If they have to do it, they'll be comfortable to do what they're capable of doing."
But can either handle Watt?
"We don't really focus on him," Cable said. "We focus on doing things right."
The backup tackles will need to do a lot of things right to stop Watt and the attacking Houston defense, which ranks No. 2 in the NFL behind the Seahawks.
"They will pressure us more than any team we play this season," Carroll said of the Texans defense.
Carroll also was asked how he felt McQuistan was doing in Okung's spot.
"Paul survived the first game [when Okung got hurt against the
San Francisco 49ers
] and played better in the second game," Carroll said. "He was sharper on stuff and the communication was better. But that's a big jump for Paul. He has played tackle in his history, but to play up to Russell Okung's level is a lot to ask. He's performed well so far."
Seattle made a roster move Wednesday to add veteran offensive linemen in
Jason Spitz
, who was released by Jacksonville in August. Spitz, (6-foot-3, 300) played five seasons at Green Bay before spending the past two years with the Jaguars, but he was on injured reserve all last season.
Even if Seattle had both its starting tackles, it would be a big task to stop Watt, the NFL defensive player of the year last season with 20.5 sacks.
"He's a fantastic talent," Carroll said of Watt. "I don't think anybody knew he would be this dominant, and I've heard Houston say they didn't know that either. But he's an extraordinary player. He's faster than more guys his size, running a 4.6. That's one thing that separates him. And the guys Houston has around him makes him even better."
One of those guys is inside linebacker
Brian Cushing
, a player Carroll knows well. Cushing played for Carroll at USC.
"Cush was an outside guy for us," Carroll said. "He's one of the best guys we ever recruited as far as all-around ability. He's a great, great player. It's not a surprise to me that he ended up playing inside. He's so instinctive and aggressive and wants to come at you. He lines up right behind Watt, so he's a big issue for us, also."
Injury updates:
Defensive tackle
Red Bryant
(back spasms) did not practice Wednesday, but Carroll expects him back on the field Thursday.
Wide receiver
Jermaine Kearse
(sprained ankle) did not practice, but Carroll is hopeful he can play at Houston.
"He's going to try to go tomorrow," Carroll said of Kearse. "He's making a very quick recovery. We have our fingers crossed that he has a chance to play."
Carroll said rookie fullback
Spencer Ware
is still out with a high-ankle sprain.
Outside linebacker
Malcolm Smith
returned to practice after being inactive against Jacksonville with a hamstring issue. Rookie defensive tackle
Jordan Hill
returned to practice on a limited basis.