Seattle Seahawks:

Sean Payton
January, 10, 2014
Jan 10
12:00
PM ET
SEATTLE -- Six weeks ago, the
New Orleans Saints
came to Seattle in a big Monday night showdown with the Seahawks to see which team would gain the upper hand in homefield advantage for the playoffs.
The Seahawks steamrolled past the Saints 34-7 that night. So here the Saints are again, back in Seattle with hopes of a different outcome in the playoffs.
ESPN.com Saints reporter Mike Triplett and Seahawks reporter Terry Blount take a detailed look at how these two teams match up for Saturday's NFC divisional round game at CenturyLink Field:
Blount:
Mike, the Saints took it on the chin at Seattle six weeks ago. How much of a motivational factor do you think that is this week for the team?
Triplett:
I'd say this game is about as big as it gets in the motivation department. That was really one of the two or three most humbling defeats in the Sean Payton-
Drew Brees
era. I might rank it No. 1 considering how high the expectations were going into that game. But more important than those emotions is the fact that this is the second round of the playoffs -- which is pretty good motivation for any team. The Saints haven't advanced past this point since their 2009 Super Bowl season. And a big win here would instantly erase all the little regrets from earlier this season.
I'll also say this: The Saints are a very confident bunch. I think they expected to get back in this situation at some point, and they relish the opportunity. They certainly respect the Seahawks, but I think they're fully expecting a much more competitive game. As am I.
On the flip side, Terry, do you see a repeat performance coming from the Seahawks? They were pretty lights-out that night, especially
Russell Wilson
.
Blount:
I certainly don't see a repeat performance if you mean a 27-point Seattle victory. It's hard to beat any team twice in the same season, much less two blowouts. But I do see Wilson having another strong performance. He's coming off a good game in the season finale against St. Louis and he typically plays at a much higher level at home. Obviously, having
Percy Harvin
on the field would help, but Wilson is battle-tested with two tough playoff games last year when he really showed a lot of people what he can do.
Mike, Wilson had one of his best games of the season against the Saints with three TD passes and 310 yards passing. He burned the Saints a couple times on their blitzes. Do you think they will have a different approach this time?
Triplett:
They'll definitely tweak the approach. But I think the execution is even more important. That night, it was pretty obvious that the Saints' top priority was containing
Marshawn Lynch
-- which they did a good job of. But they got burned too often by play-action fakes (big pass plays and big runs by Wilson). I've never seen them have so many undisciplined breakdowns, before or since. They've been much better playing in similar-style games against the
Carolina Panthers
and
Philadelphia Eagles
since. They were outstanding against both
LeSean McCoy
and
DeSean Jackson
last week.
The Saints defense is much better than what people saw that night -- though they did lose talented safety
Kenny Vaccaro
to a season-ending ankle injury since then, which hurts against both the pass and run.
A two-part question for you: When defenses have had success against Seattle's offense this year, what have they done to cause problems? And how much do you think the Saints will have to worry about Harvin in this game?
Blount:
In the late-season losses to the 49ers and the Cardinals, both teams did a great job of keeping Wilson in the pocket. If Wilson was going to run, they wanted to make him run up the middle, and it worked. They didn't blitz a lot, but they made sure to cut off Wilson's outside angles. Both teams also stacked the box and did a good job of stopping Lynch and limited the running game.
If Harvin is on the field, that changes a lot of things. Seattle free safety
Earl Thomas
told me last week that if he had to play against Harvin, he would need to account for him on every play because of Harvin's exceptional speed. So if Harvin's out there, even if he isn't 100 percent healthy, he changes the way a defense plays. You have to pick your poison. Load the box to stop Lynch and you risk Harvin beating someone one-on-one. Pay more attention to Harvin and Lynch might break a big run. Either way, it makes things better for Wilson.
Mike, I thought a big factor in the victory at Philadelphia was New Orleans' success at running the ball with
Mark Ingram
. How confident are you they can repeat that performance against the Seahawks?
Triplett:
The Saints are still a pass-first, pass-often team. But I think they've been even better this year than usual at staying patient and "taking what the defense gives them." Last week, the Eagles were practically begging the Saints to run the ball, so they did. They'll still take their shots down the field, but they're smart enough to attack the matchups they find most favorable in any given game. It's also a pick-your-poison offense with so many versatile weapons like
Jimmy Graham
,
Darren Sproles
,
Marques Colston
,
Lance Moore
,
Kenny Stills
and a deep group of running backs.
Graham, however, said Seattle's defense causes a lot of problems because the defensive backs and linebackers are all so fast (not to mention physical). Are there any weaknesses the Saints might be able to exploit?
Blount:
Honestly Mike, I just don't see it. The front seven held the Rams to 13 yards rushing in the season finale. The secondary is the best I've seen in 30 years. However, one man who had a big impact in the Monday night game six weeks ago was linebacker
K.J. Wright
, who did a superb job covering Saints tight Graham.
Wright is out for this game after undergoing foot surgery.
Malcolm Smith
has played lights out in his place, but Smith is only 6 feet tall. I can't see him covering the 6-7 Graham the way Wright (a lanky 6-4) was able to do. Strong safety
Kam Chancellor
likely will get those duties, but Graham might make some big plays he didn't make in the first meeting.
November, 26, 2013
11/26/13
12:00
PM ET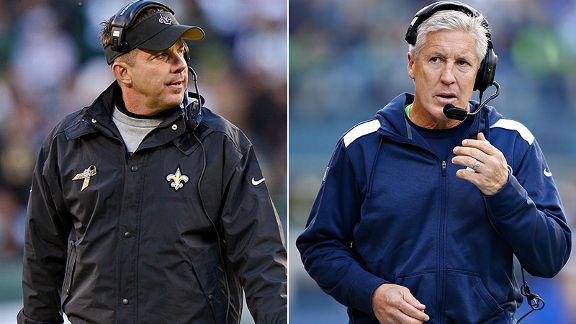 Getty ImagesSean Payton and Pete Carroll say their teams do not struggle on the road.
The road to the Super Bowl could run through Seattle or New Orleans. It's no secret that both the
Seattle Seahawks
and the
New Orleans Saints
have an edge when playing at home.
ESPN.com Seahawks reporter Terry Blount and Saints reporter Mike Triplett break down what winning Monday night's matchup might mean for each team.
Seattle Seahawks, CenturyLink Field:

Considering that the Seahawks have an NFL best 13-game home winning streak, which also is a franchise record, home-field advantage in the playoffs couldn't be more important for Seattle.
At least that's how most people perceive it. But the Seahawks' reputation as a bad road team is ancient history. Well, maybe not ancient, but it hasn't been true since December.
Seattle is 8-2 on the road since a 23-17 victory at the
Chicago Bears
on Dec. 2, 2012. That includes a 24-14 playoff win at the
Washington Redskins
.
The Seahawks are 5-1 away from home this season, which already has tied a franchise record. A victory in either of the last two road games -- at the
San Francisco 49ers
on Dec. 8 or the
New York Giants
one week later -- would produce the most road wins in a season in team history.
"I think that's a big accomplishment," Seahawks coach Pete Carroll said of the team's 5-1 road record. "We were 2-3 on the road last year at this time. I think that's a big improvement on a football team. I can totally feel it and see it in the way we approach it, the way we show up on game day and in the way we have played.
"It's been a much more consistent mentality, and it's given us a chance to win the games that have been very hard. We get stronger, we get smarter, and we have more resolve, I think, as we move forward."
The only two road losses since December were a playoff game at the
Atlanta Falcons
, a 30-28 defeat on a Falcons field goal with 23 seconds to play, and a 34-28 defeat at the
Indianapolis Colts
this season when Seattle led 28-23 in the fourth quarter before Colts quarterback
Andrew Luck
engineered a late comeback.
The Seahawks have outscored their opponents 259-180 in those 10 road games. And there's one other key point to bring up here. The road curse for the Seahawks over the years was games that started at 10 a.m. PT. Entering this season, Seattle was 19-34 in those games since 2001.
But the Seahawks are 3-1 in those games this season. Clearly, this is a different Seattle team on the road than the ones of the past. So having to play a playoff game on the road isn't a guaranteed season-ender that some people might think.
If the road to the Super Bowl goes through New Orleans, the Seahawks lost the last time they played there -- 34-19 in 2010.
Everyone knows the Saints are tough to beat at home, but no team has a home-field advantage like the Seahawks, something the Saints may find out the hard way Monday night. During the 13-game home winning streak, Seattle has outscored its opponents by an average of 30-13.
The Seahawks can win anywhere, but for this team, there's no place like home.
-- Terry Blount
New Orleans Saints, Mercedes-Benz Superdome:

Saints coach Sean Payton bristles at the notion that his team struggles away from home.
"I think it's a typical stereotype with a dome team," said Payton, who knows the topic will come up often this week as the Saints prepare for a Monday night road game in chilly weather against the Seahawks. "Someone needs to do a little research on it so that we don't spend time answering dumb questions."
The research shows that Payton is partly right. The Saints actually have the best regular-season road record in the NFL since 2009, at 24-13.
But they're 0-3 on the road in the playoffs in the Payton-
Drew Brees
era. And they're 5-7 overall in outdoor games in December and January when their starters have played.
The Saints aren't a bad road team. They're just a lot more human.
Meanwhile, it's obvious that the Saints are an entirely different monster inside the Superdome, where they routinely rout opponents -- especially in prime-time games. The Saints have won 12 straight home night games, including the playoffs, by an average score of nearly 20 points per game.
Thanks to the volume and the passion of the Saints' rabid fan base, it might be the best home-field advantage going in the NFL today -- unless that honor belongs to Seattle. Which makes this race for home-field advantage in the NFC playoffs doubly important for these two teams.
One of the Saints' three playoff losses infamously took place in Seattle three years ago, when the Seahawks sneaked into the postseason with a 7-9 record. The Saints weren't really done in by the weather or the crowd noise. Brees still threw for more than 400 yards. But New Orleans' defense broke down too many times in a 41-36 loss.
The Saints' other road playoff losses came at Chicago after the 2006 season and at San Francisco after the '11 season. The 49ers game was the same story as the Seattle game. The Saints still put up some monster numbers on offense, but they couldn't overcome early turnovers and late defensive breakdowns in a 36-32 loss.
The regular-season outdoor games have been a mixed bag: Since 2009, wins at Washington in '09, Cincinnati in '10 and Tennessee in '11; losses at Baltimore in '10 and at the New York Giants in '12.
Weather doesn't automatically shut down the Saints' precision passing attack. But clearly wind and rain can cause problems. (Some games at Tampa Bay come to mind, including a narrow 16-14 win earlier this year.) Especially frigid temperatures can also affect receivers' hands.
And although the Saints have been running the ball a lot more consistently over the past month, Seattle has been the better rushing team of the two this season.
I certainly think the Saints are capable of winning at Seattle -- either next week or in January, if needed. And I believe the confidence of guys like Payton and Brees, who insisted earlier this month, "It's not like we dread going on the road. Not one bit."
But it's pretty obvious why the degree of difficulty will skyrocket for either road team in this matchup.
-- Mike Triplett
October, 4, 2013
10/04/13
12:01
PM ET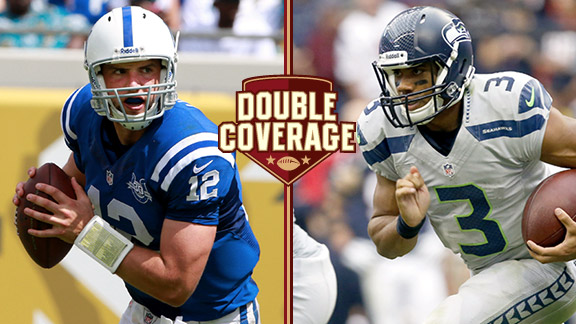 Getty ImagesAndrew Luck and Russell Wilson, two of the best young quarterbacks in the NFL, face off in Week 5.
Two of the NFL's best young quarterbacks --
Andrew Luck
and
Russell Wilson
-- will be center stage when the
Indianapolis Colts
(3-1) take on the
Seattle Seahawks
(4-0) in the most anticipated game of the weekend. The résumé for both players already includes the ability to pull off fourth-quarter comebacks.
But this game will likely come down to which defense can continue its strong play. The Seahawks are holding opponents to fewer than 12 points and have seven interceptions. The Colts aren't too far off. Their defensive unit is giving up fewer than 13 points a game, including a combined 10 points in the past two games.
Colts reporter Mike Wells and Seahawks reporter Terry Blount take a look at the Week 5 matchup.
Blount:
Mike, I doubt anyone has to tell Luck how good Seahawks cornerback
Richard Sherman
is since they were teammates at Stanford. Whenever anyone has challenged Sherman, he's made them pay, like the pick-six that tied the game last week in the fourth quarter against Houston. Can Luck get the best of him or will he try to stay away from Sherman most of the game?
Wells:
Luck will go at Sherman, especially if he's matched up against
Reggie Wayne
. Wayne, a future Hall of Famer, enjoys going up against the top cornerbacks in the league. You can expect offensive coordinator Pep Hamilton to move Wayne around the field. He'll line up out wide and in the slot, making sure Sherman has to work to try to slow him down. Wilson is averaging nearly 20 yards fewer a game through the air this season. Not that it's a bad thing because the Seahawks are 4-0 and
second in this week's Power Rankings
, but is there a reason behind the drop in yards?
Blount:
Mike, the biggest reason is an offensive line that has played poorly in all four games, even when all the starters were healthy. It's truly amazing Wilson has found a way to get the job done and lead the team on crucial scoring drives when he's under constant pressure. His elusiveness in the pocket and ability to extend plays, then make a key throw on the run, or keep it for big yards, is remarkable. Mike, Luck and Wilson are obviously two of the best young quarterbacks in the NFL, but each is different physically, and different in how they play the position. In your opinion, what does Luck do better than Wilson?
Wells:
Luck doesn't have any flaws. You want him to tuck the ball and run? He'll take off like he's a running back. You want him to throw an out pattern or a bomb downfield? He's proven he can do that, too. And he's already shown he knows how to win when he led the Colts to an 11-5 record and the playoffs last season. The biggest difference between Luck and Wilson is their size, and that Luck isn't a read-option quarterback. Terry, What is it about Pete Carroll that makes him a good coach? His transition from the college game to the NFL has gone pretty smoothly.
Blount:
Mike, it's his positive reinforcement that resonates with his players. Carroll is not an old-school guy who yells at his players. That's not how he operates. He corrects players, but never publicly humiliates them in front of others. And he doesn't scream at them when they make a mistake. He makes it a teaching moment, as do all his assistants. Carroll is consistently upbeat, regardless of the situation. Consequently, these players would run through a brick wall for him. Speaking of running,
Trent Richardson
now has a couple of games under his belt in a Colts uniform. How much do you see him contributing and can he make a difference for Indianapolis?
Wells:
Richardson and Luck are the future of the Colts. It's not often that a team gets two of the top three picks from the same draft. But Richardson's transition from Cleveland has gotten off to a slow start. He had 20 carries against Jacksonville last week, but he only managed to rush for 60 yards. Everybody's waiting for Richardson to have that long run where he bulldozes over a couple of defenders and then uses his speed to outrun everybody else. He'll continue to get better as the season progresses. Speaking of running backs, the Colts talk about Wilson being deadly with his feet, but shouldn't they be more worried about running back
Marshawn Lynch
?
Blount:
That's sort of the point that makes it all work. As soon as Wilson has the defense keying on Lynch, he will bootleg off a fake handoff to Lynch and get free for a 20-yard gain on a scramble, or complete a 30-yard pass downfield to an open receiver. But you're right, everything the Seahawks do on offense revolves around getting Lynch going in the power running game. Mike, the issue for the Seahawks is their patchwork offensive line. Down three starters last weekend, it was a hot mess against the Texans' defense, allowing five sacks and never giving Wilson a chance to catch his breath. Seattle may get center
Max Unger
back Sunday, but still will start backups in both tackle spots. Do you see the Colts taking advantage of the situation?
Wells:
Expect the Colts to be in attack mode with linebacker
Robert Mathis
leading the way. Mathis, who has 7.5 sacks this season, is one sack away from getting the 100th of his career. The Colts have 13 sacks as a team. They're prepared to face a quarterback such as Wilson after already going against Oakland's
Terrelle Pryor
and San Francisco's
Colin Kaepernick
this season. The Seahawks are obviously undefeated on the road this year, but they struggled away from home last season. Why are they a completely different team away from home?
Blount:
I think that's starting to become a bit of a misnomer.
The Seahawks now have won five of their past six roads games, dating back to the end of last season and the playoffs. The only one they lost came on a field goal at the end of the Atlanta playoff game. Historically, they have struggled in games that start at 10 a.m. PT, but they are 2-0 in those games this year and have a chance to go 3-0 on Sunday. However, it's true that CenturyLink is a huge home-field advantage, so playing well enough on the road to earn home field in the playoffs is important to the players. I'm sure the Colts have a similar goal, Mike. I know it was emotional for the Colts last December when coach Chuck Pagano returned. How much has it meant this season to have him back healthy again and running the show there?
Wells:
The Colts played last season for Pagano. Now he's leading the way for them. Pagano is a very upbeat coach. We're talking about a person who purchased mousetraps and had them placed in the players' lockers as a reminder for them to avoid falling into the trap against the Jaguars. There aren't many NFL coaches who would do that. Sounds like that's something Carroll would do, too. It appears to be to a two-team race in the NFC between the Seahawks and New Orleans. Who do you give the edge to in the conference?
Blount:
What a difference it is for the Saints to have Sean Payton back as head coach. And Rob Ryan really has helped the defense. But I have to go with Seattle over New Orleans because the Seahawks' defense is miles ahead of the Saints'. It's an interesting matchup because Wilson idolizes
Drew Brees
and they've become friends. And the Saints play at Seattle in a Monday night game on Dec. 2.
.