December, 2, 2014
Dec 2
8:30
AM ET
Since late October, Tuesday has been reserved for speculation and anticipation over the release of the College Football Playoff rankings. But not this week.
Michigan reluctantly takes center stage
hours before the committee releases its sixth set of rankings.
Next week, the four-team playoff will be set. If things fall right Friday and Saturday in each of the Power 5 leagues, next Tuesday could be epic.
TCU or Baylor? Will Ohio State remain a factor? The debate alone over the order of the top four, which determine the semifinal matchups, will make it a day like no other in college football history.
Sadly, though, we've seen plenty of days like this Tuesday.
November, 25, 2014
Nov 25
8:30
AM ET
Let's just get this out of the way: Last week in college football was kind of dull.
Unless, that is, you're into watching the single-game FBS
rushing record fall
for the second straight Saturday. (So who breaks it this week?) Yes, last week was dull, unless, of course, you're into Florida State's
weekly high-wire act
, re-awakenings at
Arkansas
and
Minnesota
or UCLA's
continued stranglehold on Los Angeles
.
My point is, the latest set of games didn't significantly impact the College Football Playoff picture -- at least in comparison to the past few weeks. Barring some craziness at the selection-committee table, the top four on Tuesday night is going to look no different than last week's edition.
But Week 13 was simply the calm before the storm. Not so sure? Check out first nine paragraphs Gene Wojciechowski's
BMOC column
. The rocky road to Dec. 9 is enough to make a fan of any playoff contender choke on his or her turkey dinner.
And it starts in two days.
To continue reading this article you must be an Insider
November, 24, 2014
Nov 24
8:30
AM ET
We're inside of two weeks until Dec. 7, when the College Football Playoff selection committee announces its four picks to appear in the sport's first national semifinals.
There will be teams left out who can make perfectly compelling cases to be playoff participants. There will be voices raised and criticisms leveled regarding which program truly deserved the final spot in the playoff. This much is a certainty.
But which teams have the best chances of cracking the field? It still seems to be a matter of conjecture beyond the top three teams: Alabama, Oregon and Florida State.
To continue reading this article you must be an Insider
October, 8, 2014
Oct 8
10:08
AM ET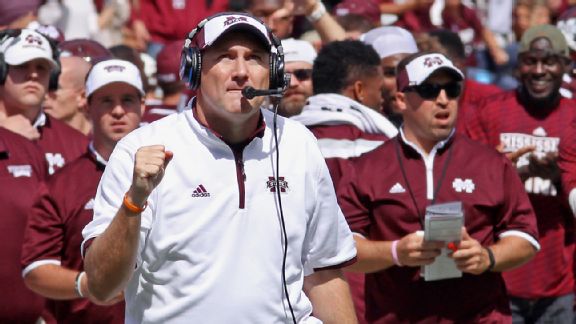 AP Photo/Jim LytleMississippi State head coach Dan Mullen has had an upswing in momentum.
College football is a love-me, love-me-not world. We know that. It's emotional, and those emotions cause opinions to shift, and shift quickly, based mostly on wins and losses.
The lesson: If you're winning, cash in while you can.
A year ago, Dan Mullen was the captain of yet another buoyant-but-not-beautiful ship at Mississippi State -- yet another .500-ish team. I didn't have him on any sort of hot-seat watch, but some peers did. There was little momentum in Starkville.
And now? Mullen's team is a 5-0 darling, having smashed LSU on the road and Texas A&M at home. His name has and will come up for probable openings at Florida and Michigan.
A guy who has worked to distance himself from being "Urban Meyer's offensive coordinator" is legitimately doing that. He's built a team, but fellow coaches are taking note of something more than personnel. There's a new mojo.
The Mississippi State of old would have had a late collapse at LSU, succumbing to Les Miles' voodoo ways. It was a hurdle cleared, a new day.
"Look out," another SEC coach said following the Bulldogs' win in Baton Rouge, "Dan Mullen gets the bounces now and Les Miles doesn't. How about that?"
Besides bounces, it helps -- a bunch -- to have the SEC's best quarterback,
Dak Prescott
, a nice balance of speed and size around him and pro-quality linemen on both sides of the ball.
It's a team equipped with the players to win the country's most difficult division. If it does that, or even gets close, coaches agree that Mullen, 42, should get the heck out of there.
Winning in Starkville is possible, but in spurts and with short windows. Sustainability is an incredible challenge even where the resources are greatest. It's a better job than it has ever been, coaches say, but let's not mistake Mississippi State for Florida.
Here are other Power 5 head coaches who have upped their stock in the first six weeks
To continue reading this article you must be an Insider
July, 30, 2014
Jul 30
4:55
PM ET
For all those people fretting that a playoff in college football would somehow water down the regular season, I offer up the blockbuster weekend of Sept. 3. 2016.
Yes, it's still a couple of years away and we're supposed to be focusing on what's right in front of us. But, geez, that Saturday to open the 2016 season could very well provide the most attractive lineup of nonconference games on one day that we've ever seen.
For that, at least in large part, we all have the College Football Playoff to thank.
Some of the matchups were already set or in the process of being set. But the real impetus in beefing up all these nonconference schedules was that a playoff was coming.
And, now, with a selection committee holding the keys to those coveted four playoff spots, we're going to be in store for some terrific nonconference showdowns in the regular season for years to come. Simply, teams that don't play and win those types of games are going to be on the outside looking in, which makes the regular season as important as ever.
My only knock on that weekend to kick off the 2016 season is that there are too many good games. I want to watch them all.
We've all been clamoring for an
Alabama
-
USC
matchup. Well, we're finally going to get it in Arlington, Texas to open that season.
And if you like your football Southern style,
Clemson
at
Auburn
has a nice ring to it. Lewis Grizzard, the late Southern humorist, once said that Clemson was Auburn with a lake. In a lot of ways, they're virtual clones of each other right down to their break-neck style of offense. Even more enticing, this is a home-and-home series with Auburn traveling to Clemson the next year.
There won't be a more unique game that weekend than
LSU
facing
Wisconsin
in historic Lambeau Field. Perhaps we'll get to see Les Miles perform the "Lambeau Leap" if the Tigers win.
Have the remote control ready because we also get
UCLA
at Texas A&M,
Notre Dame
at
Texas
and BYU Cougars at
Arizona
(in Glendale, Ariz.).
That's just the first weekend, too.
A week later,
Tennessee
and
Virginia Tech
will "trade paint" at Bristol Motor Speedway. And two weeks later,
Ohio State
travels to Oklahoma and
Oregon
visits Nebraska.
So much for opening the college football season with a tune-up … or two.
May, 29, 2012
5/29/12
9:00
AM ET
DESTIN, Fla. -- The 2012 SEC spring meetings get under way on Tuesday at the Sandestin Hilton.
The SEC football coaches, men's and women's basketball coaches and athletic directors will meet over the next two days, while the presidents and chancellors arrive later in the week.
But there's more to this week in the Sunshine State than just checking out that white sand and the blue ocean. There's a little business that needs to be discussed.
For one, the league is welcoming in two new schools in Missouri and Texas A&M. It's time for everyone to get nice and acquainted with one another. I can't think of a better location to do that at this time of year.
For the football side of the conference, one of the hot topics will be about future scheduling for the regular season. With two new teams, there are a lot of questions about how the league will schedule in the future. Remember, 2012's football schedule is a test run, so future schedules might not look like it.
There's been talk about a nine-game conference schedule in order to preserve cross-divisional rivalries like Alabama-Tennessee and Georgia-Auburn. While a nine-game league schedule would certainly make it possible to keep those rivalries, it's hard to believe it will happen. That means your SEC champion would have to play 10 SEC games before playing in a bowl game. I don't think SEC commissioner Mike Slive wants to make it any harder for an SEC team to make it to the national championship.
Talks will also surround keeping the current 6-1-1 scheduling model, which has a permanent opponent and one that's rotated each year.
There will also be discussions about the SEC's new bowl partnership with the Big 12. The conferences' own Rose Bowl should get a lot of attention in Destin, and it'll be interesting to see what the coaches think about the new game.
Here are some other topics that will be discussed:
College football playoff: Slive and the SEC are such big players when it comes to this, so you better believe the future of a college football playoff will be discussed behind closed doors. And don't expect any push for the notion of only having conference champs in a four-team playoff. That idea should be discussed for about a second.
Stipends: The NCAA could approve college athletes receiving extra funds starting this fall, so that should come up in conversations this week. Remember, South Carolina coach Steve Spurrier felt very strongly about paying players last time everyone was in Destin.
New college football rules: Kickoffs are being moved up 5 yards to the 35-yard line, which should have a big impact on field position. Let's see what coaches have to say about this.
Expansion: The SEC flexed its muscles when it expanded to 14 schools, but with the college football landscape changing almost daily, Slive won't get caught looking. If he feels the league needs to grow, he'll make sure it happens. But is there any rush to expand to 16 schools? What do the presidents think about possibly growing even more? Hopefully, we'll find out something. Just imagine the scheduling issues then ...
Early signing period: It's been brought up plenty of times before, so it might as well be brought up again.
Championship credentials: Spurrier made it clear this spring that he'd like to see divisional records used to determine which teams make it to the SEC championship game. It'd be tough to pull it off, but Spurrier will likely made his feelings on the subject known again this week.
February, 21, 2012
2/21/12
1:24
PM ET
All that waiting was apparently for nothing because there's more waiting to come for four fan bases -- and a large number of elementary school students, who were held out of class for an unspectacular spectacle that didn't really take place.
Tuesday morning, ESPNU 150 athlete Davonte Neal, who is rated as the No. 8 overall prospect in the 2012, was supposed to
finally sign his letter of intent
to one of four schools -- Arizona, Arkansas, North Carolina or Notre Dame. Nearly three weeks after national signing day, four coaching staffs (im)patiently waited from afar as friends, family, media members and 600 school children waited inside Neal's old elementary school, Kyrene de la Esperanza, for his decision.
It -- and Neal -- never came. Neal was a no-show for his ceremony, extending what has already become a lengthy recruiting story.
Here's what the Arizona Daily Star said about the situation:
The issue, apparently, is a power struggle between Neal and his father, Luke. Luke Neal has been pro-Notre Dame in recent weeks, while Davonte has been leaning toward the UA.

Wildcats coach Rich Rodriguez made recruiting Neal a priority shortly after he was hired Nov. 21 as Mike Stoops' permanent replacement. Rodriguez hired Charlie Ragle, Neal's coach at Chaparral, as Arizona's new liaison to in-state high schools. The Wildcats then signed two Chaparral players, linebacker Cody Ippolito and defensive end Dylan Cozens, with hopes Neal would follow.
The chatter surrounding Neal is apparently focusing on two schools -- Notre Dame and Arizona. While I haven't spoken with him or anyone associated with him, I do know that when it comes to recruiting anything is possible. More time to think means more time to question and break down things. I'm not saying any of the other schools on his list, including Arkansas, will weigh into his decision, but you never know.
Maybe he takes one last look at that Arkansas letter or that North Carolina logo. Maybe that Arkansas offense looks more attractive after another look.
But no matter what goes through his mind, he and his family need to be clear about one thing: This is Davonte Neal's decision. He is the one who will be lacing up his cleats at the college level next year. He will bet he one heading off to college because of the decision he makes in the near future.
This is Neal's decision and his alone.
February, 21, 2012
2/21/12
11:10
AM ET
Finally, athlete
Davonte Neal
(Scottsdale, Ariz./Chaparral) is ready to sign with his future school.
The ESPNU 150 member — and No. 8 prospect in the country — will decided between Arizona, Arkansas, North Carolina and Notre Dame on Tuesday at 11:30 a.m. ET at his old elementary school.
Richard Obert of The Arizona Republic has
broken down the four finalists
and decided that Neal will sign with Notre Dame.
Here's what he said about Neal and Arkansas:
This is like Notre Dame Light. The talent pool is deep. The Razorbacks are probably closer to a major bowl than Notre Dame. But there isn't the academic pressures and as much national exposure that there is at Notre Dame, which graduates almost all of its players. It would not be surprising if Neal picks Arkansas, based on its offense and a chance for him to be the key figure, much the way another No.3, Joe Adams, was in Fayetteville.

Conclusion: A good shot, but no.
And here's what he said about Notre Dame:
This was the only school in which Luke Neal accompanied his son. The tradition is second to none. The electric current felt walking into the stadium is something Neal probably wouldn't experience anywhere else. The Irish signed five-star quarterback Gunner Kiel, who is already enrolled. Neal could start the season returning kicks and probably figure in at receiver if not at cornerback. Neal is open to playing any position. He would be surrounded by top talent. Brian Kelly's offense is tailor-made for Neal. It's important to Luke that his son graduates, and Notre Dame's 97-percent graduation success rate is the best there is.

Conclusion: Front-runner.
January, 31, 2012
1/31/12
9:10
AM ET
Wednesday will mark the end of the search for the top high school football prospects in the 2012 class and will usher in the official start to the obsession that will become the 2013 class.
But with a day left until national signing day, it's time to take one last look at the team rankings. The SEC has had tremendous representation in
ESPN.com's team rankings
since they debuted and the SEC is all over the rankings just before the finish.

Eight SEC teams are in the top 25, with five coming in the top 15.
Alabama remains in the top spot with 12 of its 27 commitments being ESPNU 150 members. Florida currently ranks fourth, while Georgia is fifth. The Gators have 20 commitments, with eight ESPNU 150 members. The Bulldogs are now up to 17 commitments, after
adding
defensive back
Sheldon Dawson
(Memphis, Tenn./Ridgeway) Monday night. Five of Georgia's commitments are ESPNU 150 members.
Future SEC member Texas A&M has a pretty good haul as well. The Aggies currently rank 12th nationally, with 21 commitments and five ESPNU 150 members.
South Carolina and LSU round out the top 15, coming in at 14th and 15th, respectively. South Carolina has a pretty impressive class, as of now, with its 25 commitments. Most of the recruiting gurus here at ESPN feel the Gamecocks are all but done in this class, but might squeeze in one more commit. LSU was actually flying under the radar until this week. The Tigers grabbed their fifth ESPNU 150 member Monday when athlete
Jeremy Liggins
(Oxford, Miss./Lafayette)
picked LSU
over Ole Miss and Mississippi State.
Three SEC teams saw their rankings fall, as Auburn slid from 16th to 19th, Tennessee dropped from 20th to 22nd and Vanderbilt fell from 23rd to 24th. All of them could make up ground Wednesday, especially Auburn, which has a lot of room and is in the running for a slew of top prospects.
One thing to keep an eye on is Arkansas. The Razorbacks' class isn't currently ranked, but Arkansas is still in the running for a couple top players. Obviously, the gem would be wide receiver
Dorial Green-Beckham
(Springfield, Mo./Hillcrest), who appears to be down to Arkansas and Missouri. However, most of the chatter Monday revolved around Missouri possibly taking the lead after a successful official visit over the weekend. Arkansas is also in the running for top athlete
Davonte Neal
(Scottsdale, Ariz./Chaparral) and ESPNU 150 offensive tackle
Jordan Diamond
(Chicago, Ill./Simeon).
If Arkansas were to snatch a couple of these prospects, the Hogs would probably find themselves in the top 25 at the end of signing day.
January, 26, 2012
1/26/12
11:00
AM ET
By
Greg Biggins
| ESPN Insider
Chandler (Ariz.) wide out
Javon Williams
is down to two schools --one that has been with him since the beginning his recruitment started in Arkansas, and one that just jumped in last week in UCLA.
The receiver visited the Razorbacks in early December and said he loved his visit. No one has recruited him harder all year than Arkansas and they were one of the first schools to offer him way back in April.
UCLA just got involved with Williams a week ago. The Bruins came by and visited him at his school and offered a scholarship and the receiver will take his final official visit to Westwood this week.
To continue reading this article you must be an Insider
SEC SCOREBOARD
Saturday, 12/20
Monday, 12/22
Tuesday, 12/23
Wednesday, 12/24
Friday, 12/26
Saturday, 12/27
Monday, 12/29
Tuesday, 12/30
Wednesday, 12/31
Thursday, 1/1
Friday, 1/2
Saturday, 1/3
Sunday, 1/4
Monday, 1/12
Tweets from https://twitter.com/ESPNCFB/lists/sec