September, 29, 2014
Sep 29
2:00
PM ET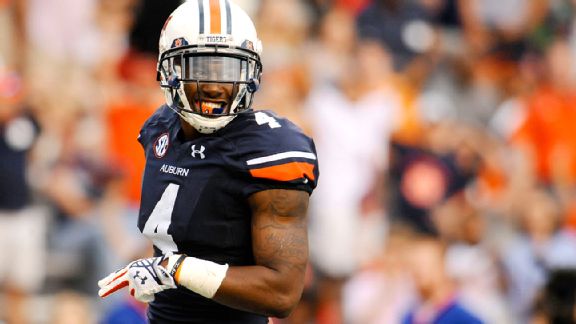 Shanna Lockwood/USA TODAY SportsQuan Bray scored half of the Tigers' six touchdowns against Louisiana Tech.
AUBURN, Ala. -- Before the season, Gus Malzahn talked to his team about the seniors and how this is their year, their last opportunity before their time at Auburn comes to an end. He asked all of his seniors to simply play the best they have ever played before.
Quan Bray
took that message to heart.
"My coaches look at me as a leader," he said. "I'm a vet. I've been here a long time. Coach Malzahn said at the beginning of the year that our seniors are going to need to step up and play big. We took the challenge, and we're trying to do just that."
The senior wide receiver had a career game Saturday, finishing with three catches for 91 yards and two touchdowns in a 45-17 win over Louisiana Tech. He added a third score on a 76-yard punt return, his second return touchdown of the season, and he currently leads the nation with 36.8-yard average on his five punt returns through the first four games.
Has Bray ever had a game like that, at any level?
"Probably high school," he said. "Everybody probably had games like that in high school because you were probably the best player on your team and this and that, but from what I've been through and the things that we've been doing, the hard work is really paying off.
"It had to be my senior year, but it doesn't take nothing but a year for us to be successful."
A year is all that he has left, but Bray is making the most of it. He had as many touchdowns Saturday as he had his first three seasons at Auburn, and he's well on his way to setting a new career high for receiving yards in a season.
Nobody was happier to see him break though than this fellow seniors, who have been with him every step of the way.
"Any time a guy has a day like he did, you've just got to be excited for him," center
Reese Dismukes
said. "We're close with all the guys on the team, and the seniors -- we've been here for a while -- and you're happy for one of your guys you came in with."
"It's a great feeling," added running back
Corey Grant
. "He's been working his butt off and been though a lot. To see him come out and to see all that hard work pay off, it kind of motivates me and it just excites me."
This is a senior-laden team at Auburn. From quarterback
Nick Marshall
to Saturday's captains Dismukes and
Gabe Wright
, there are 14 seniors listed on the two-deep depth chart which didn't include safety
Jermaine Whitehead
.
If the Tigers want to repeat as SEC champions, it's up to them.
"It's like we got a bond," Bray said. "From when we first connected, it was like we're going to grind together, we're going to leave here together, we're going to graduate together and we're going to try to win most all of our games. We're going to try to win a national championship.
"That was our goal -- to win a national championship. We fell a little short [last year], but we still got this year to finish it off."
Auburn will need that senior leadership the rest of the way as six of its final eight games are against teams currently ranked in the top 15, beginning with Saturday's game against No. 15 LSU, a team that most of the seniors, Bray included, have never beaten.