August, 28, 2014
8/28/14
8:00
AM ET
1. We made it! The college football season is here and SEC play begins tonight. First on the docket this evening is No. 9 South Carolina hosting No. 21 Texas A&M. This game matches two compelling teams, both beginning life without megastars that made lasting imprints on their respective campuses last year. It also pits two dynamic offensive-minded coaches -- the cagey, SEC veteran Steve Spurrier against the relative SEC newcomer but charismatic Kevin Sumlin. How do they stack up?
Let's look at the tale of the tape
. Both of them had their moments at SEC media days in Hoover, Alabama and Spurrier is known for not having a filter, saying what he thinks at all times. Sumlin doesn't have that reputation, but is beginning to show more and more personality as the years go by (see his responses to Johnny Manziel questions in Hoover as evidence). By the way, if you missed it yesterday,
do yourself a favor and read Chris Low's in-depth feature on Spurrier
, who is different from many in the profession when it comes to office hours and leisure time. Notably, Sumlin -- a friend of Spurrier's -- is big on family time and the health of his staff also.
2. Next up on the SEC schedule is No. 18 Ole Miss hosting Boise State. Need to get up to speed on the Rebels? Here's an in-depth discussion of
the offense
and
the defense
. Interestingly, both head coaches in this game, Ole Miss' Hugh Freeze and Boise State's Bryan Harsin,
got their FBS head coaching starts at Arkansas State
. Both speak fondly of their time there but acknowledged the difficulty of leaving so soon. The Rebels are one of the handful of SEC programs returning a starting quarterback and there's hope that a big year is ahead for Bo Wallace. The senior himself
said he feels a lot more confident
than he did at this point a year ago.
3. Finally, tonight's SEC slate concludes with Vanderbilt hosting Temple. New Commodores head coach Derek Mason makes his head coaching debut tonight, doesn't plan to be out in the forefront. Unlike his charismatic predecessor, James Franklin,
Mason would rather blend in tonight
. Linebacker Kyle Woestmann said "It's definitely centered a lot more around us. It's always player-first. Coming out of the tunnel, he wants it to be us first. Whatever we do, he wants it to be us first." It's also the time for quarterback Patton Robinette to take the wheel. He was named the starter in camp and though Mason acknowledged on Wednesday that it was a close race,
he doesn't want Robinette looking over his shoulder and is confident in his signal-caller
.
More from around the SEC:
Tweet of the day
True story...RT @AschoffESPN: I'm pretty sure Les Miles called @SEC_Chuck "bae" to start his teleconference.

— Chuck Dunlap (@SEC_Chuck) August 27, 2014
August, 13, 2013
8/13/13
5:30
AM ET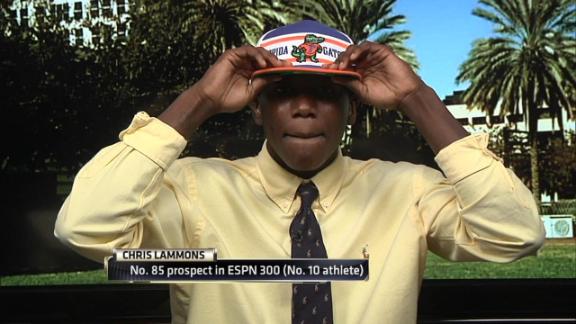 The Early Offer is RecruitingNation's latest feature, giving you a daily dose of recruiting in the mornings. Today's offerings: Florida pulled off a trifecta Monday that established Travaris Robinson as a leading candidate for recruiter of the year, Baylor landing
K.D. Cannon
is not a small thing, and who has the respect of recruiters in the Mountain West.
Big Monday for Gators
September, 29, 2011
9/29/11
4:52
PM ET
By
ESPN.com staff
| ESPN.com
Hitting the highlights from
my chat earlier Thursday
:
Samantha in Macon, Ga.:
What do you think is different about the
Florida Gators
this year compared to last year?
Chris Low:
One of the main things that jumps out at you on the field is that they're making more big plays on offense, the kind of explosive, down-the-field plays they didn't make a lot of last season. Charlie Weis has done a terrific job of getting the ball to
Chris Rainey
and
Jeff Demps
in space. The other thing is that all the off-the-field drama that hovered last year seems to be gone. There's much better chemistry on this team and some of the younger players have grown up and aren't nearly as immature.
Donnell in Baton Rouge, La.:
Chris, how do you think
Jarrett Lee
will handle the reinstatement of
Jordan Jefferson
and when you do think JJ will be needed most?
Chris Low:
Like Jarrett has handled everything else -- with class. Both of those guys are seniors and realize how special this season can be for LSU. I can't see either one of them being selfish at this point. Jefferson will get a chance to play again. The Tigers will need him to come in and win a game somewhere along the way. It's sort of the role Lee played last season.
Brian in New Orleans:
Chris, do you see Mo Claiborne and Tyrann Mathieu as finalists for the Thorpe Award and who is your choice right now for POY, DPOY and COY in the SEC?
Chris Low:
They're two of the best defensive backs I've seen to this point in college football, so I'd say they both will be strong candidates. My Offensive MVP is a tie right now between
Marcus Lattimore
and Chris Rainey. My Defensive MVP would be Mathieu, and I'll go with
James Franklin
as my Coach of the Year, although I reserve the right to change that to Will Muschamp if the Gators win either of these next two games against Alabama or LSU.
Jacob in Gainesville, Fla.:
Florida's O-line vs. an Alabama 'D' that hasn't been able to get pressure on the quarterback yet this year ... who has the edge?
Chris Low:
Actually, Alabama got good pressure on Arkansas'
Tyler Wilson
last week and delivered some nasty hits on him. The Tide just haven't recorded a lot of sacks. It's not a dominant defensive line for Alabama, and even Nick Saban has admitted that. But they do have Hightower and Upshaw coming off the edge on third down, and both are future NFL players. Florida's offensive line has played well to this point, but I still give the edge to Alabama's defense.
Tim in Alexandria, La.:
Do you see a chance of Mark Richt coaching Ole Miss should he and Houston Nutt be fired this season?
Chris Low:
No, I don't. If Ole Miss makes a change, I can't see the Rebels going that route again, bringing in another coach from the league that was sort of pushed out at his previous stop. Whatever happens, and if Nutt doesn't make it, I don't see any way that Pete Boone is the guy making the hire. He may be gone before Nutt.
September, 7, 2011
9/07/11
9:10
AM ET
Boise State thoroughly outplayed Georgia 35-21 last Saturday in the Bulldogs' own backyard, fanning the flames of what's become a popular debate in college football.
Today's Take Two topic: How would Boise State fare in the SEC?
Take 1:
Chris Low
[+] Enlarge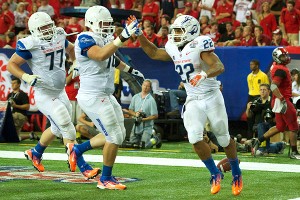 Dale Zanine/US PresswireBoise State thoroughly outplayed the Bulldogs in a 35-21 victory.
I've admittedly changed my tune on this. In the past, I fell in line with the rest of the SEC diehards and didn't want to hear any talk of Boise State being able to compete in the SEC at the highest level. Sure, I had great respect for what Chris Petersen had built on the blue turf in Boise and had seen with my own eyes his Broncos cut down teams from BCS conferences on a regular basis. But surviving the SEC grind? I wasn't buying that … until now.
I realize there's a huge difference in getting up to play Georgia one week and then having four straight weeks of playing teams you're going to beat nine out of 10 times as opposed to facing Georgia, Mississippi State, South Carolina, Florida and LSU in successive weeks. But watching Boise State win the battle up front against Georgia, play smarter than Georgia and play with more discipline than Georgia was enough to sway me. It wasn't just one game, either. The Broncos did the same thing to Virginia Tech last season and the same thing to Oregon in 2009.
I'm not suggesting that Boise State would become the new Alabama or the new LSU in the SEC, but I am suggesting that Boise State would be a factor in the league race most years. In fact, put that same team I saw play last Saturday night in the Georgia Dome in the Eastern Division this season, and that team (Boise State) would be back in Atlanta this December playing for the SEC title. Some years, Boise State may dip to 8-4 or even worse. But in most years, the Broncos would be a contender. I don't have any trouble admitting it. I'm a died-in-the-blue believer.
Take 2:
Edward Aschoff
While I respect your open-mindedness, I just can't agree that Boise would be a contender in the SEC ... even this season. Personally, I love watching Boise State play. I think that for four quarters they can beat anyone in the nation and I hate the fact that the Broncos have to not only go undefeated every year in order to make it to the national championship but they have to get a ton of help. Honestly, I think a one-loss SEC team makes it to the national championship before Boise ... again.
But when it comes to playing an SEC schedule for an entire season, I just don't think the Broncos could keep up.
For the most part, I think recruiting would be a major battle for Boise. I know, the Broncos haven't needed five-star athletes to win in the past and probably won't need any to win in the Mountain West going forward, but to compete in the SEC each week, Boise would have to up its recruiting. The Broncos have speed, but not SEC speed. Hard-nosed, overlooked, two-star prospects can always get up for one game, but try getting up for eight -- and Alabama, LSU and Arkansas are waiting.
Since 2006, Boise State has signed 119 plays and zero have been members of the ESPNU 150, but more importantly, only one has come out of the Southeast. That player is former Lakeland, Fla., Kathleen quarterback Antwon Murray, who signed with the Broncos in 2007. What is he doing now? Well, he's a backup cornerback who had five total tackles heading into this season. Basically, he isn't much of a factor.
Boise hasn't tried to recruit the Southeast because it hasn't had to, but if it joined the SEC, it would absolutely have to. And right now, there aren't enough inroads at high schools in this area and all Boise is is a fun team to watch on TV to most prospects here. I'm not saying the Broncos' staff couldn't recruit in this part of the country, but getting the top athletes and consistently battling the likes of Florida, LSU and Alabama ain't happening.
Would a couple of top prospects take the chance and move across the country to no-man's land? Of course. Boise could dink and dunk here and there, but at the first sign of trouble in this conference -- and I think it comes sooner rather than later upon Boise's arrival -- these southeast athletes aren't going to take that chance as much. Did I mention Boise plays in Idaho? Sorry, but consistently recruiting in this part of the country is key to winning the SEC and I don't see Boise being able to do it at a high enough level.
September, 3, 2011
9/03/11
11:50
PM ET
ATLANTA -- Here are some thoughts on the
Georgia Bulldogs
' 35-21
loss
to the
Boise State Broncos
.


What it means:
Prepare for another season full of arguments concerning Boise State's legitimacy as a national championship contender. The Broncos once again held up their end of the bargain against a major-conference opponent after beating Oregon and Virginia Tech in their previous two season openers. Now they won't face another currently ranked opponent until hosting TCU in mid-November.
How the game was won:
Boise State's defense put the clamps on Georgia's offense for a crucial stretch in the second and third quarters, allowing the Broncos' offense to bounce back from a sluggish start and efficiently put away the Bulldogs as their defense began to wear down. After the Broncos scored only once on their first six possessions, they reached the end zone in four of their next five.
Player of the game:
Boise State quarterback
Kellen Moore
. The Heisman Trophy finalist hardly lost confidence when the Broncos started slowly, instead he coolly assaulted Georgia's defense with a series of precise passes. Moore opened the game with two incompletions and then connected on 28 of his next 32 attempts for 261 yards and three touchdowns.
What Boise State learned:
The Broncos learned that they can indeed compete with an SEC opponent, earning their first win against an SEC school in five tries. And not only did they beat Georgia, they took control late in the second quarter and steadily pulled away in the second half, silencing a heavily Georgia-partisan crowd at the Georgia Dome.
What Georgia learned:
Touted freshman running back
Isaiah Crowell
can't do it alone. The Bulldogs discovered that their relatively inexperienced offensive line isn't ready to compete with the best college football has to offer. Boise State's tough defensive front overmatched Georgia's offensive line, limiting the Bulldogs to 31 rushes for 137 yards, 80 of which came on a Brandon Boykin touchdown run. Rarely finding much running room, Crowell finished with 60 yards on 15 carries.
Turning point:
With the score knotted at 7-all early in the second quarter, Georgia seemed on its way to taking the upper hand when it drove 51 yards to the Boise State 26. But the Broncos stuffed Georgia runs on both third-and-1 and fourth-and-1 and the Bulldogs were unable to score again until barely more than a minute remained in the third quarter. By that time, Boise State was ahead by three touchdowns.
September, 2, 2011
9/02/11
9:00
AM ET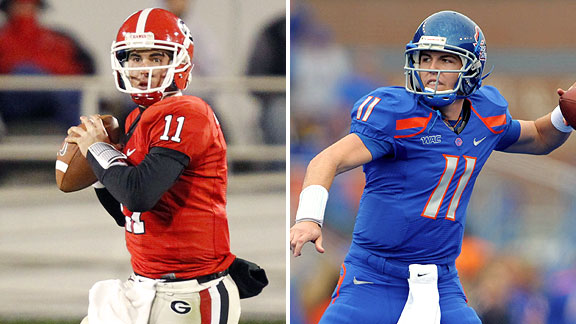 US PresswireKellen Moore, right, and Aaron Murray will lead their respective offenses when Boise State and Georgia meet Saturday in Atlanta.
No. 5 Boise State and No. 19 Georgia square off Saturday night in one of the top nonconference games of the season. So who is going to win and why? How about a little debate between college football nation blogger Andrea Adelson and SEC blogger Edward Aschoff.
Andrea Adelson:
So I hear you want to debate me on Boise State versus Georgia, Edward. I am glad to see you are not too scared to take on a little sister of the poor. Now I know you are new around these parts, but that does not mean little sister here is going to take it easy on you. I am in this debate to win it, just like Boise State has agreed to travel across the country to play in what is hilariously called a "neutral-site game" in Atlanta to play Georgia. The Broncos are in this to win it, and to show -- yet again -- they can beat the so-called big boys. Wait. What? Oh, right. You are going to bring up 2005, and the 48-13 shellacking Georgia delivered to Boise State. Well, if I am not mistaken, this is 2011 and Boise State has a fellow named
Kellen Moore
at quarterback. He just finished fourth in the Heisman Trophy race. Advantage, Boise State. Tell me where Georgia has an advantage.
Edward Aschoff:
No, I won't bring up that 2005 game where the Broncos didn't belong on the same field. I also don't need to bring up that the Broncos are 0-4 all-time against SEC opponents -- all of those losses came in the past decade. But what are Georgia's obvious advantages? Well, besides the fact this game is going to literally be played in Georgia's backyard, the Bulldogs have tremendous speed on defense. Speed that I don't think Boise's offense can match. Georgia has one of the most athletic front sevens in the league. Boise's line is going to have to try to stop the likes of Kwame Geathers and big ol' John Jenkins in the interior. Together, they weigh close to 700 pounds. Plus, DeAngelo Tyson is going to drive tackles crazy on the outside. But even if the Broncos manage to squeeze by that front line, they'll have to meet one of the fastest linebacker corps around. Alec Ogletree dropped down into the box from safety and can absolutely fly around the field to make plays. With Christian Robinson joining him in the middle and the likes of Jarvis Jones and Cornelius Washington in there, the Broncos are going to need jet packs to get through the box. Kellen Moore might be back, but without Titus Young or Austin Pettis (142 catches, 2,166 yards and 19 touchdowns gone) to throw to, Boise is going to have to rely more on its running game and that wreaks of trouble.
AA:
Does it, Edward?
Doug Martin
is one of the most underrated running backs in the nation, running for 1,260 yards and 12 touchdowns last season, averaging 6.3 yards a carry. Forget all that mumbo jumbo about playing against bottom-feeders. Scouts Inc. lists Martin as the top senior running back available in the 2012 NFL draft. He runs the 40-yard dash in 4.48. Same time as Arkansas running back
Knile Davis
, and faster than Alabama running back
Trent Richardson
. Martin also ranks No. 2 in the Scouts Inc. power/balance evaluation and No. 1 in competitiveness. I should also mention he is a terrific pass-catcher, with 28 receptions last year for 338 yards. His offensive line also has a stud in left tackle Nate Potter, who made the ESPN.com preseason All-America team. Mel Kiper lists Potter as one of the top senior offensive tackles in the nation as well. So your argument about the plodding, unathletic Broncos makes little sense. Boise State is way more athletic than UCF, and I do recall the Knights beat Georgia last season.
EA:
While we're discussing future NFL prospects, you might as well look at Georgia's offensive line. The same Scouts Inc. that you referred to ranks senior Cordy Glenn as the top-rated guard in the 2012 draft and senior Ben Jones as the top center. Glenn could have easily left school early for the NFL, but will be lining up at left tackle for the Dawgs on Saturday. Good luck to those Broncos trying to get by deceptively agile 6-foot-5, 348-pound monster. Also, left guard Kenarious Gates isn't well known yet, but he's extremely athletic and can move along the line if needed. Those guys will be blocking for the SEC's best quarterback in
Aaron Murray
, who set all sorts for school and SEC freshman records in passing and total yardage in 2010. He'll have one of the nation's best in tight end
Orson Charles
, an ESPN.com preseason All-American, who is too fast for most linebackers to keep up with and he's too big for most corners to guard. And while
Tavarres King
doesn't have the clout A.J. Green had, he's been tremendously consistent and has been Murray's go-to guy at flanker. Also, two freshmen to keep an eye on are running back
Isaiah Crowell
and receiver
Malcolm Mitchell
. Crowell could have a
Marcus Lattimore
-like impact, and word out of Athens is that Mitchell has been turning heads and breaking ankles in practice. Don't sleep on Georgia's offense.
AA:
Well, I did fall asleep on them watching the bowl game against UCF last season. Murray, Charles and Glenn were on that team, right? Joking aside, I know Georgia will be much better on offense and defense. But I'm not sure the Bulldogs will be good enough against a veteran team with a senior class that has lost twice in their careers.
EA:
The Broncos are in a must-win situation, meaning the pressure is on. For Georgia, the Bulldogs can lose this game and still make a run at the SEC title and maybe even the national championship if a ton of pieces fall into place. With that said, Boise has been in this situation many times before, and it's tough to pick against them in this situation. I think Georgia takes it down to the wire, but comes up just short in its opener against the Broncos.
September, 1, 2011
9/01/11
1:30
PM ET
Georgia running backs coach Bryan McClendon has an exact number for the amount of running backs he'd like to use against No. 5 Boise State on Saturday.
"I would like to suit up every stinking one of them," McClendon said without a hint of sarcasm in his voice.
That would be five --
Richard Samuel
,
Isaiah Crowell
,
Ken Malcome
,
Brandon Harton
and
Kyle Karempelis
. Suspended
Carlton Thomas
would have made it six.
[+] Enlarge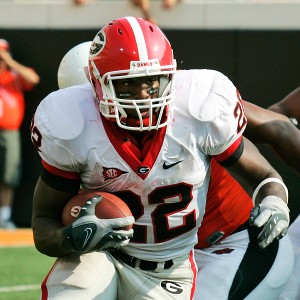 AP Photo/Sue OgrockiRichard Samuel, with his six career starts, is the veteran of Georgia's running back corps.
On one hand, it's nice to have five bodies in the backfield. On the other, those five have a combined six starts in 22 games; all coming courtesy of Samuel, who moved back to running back after a short stint at linebacker. The other four have no game experience.
This isn't an ideal situation for a team with SEC championship aspirations that must face a Broncos defense that ranked seventh nationally against the run (103.77 yards per game) last year.
The Bulldogs were supposed to return the shifty but troubled
Washaun Ealey
and senior Caleb King. Ealey left the team in May and King was ruled academically ineligible.
But all is not lost.
Samuel, who will be the Bulldogs' bruiser at 6-foot-3 and 243 pounds, has become a teacher for Georgia's young runners, and the indications from Athens are that Crowell, the No. 1 running back coming out of high school last year, is legit.
Samuel said his time at linebacker can help him as a running back because of his ability to read defenses faster and know where holes will form. He's bestowed that knowledge on Crowell and has seen him pick things up faster than he imagined.
"I feel like I can point out things that people who haven't played in this league or haven't gotten any snaps against an opponent and tell them what to look for," Samuel said.
What he can't teach is dealing with hype, something Crowell says he's ignored, but there's still some diva in him.
Tuesday, Crowell blew the media off, myself included, for close to three hours before Georgia's sports communication personnel tracked him down at a tutoring appointment and brought him back for interviews just after 10 p.m.
Crowell admitted his time management is an issue, but feels his nerves won't be Saturday. He's ready for his first game to be over "as soon as possible" so he can get into the rhythm of the season.
"That's what I came here for, really, just to play and play early and do whatever I can do to help my team win," Crowell said.
Numerous fans greet him more than the media, putting more pressure on his plate. He tries to shut it out, and his coaches feel he's done a good job of focusing on football.
"He has a very, very good understanding of that," McClendon said. "We have to make sure we keep preaching that to him."
While five running backs are available, Samuel and Crowell will get the brunt of the carries.
With their different running styles, Samuel expects that he and Crowell will be dynamic together. He envisions his power and Crowell's speed and elusiveness complementing each other well, forcing Boise State to adjust more on defense, throwing its rhythm off.
For McClendon, it isn't so much about using two different types of runners, it's about finding players who can operate the offense best.
"Styles aside, you want two guys who are going to be productive," McClendon said. "You want the production that those guys give you, it doesn't matter what style it is, whether it's small or big. You want guys who are going to be productive and running your every-down offense."
Saturday is almost here and McClendon's group is getting restless. It's out to prove its doubters wrong, but McClendon has stressed to his players to focus on helping the team before helping their reputations.
The image of the running game won't matter if the Bulldogs get the victory, McClendon said.
"I'm very excited, but the biggest thing is that we have to get there," he said. "Everyone around is getting a little itchy and ready to play, but you have to make sure you're doing all the things in the process right in order to get the result that you want on Saturday."