June, 18, 2014
Jun 18
1:30
PM ET
Texas and Texas A&M might not be playing one another anytime soon.
But other schools around the league are interested in the prospects of rekindling rivalries that were destroyed by two rounds of conference realignment.


While the Longhorns and Aggies remain at odds, Texas Tech athletic director Kirby Hocutt told ESPN.com this week he's optimistic that he'll be able to get Texas A&M on the Red Raiders' schedule down the line again. Hocutt said there has been interest from Texas A&M's side, as well.
"Hopefully that's a series that at some point in time that could start again," Hocutt said. "Is that a game that won't happen again? No. We've had discussions about it. Hopefully we can reengage that in the coming years."
Oklahoma and Nebraska already have an agreement in place to play a home-and-home in 2021-22. Missouri coach Gary Pinkel
has reportedly said
he thinks his school will play Kansas again someday.


And West Virginia athletic director Oliver Luck, who has already added Penn State and Virginia Tech to future schedules, told ESPN.com he's hopeful he'll be able to revive the "Backyard Brawl" with Pitt at some point, as well.
"At some point we'll get Pitt back on the schedule," Luck said. "What I'm trying to do with our nonconference games is stay as regional as possible and rekindle some of our historical rivalries. Penn State is back on the schedule. Virginia Tech is back on the schedule. That game meant a lot to southern West Virginians. The Pitt game meant a lot to northern West Virginians. We've continued to play Pitt in many of the sports.
"We've both gone through transitions, so it's tough schedule-wise for both of us. But I think at some point we'll get Pitt back on the schedule. I see [Pitt athletic director] Steve Pederson every now and then at various conventions. And we've had some discussions about that. We just haven't been able to really eyeball the proper time to get it going again."
April, 29, 2014
Apr 29
9:00
AM ET
Florida has Florida State. Georgia has Georgia Tech. Kentucky has Louisville. And, of course, South Carolina has Clemson.
When it comes to the
new SEC scheduling format starting in 2016
, those four schools are already on board. Their annual rivalry games fulfill the league's forthcoming requirement for a yearly nonconference game against an ACC, Big 12, Big Ten or Pac-12 school.
But for the rest of the teams around the league, there's a void.
Sure, they can go year to year and rotate in nonconference opponents. But where's the fun in that? Let's create some new rivalries, and in the case of some programs, reignite old ones.
[+] Enlarge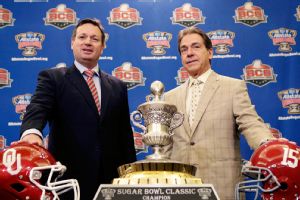 AP Photo/Gerald HerbertThe spectacular salaries of college football coaches such as Bob Stoops, left, and Nick Saban are generated mostly by the labor of unpaid workers.
Alabama-Oklahoma:
If FSU wasn't already taken, the Noles would have been a perfect fit. The physical and philosophical proximity between programs is obvious. But looking elsewhere, Oklahoma might be a fun matchup. The Sugar Bowl has already created tons of tension on both sides with
Sooners coaches delighting in calling out Nick Saban
and the SEC.
Arkansas-Baylor:
Call it a throwback to the old Southwest Conference. Arkansas, which didn't join the SEC until 1992, has played more games against Baylor (69) than any school in its current conference. On top of that, the differences between Bret Bielema's physical style and Art Briles' free-flowing offensive scheme would be a joy to watch.
Auburn-Oregon:
Recent history and playing styles dictates this matchup. Not only do we get a rematch of the 2010 BCS National Championship Game, but it pits offenses that live to go fast. Maybe it could be a two-hand touch game in which whoever reaches 100 points first wins.
LSU-Notre Dame:
We couldn't make a list of nonconference matchups and leave Notre Dame off, could we? Pitting the Golden Domers against an SEC program would be appointment viewing. Make that program LSU and the opposing coach Les Miles, and television networks will scratch each other's eyes out to get the game.
Mississippi State-Texas Tech:
The Bulldogs have shied away from high profile nonconference games in the past, loading up on the likes of Memphis, UAB and South Alabama. Well, it's time to infuse a little spice into the schedule. Kliff Kingsbury is too cool to keep out of the SEC. His Red Raiders would be a good matchup with Mississippi State, which faced Texas Tech seven times from 1953-70.
Missouri-Kansas:
Does this one really need to be explained? The Border War should have never gone away in the first place. Now is the perfect opportunity to save face and bring back a rivalry that goes all the way back to 1891.
Ole Miss-Miami:
We've got to get 'The U' involved. Miami and Ole Miss have already played a few times in their history, with the Rebs holding a 2-1 series lead. But bigger than that, it would get the SEC back into South Florida on a permanent basis because
Miami and Florida don't have the common sense to do that
already.
Tennessee-North Carolina:
Even if most people don't remember it, there's history there. Tennessee and UNC have played 29 times, with the Vols holding a 20-8-1 advantage. Plus, even if your memory is short, you should recall the double overtime
Music City Bowl from 2010
between the schools. If they can re-create that just once, it would make the rivalry worth it.
Texas A&M-Texas:
See Missouri-Kansas. Don't let conference affiliations ruin great rivalries. Texas A&M-Texas should have never been shelved in the first place. And while the
UT administration
might not see a reason to bring it back -- nor
Texas A&M's leadership,
for that matter -- surely both fan bases do.
Vanderbilt-Duke:
Call it a private school showdown. The proximity is reasonable, the fan bases similar, and the rivalry could easily extend to the hard court. Plus, have you seen Derek Mason's nonconference schedule this year? It needs help.
December, 24, 2013
12/24/13
10:38
PM ET
By
ESPN.com news services
| ESPN.com
Former Florida tight end
Kent Taylor
is transferring to Kansas, he confirmed Tuesday on Twitter.
Couldn't be more excited about my opportunity to go play football for the University of Kansas! #rockchalkjayhawk

— Kent Taylor (@kenttaylor18) December 24, 2013
The 6-foot-5, 223-pound Taylor was ranked as the nation's No. 1 tight end in the class of 2012, but he failed to make an impact for the Gators.
He had two catches for 5 yards and a touchdown as a freshman -- the scoring grab came in the team's 33-23 loss to Louisville in the AllState Sugar Bowl -- and did not play as a sophomore.
Taylor was one of six Gators players, all on the offensive side of the ball, to announce that he would transfer earlier this month.
September, 17, 2013
9/17/13
5:30
AM ET
July, 18, 2013
7/18/13
5:00
PM ET
By
ESPN.com staff
| ESPN.com
Join our ESPN.com college football experts for a live blog from SEC media days. We'll have highlights, pictures, videos and interviews with SEC players and coaches from Alabama, Georgia, LSU and Vanderbilt live from Hoover, Ala.
Join us beginning at 9:30 a.m. ET by submitting your comments and questions. See you there. You can also view all the action on ESPNU or
WatchESPN.com
.
Here is our live blog of
Day 1
and
Day 2
in case you missed it.
July, 17, 2013
7/17/13
8:00
AM ET
By
ESPN.com staff
| ESPN.com
Join our ESPN.com college football experts for a live blog from SEC media days. We'll have highlights, pictures, videos and interviews with SEC players and coaches from Texas A&M, Kentucky, Mississippi State, Tennessee, Auburn and Arkansas live from Hoover, Ala.
Join us beginning at 9:30 a.m. ET by submitting your comments and questions. See you there. You can also view all the action on ESPNU or
WatchESPN.com.
Here is our
live blog of Day 1
in case you missed it.
March, 28, 2012
3/28/12
5:00
PM ET
Let's face it; spring games aren't exactly exciting.
Sure, getting to see your team kind of go hard at the end of a month of spring practice has its moments, but it's mostly a snoozefest for those in the stands. You usually don't learn a ton from spring games and the best players often skip them.
But what if the NCAA decided to tweak these games. Maybe, let teams travel to other stadiums and actually play
another
team? Put it on national television and we're talking more money to spread around. I know, it sounds crazy, but you have to admit it beats seeing Team A collide with Team A over and over again. It actually makes a spring game watchable!
Well, Clemson coach Dabo Swinney
told the Atlanta Journal-Constitution
that he thinks it would be a good thing if teams were allowed to play other teams to end the spring. His criteria would be that teams could only play out-of-conference opponents but within a reasonable driving distance, such as 100 or 200 miles, the revenue generated from the game (and I'm sure there would be a lot) could be given back to the schools or donated to charity, and rules for the game would be agreed upon by the coaches of each team before the game. If a school doesn't want to partake in the festivities, it doesn't have too, but it sure is missing out.
Here's some of what Swinney said about his idea:
"The good thing about doing something like this is that in the spring time, you don't have your whole team there. Like last spring, for example, we were missing 31 guys for spring ball. So we were very, very thin. This year, we have more bodies on hand. But still, every time you practice against each other in a scrimmage, you're 100-percent invested with your personnel, as opposed to if you go and scrimmage somebody else. You're scrimmaging their defense, while your defense is on the sidelines. When your offense is out there, your defense is on the sidelines. You're not 100-percent vested with what's going on. I just think there's something good with that.

"Plus I think a scrimmage would be a great way to further teach our guys and prepare them for the season … to be able to implement your schemes against another opponent, and it could be against anybody."
Swinney's right. Coaches would have more time to analyze everything that's happening on one side of the ball without having to constantly watch both the offense and the defense at the same time. That's a win for coaches, especially when their dealing with youngsters or plugging in new players. Also, you don't run into the whole issue of the defense knowing what the offense is going to do and vice versa.
Sure schools are going to wonder about revenue when having to play on the road, but that's where national television comes in. I'm sure that wouldn't be an issue. Putting these games on for the country to see means more money and it certainly helps with recruiting -- something every coach would love.
And remember, this is a scrimmage, so play as many people as you can. It won't affect your season record ... because it's a scrimmage.
Worried about injuries? Things getting a little testy? Don't be. It's Division 1 football! Injuries happen in practice all the time and teammates turn on each other all the time. Both happen regardless of who's on the field.
"I think it would be fun. I think the players would enjoy it. I think the fans would enjoy it," Swinney said. "But that's just one guy's opinion."
And it's a good opinion.
Here are some fun matchups that could happen if such a thing were possible:
Alabama-Florida State: OK, so this would be a 300-plus-mile journey, but these are two good football names and they share plenty of recruiting battles. Surely that would be enticing to both coaching staffs.
Arkansas-Oklahoma: A little more than 200 miles separates a great offensive spring game.
Auburn-Georgia Tech: Atlanta isn't far at all from Auburn and that Georgia Tech running game can prep just about any defense.
Florida-Miami: Another 300-plus-mile trip, but it'd be well worth it for both schools. This rivalry needs to be revisited more than it is.
Georgia-Clemson: These two play in private basketball scrimmages every year, so why not translate it to the football field?
Kentucky-Cincinnati: This isn't much of a drive at all, so it's really a no-brainer for both schools.
LSU-Tulane: Another no-brainer in the travel department and a good time is liable to break out afterward.
Mississippi State-Southern Miss: The Bulldogs play Ole Miss every year, so switch things up and head south before the year starts.
Missouri-Kansas: Renewal of a pretty good rivalry.
Ole Miss-Memphis: Those around both programs know this has been a pretty heated rivalry. Spring together would be great!
South Carolina-North Carolina: Battle of the Carolinas. Sounds good to me.
Tennessee-Virginia Tech: Not a taxing drive and it gets the Hokies into SEC territory.
Texas A&M-Texas: I'll let the Aggies fans tell us why this one would be so great.
Vanderbilt-Louisville: Relatively new coaches surpassing expectations. Nice.
November, 6, 2011
11/06/11
2:22
PM ET
Missouri will join the SEC and
plans to be the conference's 14th member in the 2012-13 academic year
, according to a Sunday morning announcement.
"I am pleased to officially welcome the University of Missouri to the SEC family on behalf of our presidents, chancellors, athletics directors, students and fans," SEC commissioner Mike Slive said in the news release. "Missouri is an outstanding academic institution with a strong athletic program. We look forward to having the Tigers compete in our league starting in 2012."
But could hurdles to making that happen still lie ahead? West Virginia and the Big 12 announced their plans for the Mountaineers to join the league in 2012, but the school and the Big East are currently embroiled in dueling suits over the league's 27-month notice required in Big East bylaws.
From our news story: "A source recently told ESPN.com's Andy Katz that Missouri could have trouble getting out of the Big 12 because the league isn't sure if it can get the Mountaineers in from the Big East next season."
The Big 12 is required to have 10 members to fulfill its television contract.
Missouri and the SEC plan to have a public celebration and news conference on Sunday afternoon in Columbia.
"The Southeastern Conference is a highly successful, stable, premier athletic conference that offers exciting opportunities for the University of Missouri," school chancellor Brady J. Deaton said in the SEC statement. "In joining the SEC, MU partners with universities distinguished for their academic programs and their emphasis on student success."
Missouri's entrance also gives the SEC a fourth Association of American Universities member, joining Texas A&M, Florida and Vanderbilt.