November, 27, 2013
Nov 27
9:49
AM ET
By
ESPN.com staff
| ESPN.com
To watch on your smart phone click here
SEC reporter Edward Aschoff, Big Ten reporter Austin Ward and Pac-12 reporter Kevin Gemmell join host Chantel Jennings to discuss the biggest and most storied rivalries taking place this weekend.
November, 14, 2013
Nov 14
1:11
PM ET
Some losses on the recruiting trail sting just as badly as a gut-wrenching defeat on the field.
Just ask the Michigan coaching staff after five-star defensive end
Da'Shawn Hand
(Woodbridge, Va./Woodbridge) selected Alabama over Michigan and Florida on Thursday.
Hand's decision to head to the SEC won't cause the Wolverines' class to be labeled a failure; it is ranked as the nation's seventh best. But with Michigan projected to be in the driver's seat for almost all of Hand's recruitment and with a significant need at the strongside defensive end spot, his decision to commit to the Tide is a crushing blow.
To continue reading this article you must be an Insider
September, 21, 2013
Sep 21
7:00
PM ET
By
ESPN.com staff
| ESPN.com
Can Texas right the ship against K-State? Will Michigan avoid another upset scare? Can Auburn-LSU produce another close one? And what about that Arizona State-Stanford showdown in the Pac-12?
We'll be watching these games and many more on Saturday night and we'd like you to join in on the conversation. Head on over to
Campus Connection
at 8 ET and follow the action along with our eight reporters. Post your comments and questions and we'll include as many of them as possible.
August, 22, 2013
Aug 22
5:00
PM ET

Robert Smith predicts which teams will play in the BCS title game. Desmond Howard talks about whether Alabama is better than the previous two championship teams. Smith and Howard also make their predictions for Ohio State-Michigan.
August, 14, 2013
Aug 14
5:30
AM ET
The Early Offer is RecruitingNation's latest feature, giving you a daily dose of recruiting in the mornings. Today's offerings: Tennessee having tremendous success in the junior college ranks is a good thing for the Volunteers, Michigan's attempt to crack Ohio State's Glenville pipeline, and why Florida State landing a player in Maryland is bad news for the rest of the ACC.
Tennessee rebuilds with juco players
To continue reading this article you must be an Insider
January, 1, 2013
Jan 1
8:10
PM ET
TAMPA, Fla. -- The clock read 8:22.
Michigan led 22-21.
Jadeveon Clowney
, frustrated for most of Tuesday afternoon, saw the minutes winding down in the fourth quarter of the Outback Bowl. He needed to reassure his teammates. Perhaps even himself.
"Guys," he said, "I'm going to show up. I'm coming. Just hang in there, we're going to win this game. I'm going to make a big play."
South Carolina had just lost a replay review on a blown first-down call following a Michigan fake punt. Michigan had momentum. South Carolina had a chapped coach and incredulous players. Steve Spurrier later recalled his conversation with a referee on the field:
Spurrier: "You know the ball did not touch the first-down marker?"
Referee: "I know it didn't."
Spurrier: "Well, why'd you give it to him?"
Referee: "I don't know."
[+] Enlarge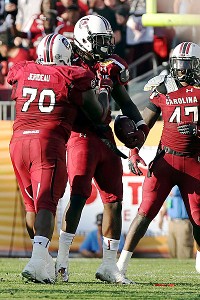 Kim Klement-USA TODAY SportsJadeveon Clowney's forced fumble and recovery changed the momentum in the Outback Bowl.
Michigan had a fresh set of downs at its 41, hoping to add to its lead.
Devin Gardner
snapped the ball. The big play -- the big hit -- came almost instantaneously, showing once again why Clowney is the most unstoppable defensive force in college football.
Clowney barreled through the line untouched and smacked
Vincent Smith
so viciously, both Smith's helmet and the ball went flying.
"It sounded like a car wreck," South Carolina defensive tackle
J.T. Surratt
said.
"I heard it," receiver
Bruce Ellington
said. "And I jumped when I heard it."
Incredible play, incredible athleticism.
"He's got that one little slip move and they get nothing but air when they go at him," Spurrier said.
That would have been enough to qualify as one of the biggest plays of his career. And yet, he had more in him.
With one more move, Clowney picked the loose ball up with one hand, got up and tried to score.
"It's just unbelievable the stuff he can do," said South Carolina quarterback
Dylan Thompson
, who watched from the sideline. "Just like a switch he can turn on and say, 'All right, I'm going to take over,' and he does it."
South Carolina teammates have seen plays like this before, and yet, they have no explanation. "I was like man, this guy -- it's crazy the things he can do," Ellington said.
But what they had was a momentum shift, a play to begin a host of plays that would lead South Carolina to a
come-from-behind 33-28 victory
. And once again, the SEC dealt another blow to the Big Ten, a conference that needed wins Tuesday more than any other.
Northwestern got its historic bowl win. And for a time, Michigan and Nebraska gave the Big Ten hope they could take down the mightiest conference in the land, do the unthinkable and actually win on a gorgeous Florida afternoon.
While the Wolverines had South Carolina on the ropes, the Huskers had Georgia in their sights 90 miles east in Orlando. Then, in a matter of minutes ... gone. Georgia cruised. Michigan met Clowney.
That big hit set off a wild fourth quarter that ended up seeing three lead changes, and vintage Spurrier. On the play after the big hit, Spurrier called for a deep passing play -- one of the areas the Gamecocks excelled in all afternoon.
Connor Shaw
threw a 31-yard touchdown pass to game MVP
Ace Sanders
, and South Carolina went ahead 27-22.
Michigan then drove 64 yards, refusing to have Clowney get in their heads. Gardner delivered a beautiful 17-yard touchdown pass to
Jeremy Gallon
and the Wolverines went back ahead 28-27.
South Carolina took over with 3:29 left. Shaw started the drive, but went out with a foot injury. Thompson finished it, throwing a 32-yard touchdown pass to Ellington with 11 seconds remaining, delivering the victory. Spurrier has rotated quarterbacks in his past, and said he would do the same headed into this game.
But the way Shaw and Thompson worked so effectively, so seamlessly on that final drive, spoke to the maturity of both the players and this team. Other South Carolina teams may have folded up shop in the fourth quarter.
Not this one.
Not with Clowney on the field.
"It gave us a lot of momentum," Ellington said. "Our defense got a little mad, a little uptight and they made a couple of plays for us to get the ball back."
For his part, Clowney said he has delivered big hits like that before. He recalled his hit on
Aaron Murray
against Georgia last year. Thompson recalled a hit Clowney made while he still played in high school. Clowney said of the hit on Smith, "Everybody else said it looked worse."
Call the play payback for the refs' mistake. Or payback for a hit to the groin Smith delivered earlier in the game, sending Clowney to the sideline. "He laughed about it," Clowney recalled. "I said, 'I'm going to get you later on.'"
When he did, Smith lay on the turf.
"He didn't say nothing," Clowney recalled. "He just froze up, laid there. I was laughing."
Laughing?
"Yeah I was laughing, that's what I do," he said. "Hey it's a game, competition."
A game the best player on the field single-handedly changed with a big hit that will live on as long as he plays.
January, 1, 2013
Jan 1
4:57
PM ET
TAMPA, Fla. -- Quick thoughts after South Carolina's
wild 33-28
victory over Michigan in the Outback Bowl:


It was over when:
South Carolina quarterback
Dylan Thompson
found receiver
Bruce Ellington
wide open down the field with 11 seconds left, scoring a 32-yard touchdown. Michigan had scored with 3:29 left on a pass from
Devin Gardner
to
Jeremy Gallon
, all part of a fast-paced fourth quarter.
Game ball goes to:
South Carolina wide receiver
Ace Sanders
. The 5-foot-8 wide receiver had a massive game, catching two touchdown passes and breaking a 63-yard punt return for a touchdown. Sanders had nine catches for 92 yards and accounted for three of the Gamecocks' four touchdowns.
Stat of the game:
Michigan quarterback
Denard Robinson
finished his four-year career with 4,495 rushing yards, setting an NCAA record for rushing yards by a quarterback. He passed former West Virginia quarterback Pat White, who rushed for 4,480 yards. The two quarterbacks have always been linked because of the coach who recruited them both, Rich Rodriguez.
Turning point:
With 8:15 left in the game, South Carolina defensive end
Jadeveon Clowney
broke through the Michigan rush and hit
Vincent Smith
as he took the handoff, crushing Smith, sending his helmet flying and causing a fumble that Clowney recovered. On the next play, Gamecocks quarterback
Connor Shaw
threw a 31-yard touchdown pass to Sanders that gave South Carolina a 27-22 lead.
Record performance:
Jeremy Gallon
had a career-high nine catches for 145 yards to go along with his two touchdowns. He was the only Michigan receiver with more than 27 yards and consistently made big plays and grabs. His first touchdown came in the back corner of the end zone and the second one, which gave the Wolverines a late lead, came on a slant in which he beat his defender inside.
January, 1, 2013
Jan 1
11:08
AM ET
Michigan (8-4, 6-2 Big Ten) vs. South Carolina (10-2, 6-2 SEC)


Who to watch:
South Carolina sophomore defensive end
Jadeveon Clowney
. Against a somewhat suspect Michigan offensive line -- other than future NFL first-round tackle
Taylor Lewan
-- Clowney could have a huge day. He tied for second in the FBS with 13 sacks, and was second in tackles for loss (21.5, 1.95 per game). Between the Wolverines' line and a running game which rarely produced this season, this sets up well for Clowney.
What to watch:
Michigan's offense. One of the bigger questions for the Wolverines is where senior
Denard Robinson
will line up and how often. Michigan likely plans on using Robinson at quarterback, running back and wide receiver. In addition to it being Robinson's last college game -- and a potential preview of what he'll try to do in the NFL -- he needs 85 rushing yards to tie former West Virginia quarterback Pat White for the FBS quarterback rushing record.
Why to watch:
Besides the NFL-level matchup between Clowney and Lewan and the potential explosiveness in Robinson's last game, this could be a chance to see South Carolina, one of the more promising teams next year, jump-start a run for the 2013 season. The Gamecocks should return most of their offense next season, along with Clowney and a few others on defense, which could set them up for another successful year in the SEC. On the Michigan side, if quarterback
Devin Gardner
has a good day -- he's averaged 251.25 yards passing in his four starts -- it could set him up for a special 2013 season.
Prediction:
While Michigan's offense could be very fun to watch and explosive with Robinson moving all over the field, the Wolverines still have the same issues with their running backs and offensive line that they've had all season long. Add into that a secondary missing starting cornerback
J.T. Floyd
because of suspension, and it could be a tough day for Michigan. Gardner and Robinson keep it close on offense, but South Carolina has too much.
South Carolina 24, Michigan 17.
January, 1, 2013
Jan 1
10:00
AM ET
We're taking a look at South Carolina's X factor against Michigan in today's Outback Bowl:
X FACTOR
Kelcy Quarles, So., DT:
Sure,
Denard Robinson
isn't set to start at quarterback for the Wolverines, but
Devin Gardner
knows how to make a play or two. And Robinson should get some time at quarterback -- along with other positions. That means putting pressure on Michigan's backfield is going to be a big deal for the Gamecocks' defense. Defensive end
Jadeveon Clowney
will be expected to lead South Carolina's pass rush, but he's going to need some of the pressure taken off of him. He'll be battling All-American tackle
Taylor Lewan
, who should even give Clowney fits at times today. So, Quarles, who has been nicked up here and there this season will have to provide some extra pressure up the middle in order to help out Clowney on the edge.
Devin Taylor
should help on the other side of Clowney, but the Gamecocks want to get some nice push through the center of the line from Quarles in order to shake up the pass and the run, as the Wolverines are rushing for 187.3 yards per game. He tallied seven tackles for loss and 2.5 sacks and if he can become a nuisance in the middle, it will free Clowney from potential double teams. Dealing with Lewan will be enough for Clowney, so he doesn't need to worry about another big body coming his way. Getting pressure on that explosive backfield will be key for this defense. Michigan didn't exactly flourish the last time it faced pressure from an opposing SEC defense.
October, 12, 2012
10/12/12
10:00
AM ET
Here's your weekly dose of SEC news and notes from the league and ESPN Stats & Information:
South Carolina's third-place ranking in the AP Poll this week is the highest for the Gamecocks since the Nov. 13, 1984 poll, when it was second. Florida's fourth-place ranking in the AP Poll is the highest for the Gators since the 2010 preseason poll, when it was fourth.
The SEC has had five different teams ranked in the top 5 of the AP and USA Today polls this season for at least one week -- Alabama, Florida, Georgia, LSU and South Carolina.
South Carolina's Marcus Lattimore has scored at least one TD in 21-of-26 career games played and is tied for 15th in SEC history with 39 career TDs scored.
In SEC Games, Lattimore has run between the tackles on 76.3 percent of his carries. He has averaged at least 4.3 yards per carry inside the tackles in every season. Lattimore has been at his best in the fourth quarter, during which he averages 5.5 yards per run inside the tackles with 58.6 percent of his yards coming after contact
Lattimore has gained 47 percent (258/549) of his yards after contact this season. That is up eight percent from 39 percent last season. Against SEC opponents, Lattimore has gained 44 percent of his yards after contact in his career and has gotten gradually better each season.
South Carolina runs on 65.1 percent of its plays this season, 12th-highest percentage in FBS. This heavy dose of running appears to be helping the Gamecocks' play-action game. South Carolina is averaging over 10 yards per play when throwing off play action this season.
Connor Shaw has completed 81.8 percent of his passes thrown 10 yards or more downfield in his past three games. Last week against Georgia, Shaw completed 4-of-5 10-yard throws for 138 yards and two touchdowns.
Opponents have completed 26.5 percent of their 10-yard throws against LSU this season with three interceptions and one touchdown.
LSU quarterback Zach Mettenberger completed 78.6 percent of his passes thrown 15 yards or more downfield in his first three games of the season. Once SEC play started, he has not been as sharp, completing 22.2 percent of his 15-yard throws in two conference games.
LSU has sent five or more rushers on 23.1 percent of its opponents' dropbacks this season. When blitzing, the Tigers have allowed four passing touchdowns this season, compared to just one when dropping at least seven into coverage.
Shaw is completing 81 percent of his passes when opponents send five or more rushers on a play this season. Shaw has been even better in SEC games, completing 85.7 percent against the blitz, including no incompletions in his first three conference games (11 attempts).
In 14 career wins as Mississippi State's starting quarterback, Tyler Russell has thrown 12 TDs against 2 interceptions.
Mike Gillislee joined Cam Newton, Mark Ingram and Darren McFadden as the only players to run for 100 yards in the second half of a game against LSU in the past seven seasons. All season, Gillislee has worn SEC opponents down in the second half. He is averaging 3.1 more yards per rush in the second half than the first, and is breaking long runs at a higher rate.
Vanderbilt is allowing 179.0 rush yards per game, which ranks 11th in the SEC and 80th in FBS. In the first half, Vanderbilt allows an SEC-worst 100.2 yards per game and 4.8 yards per rush. Vanderbilt improves its rush defense in the second half, allowing 78.8 rush yards per game and 3.8 yards per rush.
Against SEC opponents, Florida sent five or more rushers on 22 of 75 of its opponents' pass attempts (29.3 percent) in the first half, but just 8 of 52 pass attempts (15.4 percent) in the second half. Overall, SEC opponents are completing 38.7 percent of their passes with two touchdowns and three interceptions against Florida's blitz.
Driskel is averaging 10.5 yards per carry on designed running plays and 8.7 yards per rush on scrambles. He has at least one rush that has gained 20 yards or more in four of five games this season. Only Jordan Lynch (NIU) and Braxton Miller (OSU) have more games with a 20-yard rush than Driskel amongst FBS quarterbacks.
Driskel is one of the rare quarterbacks in FBS who has performed better when under pressure. Driskel has completed 17 of 31 passes when under duress this season. He has also scrambled for 104 yards on 12 rushes when forced out of the pocket.
Zac Stacy has gained 69.5 percent (287/413) of his yards after contact this season, highest percentage in the SEC (min. 30 attempts).
Arkansas' seven points allowed to Auburn was lowest opponent total by Arkansas' defense allowed on the road since a 23-0 win at South Carolina on Nov. 9, 2002.
Following six weeks, SEC stadiums have been filled to 96.24 percent capacity and are averaging 75,489 fans per game. More than 3.6 million fans have attended 48 SEC games thus far in 2012. There have been 23 games in which attendance has been at 100 percent-or-more capacity this season.
SEC teams were 4-2 on the road in Week 6, in a week where stadiums were filled to 95 percent capacity.
Alabama and Florida lead the SEC with only two passing TDs allowed this season, while Alabama and South Carolina are tied for the SEC lead with only three rushing TDs allowed in 2012.
South Carolina and Tennessee lead the SEC with 14 passing TDs this season, while Georgia leads the league with 20 rushing TDs scored. Texas A&M has scored a league high three defensive TDs this season.
LSU leads the SEC in defensive three-and-outs at 45.7 percent (37 of 81). Alabama is second at 42.4 percent (25 of 59) and Florida is third at 41.7 percent (25 of 60).
Florida leads the SEC in fourth quarter scoring margin at 41. The Gators have scored 41 points in the fourth quarter and have not allowed any points.
With the BCS standings coming soon ...
Using conference alignment at the time of games played, the SEC has had the most appearances of any conference in the BCS standings (451). The Big 12 is second at 435 and the Big Ten third at 392.
The SEC, ACC and Big 12 have put the most schools in the BCS standings in its history with 11 each. The Pac-12 and the Big Ten have put 10 teams each in the BCS standings.
Five SEC teams have been ranked at one time or another as the top team in the nation in the BCS standings during its history (31 total weeks) -- Alabama (six times), Auburn (three), Florida (seven), LSU (10) and Tennessee (five).
Here is a listing of the amount of times each SEC team has been ranked in the BCS standings (using current conference alignment): Alabama (50), Arkansas (31), Auburn (45), Florida (85), Georgia (61), Kentucky (4), LSU (73), Ole Miss (9), Mississippi State (15), Missouri (32), South Carolina (25), Tennessee (52) and Texas A&M (30).
An SEC team has been the top ranked team in 10 straight BCS standings, dating to the last two weeks of the 2010 season. LSU was the top-ranked team in all eight BCS standings last season and Auburn was the top-ranked team in the last two standings of the 2010 season. Oregon (Nov. 21, 2010) is the last non-SEC team to be ranked No. 1 in the BCS standings.
An SEC team has been ranked No. 1 in 24 of the past 32 BCS Standings (dating back to 2008).
Since 1992, the Gators have the best record away from home (does include Jacksonville games) in conference games at 68-23 (.747). Alabama and Tennessee, which have the second best record (51-30, .630), are also on the road this weekend.
DRIVE CHART EFFICIENCY/OFFENSE:
Alabama leads the SEC, averaging 3.22 points for each offensive drive. The Tide also lead the league in percentage of drives ending in scores (TD+FG) at 56.9 percent (33 scores on 58 drives) and TD scoring efficiency (37.9 percent / 22 of 58). South Carolina is close behind on TD efficiency (37.8 / 31 of 74).
DRIVE CHART EFFICIENCY/DEFENSE:
Alabama (0.59 / 35 points allowed on 59 opponent drives), South Carolina (0.81 / 63 on 78), Florida (0.95 / 57 on 60) and LSU (0.95 / 77 on 81) are averaging less than one point on every opponents' offensive drive. Alabama leads SEC in allowing least amount of scores per opponents' offensive drive (08.5 percent / five – all TDs – of 59 drives).
Florida is the only FBS team to not allow a fourth-quarter point this season. The Gators are outscoring opponents 41-0 in the fourth quarter, the largest scoring margin of any SEC team this season. South Carolina has outscored opponents by 40 points (61-21) in the fourth quarter this season. Nine SEC teams are outscoring opponents in the fourth quarter this season.
LSU leads the SEC in opponents' three-and-out percentage at 45.7 percent (37 of 81 drives). Alabama is second (42.4 percent / 25 of 59) and Florida is third (41.7 percent / 25 of 60). The SEC average is 33.1 percent.
Alabama and South Carolina have not allowed any points when an opponent starts a drive off a turnover. The SEC average is 24.3 points per team. Alabama has scored 84 points off of drives started when it gets a turnover. The SEC average is 36.2 points per team.
SEC teams have scored on drives lasting less than two minutes 149 times during the first six weeks of the season. SEC teams have scored on drives lasting more than five minutes 41 times so far this season.
Since the start of the AP poll in 1936, a team has received all first place votes a total of 51 times. Three SEC teams -- Alabama, LSU and Tennessee -- have received unanimous No. 1 votes in AP polls. Alabama has received all first place votes during the past two polls as well as the final polls of the 1992 and 2009 seasons. LSU has been a unanimous selection five times including four polls last season and Week 6 poll in 2007. Tennessee took all first place votes in two polls, both in 1998 (Week 14 and final).
September, 2, 2012
9/02/12
3:20
AM ET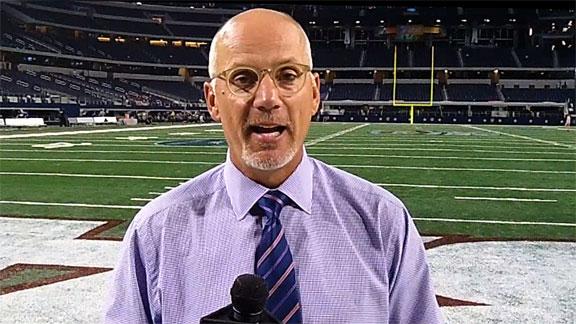 ARLINGTON, Texas. -- Let's pretend for a nanosecond that Michigan really was the No. 8 team in the country, and that
Denard Robinson
really was a Heisman Trophy candidate.
Then what does that say about No. 2 Alabama and the way it plucked the fur out of the Wolverines' season, strand by strand, Saturday evening at Cowboys Stadium? And if you're Western Kentucky, Bama's next opponent, aren't you thinking of calling in sick on Sept. 8?
The Crimson Tide didn't just beat the Wolverines, 41-14, it toyed with them. Embarrassed them. Treated them like an honorary cupcake. You didn't know if it were Michigan or DeVry Institute.
That's what Alabama can do to you. That's what happens when Bama coach Nick Saban has forever to prepare a game plan and a fish net for the previously confounding Robinson. The senior quarterback wasn't invisible, but he was inconsequential.
The Tide played like a team with a chip on its shoulder pads. Better yet, it played like it doesn't want to be a national championship one-and-done.
"We know we can play with anybody," said Bama quarterback
AJ McCarron
.
If Saturday night's game means anything, the Tide can play with and perhaps better than anybody. I'm not saying Saban should begin practicing how to raise a crystal football over his head, but Bama is more than capable of winning a second consecutive national title.
"Everybody's hungry," said senior linebacker
Nico Johnson
. "I think we're more hungry than we were last year coming into the season. We just want to go out and create an identity for this team."
Alabama isn't as good as Michigan made them out to be. But just to be clear: the Tide treated U of M like the Wolverines had insulted Bear Bryant and houndstooth. The rout was complete and indisputable.
For Gene Wojciechowski's full column, click
here
.
September, 2, 2012
9/02/12
3:00
AM ET
ARLINGTON, Texas --
Denard Robinson
went up to the biggest kid in the schoolyard and attempted to throw a haymaker.
He tried to make a statement against the Alabama defense and failed.
Michigan's confounding superstar went toe-to-toe with
Dee Milliner
and the Crimson Tide defense and ended up on his backside. He went after their top cornerback early and often and ended up handing over his lunch money over one nickel at a time.
Milliner batted down pass after pass that came in his direction and intercepted another of Robinson's misguided attempts.
Before Robinson finally wised up and threw the ball to the other side of the field late in the second quarter -- completing a 71-yard bomb, coincidentally -- the game was already in hand with Alabama ahead more than three touchdowns.
"I don't know, I guess they felt the need to attack me today," Milliner said after the game. "But I'm glad they did it so I can make the plays."
For Alex Scarborough's full TideNation post, click
here
.