SEC:

Rutgers Scarlet Knights
September, 21, 2013
9/21/13
7:01
AM ET
There won't be any BCS implications in today's marquee SEC games -- so long as the big favorites in a couple of traditionally important divisional matchups take care of business.
No. 6 LSU (3-0) and No. 19 Florida (1-1) are both double-digit favorites over Auburn (3-0) and Tennessee (2-1), respectively. And both have controlled the recent history of series that have been much more competitive in the past.


Formerly THE most important annual game in the SEC East, Florida-Tennessee has become less interesting in recent seasons now that the Gators have won the last eight meetings, with only two of those games being decided by fewer than 10 points. Likewise, LSU has won five of the last six against Auburn, although the games have typically been more competitive.


We'll learn a lot more tonight about whether a last-minute win against Mississippi State last Saturday was a sign that Auburn is on the way back. The last two times Auburn visited Baton Rouge, it lost by 21 points (2009) and 35 points (2011), which was the biggest win by either team in series history. Tiger Stadium is a notoriously difficult place for the road team to win, so Gus Malzahn's Tigers certainly face long odds if they are to remain undefeated by the end of the night.
Meanwhile, Florida has been sulking for two weeks after repeatedly choking in the red zone against Miami and Tennessee has had a week to stew over its blowout loss to Oregon last Saturday. Only three Eastern Division teams have played a conference game yet, so today's winner in Gainesville will take a big step toward contending in the division.
Butch Jones' Vols could prove a lot about themselves by stealing a win in The Swamp -- and they'll have a chance if Florida doesn't clean up its act on offense. This will be a big game for Gators quarterback
Jeff Driskel
to begin progressing toward the more consistent play that Will Muschamp and Florida's coaches expected from him this season.
Those are the only two league games this week, with the rest of the SEC schedule featuring nonconference matchups that carry varying levels of interest (Vanderbilt AT UMass? What went into that decision?). Here are a couple more that could carry some intrigue:


Arkansas (3-0) at Rutgers (2-1) is perhaps the most interesting measuring-stick game outside of league play this week. The Scarlet Knights' 35-26 win in Fayetteville came in the middle of the Razorbacks' 1-4 start of the season -- a stretch that also included a 52-0 loss to Alabama and 58-10 defeat against Texas A&M -- and helped lead to Bret Bielema's hiring as Arkansas' head coach. It has been so far, so good for Bielema at Arkansas, with the Razorbacks beating three overmatched nonconference foes behind the running back duo of
Alex Collins
(second in the SEC with 139.3 rushing yards per game) and
Jonathan Williams
(third with 131.0).
Today will provide their toughest test yet -- their first game outside of Arkansas and a matchup against a team that has reached a bowl in seven of the last eight seasons. If Arkansas wins again today, a bowl bid becomes a much more likely possibility despite a murderous conference schedule that starts with a visit from Texas A&M next week.


And if the scoreboard at Kyle Field is still functional after the 91 points from last week's game against Alabama, SMU (1-1) at No. 10 Texas A&M (2-1) might place a further strain on its electrical supply. Texas A&M possesses the nation's fourth-highest-scoring offense at 53 points per game and should have little difficulty moving the ball against Saturday's visitors. The problem, though, is that the Aggies haven't shown an ability to stop anyone on defense. SMU is averaging just 27 points per game, but A&M has given up an average of 36 ppg to Rice, Sam Houston State and Alabama, good for 107
th
nationally.
SMU quarterback
Garrett Gilbert
is third nationally in total offense, averaging 393.5 yards per game -- 352.5 through the air, which ranks fourth nationally. Defending Heisman Trophy winner
Johnny Manziel
(379 ypg) is fifth in total offense, with 328 of his yards coming via the pass.
We fully expect Texas A&M to keep lighting up the scoreboard, but the Aggies might have to earn a stop to win one of these shootouts. They haven't demonstrated much of an ability to do that yet.
Here's today's lineup:
Vanderbilt at UMass, Noon ET, ESPNews
North Texas at Georgia, 12:21 p.m., SEC TV
Arkansas at Rutgers, 3:30 p.m., ESPN
Tennessee at Florida 3:30 p.m., CBS
SMU at Texas A&M, 7 p.m., ESPNU
Colorado State at Alabama, 7 p.m., ESPN2
Troy at Mississippi State, 7:30 p.m., FSN
Auburn at LSU, 7:45 p.m., ESPN
Missouri at Indiana, 8 p.m., Big Ten Network
September, 20, 2013
9/20/13
2:00
PM ET
Arkansas has turned things around in a hurry under the new leadership of coach Bret Bielema. Stability, Razorbacks center
Travis Swanson
explained, has been a huge benefit to a program that had very little of it a year ago.
Now, Arkansas is undefeated (3-0) heading into a pivotal matchup against Rutgers. Will Bielema's ground-and-pound style of offense hold up? Will
AJ Derby
be able to fill in under center with
Brandon Allen
questionable? And just how good does this team feel with momentum finally on its side?
Swanson, an All-SEC selection and one of Bielema's favorites on the team, was kind enough to answer those questions and more in an interview with ESPN.com this week.
How important was it to get off to a good start this season? What's the feeling like having this program undefeated heading into a big game against Rutgers?
Travis Swanson:
I think it's been a great start to us, obviously with the whole new coaching staff, a whole new kind of program that we have here at Arkansas. The whole team feels like it's just monumental for us to go undefeated, especially into this Rutgers game to have some good momentum to work with.
[+] Enlarge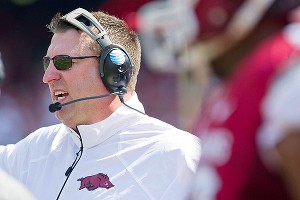 Beth Hall/USA TODAY SportsNew Arkansas coach Bret Bielema has brought stability to the 3-0 Razorbacks.
With Bielema coming in and the early success, can you quantify what the culture change has been like? It felt like it got really difficult toward the end of the year last season. Just how much have things changed?
TS:
A lot has been changed, obviously, with a whole new staff. Any time you have a coaching change, everything changes because each coach is different with their philosophy and everything. I think the biggest change from last year to this year is just that now we know who we have here and there are no questions about what's going to happen at the end of the season.
What have you seen on film on this Rutgers team you'll face Saturday?
TS:
The biggest thing you see on film when you look at them as a defense is they don't really pump out these big, hulking guys. They're just very athletic. They're very good at what they do. The thing that helps us is they run the same defense as Southern Miss did, which we played last week, so there's a lot of carryover. And things that we saw that we didn't do well against this style of defense that we could correct this week.
Are you at a point now where you feel like you have to manage expectations, though? Just how much progress does this team have to make before it can contend in SEC play?
TS:
You've got to make progress this week. If you plateau during the beginning of the season, you're going to have a pretty rough year. But I feel like week in and week out this team has come together and just gotten better and better, especially this week.
Tell me a little about the play of your two young tailbacks, Jonathan Williams and Alex Collins. Has their early success surprised you?
TS:
I wouldn't say surprised. We're obviously a different offense than we were last year, and we kind of knew the identity we wanted for ourselves early in the season and we've had success doing that.
Tell me about their styles: What makes them special? What makes them different?
TS:
Really all three of them, including
Kiero Small
, complements each other so well. They each bring something different to the table that just brings a lot of versatility to the offense. Jonathan is a little bit bigger than a back and a lot more downhill, and Alex is a little bit shiftier kind of guy we like to get out on the edge and whatnot. And when you throw Kiero in that equation lead blocking for them, it's a deadly combo.
I was going to ask about Kiero, but you beat me to it. How important has he been as that lead blocker and have you felt good about what the offensive line has been able to do opening holes in that same respect?
TS:
Kiero is such a huge asset to this offense. He can really do anything that you want to. All you have to do is ask him to do it and he'll line up and execute for you. He's just one of those guys. And as far as offensive line goes, we take, obviously, huge pride in the run game and keeping the quarterback upright and whatnot. So the early success the running backs have had has made us happy. We just want to continue that from here on out.
As an offensive lineman, you've got to love the ground-and-pound offense coach Bret Bielema has brought in, right?
TS:
The best part about it is that it keeps the defenses on their heels because when you can run the ball well it opens things up with play-action pass and whatnot.
Losing Brandon Allen last week was tough, but AJ Derby filled in admirably and helped secure the win over Southern Miss. What have you seen from him this week to feel good going into Saturday's game?
TS:
I feel great about all the quarterbacks that we have. No matter what coach decides and who he decides to put in there, I know that our entire team has the utmost faith with who is in there. The quarterbacks came to work this week because they really don't know the situation heading into the game, but we have all the confidence in who they put out there.
September, 22, 2012
9/22/12
10:52
PM ET
A nightmarish September continued for Arkansas on Saturday night despite a record-setting effort from wide receiver
Cobi Hamilton
.


Hamilton etched his place in SEC history with an absurd 10 catches for 303 yards and three touchdowns against Rutgers. But it wasn't enough to outdo Rutgers quarterback
Gary Nova
, who put on a show of his own in a
35-26 Scarlet Knights victory
.
As bad as the season's first month has gone for the Razorbacks, it's been quite a delight for the Scarlet Knights, who are undefeated despite playing just one home game so far.
Nova torched the Arkansas secondary for 397 yards and five touchdowns on 25-of-35 passing. The sophomore accounted for all five Rutgers touchdowns in a back-and-forth battle that lifted the Scarlet Knights to 4-0 and dropped Arkansas -- formerly a top-10 team -- to 1-3.
It looked like the Razorbacks would respond well to last week's 52-0 loss to No. 1 Alabama when they jumped out to a 10-0 lead behind a 7-of-11, 151-yard first quarter from quarterback
Tyler Wilson
. Wilson returned to action with the Razorbacks after missing the game against the Crimson Tide with a concussion.
But Nova and Rutgers went to work in the second quarter with two unanswered touchdowns to take a 14-10 halftime lead. Nova completed passes to eight different receivers and threw touchdowns to four different targets in a super performance.
Nova's hot streak continued in the third quarter, when he connected on touchdown throws of 38 and 2 yards to take a 28-13 lead.
Hamilton and Wilson responded in a big way in the fourth quarter. The pair connected on two touchdowns in the last stanza -- one going for 80 yards, the other for 10. Arkansas scored to cut the lead to 28-26 midway through the fourth quarter, but the Hogs could not convert the two-point conversion to tie the score. Nova needed just two plays on his next possession to hit a 60-yard touchdown pass to
Mark Harrison
for a two-possession lead.
After trading punts, Wilson and the Razorbacks got the ball back near midfield with 3:36 to play with a chance to cut the score again. Wilson threw his second pick of the night on the first play of the drive, however, and Rutgers was able to run out the clock. The senior's two interceptions marred his 20-of-39, 419-yard, three-touchdown performance, as they were the only turnovers of the game.