SEC:

Texas Tech Red Raiders
September, 13, 2014
Sep 13
8:00
AM ET
Noon ET
UMass at Vanderbilt, FSN
When these teams met last season in Foxborough, Massachusetts, it was a competitive game before a Vandy team that would win nine games locked down a 24-7 victory. UMass gave Colorado a scare before falling 41-38 last weekend, so reeling Vandy had better come to play or it might be on upset alert.
Central Florida at No. 20 Missouri, SEC Network
When last we saw UCF, the Knights were suffering a heartbreaking 26-24 loss to Penn State in their season-opening matchup in Ireland. Mizzou is a 10-point favorite over the Knights, who won the Fiesta Bowl last season before stars
Blake Bortles
and
Storm Johnson
jumped to the NFL, but the opener made it clear that UCF can still compete with Power 5 opposition.
3:30 p.m. ET
[+] Enlarge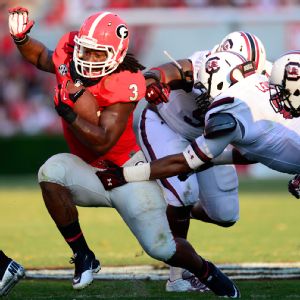 Dale Zanine/USA TODAY SportsTodd Gurley and No. 6 Georgia are looking for a second consecutive win over No. 24 South Carolina.
No. 6 Georgia at No. 24 South Carolina, CBS
Georgia's visits to South Carolina are almost always must-see TV, although these trips are rarely much fun for Mark Richt's Bulldogs. Even when Georgia has won in Columbia -- and it has lost its past two trips to Williams-Brice Stadium -- the outcome has frequently been in doubt even in the final seconds. Heisman Trophy candidate
Todd Gurley
should get plenty of work for Georgia in this one.
Arkansas at Texas Tech, ABC
Here's a fun clash of cultures for a national TV audience, which will see Bret Bielema's ground-and-pound face Kliff Kingsbury's passing attack. Texas Tech has a couple of nail-biter nonconference wins on its resume, while Arkansas is coming off a 73-7 drubbing of Nicholls State. The home team is a narrow favorite here, but this could be a good one.
4 p.m. ET
Louisiana-Lafayette at No. 14 Ole Miss, SEC Network
This looked like a sneaky good game before the season, with ULL coming off three consecutive bowl appearances. But the Ragin' Cajuns absorbed a 48-20 beating from Louisiana Tech last week and Ole Miss dominated Vanderbilt in Nashville, so it doesn't look like an upset is in the cards for this one.
Mississippi State at South Alabama, ESPNEWS
This will be the first time an SEC opponent has played at South Alabama and excitement is high in Mobile -- particularly after the Jaguars opened the season with a win and Mississippi State struggled to put away UAB for a while last Saturday. Bulldogs quarterback
Dak Prescott
and company need to turn in a complete performance with a trip to LSU ahead next week.
6 p.m. ET
Southern Mississippi at No. 3 Alabama, ESPN2
Alabama gets another opportunity to kick around an overmatched nonconference opponent, just as it did last week against Florida Atlantic. The good news for the Crimson Tide, a 48-point favorite, is that most of the starters should be watching from the sideline in the second half, resting up for a visit from Florida next Saturday.
7 p.m. ET
Louisiana-Monroe at No. 10 LSU, ESPNU
Les Miles is a perfect 11-0 against in-state opponents and most of those games have been blowouts, so there is little reason to believe this will be a close contest. That said, the Tigers' secondary should face a reasonable challenge from the Warhawks' no-huddle spread attack.
7:30 p.m. ET
Kentucky at Florida, ESPN
Wildcats running back
Jojo Kemp
(a native Floridian) poked the bear this week when he made comments about how good it would feel to beat a couple of his former high school teammates -- and current Gators -- and rub it in their faces. Kentucky looks to be a greatly improved team, but it will be a major upset if this game is still close in the fourth quarter, and Kemp's comments probably didn't help the Wildcats' cause.
8 p.m. ET
Tennessee at No. 4 Oklahoma, ABC
As with Kentucky, this is a major measuring-stick game for an improving Tennessee team -- going on the road to face an opponent that virtually nobody expects the Volunteers to challenge. Butch Jones' Vols have been impressive so far, but their inexperience along the line of scrimmage will be their undoing in this one.
9 p.m. ET
Rice at No. 7 Texas A&M, ESPN2
For the second straight Saturday, the Aggies can help SEC viewers get to sleep by drubbing an in-state opponent in a late-night matchup. Rice, a 31-point underdog, might put up more of a fight than Lamar did in losing 73-3 to Texas A&M a week ago, but it won't be much more of one.
Kenny Hill
and the Aggies win big again.
July, 10, 2014
Jul 10
3:30
PM ET
We continue our "most important game" series, which looks at the most important game for each SEC team in 2014. These are the games that will have the biggest impact on the league race or hold special meaning for one of the teams involved. Today we take a look at the
Arkansas Razorbacks
.
Most important game:
Sept. 13 at Texas Tech
Key players:
Arkansas should have a quality running game again with its two leading rushers from 2013,
Alex Collins
and
Jonathan Williams
, returning for 2014. Collins and Williams make up a quality rushing duo, with Collins compiling 1,026 rushing yards last season and Williams checking in with 900.
The Razorbacks also have a promising young tight end in
Hunter Henry
. He had a quality freshman season (28 catches, 409 yards, four touchdowns) and will be looking to build on that as he establishes himself as a premier SEC tight end and perhaps one of the better tight ends in the country.
On the defensive end, the Razorbacks return one of the SEC's best defensive ends,
Trey Flowers
. The 6-foot-4, 267-pound Flowers had five sacks and three forced fumbles last season and bypassed the NFL draft to return for his senior season. Defensive tackle
Darius Philon
, a sophomore, returns after a 2013 campaign when he had 46 tackles, nine tackles for loss and two forced fumbles. Those two should combine to be a solid duo for the Razorbacks on the defensive front.
The secondary has a lot of upperclassmen, led by
Alan Turner
, who led the team in tackles last season.
Why it matters:
Traditionally, the most important games involve a conference opponent and have an impact on the division race, but we'll make an exception here for several reasons. When you're coming off a tough season (Arkansas was 3-9 overall and 0-8 in the SEC in 2013), finding success early is important. Bret Bielema is entering his second season as head coach, and though the reclamation project is a marathon and not a sprint, positive results go a long way toward accelerating the growth process.
The Texas Tech game could be a springboard game if the Razorbacks are to win. Nobody outside of Fayetteville is going to expect the Razorbacks to open the season by beating Auburn on Aug. 30, but Texas Tech is a quality nonconference opponent that the Razorbacks should be competitive with. The game is on the road, it's on national television (ABC) and is against a team that plays a style that Bielema isn't enamored with: the hurry-up no-huddle offense, led by offensive guru Kliff Kingsbury. Arkansas will have already faced an up-tempo offense in Auburn and will be due to see another two weeks after the Red Raiders, when the Razorbacks meet Texas A&M.
The trip to Lubbock, Texas, kicks off a tough stretch of games for the Razorbacks. It is followed by games against Northern Illinois, Texas A&M, Alabama and Georgia. A victory at Texas Tech could generate some much-needed positive momentum going into this schedule stretch, and who knows what could happen from there? The Razorbacks were pretty competitive with Texas A&M last year and perhaps a key victory in Lubbock could trigger some confidence for Bielema's bunch that they can carry into the games against NIU and A&M. Four of the five games that follow the Texas Tech game are home games for the Razorbacks and the other (against A&M on Sept. 27) is a neutral-site game at AT&T Stadium in Arlington, Texas.
A loss would likely leave the Razorbacks at 1-2 at that point and staring down that mean schedule stretch, and it could start a snowball in the wrong direction.
June, 18, 2014
Jun 18
1:30
PM ET
Texas and Texas A&M might not be playing one another anytime soon.
But other schools around the league are interested in the prospects of rekindling rivalries that were destroyed by two rounds of conference realignment.


While the Longhorns and Aggies remain at odds, Texas Tech athletic director Kirby Hocutt told ESPN.com this week he's optimistic that he'll be able to get Texas A&M on the Red Raiders' schedule down the line again. Hocutt said there has been interest from Texas A&M's side, as well.
"Hopefully that's a series that at some point in time that could start again," Hocutt said. "Is that a game that won't happen again? No. We've had discussions about it. Hopefully we can reengage that in the coming years."
Oklahoma and Nebraska already have an agreement in place to play a home-and-home in 2021-22. Missouri coach Gary Pinkel
has reportedly said
he thinks his school will play Kansas again someday.


And West Virginia athletic director Oliver Luck, who has already added Penn State and Virginia Tech to future schedules, told ESPN.com he's hopeful he'll be able to revive the "Backyard Brawl" with Pitt at some point, as well.
"At some point we'll get Pitt back on the schedule," Luck said. "What I'm trying to do with our nonconference games is stay as regional as possible and rekindle some of our historical rivalries. Penn State is back on the schedule. Virginia Tech is back on the schedule. That game meant a lot to southern West Virginians. The Pitt game meant a lot to northern West Virginians. We've continued to play Pitt in many of the sports.
"We've both gone through transitions, so it's tough schedule-wise for both of us. But I think at some point we'll get Pitt back on the schedule. I see [Pitt athletic director] Steve Pederson every now and then at various conventions. And we've had some discussions about that. We just haven't been able to really eyeball the proper time to get it going again."
April, 29, 2014
Apr 29
9:00
AM ET
Florida has Florida State. Georgia has Georgia Tech. Kentucky has Louisville. And, of course, South Carolina has Clemson.
When it comes to the
new SEC scheduling format starting in 2016
, those four schools are already on board. Their annual rivalry games fulfill the league's forthcoming requirement for a yearly nonconference game against an ACC, Big 12, Big Ten or Pac-12 school.
But for the rest of the teams around the league, there's a void.
Sure, they can go year to year and rotate in nonconference opponents. But where's the fun in that? Let's create some new rivalries, and in the case of some programs, reignite old ones.
[+] Enlarge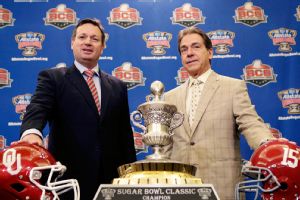 AP Photo/Gerald HerbertThe spectacular salaries of college football coaches such as Bob Stoops, left, and Nick Saban are generated mostly by the labor of unpaid workers.
Alabama-Oklahoma:
If FSU wasn't already taken, the Noles would have been a perfect fit. The physical and philosophical proximity between programs is obvious. But looking elsewhere, Oklahoma might be a fun matchup. The Sugar Bowl has already created tons of tension on both sides with
Sooners coaches delighting in calling out Nick Saban
and the SEC.
Arkansas-Baylor:
Call it a throwback to the old Southwest Conference. Arkansas, which didn't join the SEC until 1992, has played more games against Baylor (69) than any school in its current conference. On top of that, the differences between Bret Bielema's physical style and Art Briles' free-flowing offensive scheme would be a joy to watch.
Auburn-Oregon:
Recent history and playing styles dictates this matchup. Not only do we get a rematch of the 2010 BCS National Championship Game, but it pits offenses that live to go fast. Maybe it could be a two-hand touch game in which whoever reaches 100 points first wins.
LSU-Notre Dame:
We couldn't make a list of nonconference matchups and leave Notre Dame off, could we? Pitting the Golden Domers against an SEC program would be appointment viewing. Make that program LSU and the opposing coach Les Miles, and television networks will scratch each other's eyes out to get the game.
Mississippi State-Texas Tech:
The Bulldogs have shied away from high profile nonconference games in the past, loading up on the likes of Memphis, UAB and South Alabama. Well, it's time to infuse a little spice into the schedule. Kliff Kingsbury is too cool to keep out of the SEC. His Red Raiders would be a good matchup with Mississippi State, which faced Texas Tech seven times from 1953-70.
Missouri-Kansas:
Does this one really need to be explained? The Border War should have never gone away in the first place. Now is the perfect opportunity to save face and bring back a rivalry that goes all the way back to 1891.
Ole Miss-Miami:
We've got to get 'The U' involved. Miami and Ole Miss have already played a few times in their history, with the Rebs holding a 2-1 series lead. But bigger than that, it would get the SEC back into South Florida on a permanent basis because
Miami and Florida don't have the common sense to do that
already.
Tennessee-North Carolina:
Even if most people don't remember it, there's history there. Tennessee and UNC have played 29 times, with the Vols holding a 20-8-1 advantage. Plus, even if your memory is short, you should recall the double overtime
Music City Bowl from 2010
between the schools. If they can re-create that just once, it would make the rivalry worth it.
Texas A&M-Texas:
See Missouri-Kansas. Don't let conference affiliations ruin great rivalries. Texas A&M-Texas should have never been shelved in the first place. And while the
UT administration
might not see a reason to bring it back -- nor
Texas A&M's leadership,
for that matter -- surely both fan bases do.
Vanderbilt-Duke:
Call it a private school showdown. The proximity is reasonable, the fan bases similar, and the rivalry could easily extend to the hard court. Plus, have you seen Derek Mason's nonconference schedule this year? It needs help.
February, 12, 2014
Feb 12
7:55
PM ET
If the NCAA Football Rules Committee gets its way, college football teams no longer will be penalized 15 yards if one of its players really didn't target an opposing player.
But teams could actually be penalized for delay of game for – get this – playing too fast.
A few coaches of teams that utilize no-huddle, hurry-up offenses – which are becoming more and more common at the FBS level – immediately blasted the
proposed substitution rules change
, saying its only intention is to slow them down.
"It's a joke. It's ridiculous," said Arizona coach Rich Rodriguez. "And what's most ridiculous is did you see what the penalty is going to be called? Delay of game! How is that a delay of game? That's the ultimate rules committee decision. Make the game slower and call it delay of game."
[+] Enlarge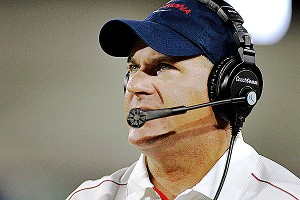 AP Photo/John MillerArizona coach Rich Rodriguez calls a proposal to penalize quick snaps with a delay-of-game penalty "ridiculous."
The NCAA committee recommended a rules change that will allow defensive units to substitute within the first 10 seconds of the 40-second play clock, excluding the final two minutes of each half. So in effect, offenses won't be allowed to snap the ball until the play clock reaches 29 seconds or less. If the offense snaps the ball before then, it would be penalized five yards for delay of game. Under current rules, defenses aren't guaranteed an opportunity to substitute unless the offense subs first.
"First off, [I] doubt it will pass," Washington State coach Mike Leach said. "Second, it's ridiculous. All this tinkering is ridiculous. I think it deteriorates the game. It's always been a game of creativity and strategy. So anytime someone doesn't want to go back to the drawing board or re-work their solutions to problems, then what they do is to beg for a rule. I think it's disgusting."
The rules changes proposed by the NCAA Football Rules Committee will be submitted to the NCAA Playing Rules Oversight Panel for discussion on March 6.
In an NCAA statement, the NCAA Football Rules Committee said "research indicated that teams with fast-paced, no-huddle offenses rarely snap the ball with 30 seconds or more on the play clock." The NCAA statement also said the proposed rules change also "aligns with a request from the Committee on Competitive Safeguards and Medical Aspects of Sports that sport rules committees review substitution rules in regards to player safety." In the NCAA's non-rules change years, proposals can only be made for safety reasons or for modifications that enhance the intent of a previous rule change, according to the NCAA statement.
Leach and Rodriguez aren't buying that slowing down hurry-up offenses would make players safer.
"Where's all the data that proves this is a player safety issue? I don't buy it," Rodriguez said. "What about making it so you can't blitz seven guys? That's a dangerous thing for a quarterback."
Ole Miss coach Hugh Freeze, whose team also runs an uptempo offense, wants to know if there is actual proof that uptempo offenses cause more injuries to players.
"Is there documented medical evidence that supports this rule change that tempo offenses are putting players at a higher degree of risk than others? If there is then show it to us," Freeze told ESPN.com Wednesday night. "Where is it? They're going to have to show us some evidence. If there's not any evidence, then they should table it.
"You can do it the last two minutes of the game. Isn't that when you should be most fatigued?"
Added Leach: "That's really insulting that they are hiding behind player safety just because somebody wants an advantage. That's crazy."
This past season, fast-paced, no-huddle offenses continued to operate faster and faster in college football. Baylor, which led FBS teams in scoring (52.4 points) and total offense (618.8 yards), averaged 82.6 offensive plays in 13 games. Texas Tech averaged a whopping 87.3 offensive plays under first-year coach Kliff Kingsbury, and Fresno State averaged 83.6 offensive plays.
But some coaches, including Alabama's Nick Saban and Arkansas' Bret Bielema, have criticized hurry-up offenses, arguing that they give offenses an unfair advantage and don't allow them to adequately substitute defensive players.
"

It's always been a game of creativity and strategy. So anytime someone doesn't want to go back to the drawing board or re-work their solutions to problems, then what they do is to beg for a rule. I think it's disgusting.

"

-- Washington State coach Mike Leach
"All you're trying to do is get lined up [on defense]," Saban told ESPN.com in September. "You can't play specialty third-down stuff. You can't hardly scheme anything. The most important thing is to get the call so the guys can get lined up, and it's got to be a simple call. The offense kind of knows what you're doing."
But Leach contends it's unfair to handcuff offenses because defenses can't keep up with the pace.
"My suggestion is rather than spending a bunch of time coming up with a bunch of really stupid rules, spend that time coaching harder," Leach said. "Worry about your own team and try to make your product better rather than trying to change the game so you don't have to do anything."
Freeze also believes that allowing defenses to rotate players in and out more frequently under this rule will put offensive linemen who are a part of uptempo offenses at more risk for injury because they will potentially face fresher defensive linemen every few snaps.
"If anything, you may be making it more dangerous for the offensive line because they're going to face 12 five-star defensive linemen from Alabama rotating every three plays," he said.
To Freeze, taking away the opportunity to snap the ball as fast as possible is taking away a major fundamental advantage that any offense can use against opposing defenses, which are allowed as much movement as possible before a play is even run.
"Since the start of football, defenses can line up wherever they want to," Freeze said. "They can move around as much as they want to before the snap. … They can do whatever they want to do, that's fine. I coach defense, too, that's great. The one thing that has always been offenses' deal is snapping the ball. That's the only thing we have."
The proposed change to the sport's new targeting rules seems like a no-brainer after a slew of controversial decisions during the 2013 season. Under current NCAA rules, which went into effect this past season, players penalized for targeting opposing players were ejected from the contest and their teams were penalized 15 yards. But officials were allowed to review the play and determine whether a targeting foul actually occurred. If officials determined the play wasn't targeting, the player's ejection was overturned but the 15-yard penalty was still enforced.
If the proposed rule change is approved, the ejection and the penalty won't be enforced. However, if a defender is penalized for a personal foul in conjunction with the overturned targeting foul, such as roughing the passer, a 15-yard penalty will still be enforced.
In games in which instant replay is not in use, the committee recommended an option to permit on-field officials to review targeting calls during halftime that were made during the first half. Officials then could reverse the targeting call and allow the player to compete in the second half.
ESPN.com's Ted Miller and Edward Aschoff contributed to this report.
October, 4, 2013
10/04/13
5:30
AM ET
The Early Offer is RecruitingNation's regular feature, giving you a daily dose of recruiting in the mornings. Today's offerings: Washington has a chance to turn its 2014 recruiting efforts around with key Pac 12 games; Texas Tech running back commit
Justin Stockton
found himself in a problem this week; and will the New Orleans (La.) Edna Karr duo of
Speedy Noil
and
Gerald Willis III
visit Gainesville this weekend?
December, 12, 2012
12/12/12
7:32
PM ET
The King is coming home.
Kliff Kingsbury threw for 12,429 yards and 95 touchdowns at Texas Tech. A decade later,
he has officially become the Red Raiders' new head coach
at 33 years old with just five years as a collegiate assistant under his belt.
Texas Tech athletic director Kirby Hocutt didn't spend much time dwelling on any hurt feelings he may have felt when Tommy Tuberville skipped town for Cincinnati just a day after looking Hocutt in the eye and telling him he was committed to the Red Raiders.
Tuberville was never embraced in Lubbock, Texas, the way the Pirate of the Plains -- Mike Leach -- was during his decade-long run. His quick exit to a lesser job proved he never embraced Lubbock, either.
This time around, that won't be a problem. Minutes after news broke, the fan base's No. 1 choice was clear. Bring Kingsbury back home.
Clemson offensive coordinator Chad Morris emerged as another leading candidate, but Wednesday, Hocutt made his choice clear.
The fans will surely approve, and if they haven't already started celebrating in the streets, they're not far off. Even the college-aged Tech fans would remember Kingsbury's efforts on the field. Now, can he prove himself on the sidelines?
Make no mistake, hiring Kingsbury is a risk. Hiring Morris would have been a risk, too.
[+] Enlarge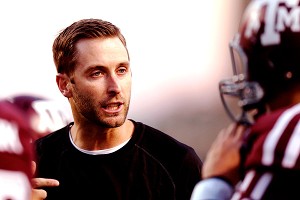 Thomas Campbell/USA TODAY SportsKliff Kingsbury, a star quarterback at Texas Tech a decade ago, is returning to coach the Red Raiders.
Rolling the dice with Kingsbury is the right move for Hocutt. Both Morris and Kingsbury might be The Next Big Thing in coaching. Both might bust. Neither has run a program from top to bottom in college.
But Hocutt needed to fire up his fan base after three unremarkable years under Tuberville, a man who never got the slack from fans that Leach would have gotten. Kingsbury will get those breaks. He'll get their patience.
If Hocutt swings and misses on Kingsbury, not a soul in Lubbock will blame him. If he'd swung and missed on Morris, while Kingsbury flourished elsewhere? That would've been an unforgivable mistake that very well could have cost him his job.
And if Hocutt swings and connects with the next star in Kingsbury? Well, all he'll have done is reignite what was one of the most promising programs in the Big 12 before Leach's exit. Perhaps he has discovered Mike Gundy 2.0, one of the game's best coaches who sees this job as his final destination when others might not feel the same way.
Kingsbury will be one of the game's youngest coaches, and this was an opportunity few other major programs would have afforded him. Hocutt handed the keys to his program to one of the game's most promising coaches, and it's an easy sell. If his history in Lubbock isn't enough, his résumé under Kevin Sumlin makes it clear why his services were so coveted.
Case Keenum was one of the most productive quarterbacks in NCAA history, and less than a week ago, Kingsbury's new quarterback,
Johnny Manziel
, became the first-ever freshman to win the Heisman Trophy.
Oh, and that Super Bowl ring from 2004 as a reserve player (coincidentally with Kansas coach Charlie Weis as the OC and the Patriots' Bill Belichick at the helm) won't hurt to bring into high school kids' living rooms, either.
Hocutt's loyalty to his fan base and former legends in the program will be rewarded. The fans will support Kingsbury even if the team struggles as he learns how to be a head coach. If Kingsbury wins, the likelihood he leaves is lessened significantly compared to any number of other coaches Hocutt could have hired, especially Morris.
Kingsbury is the new man in charge thanks to a gutsy, but supported move from Hocutt. If he didn't do it now, he might never have gotten another chance.
April, 10, 2012
4/10/12
5:09
PM ET
By
ESPN.com staff
| ESPN.com
COLUMBIA, S.C. -- I'm in the Palmetto State today visiting with South Carolina coach Steve Spurrier and catching up with a few players.
The Gamecocks will conclude spring practice this Saturday with their annual spring game, and whether you talk to Spurrier or one of the backups, it's obvious what the goal is in 2012.
"Our goal is to win an SEC championship, and we're not going to stop until we get there," said junior quarterback
Connor Shaw
, who's both stronger and bigger than he was a year ago.
Shaw has beefed up to 212 pounds. He was right around 200 last season. Getting bigger and stronger was a priority this offseason to be able to better handle the pounding. A big part of the Gamecocks' offense is the zone read, and Shaw carried the ball 135 times last season, which was more than everybody on the team other than
Marcus Lattimore
.
Similar to a year ago, Spurrier likes this team, likes its work ethic and likes the way it's gone about its business.
"We feel like we have a shot to win now pretty much any time we step out there to play," Spurrier said. "We have good players, and we have a little taste of (winning) now. We'll see if we can keep it going."
On his offensive staff, Spurrier has promoted both Shawn Elliott and Steve Spurrier, Jr. Both now share the co-offensive coordinator title. Elliott, who also coaches the offensive line, is over the running game, while Spurrier Jr., who coaches receivers, is overseeing the passing game.
Spurrier said he will still call the plays, although he'll get input from both Elliott and Spurrier Jr.
We'll have a lot more on the Gamecocks the next day or so in the SEC blog.
November, 6, 2011
11/06/11
2:22
PM ET
Missouri will join the SEC and
plans to be the conference's 14th member in the 2012-13 academic year
, according to a Sunday morning announcement.
"I am pleased to officially welcome the University of Missouri to the SEC family on behalf of our presidents, chancellors, athletics directors, students and fans," SEC commissioner Mike Slive said in the news release. "Missouri is an outstanding academic institution with a strong athletic program. We look forward to having the Tigers compete in our league starting in 2012."
But could hurdles to making that happen still lie ahead? West Virginia and the Big 12 announced their plans for the Mountaineers to join the league in 2012, but the school and the Big East are currently embroiled in dueling suits over the league's 27-month notice required in Big East bylaws.
From our news story: "A source recently told ESPN.com's Andy Katz that Missouri could have trouble getting out of the Big 12 because the league isn't sure if it can get the Mountaineers in from the Big East next season."
The Big 12 is required to have 10 members to fulfill its television contract.
Missouri and the SEC plan to have a public celebration and news conference on Sunday afternoon in Columbia.
"The Southeastern Conference is a highly successful, stable, premier athletic conference that offers exciting opportunities for the University of Missouri," school chancellor Brady J. Deaton said in the SEC statement. "In joining the SEC, MU partners with universities distinguished for their academic programs and their emphasis on student success."
Missouri's entrance also gives the SEC a fourth Association of American Universities member, joining Texas A&M, Florida and Vanderbilt.