SEC:

Virginia Tech Hokies
October, 9, 2013
10/09/13
7:15
PM ET
Tennessee and Virginia Tech could set a new attendance record when they meet in 2016. The two teams have agreed to play a college football game at Bristol Motor Speedway, a venue that holds up to 160,000 fans, according to a source.
The current attendance record is at 115,109, which was set last month when Michigan hosted Notre Dame at Michigan Stadium. The Wolverines won, 41-30.
Although it's been talked about for years, this will be the first time a game has been played at Bristol Motor Speedway. It's unknown where the playing field will be placed relative to the track and infield, which is composed entirely of asphalt.
The location of the track is between the two campuses and should be easy to get to for fans of both teams.
Tennessee's non-conference slate for 2016 also includes a trip to Nebraska and a home game with Connecticut while Virginia Tech is already scheduled to play at Notre Dame as a part of new scheduling agreement between the Fighting Irish and the ACC.
(
Read the full post
)
September, 20, 2013
9/20/13
5:30
AM ET
The Early Offer is RecruitingNation's latest feature, giving you a daily dose of recruiting in the mornings. Today's offerings: Billy Napier has a great reputation as a recruiter and is proving it this season for the Crimson Tide; despite a season-ending injury, running back
Shai McKenzie
received good news from schools recruiting him; Auburn could be the team to watch in the SEC if the Tigers continue to win ball games.
To continue reading this article you must be an Insider
August, 31, 2013
8/31/13
11:50
PM ET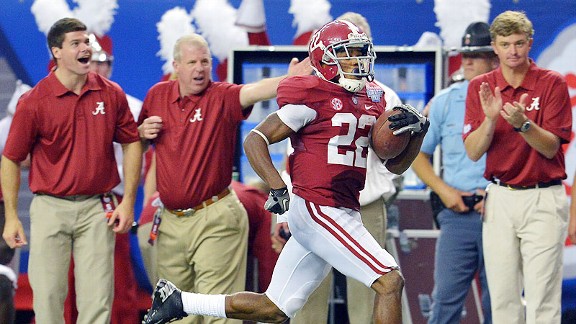 Paul Abell/USA TODAY SportsChristion Jones' big-play ability was on display Saturday, as the junior wide receiver scored touchdowns on a kick return, punt return and reception in Bama's 35-10 win over Virginia Tech.
ATLANTA -- Alabama wide receiver
Christion Jones
is the kind of player that drives his coaches nuts. He's got all the tools to ruin a defense and dominate in the return game, yet there are times where he tries to do too much. One play he'll show the type of vision and lane recognition that brings to mind the game's most savvy tailbacks; he'll shuffle his feet, wait for a sliver of daylight and break through as if salvation lay beyond its dazzling glow. Then on the very next play he'll listen to the devil on his shoulder and force what isn't there, running to darkness toward his own end zone in a vain attempt to make his own way.
It's the problem with dynamic athletes like Jones: they refuse to believe a touchdown isn't possible. It's what makes them great, but it's also what makes them dangerous. They sometimes believe too much.
But faith is what made Jones the star of the Crimson Tide's 35-10 victory over Virginia Tech in Saturday night's season opener. The 5-foot-11 junior looked at Virginia Tech's historically stifling special teams and called its bluff, returning a punt and a kickoff for a pair of spectacular touchdowns, robbing the enthusiastic yet overmatched Hokies of momentum with each score. For good measure, he added a 38-yard touchdown reception for the game's final score as No. 1 Alabama began its title defense.
What Jones accomplished was nothing short of historic. Alabama hadn't had a player score twice on returns in the same game since 1944. Bill Battle, the school's athletic director and former player under legendary coach Paul 'Bear' Bryant, marveled at the performance, guessing that he was 3 years old the last time it happened.
"I'd say he's special," he said on the sidelines.
Not he or anyone else could recall if an Alabama player had ever scored on a punt return, a kick return
and
a reception. There were already calls for a Heisman Trophy campaign thanks to Jones' 256 total yards and three scores.
Jones, though, wouldn't bite that bronze hook. It was just Week 1, he told reporters after the game, and he wouldn't be fooled into that kind of narcissism, no matter how superhuman his performance seemed. It was clear by his 1,000-watt smile that he enjoyed the night, but he wouldn't go overboard. Coaches' orders dictated otherwise, even if it was the best game of his college career.
"It's every kid's dream to come in and do things like that, but you know I'm going to celebrate it right now and we've got a 24-hour rule," he said. "We're going to put this game aside come tomorrow morning and focus on Week 2."
The clock hadn't hit midnight, though, and teammates couldn't help but marvel at what their speedy wideout was able to do on offense and special teams. Veteran right guard
Anthony Steen
came up to Jones after the second touchdown and said if he kept that up, "He'd be playing pro one day."
Defensive end
Jeoffrey Pagan
was thankful he didn't have to try tackling Jones during practice, telling reporters that "From what I've seen, it seems pretty hard."
"He's an athletic player, one of the most athletic players on the team," sophomore defensive back
Landon Collins
added. "He showed that out there today."
It wasn't always so for Jones. Last season he surrendered punt return duties at multiple points, fumbling the ball and encouraging the wrath of his coach for his propensity to take the ball in reverse, rather than settling for positive yards. He focused on being more patient during the offseason and trusting his blocks. The hard work paid off Saturday.
"People take for granted that just because a guy has a lot of skill, that it doesn't take experience to be a good returner," UA coach Nick Saban said. "I think it does. I think just the judgment of when to take the shot, catch the ball, run with it, when to make a fair catch.
"Last year was Christion's first time doing this stuff. He had some opportunities last year, but he learned a lot from it."
Jones flashed brilliance in the season-opening game, but he showed his Achilles heel as well. On his third punt return he looked like the Chirstion Jones of old, reversing field twice before being taken to the ground by the Hokies for a 6-yard loss. The offense went three-and-out and Jones called for a fair catch his next time out.
It would prove to be a teaching moment, one the coaching staff will surely focus on when they review the film in the days to come. Scoring three times was spectacular, but an ill-advised return will stand out as something to build on.
For as good as Jones looked, he wasn't perfect. Neither were the Tide. Both were volatile; brilliant at times and bewildering at others. The offensive line was underwhelming and the passing game never took off. Alabama's Heisman Trophy frontrunners -- quarterback
AJ McCarron
and running back
T.J. Yeldon
-- didn't play up to their high standards. Instead, Jones took the mantle of the game's best.
With Texas A&M looming on the horizon, Alabama must improve. Jones will continue to provide the spark on special teams, but it's difficult to imagine many more nights like the one he turned in Saturday in the Georgia Dome.
"I don't think there's anybody in our locker room that's satisfied with the way they played," Saban said. "They certainly appreciate the fact we were able to win against a very good team that we have a lot of respect for their program and players, the way they played tonight.
"But I think everybody realizes that we need to improve. I think when you play good opponents like this, it makes your players realize where they are, what they need to be committed to, to play to the standard that it's going to take to beat good teams in our league. I think we learned that tonight."
August, 31, 2013
8/31/13
11:35
PM ET
ATLANTA -- The scoreboard read the way everyone pretty much expected it to. It showed an SEC team trouncing another almost helpless victim from the ACC.
[+] Enlarge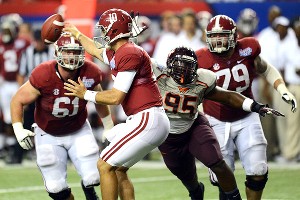 Dale Zanine/USA TODAY SportsAJ McCarron threw for just 110 yards in Alabama's win over Virginia Tech.
But Alabama's 35-10 win didn't feel like the blow out that the scoreboards inside the Georgia Dome indicated. For a team picked by the masses to win its third straight national championship -- and fourth in five years -- Alabama wasn't the well-oiled machine we're accustomed to seeing, but the Crimson Tide still won by 25 points.
The offensive line looked shaky and overmatched at times, and Alabama rushed for just 96 yards (averaging 2.5 yards in the process), but the game never seemed in doubt for the defending champs.
The offense had less than 120 total yards with six minutes remaining in the third quarter, but Alabama's victory appeared sealed before the teams took off for halftime.
Amari Cooper
dropped a couple of passes and
AJ McCarron
's timing was far from great. Yet, Alabama will still be ranked No. 1 in the polls on Monday.
Alabama could still be the nation's best team, but even the Tide showed that it has issues that have to be corrected before this team can make history by being the first team to win three straight national championships since Minnesota from 1934-36.
"I don't know how good we need to be, I just know we need to get better," said McCarron, whose 110 passing yard marked his lowest amount as a starter.
"We just have to get better all the way around."
The first place people will look is the rebuilt offensive line. With three NFL draft picks gone from last year's unit, Alabama started three new players in
Ryan Kelly
,
Arie Kouandjio
and
Austin Shepherd
.
Communication issues, first-game jitters, blown assignments and an aggressive Virginia Tech front seven caused Alabama's line to look dazed for most of the night. McCarron was only sacked once, but he spent a lot of his time running around to avoid pressure. He only completed 10 of his 23 pass attempts and found himself late on a few easy throws.
To McCarron, he was the reason for an ugly passing game.
"To me, unbelievable job (by the offensive line) tonight," the senior QB said. "You can put the blame on me and say that I gotta get rid of the ball a lot faster. I thought they played excellent. I'm proud of those guys. Unbelievable jobs in the first game, especially against a tough Virginia Tech defense. I thought they played their butts off. I'm proud of them."
But when it came to blocking the run, McCarron wasn't to blame. The line just didn't get enough push, as Alabama failed to cross the century mark on the ground for the first time since gaining just 96 yards in its 9-6 overtime loss to LSU in 2011.
Left tackle
Cyrus Kouandjio
said the communication issues from Saturday night weren't problems in practice, but guys didn't seem ready for the actually game speed and the Hokies' defense ran plays the line wasn't prepared to see.
With two weeks until Alabama's next game, Kouandjio isn't worried about a repeat performance.
"It's great that it's the first game and it kind of tests us to see where we're at," Kouandjio said. "It's perfect because we have the bye week to iron out the kinks and get back at it."
Look, it's way too early to start jumping on the "Alabama is overrated" train, or thinking about a new BCS title favorite. Alabama was sloppy, but it was still the much more talented team. Alabama showed that even though it currently has some glaring issues along its offensive line, its problems are some that teams around the country would love to have.
When the offense shrank and was mauled by a very impressive Virginia Tech defense and was held to just 206 yards of offense -- the lowest by Alabama since it gained just 172 against Tulane in September of 2008 -- special teams stepped up with two touchdown returns by
Christion Jones
.
Then there was the defense that dazzled for most of the night and limited the Hokies to just 212 yards, including 59 passing yards from future NFL draft pick
Logan Thomas
.
Take away Trey Edmunds' 77-yard touchdown run, and the Hokies might not have even sniffed the end zone.
It wasn't a pretty victory, but Alabama looked like the better team all night and is 1-0. It now gets two weeks to prepare for
Johnny Manziel
and his
Texas A&M Aggies
.
There's no question that this team has to get better soon, but with Nick Saban's obsession with detail and preparedness, it's hard to imagine another sloppy performance.
"We got a week off to prepare for Texas A&M and we're going to work on our fundamentals, get back right and we'll see them in Texas," defensive lineman
Jeoffrey Pagan
said.
August, 31, 2013
8/31/13
9:03
PM ET
No. 1
Alabama handled Virginia Tech 35-10
in the Chick-fil-A Kickoff Game in Atlanta on Saturday. Here is a look at how the Tide won:


It was over when:
Christion Jones
returned his second kick for a touchdown to put Alabama ahead 28-10 late in the second quarter. Virginia Tech had just cut the lead to 21-10 with 3:39 to go before halftime. With the way their defense was playing, the last thing the Hokies needed was to give up another non-offensive score. But on the ensuing kickoff, Jones went 94 yards for the touchdown, putting the game out of reach.
Game ball goes to:
Jones. In addition to the kickoff return for a TD in the second quarter, Jones returned a punt 54 yards for a touchdown to open the scoring -- making him the first player in Alabama history to score on two returns in one game. He then added a 38-yard touchdown reception in the third quarter -- the first time in his career he has scored three touchdowns in one game. In fact, Jones went into the game with five career touchdowns.
Stat of the game:
3. Virginia Tech gave up a kickoff return, a punt return and an interception return for a touchdown -- the first time that has happened under Coach Frank Beamer.
What Alabama learned:
The Tide dominated on the scoreboard, but if there is one area the Tide must work on, it is the offensive line. There were concerns about the rebuilt line going into the game with three new starters. Alabama struggled at times to protect
AJ McCarron
and struggled to get the run game going consistently. To its credit, Virginia Tech is strong up front. But the Tide are going to have to do better than 2.5 yards per carry and 96 yards on the ground. You can bet this is going to be a big area of emphasis during practice this week.
What Virginia Tech learned:
Its defense can be dominant, but that means nothing if its special teams and offense continue to be an Achilles' heel.
Logan Thomas
did not look any better than he did a year ago, going 5-of-26 for 59 yards and an interception, despite a new offensive coordinator. But once again, he had no help around him at receiver. The Hokies continued to drop catchable passes, a problem last year, as well. Special teams have deteriorated. This team still has major problems that have to be addressed.
August, 31, 2013
8/31/13
5:46
PM ET
ATLANTA -- Alabama's championship defense begins today in the Georgia Dome against perennial ACC power Virginia Tech.


Frank Beamer's Hokies have been hit hard by injuries and attrition leading up to the start of the season, prompting their heavy underdog status.
Logan Thomas
, Beamer's senior quarterback with NFL potential, gives Virginia Tech a fighting chance, though. If he can buy some time in the pocket for his young receivers and gain a few yards on the ground, he could make things interesting.
Meanwhile, Nick Saban's No. 1-ranked Crimson Tide is operating at full strength, with no significant injuries to report. Quarterback
AJ McCarron
was a major point of discussion Friday night when a photo circulated of his arrival at the team hotel with a protective boot on his right foot. But the controversy was cleared up in short order when it was learned the boot was simply a precautionary step to alleviate pain from an ingrown toenail.
McCarron jogged briskly onto the turf here for warmups, sans boot, and moved around without any apparent pain, much to the pleasure of the Tide fans who made the short trip from Tuscaloosa, Ala. McCarron has arguably his most explosive group of receivers since joining the program in 2009, and with Virginia Tech using two freshmen in the secondary, we could see him put the ball in the air early and often to start the game.
That could be predicated on the success of Alabama's rebuilt offensive line, though. UA incorporated three new starters over the offseason, replacing All-SEC players Barrett Jones, Chance Warmack and D.J. Fluker. Reports have been mostly good about their replacements -- center
Ryan Kelly
, right tackle
Austin Shepherd
and left guard
Cyrus Kouandjio
-- but until they see live action it will be hard to tell where they stand, as their chemistry and compatibility is in question.
August, 29, 2013
8/29/13
11:00
AM ET
TUSCALOOSA, Ala. --
Amari Cooper
is nonchalant about most things. Still just a fresh-faced sophomore, it's hard to tell whether the enormity of his young career, the one that took off like a rocket last season and ended with consensus All-American honors, has sunk in. Has he felt the impact he's had the Tide? Or the SEC?
Alabama hasn't had a playmaker at wide receiver like him since Julio Jones. He's not as physically intimidating or as wildly popular, but his impact is approaching that of Jones. Cooper set nearly every rookie receiving record at Alabama last season, passing his dreadlocked predecessor and others in the process. And he did all that without starting a game until Week 6.
[+] Enlarge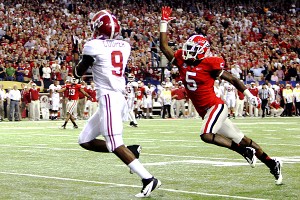 Daniel Shirey/USA TODAY SportsThe go-ahead score against Georgia in the SEC title game, was one of many big plays for Amari Cooper during his 11-score freshman season at Alabama.
"My life hasn't changed," Cooper told reporters on Wednesday night, less than 72 hours removed from the season opener against Virginia Tech in Atlanta. Last December he was there and he was anything but understated when he spiked his foot into the ground to help sell a play-action pass in the fourth quarter. Georgia's
Damian Swann
nearly fell down when Cooper broke left, and 45 yards later Cooper was in the end zone with the game-winning score to give the Tide the SEC Championship. "On the football field I just try to get better every day, so not much changed there either."
At the end of his signature play in the Georgia Dome, Cooper didn't even break his stride to celebrate. He put one hand up and barely recognized the crowd on his jog back to the sidelines. Meanwhile, quarterback
AJ McCarron
pumped his fist and waved his arms like a wild man all the way to the back of the end zone.
Nothing seems too big for Cooper; no moment, no situation. Whether it's a defense trying to beat him up in man coverage -- "They're saying their guys is better than you" -- or the pressure of living up to the past -- "I don't feel like I did a whole lot last year" -- there doesn't seem to be an ounce of stress on his shoulders.
His only expectation: "To have a better year than last year."
"Now I'll be starting the first game this year," he continued. "I didn't start the first game last year. We'll see if I have a better year than last year."
Make no mistake, though, Cooper is confident in his abilities. During his first time speaking with the media in Tuscaloosa this spring, he slipped up and said he only had two years left in school, meaning he intends to enter the NFL draft as an underclassman. The sports information director on hand quickly corrected him and Cooper added "at least" a second too late.
"He can be as great as he wants to be," former UA cornerback Dee Milliner said last October, before the rest of the world had caught on to Alabama's rookie phenom. "He can be one of the greatest receivers we've had at Alabama. He does a lot of things you really don't see freshmen do with his speed, his hands, and his quickness that he got. He can be one of the great receivers in years to come."
Doug Nussmeier didn't hesitate to call Cooper one of the game's best earlier this month. It wasn't just his 59 receptions, 1,000 yards and 11 touchdowns that impressed the second-year offensive coordinator. Instead it was Cooper's savvy.
"Amari, and what he did, from where he started to his progression through the season, we felt that towards the end of the season, he was playing as good as anybody in the country at that position," Nussmeier said. "He continues to develop … he's still learning. He's really starting to focus on the little things that are going to take his game to the next level."
Up and down the roster there's respect for Cooper, who added 7 pounds and cut his 40-yard dash time from 4.4 seconds to 4.3 this offseason. Fellow wideout
Kenny Bell
marveled at Cooper's growth, saying he could be even more explosive this year. Junior tight end
Brian Vogler
said he "really loves the game," praising his hard work and dedication.
John Fulton
has had to go up against Cooper countless times during practice. The senior cornerback said that some of the stuff Cooper does, Fulton has "no idea where he learned it from, but he's absolutely amazing."
"He has this thing he does off the line," Fulton said. "I'm kind of catching onto it now, but he's going to develop something else to mess with my head. He'll take two steps outside, shake inside, shake outside and then shake back inside for a slant and its under .5 seconds. It's so fast, you can't time it. It's crazy."
Defenders around the SEC understand. Coaches do too. Virginia Tech head coach Frank Beamer took a second to connect Cooper with the game film during a conference call on Monday, but when he did he compared him to a two-time, first-team All-American receiver in his conference.
"I know who he is," Beamer said. "In our league he reminds you of Sammie Watkins there at Clemson. A guy that's just athletic, can go. They've got a good group of wide receivers, but certainly Cooper is a guy who is hard … It's hard to cover that guy."