January, 1, 2014
Jan 1
4:45
PM ET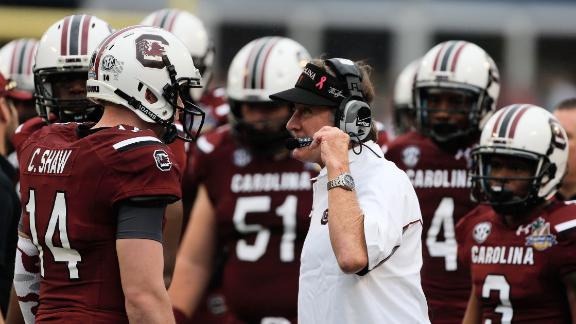 A late surge gave South Carolina another 11-win season, as the Gamecocks defeated Wisconsin
34-24
in the Capital One Bowl.


This marked a program-best third consecutive season that South Carolina won a bowl game. Here's how it went down:
It was over when:
Freshman linebacker
Skai Moore
intercepted a Wisconsin pass in the end zone with 3:14 remaining. Badgers backup quarterback
Curt Phillips
threw a 16-yard pass into heavy coverage, and Moore made an athletic pick to ice the game.
Game ball goes to:
South Carolina quarterback
Connor Shaw
. The performance of Shaw against Wisconsin (9-4) cannot be understated. Stats usually don't tell the whole story, but these numbers should definitely give you a good idea of his efficiency: 22-of-25, 312 yards, three touchdowns, no interceptions. Wisconsin's secondary struggled against Shaw and the South Carolina receivers all day, and Shaw made the Badgers' defense pay in other ways, too. He caught a 9-yard touchdown pass, ran for a 1-yard touchdown and even rushed for 47 yards. Shaw did anything and everything for the Gamecocks.
Stat of the game:
88 percent. That's the completion rate for the Gamecocks, between Shaw's 22-of-25 passing and wide receiver
Bruce Ellington
's 1-of-1 stat line. South Carolina threw just three incompletions in 60 minutes and never threw more than one incompletion in a quarter.
Unsung hero:
Ellington. Not only did he account for more than 40 percent of his team's yards through the air and catch two touchdown passes, he also threw a 9-yard TD pass on a double-reverse pass play. Ellington finished with six catches for 140 yards and he came up big when the Gamecocks needed it. On a key fourth-and-7 play in the second half, Ellington kept the drive alive by making an acrobatic catch after tipping the pass -- one that's
sure to be a "SportsCenter" highlight
. He made a tough 22-yard TD catch one play later to give his team a 20-17 lead.
What it means:
This punctuated what looks like the golden age of Gamecocks football. Steve Spurrier's team has finished the last three seasons with the same record (11-2) and ended each season with a bowl victory. That's never been done before in school history. Before this three-year streak, the Gamecocks had won just four bowl games and hadn't had a 10-win season since 1984.
To watch the trophy presentation of the Capital One Bowl,
click here
.
January, 1, 2014
Jan 1
9:00
AM ET
Wisconsin is hoping to change the Big Ten's fortunes with a win in the Capital One Bowl, while South Carolina is on the verge of clinching a program-best third straight season with a bowl win.
The two teams will face each other at 1 p.m. ET on Wednesday (ABC). Here's a quick preview:


Who to watch:
South Carolina DE
Jadeveon Clowney
and Wisconsin LB
Chris Borland
. This will be the last college game for both players, and you can bet they'll want to end their respective careers on a high note. NFL commissioner Roger Goodell will almost certainly call Clowney's name within the first five picks of the draft, and Borland was named the Big Ten Defensive Player of the Year. Clowney has dealt with injuries and more double-teams this season, so his stats are down -- but, when he's on, he's one of the most exciting players in college to watch. Borland led his team with 102 tackles -- 40 more stops than the No. 2 tackler -- and has been the heartbeat of Wisconsin's defense. Both of these defensive players have the uncanny ability to take control of a game.
What to watch:
Wisconsin's run game. It's no secret that if the Badgers are going to win, then they're going to have to run the ball. That's been the staple of their offense. Wisconsin is the only team in the FBS with two running backs,
James White
and
Melvin Gordon
, who both average more than 100 rushing yards a game. And the Badgers are second in the FBS by averaging 6.61 yards per carry. On the flip side, South Carolina's defensive line will be a huge test for this rushing attack. DT
Kelcy Quarles
has been
compared to Warren Sapp
and currently has 13.5 tackles for loss to go along with 9.5 sacks. Then, of course, there's Clowney. Wisconsin's success rushing the ball could march hand in hand with its overall success in this game.
Why to watch:
This game features some of the best defensive players either conference has to offer, three all-conference tailbacks will be showcased, and then there's South Carolina QB
Connor Shaw
(21 TDs, 1 INT) and Wisconsin WR
Jared Abbrederis
(73 catches, 1,051 yards). What's not to love? Outside of that, this is the first-ever matchup of these two teams, and the Badgers are trying to rebound from an upset to Penn State. Both teams weren't that far off from BCS bowls, so this is a strong matchup for the Capital One Bowl.
Prediction:
South Carolina 28, Wisconsin 24.
December, 31, 2013
12/31/13
2:30
PM ET
Gary Andersen has helped compile extensive scouting reports for both defenses appearing in Wednesday's Capital One Bowl.
In the summer of 2012, Andersen, then Utah State's coach, examined a Wisconsin team that his Aggies would face in Week 3. South Carolina's defense has been on the top of his mind the past three weeks, as Andersen prepares Wisconsin to face the Gamecocks.
[+] Enlarge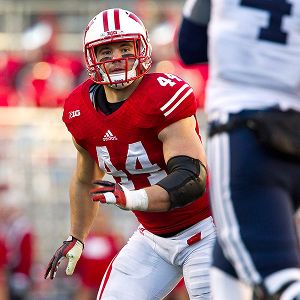 Dan Sanger/Icon SMIFour-year Wisconsin starter Chris Borland is set to close out his college career on Wednesday.
Not surprisingly, the South Carolina report is filled with mentions of
Jadeveon Clowney
, just like the Wisconsin report was with
Chris Borland
a year and a half ago.
"If you're playing Wisconsin, you're going to want to know where Chris is, and the same thing with Clowney as you're getting ready to play South Carolina," Andersen told ESPN.com. "They deserve that; they're that good. They're very similar players in those areas."
Similar might not be the first term used to link Clowney, South Carolina's junior defensive end, and Borland, Wisconsin's senior middle linebacker. Clowney is 6-foot-6 and 274 pounds, a rare physical specimen who came into college as the nation's No. 1 recruit and could exit as the No. 1 overall pick in the NFL draft. Clowney recorded a team-record 13.5 sacks and 23.5 tackles for loss as a sophomore, earned unanimous All-America honors and finished sixth in the Heisman Trophy voting, leading many to wonder if he should even play this season before jumping to the NFL. He suited up for South Carolina and, despite some speed bumps, still earned first-team All-SEC honors.
Borland is short at 5-foot-11. His recruiting profile next to Clowney's is laughable. He played soccer and other sports growing up, didn't participate in organized football until high school and appeared headed for a Division III school until wowing Wisconsin at a summer camp before his senior season. Of the 17 players in Wisconsin's 2009 recruiting class graded by ESPN recruiting, Borland received the second lowest.
He'll finish his career Wednesday as one of the best defensive players in team history, a four-year starter with multiple All-America honors who earned Big Ten Defensive Player of the Year honors this season. His NFL draft forecast isn't as promising as Clowney's -- most mocks have him in the second or third round -- but few defensive players have more accomplished college careers.
"He's as good as advertised," Andersen said, "just like I'm sure the Clowney kid is."
Clowney was the first player Andersen and Wisconsin's offensive coaches discussed when crafting Wednesday's game plan. But the strength of South Carolina's overall front seven, which includes first-team All-SEC tackle
Kelcy Quarles
and second-team All-SEC linebacker
Sharrod Golightly
, prevents the Badgers from constantly doubling, chipping or avoiding No. 7.
"Is he consciously in our game plan? Yes. But is every play designed to run away from him? Absolutely not," Andersen said. "We've got to get in there and do what we do. Our goal is to block him and put him a spot where he can't make plays."
South Carolina will take a similar approach against Borland, just like Andersen did with Utah State in 2012. It won't be easy, largely because of the position Borland plays.
Utah State tried to take Borland out of the box with formations to make him play more in space.
"A defensive end is on the left side or the right side," Andersen said. "Chris starts every play usually right in the middle of the defense, so it's harder to scheme if you want to run the ball between the tackles."
[+] Enlarge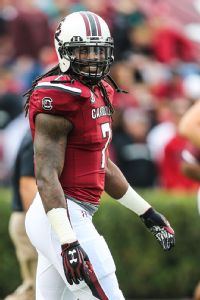 Jim Dedmon/Icon SMIThe Badgers will need to know where South Carolina's Jadeveon Clowney is at all times.
Andersen has never seen a college player quite like Clowney. Wisconsin guard
Ryan Groy
called the South Carolina star "a breed of his own" and admits there's no one that truly prepare you for his size-strength-speed combination.
Clowney also is an effective gambler, taking chances with inside moves both against the run and the pass. Defensive ends risk losing contain by doing this, but Clowney still usually covers the edge.
"You would never allow a young man who can't recover if he's making those inside moves, but it's also part of their scheme," Andersen said. "They have a backer that overhangs him and pre-snap, it's very difficult to sit there and understand that's what you're going to get. He does a nice job of not giving it away when he's going to make those moves, and maybe it's just him reacting. Maybe he's that gifted that he feels like you're reaching a little bit and he can come underneath that block, or if you get a little bit on your heels in a pass set, he's either going to right through you or he's going to come on an inside move.
"They probably don't even look at it as taking chances. They probably look at it as, 'This is our defensive scheme.'"
Clowney has one year of eligibility remaining, but Wednesday marks his final game with South Carolina. He participated in senior day ceremonies Nov. 30.
"He'll be an instant pro when the game is over," Gamecocks coach Steve Spurrier said Tuesday.
It will be a shock if Clowney isn't one of the first five names called at April's NFL draft. Borland still can boost his stock at the Senior Bowl and other pre-draft events.
His height will come up, but Andersen has received positive feedback from NFL scouts, who liken Borland to two other shorter linebackers, Sam Mills and Zach Thomas, who had 12 Pro Bowl appearances and 11 All-Pro selections in their careers.
"Somebody better take him early because if somebody takes him late, Chris is going to make a whole lot of people look bad," Andersen said. "He's going to be a great player in that league for many, many years, not just because he's so talented, but because he's such a great preparer and his care factor is as good or anybody that I've ever been around."
December, 24, 2013
12/24/13
11:00
AM ET
Editor's note: During Week 12, 10 ESPN.com reporters changed conferences to experience college football in unfamiliar territory. Here is what they learned from the experience.
As you know, we here on the blog circuit changed things up this year and took trips to relatively foreign college football lands. We had Big Ten guys in SEC surroundings. SEC guys in 40-degree, rainy weather. ACC folks hanging out with Bevo!
It was a lot to consume during our exciting flip week of fun, and we couldn't express our emotions in just one post. So we are throwing out superlatives for our trips. I dared to set foot in Madison, Wis., for the Badgers game against Indiana in November. It was rainy and gross, but the fans didn't disappoint and Wisconsin rolled over the Hoosiers 51-3 in a game that was pretty much over after the opening kick.
I stuffed my face and started to adore that Midwestern accent that makes Wisconsin go 'round.
Madtown was a blast. Here are a few things that I took away from my time in Dairy Land:
Best meal:
I love food. I want to taste every single flavor in whatever I'm consuming, and I want a good atmosphere. While I loved the signature "Jake" and delicious Oreo malt at Potbelly on State Street, I have to go with homegrown on this one. The cheese curds and brats were scrumptious at State Street Brats, but the meal that almost put me in a food coma was the scrambler I had at Mickies Dairy Bar (cash only!). It was loaded with potatoes (yanks), peppers, onions, eggs and chicken, and was topped with a mound of cheese. I put some salsa and hot sauce on that bad boy, smushed what I could between two slices of whole wheat bread and went to town!
[+] Enlarge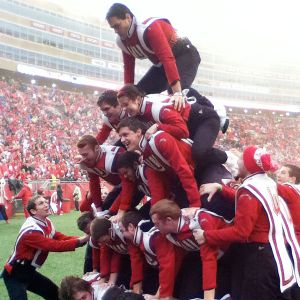 Edward AschoffTheres as much entertainment in the stands as there is on the field during a Wisconsin home game.
Must-see sight in Madison:
There's so much, but I was in awe of how cool the UW Field House looked attached to Camp Randall Stadium. The rustic cathedral is still holding up after opening in 1930, and it really did bring a nostalgic feel to my experience.
Also, check out the "Badger Wagon." It's a souped-up tailgate wagon made from an old utility truck. Thousands of dollars have gone into it, making it this beautiful, metallic party bus. It has a wet bar, there's a push button for four different liquors, an electronic beer tap on the side of the truck that is operated via remote, two grills attached (one for pizza and the other for just about anything), a beautiful TV, an amazing 10-speaker stereo system operated by an iPad and a V-8 engine. You'll find it parked just outside the stadium every Saturday.
Biggest surprise:
The weather was bad so I won't blame UW students too much, but Friday night before the game, I couldn't tell that it was a game-day weekend. Down South, Fridays are sacred nights of celebration. I was expecting a lot of action on State Street, but it was relatively quiet. The students more than made up for it with the most entertaining performance in the stands that I've ever seen at any sort of sporting event. I barely knew the game was going on! That just doesn't happen in the SEC.
Biggest difference from SEC:
The entertainment from the fans, students and band during the game blew my mind. I'm so used to the actual game being the one and only focal point, but inside Camp Randall, everything is the focal point. There's the wave, choreographed dances during songs and action during plays. Students blurted chants at random times and the band struck up tunes while the Badgers played just yards away from them. I didn't know who to focus on.
They said it:
Wisconsin athletic director Barry Alvarez on his first time getting on the team bus with former assistant Dan McCarney on lower University to drive to the stadium before a game with barely any fans around: "You could have shot a cannon through there. There wasn't anybody. I looked at Mac and said, 'We're going to change this.' And we did."
They said it II:
Badgers fan Melissa Lund on comparing tailgates at Wisconsin with the rest of the Big Ten: "Like, Ohio State compared to Wisconsin, they're a football fan first and then they're a tailgater. Where here, it's definitely tailgate and an atmosphere, then it's the football experience.
"Other places it revolves around the football program, which isn't necessarily a bad thing. But at least here, it doesn't matter if you're football, basketball or any other fan, you're definitely a tailgater first and then you're a fan."
If I could go back:
I want to see a big game in Camp Randall. I want to see that place rocking for Ohio State or Michigan. I want to see what kind of show the students can put on when the big boys come to town. I bet it's great.
December, 8, 2013
12/08/13
10:40
PM ET
Jan. 1, 1 p.m. ET, Orlando, Fla. (ABC)
WISCONSIN BADGERS BREAKDOWN
The Badgers' streak of three straight Rose Bowls has come to an end. That doesn't mean, however, that Gary Andersen's first season in Madison was a failure. Wisconsin actually added one more win to its total compared to a season ago, when it went 8-6.
[+] Enlarge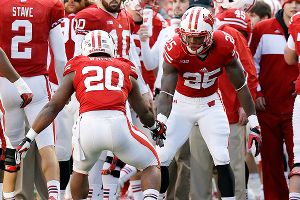 AP Photo/Morry GashJames White (left) and Melvin Gordon powered a Wisconsin run game that was among the best in the country.
Wisconsin's rushing attack ensured Andersen would find success this season, as
Melvin Gordon
and
James White
combined to form the No. 8 run game (283 YPG) in the nation. The speedy duo helped the Badgers average an FBS-best 8.3 yards per carry outside the tackles, and both rushed for more than 1,300 yards.
Wisconsin's new 3-4 defense also helped it move up nine spots from last season's 15th-ranked defense. But that doesn't mean the Badgers didn't have their weaknesses. Besides the passing game (and lack of weapons outside of
Jared Abbrederis
), inconsistency plagued Wisconsin.
The Badgers allowed the opposition to score more than 30 points in just four games -- and three of those games wound up as losses. Wisconsin suffered a controversial ending against Arizona State, fell by a touchdown vs. the Buckeyes ... and then was somehow upset by a sanctions-depleted Penn State squad. Wisconsin is obviously hoping to bounce back after PSU's huge upset, and it should be ready for this bowl game. It can actually improve on last year's record despite playing one fewer game.
-- Josh Moyer

vs.

SOUTH CAROLINA GAMECOCKS BREAKDOWN
Quietly, Steve Spurrier has led the Gamecocks to yet another 10-win season. A postseason victory, and South Carolina would have its third straight 11-win season under Spurrier.
[+] Enlarge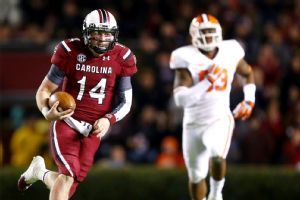 Streeter Lecka/Getty ImagesConnor Shaw battled injury but South Carolina has finished strong.
It's been a fun season for the Gamecocks, who started it with a loss to Georgia but were on the heels of their second SEC Eastern Division crown after upsetting Missouri in double overtime on the road. But they just fell short of their goal to return to Atlanta after Mizzou won out after losing to the Gamecocks.
The game that will really have this team kicking itself is that 23-21 loss to Tennessee in Knoxville. South Carolina turned it over twice and lost starting quarterback
Connor Shaw
to a knee injury but was clearly the more talented team. Fortunately for the Gamecocks, that was their final stumble. They won their last five games by a combined 181-81 margin, including a 31-17 win over Clemson that made it five in a row for South Carolina over the Tigers.
The star of the show for the Gamecocks was supposed to be defensive end
Jadeveon Clowney
. Nagging injuries and constant double-teams left him with a pedestrian three sacks, but he did have 10.5 tackles for loss.
The top performers for South Carolina were Shaw and bell cow running back
Mike Davis
.
Shaw continued to show the country why he's one of the toughest players. His knee sprain sidelined him only briefly, as he returned in the fourth quarter against Mizzou only to throw for 201 yards and three touchdowns to erase a 17-point deficit. Shaw finished the year with 2,135 yards with 21 touchdowns to just one interception.
Helping Shaw along the way was Davis, who made a strong case for the title of the SEC's top running back. Davis, who was a home run threat and a legitimate between-the-tackles bruiser, rushed for 1,134 yards and 11 touchdowns in his first year as a starter.
-- Edward Aschoff
November, 13, 2013
11/13/13
6:30
AM ET
The ESPN.com college football reporters are on a foreign mission this week. We're venturing outside our conference footprints to see how folks in other parts of the country experience the game in their own unique ways. College football means different things to different people in different places. We're heading out there to soak it in and report back what we see, hear, smell and taste.
For those who don't know us, Adam covers Big Ten football from his Chicago base, while Edward is all over the SEC happenings from his headquarters in the ATL. We both have ties to our regions and attended schools in the leagues we now cover.
We'll trade places later this week, as Edward ventures north to Madison, Wis., for Wisconsin's game against Indiana, and Adam takes in the oldest rivalry in the Deep South: Georgia-Auburn at Jordan-Hare Stadium. It'll be different, eye-opening and a whole heck of a lot of fun.
Let's get started ...
Adam Rittenberg:
Edward, I'll admit I'm a Yankee. I grew up first in the Northeast (New Jersey and Massachusetts), spent most of my formative years in Northern California and have called Chicago my sweet home for the past 14 years. If there's a blue state, I've probably lived in it. My experience in the South has been limited to major cities like Atlanta and New Orleans, one of my favorite places on earth. My college football roots are firmly in the Big Ten with a little Pac-12 mixed in. But after hearing about the SEC's game-day experience from you, C-Low, that Schlabach fella and others, I'm ready to see it for myself.
[+] Enlarge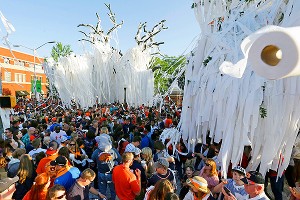 AP Photo/Dave MartinThe oak trees no longer stand on Toomer's Corner, but the tradition is still rich on The Plains.
Auburn is a great place to start. I'm looking forward to seeing what The Loveliest Little Village on the Plains is all about. Checking out
Toomer's Corner
and where the oaks once stood definitely is high on my to-do list, and I'll obviously head back if Auburn beats Georgia on Saturday. Sources tell me the lemonade isn't bad there, either. What's the
War Eagle
tradition all about? I'm going to find out. I'll check out the
Tiger Walk
-- and the Reverse Tiger Walk -- and the
tailgating
around Jordan-Hare. I'll talk to people who have been around Auburn football, and learn about Pat Sullivan, Zeke Smith, Bo Jackson, Terry Beasley and, yes, Cam Newton. I cover the Ohio State-Michigan rivalry, considered the most intense in all of sports. Auburn fans surely will disagree, and will tell me why Auburn-Alabama is king.
I'll leave my heavy jacket at home, but should I bring my houndstooth hat along? Kidding, kidding.
My main objective is to have fun and to identify the answer to a question you and I have often discussed. Why does college football mean so much in the South? Don't get me wrong: It resonates in Big Ten country, too, but so do other sports, both at the college and professional levels. As you'll find out, Big Ten folks take great pride in their tailgates, their stadiums and their game-day traditions, but football seems to consume the communities more in SEC territory. Why is that the case, and how that passion impact the product on the field?
Auburn, here I come. Can't wait. What are you looking forward to in Mad City?
Edward Aschoff:
Well, you certainly have done your homework when it comes to Auburn. Just make sure you check out Toomer's Drugs, where you can get the best lemonade under the Mason-Dixon Line. Oh, and watch your head because Auburn's War Eagles have a tendency to go rogue sometimes. You're gonna have a blast, especially with Auburn back in the national spotlight.
I'm so excited to see Madison on game day. You know, I have some Midwestern roots. Half of my family calls Iowa City/Cedar Rapids home, so the cold weather will be nothing new to this southern gentleman. And I've been to Madison a few times in the past, but never for a game. Actually, I've never been to Madison when the sun was shining or the temperature rose above 50 ... and I was there for a few days in July!
But I couldn't care less about the weather during this trip. I'm ready to see State Street and all its game day glory. I want to see Camp Randall on a Saturday when the students are at their very best. You know, when the, uh, "water" is flowing through their veins. I'm ready to smell the brats and cheese curds early Saturday morning. As a former member of the drum line at the University of Florida, I'm excited to see Wisconsin's band during its pregame concert at Union South and during the Fifth Quarter.
[+] Enlarge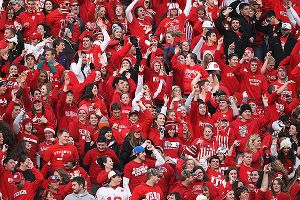 Jonathan Daniel/Getty ImagesWisconsin students "jump around" after the third quarter at Camp Randall Stadium.
Obviously, I plan on throwing my body around with those Mad-town students during "Jump Around," and because I grew up in a household that embraced "The Rocky Horror Picture Show," I'm dying to school some kids in the Time Warp.
I also hear there's a pretty fun call-and-response between the students during games. We all know there's plenty of room for a potty mouth on game day!
Really, I'm just thrilled that I'll be stepping out of the South and into an environment where maybe the party really is bigger than the actual football game. I'm not saying that Badgers fans don't enjoy their football, but I just don't think it will be as ceremonial as it is down South. Maybe I'm wrong, but I'm sure there's plenty of fun to be had up north!
Any other advice for me, other than packing my pea coat and mittens?
Rittenberg:
The ATL Kid might end up being the Mad City Kid by the end of the weekend. You sound well prepared, my friend, certainly more than our pal Schlabach, whose system shuts down any time the temperature drops below 50 degrees.
Madison is my favorite town in the Big Ten, and you seem to have a good handle on it. Any place that ties its identity to beer, meat and cheese will warm a man's heart (and possibly block it). I expect you to come home 5-10 pounds heavier. Definitely check out State Street, buy a "Sconnie" T-shirt, check out the terrace and climb Bascom Hill on campus, where ESPN's "College GameDay" set up for its broadcast before the Wisconsin-Ohio State game in 2010.
Wisconsin's tailgating scene is arguably the best in the Big Ten (Penn State is also right up there), and despite the early start time, you should spend some time on Regent Street before the game. Stop by Lucky's for sure, as I saw people dressed up as sausages there before last week's game against BYU. The parties along Breese Terrace should be buzzing before and after the game. The neighborhood just west of Camp Randall is worth checking out.
Downtown Madison offers plenty in the way of fun, but to get a true sense of Wisconsin flavor, head on out to Quivey's Grove on the outskirts of town. It has been a regular stop for me the night before Badgers games. You'll leave stuffed and extremely happy. Other than that, you have most of your bases covered. You should spend some time in the student section, for sure, and enjoy one of the better in-game atmospheres. The Fifth Quarter also is a lot of fun. And if you can spend any time with Barry Alvarez, the face of Wisconsin's program, be sure to do it.
Any advice for me for my trip to the Plains?
Aschoff:
I can already feel myself changing the word "Coke" to "pop" in my vocabulary. I'm really excited about everything. I actually have a Sconnie shirt and I'm on the email list, but I'll make sure I add to my collection.
If you think I'm going to gain some pounds, have fun getting in those pants after a few days with fried southern delicacies. While you're waiting for that prime-time kickoff, make your way to Momma Goldberg's and get a plate of nachos. They're simple, but well worth the trip and serves as a great pregame meal. Don't stay too long because you have to make it to what the folks on the Plains call the original Tiger Walk. Also, take a stroll near Samford Hall, which might be the most iconic building on Auburn's campus.
You'll certainly need to make enough time to walk around the glorious tailgating spots Auburn has to offer. Yes, expect to see chandeliers hanging in tents. The campus is absolutely gorgeous and don't worry if you don't have anything to share among your new family members, the folks at Auburn will have plenty for you to choose from ... as long as you aren't wearing red and black.
After the game, you'll have plenty of places to check out. Rumor has it that Good Ol' Boys has the best steaks in town and Niffer's Place is a great local spot. If want to try and run into Sir Charles Barkley while you're in town, check out Hamilton's, which is a bistro downtown.
You can also check out Cheeseburger Cheeseburger, which is a nice throwback place at the end of Toomer's Corner. You want a nice burger and a vintage milkshake? Well, then that's your place. Make sure you get there early because it will fill up quickly.
Trying to relive your college days where you try to outlast the moon, Adam? I'd head to the War Eagle Supper Club. There's live music, a bus bar out back, it doesn't close until the sun comes up and there's a van that will take you home. I mean, it just doesn't get any better than that.
I can't stress enough how much you need to get some of that Toomer's lemonade. According to urban legend, Abe Lincoln himself once sipped it.
Rittenberg:
Lincoln was a Big Ten guy: Don't forget that, Aschoff. And please send along pictures of you wearing a Sconnie shirt, eating cheese curds and playing drums. You can let Bret Bielema know what he's missing.
Well, we both have plenty on our plates (literally) as we venture into the great football wilderness. But we need your help, too, to enhance the experience. Wisconsin/Big Ten fans, if you have some advice and recommendations for Edward when he hits the ground in Madison, send them
here
or tweet him at @
AschoffESPN
. Auburn/SEC fans, you can do the same for me
here
or tweet me at
@ESPN_BigTen
. Let's see what Southern Hospitality is all about.
That's it for now. War Eagle. On Wisconsin. It's time to hit the road.
December, 12, 2012
12/12/12
1:30
AM ET
Bret Bielema is taking one of Wisconsin's top assistants with him to Arkansas.

Badgers defensive coordinator Chris Ash will join Bielema in the same role with the Razorbacks, Arkansas announced Tuesday night. Ash will remain with Wisconsin through the Rose Bowl Game presented by VIZIO on Jan. 1 against Stanford.

"I am excited to welcome Chris to our staff," Bielema said in a prepared statement. "In the last three years working together, I gained a great respect for the way Chris teaches the game and develops student-athletes. I've followed his career for a long time, and his knowledge of the way we run our program and specifically the defense will be valuable for us moving forward in our transition. Chris helped us improve drastically in our pass defense at Wisconsin where his defenses consistently ranked in the top 25 nationally in all the major categories."

Ash did a terrific job in two seasons as the Badgers' defensive coordinator after taking over for Dave Doeren. Wisconsin's defense ranks in the top 25 nationally in total defense, scoring defense, rushing defense and pass-efficiency defense this season.

His departure isn't a huge surprise, as Wisconsin doesn't have a permanent head coach and Ash appeared likely to be in high demand. There was some talk he'd join Doeren at NC State, but he's off to Hog Country.