Clemson's Swinney takes shots at Spurrier
December, 2, 2011
12/02/11
9:39
AM ET
You have to love rivalries.
Sometimes the jabs and the bitterness are more exciting than the actual game.
Thursday, Clemson coach Dabo Swinney added some fuel to the Clemson-South Carolina rivalry fire when he barked at Gamecocks coach Steve Spurrier after hearing about a rousing quote that a reporter attributed to Spurrier.
The quote in question came from South Carolina play-by-play man Todd Ellis, who rattled this off at the end of South Carolina's 34-13 win over Clemson Saturday: "As Coach Spurrier says, we might not be LSU or Alabama, but we ain't Clemson, folks."
[+] Enlarge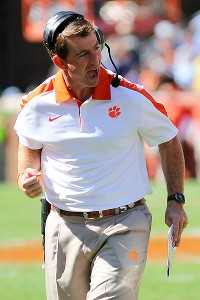 Joshua S. Kelly/US Presswire"I have respect for their program, but South Carolina is not Clemson. ... I think our program has 100-plus more wins than South Carolina," Dabo Swinney said.
The quote was then attributed to Spurrier on the Twitter account of South Carolina's football office (@GamecockFB).
Spurrier didn't say the quote publicly after Saturday's game, but that didn't stop Swinney from lashing out at the Head Ball Coach.
"I don't know if he said it or not, but I guess he did because there hasn't been a rebuttal," Swinney told reporters following Thursday's practice for Saturday's ACC championship against Virginia Tech. "If he said that, I am disappointed because I was taught to win or lose with class. That is kind of a childish thing to put out there, to be honest with you. I think our program here speaks for itself. I guess I would have to say I agree with him. He is right. They are not Clemson and they're never going to be Clemson, to be honest with you."
Swinney didn't stop there.
"No three-game winning streak is going to change that," he added. "It's not the first they have won three in a row and it will not be the last time. It might be 50 more years, but it will probably happen again. I have gone out of my way to be complimentary to them and complimentary to Coach Spurrier. I got a lot of respect for Coach Spurrier, but I am going to defend my program. I'm going to defend my players and my coaches. I am going to defend Clemson University because I believe in it. I think he is exactly right -- they are not Clemson and never will be.
"You are looking at the best era in the history of South Carolina football right now. They just had their second 10-win season. They won a championship in 1969 and the 2010 SEC East. There is a lot of rivalries out there, but this is more of a domination and that's a fact. My kids' grandkids won't live long enough to see this really become a rivalry."
Swinney continued to say that South Carolina just isn't Clemson.
"I have respect for their program, but South Carolina is not Clemson," he said. "There are a lot of differences. This is a place that has won a national title, 17 conference championships and two division titles. Heck, we have won more bowl games than they have even been to. I think our program has 100-plus more wins than South Carolina. That is reality."
Swinney finished by saying that there is a different standard at Clemson, compared to South Carolina.
"Coach Spurrier has been there for seven years, but after five years I think he had 35 wins and got a new contract," he said. "After five years at Clemson, if I have only got 35 wins there is going to be a new coach here. And you know what, there should be because there is a different standard.
"He is exactly right –- they ain't Alabama, they ain't LSU and they certainly are not Clemson. That is why [North] Carolina is in Chapel Hill, USC is in California and the university in this state always has been and always will be Clemson. It's right here in Clemson, S.C. You can print that. Tweet that."