Who has the SEC's best defense?
October, 9, 2012
10/09/12
12:40
PM ET
As the clock wound down Saturday in South Carolina's 35-7 pummeling of Georgia, two members of the Gamecocks' coaching staff hopped on the press box elevator to go down to the field.
They weren't celebrating. In fact, they were grumbling under their breath.
Sure, South Carolina had just pinned a 28-point beatdown on then-No. 5 Georgia, but the Gamecocks lost the shutout with 1:55 to play when the Bulldogs finished off a 12-play, 75-yard touchdown drive.
It's about the only time all night Georgia had any success denting the South Carolina defense, which had several reserves on the field for that final drive.
It didn't matter, though. This South Carolina defense takes it personally any time somebody reaches its end zone.
[+] Enlarge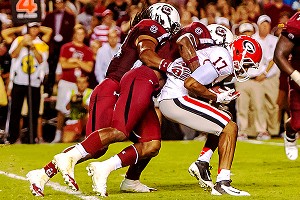 Jeff Blake/US PresswireSouth Carolina made its case for having the SEC's best defense by stifling Georgia last Saturday.
It's been that kind of season for the Gamecocks on defense -- they've been that dominant. Georgia entered the game last week having scored 40 or more points in its first five games and averaging 536 yards per game in total offense.
All the Bulldogs could manage against the Gamecocks was a touchdown during garbage time.
In six games, South Carolina has allowed six touchdowns. Three of those have been meaningless scores in the fourth quarter after many of the starters had already called it a day.
In addition to Georgia's late touchdown, East Carolina was down 41-3 when it scored its only touchdown. Missouri trailed 31-3 and punched across its only touchdown with 17 seconds to play.
"I believe in the young men I coach. I believe in the system we run," said Lorenzo Ward, South Carolina's first-year defensive coordinator. "We feel like we can play with anybody if we do the little things."
Hard to argue with Ward at this point. But does South Carolina have the SEC's best defense?
Three other teams -- Alabama, Florida and LSU -- all could make strong arguments.
The Crimson Tide have the best overall numbers. They lead the country in total defense and scoring defense. Two of the five touchdowns they've allowed also came late in the second half with Alabama leading big at the time.
Florida's second-half numbers have been phenomenal. The Gators have yet to give up any points in the fourth quarter.
And since Bowling Green scored a third-quarter touchdown in the season opener to tie the game at 14, Florida has allowed just one second-half TD.
The other thing the Gators have going for them is that they've gone against better offenses than the other three to this point. Using total offense as a gauge, Texas A&M is ranked 12
th
nationally and Tennessee 17
th
nationally. Neither one of those teams could muster more than 20 points against Florida.
The best offense South Carolina has faced was easily Georgia, which is 24
th
this week in total offense.
Alabama hasn't faced a team ranked higher than 42
nd
in total offense, but it's also a defense that rendered Michigan and
Denard Robinson
helpless in the opener.
The Crimson Tide are allowing just 3.3 yards per play, which leads the SEC. And when you start talking about tradition on defense, the Tide have allowed more than 14 points in a game only once in their past 19 outings going back to the end of the 2010 season.
Don't sleep on LSU, either.
The Tigers are still smarting from their 14-6 loss at Florida last week, but the defense hasn't gotten any help from its offense. In fact, had it not been for the defense, LSU would probably have two losses right now. The Tigers won 12-10 at Auburn three weeks ago.
Giving up two second-half touchdowns last week in the Florida loss was a downer for LSU, but it's still ranked third nationally in total defense. The Tigers are also as deep and talented on the defensive line as anybody in the country.
So who can claim the honor of being the SEC's best defense as we approach the midway point?
The truth is that nothing matters until December.
Even so, here's a statistical breakdown to help you make up your mind:
Total defense (with national ranking)
1. Alabama: 191.6 ypg

3. LSU: 221 ypg

11. South Carolina: 278 ypg

12. Florida: 284 ypg
Scoring defense (with national ranking)
1. Alabama: 7 ppg

4. South Carolina: 10.5 ppg

6. Florida: 11.4 ppg

8. LSU: 12.8 ppg
Rushing defense (with national ranking)
3. Alabama: 65.8 ypg

9. South Carolina: 83.9 ypg

14. LSU: 98.5 ypg

16. Florida: 103.8 ypg
Yards allowed per play
Alabama: 3.3

LSU: 3.6

South Carolina: 4.2

Florida: 4.3
Touchdowns allowed
Alabama: five in five games (one touchdown came with a 34-7 lead on Michigan late in the third quarter and another with a 40-0 lead on Florida Atlantic with 2:49 to play)

South Carolina: six in six games (one touchdown came with a 41-3 lead on East Carolina in the fourth quarter. Another came with a 31-3 lead on Missouri with 17 seconds left, and a third came with a 35-0 lead on Georgia with 1:55 to play)

Florida: seven in five games (no touchdowns allowed in the Gators' past two games)

LSU: 10 in six games (six touchdowns allowed in the Tigers' past three games)
Turnovers forced
Alabama: 15

LSU: 14

South Carolina: 11

Florida: 10
Sacks
South Carolina: 25

Alabama: 16

LSU: 16

Florida: 9
Tackles for loss
LSU: 50

South Carolina: 49

Alabama: 34

Florida: 26
Third-down conversion defense
Florida: 25.3 percent

Alabama: 29.4 percent

South Carolina: 30.3 percent

LSU: 30.7 percent
Second-half points
Florida: 13 (none in the fourth quarter)

Alabama: 21 (seven in the fourth quarter)

South Carolina: 27 (21 in the fourth quarter)

LSU: 34 (27 in the fourth quarter)