AUBURN, Ala. – He was one of Alabama's biggest question marks coming into the season.
And then a month into the season, Alabama quarterback Greg McElroy was one of the SEC's biggest and most pleasant surprises.
By the middle of October, he'd hit a lull – triggering all the same questions about his ability to throw the football all over again.
But on Friday, with Alabama's dream season teetering ever so precariously on the Plains, McElroy was exactly what Alabama needed him to be.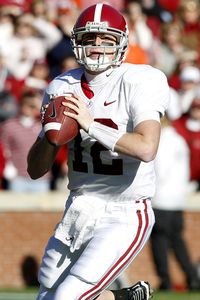 John Reed/US PRESSWIRE
Alabama quarterback Greg McElroy completed 21 of 31 passes for 218 yards and two touchdowns.
He was clutch.
For that matter, so was the entire Alabama offense.
"We didn't protect (McElroy) real well at times," Alabama coach Nick Saban said. "We didn't get open like we needed to, and there were a couple of times when he could have made better decisions.
"But he made all the right decisions in the critical time of the game. That's what great competitors do, and Greg's been a great competitor for us all year long."
McElroy's poise on the Crimson Tide's game-winning 79-yard drive in their 26-21 victory over Auburn was infectious.
He was 7-of-8 passing and hit all three of his third-down throws, including the 4-yard touchdown pass to running back Roy Upchurch with 1:24 to play that gave Alabama its only lead of the game.
"As you looked in the huddle, from a quarterback's perspective, I'm always looking and everyone is looking at me," McElroy said. "There was no sense of worry. There was no sense of panic. We were able to take care of business, and everyone knew we were going to (score)."
The Crimson Tide (12-0, 8-0) hadn't done much of anything right offensively all day, as the Tigers stacked the box with eight defenders and dared McElroy to beat them throwing the football.
McElroy's 33-yard touchdown pass to tight end Colin Peek in the second quarter tied the game at 14-14, but Alabama's offense in the second half had consisted of a couple of Leigh Tiffin field goals.
And that was it.
With a little more than 10 minutes to play and needing to go 79 yards for the touchdown, senior offensive guard Mike Johnson said there was never any doubt that the Crimson Tide were going to put together their best drive of the game.
Maybe their best drive of the year.
"Everybody was looking at each other and saying we had to dig a little deeper," Johnson said. "There was nowhere to go. We either had to put points up or lose the game. We knew what we had to do and were able to dig deep and get it done."
Four times in the 15-play drive, McElroy found Julio Jones. The first two came on third-down plays.
"We were able to get in third-and-manageable, which was probably the best thing about the entire drive," said McElroy, who has now thrown 16 touchdown passes and four interceptions this season. "We weren't facing any third-and-10 or 12 or anything like that."
The touchdown play to Upchurch came after Alabama called timeout. Saban wanted to throw the ball and not settle for the field goal.
The Crimson Tide, facing third-and-goal from the 4, called a play they hadn't run all season from that formation. Upchurch lined up at running back with 360-pound Terrence Cody as an offset fullback.
"They were expecting run," Upchurch said. "We hadn't thrown out of that formation all year. We run it all the time in practice, but hadn't run it in a game."
McElroy was a little surprised that Saban wanted to throw the ball in that situation.
"I thought we were just going to grind it out and take the three," McElroy said. "It just gave me confidence in the fact they believed in me enough to make a play, and it was a great play call. We caught them off balance. We were able to get them outflanked and score an easy touchdown.
"So however many touchdown passes we have this year, it was probably the easiest … but it was also probably the biggest."