Friday chat wrap
December, 6, 2013
12/06/13
4:00
PM ET
We had a late chat this week, so I understand if you missed it. Here's the
chat wrap
, and here's a preview if you missed our quality time together:
Tony (Richmond, CA)
Is USC's Clay Helton Will Muschamp's top choice to fill the vacancy at offensive coordinator?
[+] Enlarge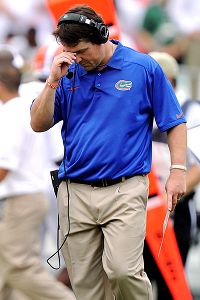 Brad Barr/USA TODAY SportsWill Muschamp says he will take his time finding an offensive coordinator.
Edward Aschoff (1:01 PM)
Rumors are flying all around about that opening, but Muschamp is on the road right now recruiting so don't expect anything to really pick up until after bowl season. Florida has already made it clear that it won't hire anyone until after bowl season. Helton is on the radar, but so are a few other guys in the Pac-12. This is Will Muschamp's most important hire.
Ray (Gainesville)
Auburn or Missouri?
Edward Aschoff (1:02 PM)
I picked Auburn on Thursday, and I'm sticking with it. I think Auburn's running game proves to be too much yet again.
Chris (Shreveport)
One of the questions that fans of the B1G ask is when is an SEC team going to come play in the cold and snow. If playing in the cold and snow is their measure of toughness, why do they play their championship game in a dome?
Edward Aschoff (1:05 PM)
Ha! Good point. LSU is traveling to Lambeau to play Wisconsin in 2016. Here's my question: Why is the Big Ten worried about what the SEC does? Win your own games in cold weather before you challenge the SEC to stop doing what's working for it.
Dan (Maryland)
How disappointed are you with the U.S. draw in soccer? Also, If the SEC had their own four-team playoff right now in your power rankings, who walks away a winner?
Edward Aschoff (1:06 PM)
I'm beyond upset! How in the world do we get the Group of Death?? Ghana and Germany??? Portugal isn't too intimidating, but I'm not happy that they got lumped in either. ... I'll go Alabama. I know, I know. This team lost to Auburn and Mizzou's offense could give the Tide fits, but I still think Alabama has the best team in the SEC. Just lost at the worst possible time.
Jason (Columbia, Mo,)
If Ohio State Loses will the SEC winner Go to the BCS championship?
Edward Aschoff (1:07 PM)
Yes.
Cody (Austin)
Should Texas A&M be seriously concerned about the offense's production from the last two games? Also, what should we take away from the defense's showing against Mizzou?
Edward Aschoff (1:09 PM)
It's clear the last two defenses schemed Manziel and the Aggies perfectly. He had back-to-back terrible outings, and both defenses defended the big play well. I think it's a concern for the bowl because those are two games that the Aggies' opponent can just watch over and over and over. As for Mizzou, I've liked this defense all year. The Tigers are second in the SEC defending the run and lead the league in rush defense in conference games. That defensive line is very talented, starting with
Michael Sam
. Lots of speed up front.