NEWPORT BEACH, Calif. -- The kickoff coverage has left much to be desired.
Otherwise, it's difficult to find a chink in Alabama's special teams play.
And it's the guy with the defensive tackle's number (99) who's led the way.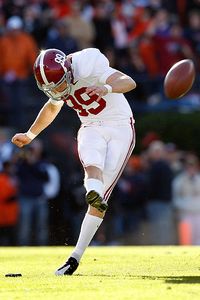 Kevin C. Cox/Getty Images
Alabama kicker Leigh Tiffin ranks first in the SEC in scoring.In a lot of cases, senior kicker Leigh Tiffin has been as big a part of Alabama's offense this season as Greg McElroy, Mark Ingram and Julio Jones.
He leads the nation in field goals made per game (2.23) and is ninth nationally and first in the SEC in scoring (9.62 points per game).
The best thing, though, that Tiffin has going for him in a game of Thursday's magnitude is experience. He's no stranger to big kicks. He's no stranger to having to make a bunch of kicks, and he's no stranger to making long kicks.
The field at the Rose Bowl is immaculate, and the weather should also be ideal, which means both teams could be trying some longer kicks when you take into account the strength of the two defenses in this game.
Of course, in Tiffin's world, every kick is the same.
"Adam Vinatieri said it best when he said people always want to talk about game-winning kicks coming down to the last second, but what about that kick you missed in the first quarter?" said Tiffin, a first-team All-American this season. "They all count for three points, and when you stack them up after the game, they're all just as important."
It's just that kind of approach that's allowed Tiffin to be so reliable this season. He's connected on 29-of-33 field goals and 38-of-41 extra-point attempts.
He enters Thursday's Citi BCS National Championship Game having made 12 of his last 13 field goal attempts.
Tiffin's secret?
"I just like to be to myself, get my thoughts together and go out there and focus on what I need to do," said Tiffin, whose father, Van, was also an All-America kicker for the Crimson Tide in the mid 1980s.
And, yes, Tiffin has noticed some of the shoddy field goal kicking during the bowl season this year. He writes that off to a number of different factors -- none of which have anything to do with him.
"Things like that happen all year," Tiffin said. "A lot of that may be that those guys didn't practice a whole lot. Maybe they were rusty. Maybe it was bad weather.
"I feel as confident as ever, and I fully expect to have my best game Thursday."
And why not? He's been at his best all season when Alabama has needed him most.