SEC:

2011 BCS Championship
December, 27, 2011
12/27/11
11:00
AM ET
Alabama players really didn't have the layoff they expected.
With the SEC championship game out of reach, the Crimson Tide didn't expect to hit the grind so early.
But that's exactly what happened. The Tide started conditioning and training immediately after the Auburn game, senior center William Vlachos said.
[+] Enlarge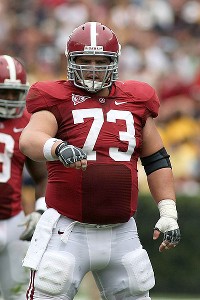 Greg McWilliams/Getty ImagesHow has Alabama's practice routine changed since the end of the season? "We haven't really stopped," center William Vlachos said.
"We haven't really stopped," Vlachos said. "Usually, we take a week off and we run a little bit, and then a little bit more, but we jumped right into it. We're all in good shape right now."
With the extra-long break before the Allstate BCS National Championship Game against No. 1 LSU (13-0, 8-0), Vlachos said conditioning has been turned up. There hasn't been much down time for this team, and he thinks it's a good thing because it should have this team more than ready for the Tigers in a couple of weeks.
But Vlachos said coach Nick Saban won't make things too monotonous. He doesn't want to over train and he won't let this team get bored. In the past Vlachos said Saban would use every last ounce of the allotted practices and practice time leading up to the bowl game to pound the game plan into each and every player.
While that system has kept the Tide winning in the postseason, including a national championship in 2009, Saban doesn't want to go overboard this time. He doesn't want to wear out his team before what should be the most physical game of the year.
With LSU playing in the SEC championship game, the Tide has had a week more to train and stay out of game mode. But even with practice contact not quite being game contact, like the Tigers endured, Vlachos said that shouldn't be much of an advantage. Both teams are too evenly matched for that, Vlachos said.
Vlachos does expect the more game-specific practices to be different from years past because Alabama
really
knows its opponent. This isn't Texas or Michigan State, two teams the Crimson Tide had to meticulously watch every single regular-season game on just to gauge what type of teams they were. This is a conference foe.
It's a team Alabama is more than familiar with and more than upset with. The Tigers ended Alabama's hopes at an undefeated season. This is a team that won in Tuscaloosa and was better by a field goal.
While Vlachos has immense respect for the Tigers, he also believes the Tide did not execute at times that November loss.
"We moved the ball well between the 30 and the 30, but that's not going to put points on the board," Vlachos said. "The bottom line with that LSU defense is it's great. There's really not a weakness on that defense. But when you watch that game, it was about what we did in particular -- finishing blocks here, getting a couple of inches here, coming down with the pass near the end zone and not letting it get taken away from you. Just the little tiny stuff and that game's a different ball game."
December, 13, 2011
12/13/11
1:00
PM ET
By
ESPN.com staff
| ESPN.com

Adam Rittenberg speaks with LSU cornerback Morris Claiborne about the Tigers' rematch with Alabama in the BCS National Championship Game at The Home Depot College Football awards.
December, 12, 2011
12/12/11
5:00
PM ET
The BCS and other bowls, in their infinite wisdom, employ officiating crews from neutral conferences. That is unlike what occurs during the regular season, when conference crews work their own games, and generally, but not always, the road team in a nonconference game brings its officials.

But what happens when the BCS Championship Game matches two teams from the same conference? Why should the BCS bother with a neutral officiating crew when a Southeastern Conference crew worked not only the LSU-Alabama game in the regular season, but the other 47 SEC games as well?

Rogers Redding is the perfect man to answer those questions. Not only is he the National Coordinator of Football Officials, he took that job after serving as the SEC coordinator. It's a good thing, too. Instead of reading the rule book, Redding had to read between the lines of rules.

"The guidelines for bowl-game officiating, which includes the championship game, do not anticipate the possibility of both teams being from the same conference," Redding said in an email reply. "Thus they are silent on the issue, and hence are open to interpretation.

"The guidelines consistently call for 'neutral crews,' which is defined as crews from a conference different from those of the participants in the game. I am interpreting that literally in this case, so the crew officiating the game will not be from the SEC."

Redding, of course, chose not to identify which conference will supply the crew for the Allstate BCS National Championship Game. He said only which one will not supply it.

It's too bad: If an SEC crew worked the game, LSU and Alabama wouldn't have to spend any time at the outset adjusting to the crew or vice versa. The rule for neutral crews is a good one. In this case, it is not only unnecessary, it may impede the play of the game.
December, 4, 2011
12/04/11
11:44
PM ET
LSU Tigers (13-0) vs. Alabama Crimson Tide (11-1).
Jan. 9, 8:30 ET (ESPN)

LSU take:
Before the season, everyone thought LSU had talent. That was never an issue. But the youth of this team was something many questioned.
Even more questions began to form when senior starting quarterback
Jordan Jefferson
was suspended for the first four games for his role in a fight at an off-campus bar.
LSU threw embattled quarterback
Jarrett Lee
out there and all he did was start the season as one of the most efficient quarterbacks in the SEC, leading LSU to wins against three ranked teams on the road in the first four weeks.
Helping Lee was one of the stingiest and most athletic defenses the SEC had to offer. Loaded with speed and depth at every defensive position, the Tigers cruised past opponents, catapulting to the No. 1 ranking in Week 5.
The Tigers never relinquished their hold as the country's best and head into the Allstate BCS National Championship Game as SEC champs with a 13-0 record.
LSU wore down defenses with its running game and delivered death blows with its defense. The Tigers ended the year ranking second nationally in total defense (252 yards per game) and led the SEC with a turnover margin of plus-22.
However, there were plenty of chances for this team to crumble. From suspensions to keys starters, to a quarterback controversy, this hasn't been an easy season.
But LSU never quit and actually emerged stronger from its distractions.
LSU had a knack for pummeling teams in the second half of games, and that really showed when the Tigers erased back-to-back double-digit deficits in the final two weeks against Arkansas and Georgia.
It was a perfect ending for the Tigers as they finished off Georgia with a 42-0 run in the SEC title game to beat their eighth ranked opponent.
---

Alabama take:
This was the team that most picked at the beginning of the season to represent the SEC in the Allstate BCS National Championship Game.
Sure, there was youth at quarterback and wide receiver, but there was a bona fide workhorse in the backfield (running back
Trent Richardson
), and one of the stoutest and scariest defenses that coach Nick Saban has ever fielded.
The Crimson Tide were never flashy on offense, but they were effective enough to churn out yards and points against opponents. But this team was always respected more for its defense. Alabama ended the season ranking first nationally in total defense (195.3 yards per game) and rushing defense (75), and opposing teams moved the ball just 3.4 yards per play. This was a group that was criticized last season for being too raw and young, but completely transformed in 2011.
LSU might have the best defensive depth in the country, but it's hard to find a tougher defense than Alabama's, and you'd be hard-pressed to find a better combination of linebackers and defensive backs on one team.
Richardson didn't just fill former Heisman Trophy winner Mark Ingram's shoes, he replaced them with his own pair. He was the SEC's top rusher (1,583 yards and 20 touchdowns) and put up 137 yards a game against SEC opponents on his way to a legitimate Heisman run.
The only roadblock was LSU. The top-ranked Tigers ended Alabama's run at perfection with a 9-6 win in overtime. Four failed field goal attempts by Alabama proved to be the difference, but now, the Tide get a shot at redemption in the season's biggest game.
SEC SCOREBOARD
Saturday, 12/21
Monday, 12/23
Tuesday, 12/24
Thursday, 12/26
Friday, 12/27
Saturday, 12/28
Monday, 12/30
Tuesday, 12/31
Wednesday, 1/1
Thursday, 1/2
Friday, 1/3
Saturday, 1/4
Sunday, 1/5
Monday, 1/6
Tweets from @ESPNCFB/sec