May, 17, 2011
5/17/11
12:30
PM ET
Former Georgia coach Vince Dooley once said that Jake Scott was as complete an athlete as he ever saw on the football field.
For that matter, Dooley said he couldn't remember any player doing as many things well as Scott could while playing for the Bulldogs in 1967 and 1968.
Scott, who later went on to fame with the Miami Dolphins as the MVP of Super Bowl VII, was selected Tuesday into the College Football Hall of Fame.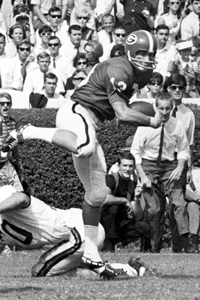 AP Photo/JSJake Scott led the SEC in interceptions, punt returns and punt return yardage in 1968.
A consensus All-American in 1968, Scott was also named that season as the SEC's Most Valuable Player as selected by The Nashville Banner.
A two-time All-SEC selection, Scott led the SEC in interceptions (10) for a second straight season in 1968. He also led the league in punt returns and punt return yardage, leading the Bulldogs to an SEC championship. They lost in the Sugar Bowl that year to Arkansas.
Former SMU coach Mike Cavan, who played with Scott at Georgia, says Scott is still the best safety that Cavan has ever seen play. Scott remains the career record-holder at Georgia with 16 interceptions and 315 return yards.
Scott had a falling out with Dooley toward the end of his college career, which centered around Dooley's decision to play in the Sugar Bowl following the 1968 season instead of the Orange Bowl, where the Bulldogs would have had an outside shot at the national championship.
At the time, college juniors weren't allowed to declare early for the NFL draft, but Scott left early anyway -- signing a deal with the CFL's British Columbia Lions. Scott returned to Georgia in 2006 as honorary captain for the Georgia Tech game. That was his first association with his alma mater in nearly 40 years and came after Dooley had retired as athletic director.
Scott was named to the Quarter Century All-SEC Team (1950-74). He had a brilliant NFL career, making five Pro Bowl appearances with the Dolphins.
May, 17, 2011
5/17/11
11:50
AM ET
Before his famed stint with the New York Sack Exchange in the NFL, Marty Lyons was a dominant force on Alabama's defensive line in the late 1970s.

A consensus All-American as a senior in 1978, Lyons helped lead the Crimson Tide to their next-to-last national championship under the legendary Paul W. "Bear" Bryant. Lyons was a defensive captain that season and recorded 119 total tackles, including 15 for loss. He was named the SEC's defensive player of the year.

Lyons, who was also a two-time All-SEC selection, becomes the 23rd Alabama player or coach to be selected into the College Football Hall of Fame. He was 31-5 during his career at Alabama and a member of two SEC championship teams.

In the hearts and minds of Alabama fans, Lyons will forever be remembered for his part in one of the most famous goal-line stands in college football history. The stand was punctuated by Barry Krauss' fourth-down stop of Penn State's Mike Guman just inches from the goal line, preserving Alabama's 14-7 win over Penn State in the 1979 Sugar Bowl to capture the national title.

During the timeout just prior to the fourth-down play, Penn State quarterback Chuck Fusina walked over to see how much the Nittany Lions needed for a touchdown. The ball was inside the 1. Fusina looked over to Lyons and asked Lyons what he thought Penn State should do.

Lyons shot back, "You better pass."

A member of Alabama's Team of the Century, Lyons had perhaps his best game in the 1978 Iron Bowl when he collected 16 tackles, including three sacks, in a 34-16 win over Auburn.

Lyons was a first-round pick of the New York Jets in the 1979 draft and played all 11 seasons with the Jets. He's also the founder of the Marty Lyons Foundation, which for nearly 30 years has fulfilled special wishes for children diagnosed with a life-threatening or terminal illness.
May, 17, 2011
5/17/11
11:40
AM ET
Little surprise must have circulated through Carlos Alvarez when he got the news.

On Tuesday, the 2011 National Football Foundation College Football Hall of Fame inductees were announced at the NASDAQ MarketSite in New York City and the former Florida wide receiver was one of 79 players on the ballot.

Alvarez remains one of Florida's most prolific receivers. Playing for the Gators from 1969-71, he broke nearly every school receiving record. He still holds the school records for receptions in a season (88), receptions in a game (15) and career receiving yards (2,563).

His school record of 172 career receptions wasn't broken until 2007 by Andre Caldwell. It lasted as an SEC record until 1984.

Alvarez led the Gators in receptions in each of his three seasons. As a sophomore in 1969, his 88 receptions led the SEC and with 1,329 yards and 12 touchdowns to go with those catches, he averaged 15.1 yards per reception.

Alvarez, a Cuban refugee, was a consensus All-America that same year, becoming the youngest player to ever be named to the American Football Coaches Association All-America team. He made more All-America teams as a sophomore than any player since Doak Walker in 1947.

Against Miami that season, he set a school record for receiving yards in a single game when he totaled 237 yards against the Hurricanes. The record would stand until 2002.

One notable highlight from his career was his time-expiring catch against Miami in 1971 after the infamous Gator Flop to give quarterback John Reaves enough yards to break Jim Plunkett's NCAA career passing record of 7,544 yards.

He was named to Florida's Team of the Century in 1999 and was also named a three-time Academic All-American and inducted into the Academic All-American Hall of Fame in 1989.