SEC:

2011 Sugar Bowl coverage
January, 5, 2011
1/05/11
2:39
AM ET
NEW ORLEANS -- If
Ryan Mallett
's final pass of his college career was the last one he threw in the Superdome, it may haunt him for a long time.
The Arkansas quarterback had a brilliant season and was in position to finish a legendary comeback in the Allstate Sugar Bowl. But with 58 seconds left and his team on the 18-yard line, Mallett was intercepted by Ohio State's Solomon Thomas. The only turnover of the game sealed the Razorbacks' 31-26 loss.
"I didn't see the guy," Mallett said. "He dropped out. I tried to get rid of it quick [because] they had pressure coming. He made a great play."
Mallett had an up-and-down night. He threw for 277 yards and two scores but completed just 24-of-47 pass attempts. He was victimized by six dropped balls but also missed a few open receivers. On a key fourth-and-1 call in the first half, the 6-foot-6 Mallett had a pass batted down at the line of scrimmage. And Ohio State sacked him four times.
But what might sit with him most is that last throw.
"It was a tough play," he said. "It's not the way you want to end the year, obviously."
The question is whether it's the end of his career. When asked whether he will enter the NFL Draft, the junior said he hasn't thought about his future, which is impossible to believe. Against Ohio State, he showed scouts a powerful arm and nimble feet, but also a tendency to hold onto the ball a few moments too long.
If it was his last game, he lost to the team he thought he'd be trying to beat regularly when he began his college career with Michigan. At Arkansas, he has thrown for more than 3,600 yards each of the past two years and 62 touchdown passes.
"Ryan's done an unbelievable job with his leadership and his competitive spirit," head coach Bobby Petrino said. "He lifts everybody around him to compete and play better."
Petrino said Mallett did exactly what he was supposed to do against the Ohio State zone blitz on his final play.
"The only difference is when they blitzed, they clicked out a linemen that he did not see," Petrino said.
Now we'll see whether that was Mallett's final throw for the Razorbacks.
January, 5, 2011
1/05/11
2:25
AM ET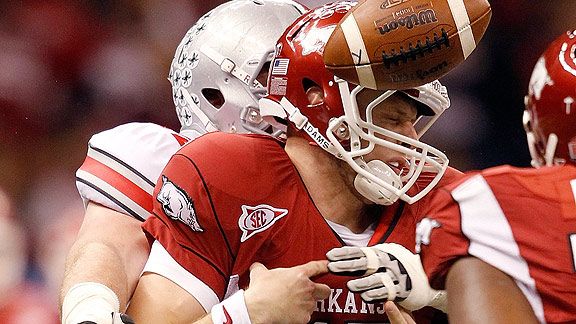 Matthew Stockman/Getty ImagesRyan Mallett was pressured all night as the Arkansas offensive line gave up four sacks.
NEW ORLEANS -- Arkansas knew exactly how it was going to start the Allstate Sugar Bowl.
Throughout postseason practice, the team had worked on the opening play, in which quarterback
Ryan Mallett
faked a handoff to running back
Knile Davis
and then hit receiver
Joe Adams
on a seam down the middle.
"We've been working on that for a long time in practice, and it worked pretty much every time," receiver
Jarius Wright
said.
When they lined up for the first snap from scrimmage, the Razorbacks saw the exact coverage they hoped Ohio State would present. The play went off as scripted until the throw, when Mallett's pass to a streaking Adams was just a bit off. Had Adams been hit in stride, Arkansas might have begun the game with a touchdown.
Instead, it served as a sign of things to come. The crisp, efficient scoring machine down the stretch of the regular season sputtered early and late in the Superdome. That's why Arkansas had to battle back from a huge first-half deficit, and why its manic second-half comeback effort fell just short in a
31-26
defeat.
"We couldn't have played any worse in the first half," defensive end Jake Bequette said. "We played our butts off in the second half, but it wasn't enough."
Big Easy described Ohio State's offense in the first half. The Buckeyes rolled out to a 28-7 lead and had their choice between long
Dan Herron
runs or
Terrelle Pryor
passes to wide-open receivers. They had 338 yards at halftime and converted six of their eight third downs.
[+] Enlarge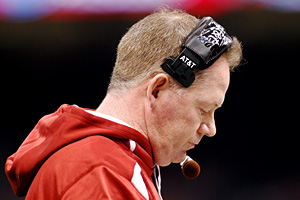 Chris Graythen/Getty ImagesBobby Petrino may have a tainted reputation, but that likely won't stop a football program from requesting his services next season.
Big Ten teams are supposed to be slower than SEC squads, but Ohio State ran a high-tempo, no-huddle offense that surprised the Razorbacks. On one third down, three Arkansas defenders were still jogging off the field when Pryor took the snap. Jim Tressel had turned into Chip Kelly overnight.
Arkansas players admitted they weren't prepared for that. But at halftime, they adjusted. Ohio State had just 108 yards and one field goal in the second half.
"In the first half, we couldn't get our plays in and couldn't get our checks in time for the snap," linebacker Jerico Nelson said. "We never really saw them do that [on film] and we didn't really practice for it. In the second half, we did a better job of communicating the call and keeping things simple. We played to our keys and moved around faster."
That defensive turnaround set the stage for the comeback attempt. But the offense couldn't quite pull it off.
A Razorbacks team that averaged 42.5 points per game in the final six regular-season outings managed only two touchdowns in the Sugar Bowl. The last two drives began on the Ohio State 38 and the Buckeyes' 18, but neither ended in points. Mallett threw for 277 yards but needed 47 attempts and barely completed half of them.
A normally reliable receiving corps dropped six passes, many of them in crucial situations. Head coach Bobby Petrino said the 38-day layoff might have contributed to the problem.
"Our last game against LSU was at the end of November," offensive lineman Ray Dominguez said. "We were trying to get the rust off this week in practice, but we could see a little bit of it. During the first half, it really showed."
Ohio State also gave a different look with its defensive front, doing more moving and stunting on first and second down than the Razorbacks said they had seen on film. It took another halftime adjustment to get used to that.
Arkansas played like a team making its first BCS appearance and its first Sugar Bowl since 1980, while Ohio State looked like the one that makes BCS trips an annual rite. The Hogs had six penalties to two for the Buckeyes, and that included a few false start miscues despite having the crowd and the noise heavily in their favor.
"Nerves had a lot to do with it," Wright said. "We didn't calm down until the second half, and by then it was a little bit too late."
Arkansas had the perfect start scripted but couldn't execute. Then it had a miraculous comeback story written. The ending just didn't work.
January, 5, 2011
1/05/11
2:18
AM ET

Adam Rittenberg and Brian Bennett wrap up the Sugar Bowl.
January, 5, 2011
1/05/11
1:45
AM ET
Brian Bennett talks to Arkansas tight end
D.J. Williams
about the Sugar Bowl.
January, 5, 2011
1/05/11
1:30
AM ET
Brian Bennett talks to Arkansas running back
Knile Davis
about the loss in the Allstate Sugar Bowl.
January, 5, 2011
1/05/11
12:27
AM ET
NEW ORLEANS -- Instant analysis of the Allstate Sugar Bowl, which No. 6 Ohio State won
31-26
over No. 8 Arkansas:


How the game was won:
Arkansas nearly pulled off a comeback for the ages. Down 28-7 late in the first half and 31-13 in the third quarter, the Razorbacks completely turned things around with their defense to put a cork in the Ohio State offense, which had 338 yards at halftime. In the end, though,
Ryan Mallett
and the powerful Arkansas offense misfired too many times both early and late, falling just short.
Turning point:
After a blocked punt set Arkansas up on the Ohio State 18, Mallett was picked off by Solomon Thomas with 58 seconds remaining. It was the first and only turnover of the game. The Razorbacks missed opportunities all night. After cutting the lead to 31-23 with a safety, they had the ball three times, all with advantageous field position. They came away with just three points.
Stat of the game:
Arkansas receivers dropped six passes.
Player of the game:
Ohio State defensive end Cameron Heyward. He manhandled Arkansas tackle DeMarcus Love most of the night and was the biggest reason why the Razorbacks couldn't get as many points as they're used to.
Unsung hero of the game:
Arkansas punter Dylan Breeding had four punts downed inside the Ohio State 20, including three inside the 5.
What it means:
Ohio State snaps its nine-game losing streak to SEC teams in bowls, and the Buckeyes gave the Big Ten some BCS redemption after its brutal New Year's Day. The Buckeyes who were controversially suspended for next season and not the bowl game all came up big. Arkansas acquitted itself well in its first-ever BCS game, but the Razorbacks will long regret the missed chances to win this game. Mallett is most likely bound for the NFL, but Bobby Petrino could have a highly-ranked team going into next season all the same.
January, 4, 2011
1/04/11
10:30
AM ET
The entire state of Arkansas is bursting at the seams in anticipation of Tuesday night's Allstate Sugar Bowl.
Arkansas will play in its first-ever BCS bowl game, taking on perennial powerhouse Ohio State.
Bobby Petrino, in his third season as Arkansas' coach, is confident that everything is in place at Arkansas for the Hogs to also be a perennial contender on the national scene. If not, he never would have signed his new contract that essentially locks him in at Arkansas for the foreseeable future.
[+] Enlarge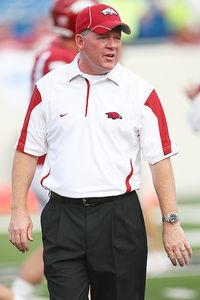 Nelson Chenault/US PresswireBobby Petrino has led the Razorbacks to their first BCS bowl appearance.
He'll earn an average of $3.56 million over the course of the new seven-year deal with an $18 million mutual buyout in 2011 and 2012. The buyout goes down some each year, but it's still more than $10 million as far out as 2015.
The translation: Petrino may have been branded as a coaching nomad in the past, but he's found a home.
"It's a great feeling. I'm really happy that Dr. [David] Gearhart and [athletic director] Jeff Long have the confidence in me to make that commitment to me and my family," Petrino said. "And, really, I wanted to make the commitment, not only to them, but to the state of Arkansas and make sure the people who support our program know exactly where I stand.
"I don't want my name coming up every December and January when other jobs come up. I want them to know that I'm at the University of Arkansas and I'm a Razorback through and through, and that's not going to change."
With his biggest game yet looming and half the state of Arkansas partying it up on Bourbon Street, Petrino took some time this week to discuss where the program is right now and where it's headed:
What's it say about your team that you were able to get up off the deck after that bitter home loss to Alabama in September, then bounce back from the Auburn loss a month later and still get to this point?
Bobby Petrino:
Our guys have developed a toughness about them and really went back to, 'Hey, let's not forget how hard we worked all winter long, all spring, all summer. There's still a lot out there to play for,' and they did a good job of pushing each other and making each other accountable. I was worried after that Alabama game. I thought we'd have a hard practice. But not at all. It was great, and the work ethic has been great all year.
Can you win a national championship at Arkansas and continue to compete at the highest level?
BP:
We're going to compete, we're going to compete. I really believe we will. The thing that's hard is how competitive it is in the SEC and how tough it is with Alabama, Auburn and LSU year in and year out. It's going to be real competitive. You have to be able to have great chemistry within your team and do something special to win all those big games.
What's it going to take to win a national title at Arkansas?
BP:
To continue to play good defense. I really believe we'll always be able to move the ball and always be competitive as far as scoring points, but we've got to continue to build the defensive personality on this team and get those players defensively that allow you to compete at the highest level. That's really, to me, what separates this conference from everybody else, the defensive linemen, the linebackers and the secondary. They're just so big and fast.
You improved dramatically this season on defense. Where do you think you are in terms of reaching a championship-caliber level defensively?
BP:
I think we're getting there. We'll be better next year on defense. The one thing you look at is we have guys right now like Jake Bequette, Jerry Franklin, Jerico Nelson, Zach Stadther and Lavunce Askew who've been playing together for three years. They're the same guys who got the heck beat out of them by Texas, Alabama and Florida that first year we were here. But they've all gotten bigger, faster and really know the scheme we're running now. But we've certainly improved our recruiting as far as talent-wise on the front and in the secondary.
Is it a foregone conclusion that Ryan Mallett will turn pro after this season?
BP:
I don't know for sure. I think there are two factors: No. 1, is he going to go in the first round? And No. 2, are they going to play (due to the threat of a strike in the NFL)? I think the NFL should step in and give these juniors some direction. These guys are going to be making decisions on the assumption that they're going to play. Well, if there's a work stoppage, they're all going to be working at A&W.
If Mallett does come out, how important was it that Tyler Wilson came in and played the way he did at Auburn?
BP:
When Tyler came in at Auburn, that might have been the turning point in our season, because of the way our players rallied around him and the competitiveness of our team. The competitive spirit that our receivers, offensive line and running backs showed was unbelievable. The sideline was as good as I've ever been around as far as competing, saying we could still get this done, and then he went in and executed real well. The next week, he came in against Ole Miss when Ryan hurt his shoulder and made two huge throws that were the difference in the game.
How far has Wilson come as a quarterback since he got there?
BP:
He was no-huddle, shotgun quarterback since the eighth grade. They were really good, won a couple of state championships, but he didn't know how to step into a huddle and call a play and didn't know how to take a snap from a center. He's really improved. Just being able to be in it for three years and now having two to go will really help him.
You guys were playing so well when the regular season ended. How concerned are you about getting it back after more than a month layoff?
BP:
It's really concerning because we were on such a roll and really executing offensively, the balance between our run game and pass game. Third-down conversions had improved so much the latter part of the season. I guess we'll wait and see. We've practiced well, and our players have been really focused. Before we left Arkansas, we went ones versus ones to get the hard, physical, fast looks, but we haven't had those for a while. We have to make sure we get better throughout the game and play better during the second quarter than we did in the first quarter and so on.
Does Ohio State compare to any SEC team you faced this season?
BP:
It's so hard to compare because they're so different. Their style is so different. They're big and physical, and everyone in the SEC is based on speed and quickness.
A lot has been made about this being Ohio State's sixth straight trip to a BCS bowl game and the first for Arkansas. But some of the stages you played on this season in the SEC has to help in a game of this magnitude, right?
BP:
I don't think there's any question that it helps. The atmosphere for the Alabama game was something special. This same group went and played at LSU last year, at Auburn this year. The stages and hostile environments that you play in in the SEC are always going to prepare you for games like this.
How much have you felt the passion of the Arkansas fans this week?
BP:
It's been awesome, just awesome to see the whole state rally around you. There's always been the pride and the passion there by the fans. So now they're experiencing some success, which is great for the entire state. That's something I tell our football players. We've done a great job all year long of playing well and finding ways to win. We'll have the whole state come down here and support us in this bowl game. I expect our players to play with that same passion and do the same things they've done all year long.
January, 3, 2011
1/03/11
1:56
PM ET
NEW ORLEANS -- Arkansas is participating in its first-ever BCS game. But normalcy seems to be the prevailing theme for the Razorbacks.

While Allstate Sugar Bowl opponent Ohio State dealt with the swirls of controversy regarding the suspensions of five players and its decision to let them play in the bowl, Arkansas coach Bobby Petrino must have just smiled. His team has stayed out of the headlines and has arguably received less media attention than any BCS team so far this postseason.

That's just fine with Petrino. Let the Buckeyes hog the spotlight in this one. His Hogs can just go to work. Petrino is trying to keep as much of a regular-season routine as possible, including moving the team into a new hotel on Monday night to simulate its Friday night in-season experience.

"I think our players have done a nice job of keeping their focus and doing a good job in meetings, doing a good job on the practice field," Petrino said Monday morning at the head coaches' news conference.

Petrino's half hour in front of the media was much drier than that of Ohio State's Jim Tressel, an accomplishment that's not easy to produce. Petrino is no stranger to bowl-week distractions. At Louisville, his constant dalliances with other jobs -- once memorably meeting with LSU on his way to Memphis for the Liberty Bowl -- created off-the-field intrigue. But Petrino recently signed a seven-year contract extension, and even with NFL jobs popping open this week, he's mostly out of the coaching rumor mill.

"It's great," he said. "We wanted to try to get it done as quick as we possibly could, so we all understood the commitments that are there on both sides. It's been a lot of fun to know that we're going to continue to build this program the way that we want to."

Arkansas might not be generating a ton of buzz, but the Hogs played as well as anybody down the stretch while winning their final six games and averaging more than 42 points per game in the process. This is the first time in the BCS, but the team played at No. 1 Auburn this year and in high-profile games against Alabama, LSU, Mississippi State and Texas A&M.

"We go on the road and all the big stages that we play on, all the loud crowds and hostile environments, I think certainly puts you on the same type of stage that we're going to be on [Tuesday] night," Petrino said. "As long as we can get to our comfort zone as quick as possible within the game and say, 'Hey, we know what this is about, we've been here before, it's just a different team,' I think we'll execute and play well."

Petrino said a Sugar Bowl win would mean the most for the seniors and give the Razorbacks a chance to enter next season ranked high in the polls. And perhaps they'll start to make these types of achievements and expectations feel normal.
January, 3, 2011
1/03/11
10:10
AM ET
Everybody knows about Ohio State's 0-9 record against SEC teams in bowl games.
But Arkansas is doing this BCS thing for the first time in school history. The Hogs went to the Liberty Bowl last year, but none of these players have ever experienced the bright lights of a BCS bowl game.
For the Buckeyes, this is their sixth straight trip to a BCS bowl game. It's the only thing their players know.
That has to be a big advantage for Ohio State, right?
Arkansas sophomore running back
Knile Davis
doesn't necessarily see it that way heading into Tuesday night's Allstate Sugar Bowl.
"We're real confident when we step onto the field and feel like we can play with anybody at any time," Davis said. "We played a great schedule this year and played in a lot of big games. We feel like we're playing our best football right now. We're ready for this."
Here's the other thing: Anybody who thinks the Hogs are glad just to be a part of the Sugar Bowl festivities might want to think again.
This is a team that genuinely believed at the beginning of the season that it could compete for the national championship.
"We're not satisfied with the year," Davis said. "We feel like it could have been a lot better. Our goal at the beginning of the season was definitely to be playing for a national championship. We feel like if we were clicking a little earlier, we may have gotten that opportunity. We fell short a little bit, but still have a great opportunity to finish it off strong."
January, 3, 2011
1/03/11
9:00
AM ET
Arkansas has one of the most balanced offenses in the nation and is riding a six-game winning streak.
Ohio State is ranked near the top of the nation in just about all of the defensive categories, but is plenty potent offensively, too. Ohio State has won five in a row, averaging 39.2 points during that stretch.
They meet up on Tuesday night in New Orleans in the Allstate Sugar Bowl, a Big Ten-SEC matchup that's sure to reverberate throughout both conferences.
SEC blogger Chris Low and Big Ten blogger Adam Rittenberg take a closer look at this battle of the Hogs and the Buckeyes.
[+] Enlarge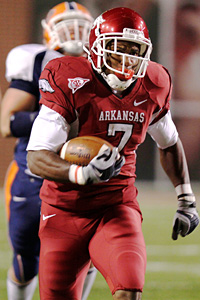 AP Photo/Danny JohnstonArkansas running back Knile Davis has rushed for 889 yards in his last six games.
Chris Low:
Adam, I'll start with a concession. The Eastern Division this season in the SEC was brutal. Unless Kentucky can defeat Pittsburgh in the BBVA Compass Bowl, four of the six teams will finish with losing records. The division champion, South Carolina, finished with five losses. So don't judge Arkansas based on the way the bowl season started for the SEC with Tennessee, Georgia and South Carolina all going down in flames. The Hogs were the second-best team in the league when the regular season ended. They can score with anybody in the country. They run it as well as they pass it, and they're much improved defensively. The SEC came back strong on New Year's Day. How did the Big Ten do? Better yet, how have the Buckeyes fared lately in bowl games against the SEC?
Adam Rittenberg:
Chris, you know how much I'd love to make a witty comeback, a Cam Newton money reference or talk about the academic standards in the SEC, but I've got nothing. The Big Ten was embarrassed Saturday, especially in two of the three losses to the SEC. Michigan State's performance was the most shocking, while Michigan didn't show up again and Penn State let a mediocre Florida team hang around. I caught up with
Big Ten commissioner Jim Delany on Sunday
, and he pretty much conceded defeat to the SEC, saying, "They have the strongest football-playing conference. We've had some competitive success, but they have the edge. Until we beat them, they deserve the edge." That pretty much sums up my thoughts. We all know Ohio State is 0-9 against the SEC in bowl games, a shocking stat. But Arkansas is a newcomer to a BCS bowl, while Ohio State has been there in each of the previous five seasons. How do you think the Hogs will handle the spotlight?
CL:
Granted, Arkansas is new to the BCS, but the Hogs aren't new to the spotlight. They faced Alabama when the Crimson Tide were No. 1 earlier this season and Auburn when the Tigers were a top-10 team. The Hogs know all about playing in big games. They beat four teams this season that finished in the Top 25 of the final BCS standings. To me, the most impressive thing about the Hogs' season is the way they picked themselves up off the ground after that September home loss to Alabama, didn't feel sorry for themselves and played their way back into BCS bowl contention. What about the Buckeyes? Any more "back to the future" suspensions coming?
AR:
Yeah, how about that? Nothing like a little deferred punishment to add flavor to this game. I'm really interested to see how the suspended players and the rest of the Buckeyes respond after such a major distraction. It could bring them together for a critical game or you could see some fracturing, although I doubt it. Ohio State boasts a large and decorated senior class that will do all it can to make sure the players' heads are in the right place Tuesday night. People knock the Buckeyes for their national title game losses, but they know how to handle the BCS spotlight and showed it last year in Pasadena. The Buckeyes will need their seniors in a big way in this game, especially guys on the defensive side like Cameron Heyward, Brian Rolle, Ross Homan, Chimdi Chekwa and Jermale Hines. What's the biggest key for Arkansas' offense against one of the nation's top defenses?
CL:
As long as those two Big Ten officiating crews that worked the New Era Pinstripe and Franklin American Mortgage Music City bowls don't show up, the Hogs should be all right. Nah, seriously, the Hogs haven't had any weaknesses offensively the second half of the season. They struggled to run the ball and protect leads earlier in the season, which cost them in the Alabama game. But the emergence of
Knile Davis
has been huge for Arkansas. He rushed for 1,183 yards, and 889 of those yards came in the last six games. At 220 pounds, he has breakaway speed, and can also grind out the tough yards.
Ryan Mallett
will spread the ball around, too. The Hogs have five different players with at least 500 receiving yards, including one of the best pass-catching tight ends in the country in
D.J. Williams
. My question is this: If this game is close in the fourth quarter, do the Ohio State players start thinking, "Here we go again?"
[+] Enlarge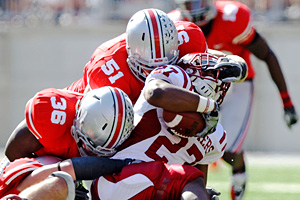 AP Photo/Jay LaPreteOhio State linebackers Ross Homan (51) and Brian Rolle (36) will be counted on to limit a fast start from the Arkansas passing game.
AR:
Gotta love the Big Ten officials. I'm sure they'll be receiving a few letters from the state of Tennessee, or is all the hate mail directed at the Low household? SEC fans are, well, a little extreme. Ohio State has been better in the fourth quarter the last two seasons, and its recent struggles against the SEC have come earlier, in the second quarter. So it's important for Ohio State to prevent a fast start from the Hogs. The Buckeyes have been a slow-starting team this year, but they've been very good in the second half of games. Williams has to be a major concern, and Ohio State needs linebackers Brian Rolle and Ross Homan to perform well. Let's talk about the Ohio State offense and the Arkansas defense. What must the Hogs do to slow down
Terrelle Pryor
and
Dan Herron
? Any tattoo artists on the Razorbacks' sideline?
CL:
One of the first things the Hogs did this season was make sure they got more speed on the field defensively, and moving Anthony Leon from safety to linebacker helped them do that. Arkansas is good up front and will play several different players. Linebacker Jerry Franklin has quietly had an excellent season. The Hogs were much better at not giving up the big plays this season, which will be key in this game. They want to make the Buckeyes drive the ball and not give up anything easy. If they can hold Ohio State below 28 points, I think Arkansas wins this game. The Hogs don't mind playing in shootout-type games. In fact, that's their comfort level. And let's face it: There's nothing comfortable about facing an SEC team in a bowl game for Ohio State. The drought grows to 10 games and counting.
Final: Arkansas 34, Ohio State 24.
AR:
C-Low, I agree that the higher the score gets, the better Arkansas' chances are of winning the Sugar Bowl. But I think you're underestimating Ohio State's defense in this game. A lot of teams move the ball against the Buckeyes, but it's extremely tough to score touchdowns against them. This is the ultimate bend-but-don't-break defense. I see Mallett and the Hogs moving the ball between the 20s, but they'll have a tough time in the red zone. Dan Herron has a big game against a mediocre Arkansas rushing defense, and Ohio State ends The Streak.
Final: Ohio State 24, Arkansas 21.